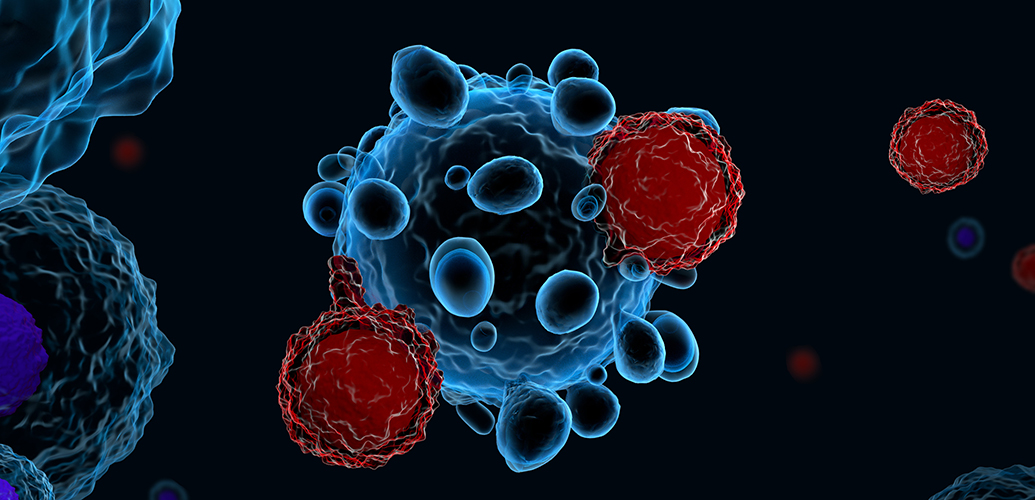 Blog | 9/5/2023
An Uncertain Road Lies Ahead for Allogeneic Cell Therapy
By Heather Loring, Noah Rudisill, Earl Gillespie, Vivek Mittal, and Ned Wydysh
Has Allogeneic Cell Therapy Missed its Opportunity?
The revolutionary approval of autologous chimeric antigen receptor (CAR) T-cell therapy in 2017 brought numerous improvements to the treatment of hematologic malignancies but treatment was not without challenges. Shortcomings such as persistence, safety, cost, and long manufacturing timelines left significant room for improvement or an alternative, such as allogeneic cell therapy, to challenge the incumbent. Initial allogeneic research demonstrated possible improvements across many autologous drawbacks (e.g., safety, cost, manufacturing timelines), driving a wave of enthusiasm. However, developers of autologous CAR-T therapies have also been working to optimize the therapies and alleviate known drawbacks. The improvements in efficacy, persistence, and manufacturing timelines for autologous CAR-T, coupled with the advances in safety of bispecific antibodies for these indications, raises the bar for a new entrant and begs the question on where allogeneic cell therapies will be able to compete.

Expanding Utility across Indications and Lines of Therapies
Efficacy and persistence have been hallmark advantages of autologous CAR-T over its allogeneic counterpart. The data in the initial pivotal trials demonstrated complete responses (CRs) from 33%-82% across indications and therapies, and the long-term outcomes data for the six marketed therapies highlights prolonged durability (Table 1).1-2 Additionally, these therapies have expanded beyond their initial launch indications to others, while also moving into earlier lines of therapy. For example, BMS's Breyanzi, originally approved for LBCL, recently obtained a positive readout in TRANSCEND CLL 004, representing the first positive readout in CLL with a CR of 18% in heavily pre-treated patients. J&J's Carvykti, originally approved for relapsed/refractory (R/R) multiple myeloma after four or more lines of therapy, is planned to be filed for a second line indication after recently demonstrated groundbreaking outcomes in CARTITUDE-4, with an overall response rate (ORR) of 85% and a 12-month progression-free survival (PFS) of 76% versus 67% and 49%, respectively, for the standard of care comparator.3 By improving efficacy and persistence in initial indications while also expanding to others, the data threshold allogeneic therapies must meet in order to compete is increasing, or allogeneics must prove able to generate response in autologous cell therapy failures.

Expediting Manufacturing Timeframes with Novel Platforms
Given the personalized nature of autologous CAR-T therapies, a long-standing limitation to patient access and contributor to high cost is the long manufacturing timelines. The process from initial T-cell collection through receipt of the autologous CAR-T cells often requires timeframes from 2-3 weeks up to several months due to manufacturing shortages. During this time, the patient is at risk of rapid progression, decompensation, and for those in later lines, ultimately not receiving the therapy. Patients earlier on in disease course have more time, providing greater opportunity for autologous CAR-T.
Recent advancements in manufacturing with next generation autologous platforms, such as FasTCAR and T-Charge produced by Gracell Biotechnologies and Novartis, enable manufacturing of these personalized therapies within two days of leukapheresis. Phase I clinical trials of these novel platforms demonstrate strong efficacy and safety data with fewer exhausted T-cells due to the expedited timeframes. By streamlining the process, these platforms could alleviate a significant challenge associated with autologous CAR-T therapy without sacrificing activity. If these platforms continue to show promise in clinical trials, the opportunity for "off-the-shelf" CAR-T, once touted as a promising replacement due to the potential for economies of scale with reduced logistical complexity, may diminish.

Circumventing the Safety and Administrative Limitations of CAR-T Therapy
Safety concerns due to off-tumor effects are a limitation of autologous cell therapies and early phase allogeneic therapy data have suggested lower toxicity; however, bispecific antibodies offer a safer, easier to use, "off the shelf" alternative to both CAR-T therapies. Cytokine release syndrome, neutropenia, and immune-effector cell-associated neurotoxicity are frequent adverse events (AEs) observed in all three treatments. In addition to lower overall AE rates, bispecific antibody therapy may be stopped at any point during treatment (unlike CAR-T therapy), greatly increasing its safety profile compared to CAR-T therapy. Availability of bispecific antibodies "off the shelf" also eliminates the limitation of long manufacturing timelines of CAR-T therapies, enabling patients to receive treatment sooner at the cost of high repeat dosing burdens.
Advantages of bispecific antibodies have caused pharmaceutical development to explode in recent years with new approvals of Tecvayli and Lunsumio in multiple myeloma and Epinkly and Columvi in diffuse large B-cell lymphoma. Multiple myeloma continues to be a priority indication for bispecific antibody development with Regeneron's linvoseltamab advancing to phase III of development following strong overall and retained response rates. Strong phase II safety and efficacy data from Janssen's combination trial of Talquetamab and Tecvayli in R/R multiple myeloma presents high potential for bispecific combination therapy. Further trial success in bispecific combination therapy may marginalize opportunity for allogeneic CAR-T therapy to address the limitations of autologous CAR-T therapy.

Conclusion
While once a promising therapy class, allogeneic cell therapies have struggled to find their niche. If a physician wants the greatest efficacy possible and the patient can tolerate the risks of toxicity and wait times, autologous therapies remain the choice – and further improvements may reduce some risks significantly. If a patient cannot tolerate the wait or toxicity of an autologous CAR-T, bispecific antibody treatment can provide a faster, safer alternative with compelling efficacy as well. As a new entrant in the space, allogeneic CAR-T therapies will be challenged to articulate a compelling value proposition to gain a foothold in the multi-billion-dollar market. Developers of these therapies can still succeed, but low biological risk targets like CD19 and BCMA may now present insurmountable competitive challenges. Therefore, allogeneic manufacturers should focus on places where autologous therapies do not play or where bispecifics face challenges. Ultimately, this means more biological/target risk, but larger commercial rewards. One example is solid tumors, where the allogeneic value proposition (faster access, greater affordability for larger populations) is stronger, but this strategy requires an appetite for increased biological risk. Another example is the approval of Ebvallo ex-US, which suggests that allogeneic developers may see success in new targets and indications rather than fighting over well-trodden ground.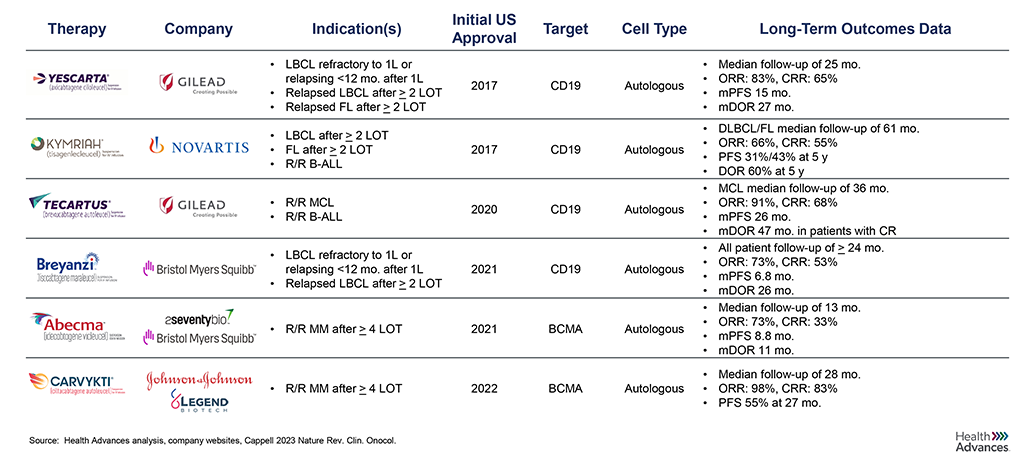 References
ASCO 2023
Cappell 2023 Nature Rev. Clin. Onocol.
San-Miguel 2023 N. Engl. J. Med.
Authors
Heather Loring is a Consultant and a member of the Biopharma and Precision Medicine practices at Health Advances. Prior to joining Health Advances, Heather received her PhD in Biomedical Sciences from UMass Medical School.
Noah Rudisill is an Analyst and a member of the Biopharma practice at Health Advances.
Earl Gillespie is a Senior Director and a member of the Biopharma practice at Health Advances. He earned his PhD in Pharmacology and Experimental Therapeutics at Boston University School of Medicine.
Vivek Mittal is a Partner and Managing Director at Health Advances. He leads the San Francisco office and is focused on building Health Advances expertise in translational medicine through his work across therapeutics, diagnostics, and life science tools. Prior to Health Advances, he earned his PhD in Molecular Biology at Washington University in Saint Louis.
Ned Wydysh is a Vice President at Health Advances and a leader of the Biopharma practice. He is co-leader of the Cell and Gene Therapy practice and a leader of the Oncology Business Development Committee. He received his PhD in Chemistry from Johns Hopkins University.