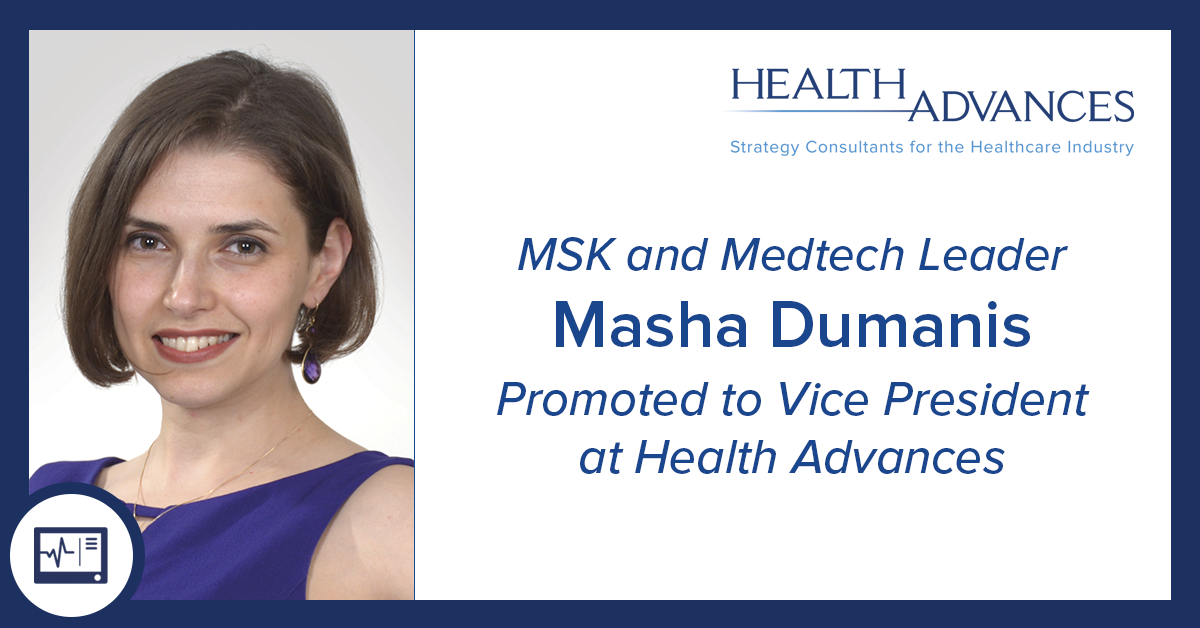 News | 7/28/2022
MSK Thought Leader and MedTech Expert, Masha Dumanis, Promoted to Vice President
We are delighted to announce the promotion of Masha Dumanis to Vice President.
As a recognized expert in a range of musculoskeletal technologies and a trusted advisor to clients in a range of industries, Masha is a valued leader with a long career at Health Advances. Masha co-leads the MSK practice area and has supported over 100+ client engagements as a strategy leader. She is also a member of the MedTech senior leadership team and an expert in the burgeoning Women's Digital Health space.

Masha has deep expertise across all aspects of the MSK care continuum and with MSK products and markets, including pain management, regenerative medicine, traditional implants for joint, extremity, trauma, and spine applications, robotics, AR and VR, digital tools, and instruments.

Masha will continue to support clients with commercialization strategies, buy/sell-side due diligence, reimbursement and market access strategies, business model assessments, competitive and opportunity assessments, growth strategies, and more.

Prior to joining Health Advances in 2011, Masha worked at Adnexus Therapeutics (a BMS R&D company) in the Protein Sciences Group. Masha earned a Bachelors in Human Evolutionary Biology from Harvard College; she has also completed additional business coursework through Harvard Business School Online.