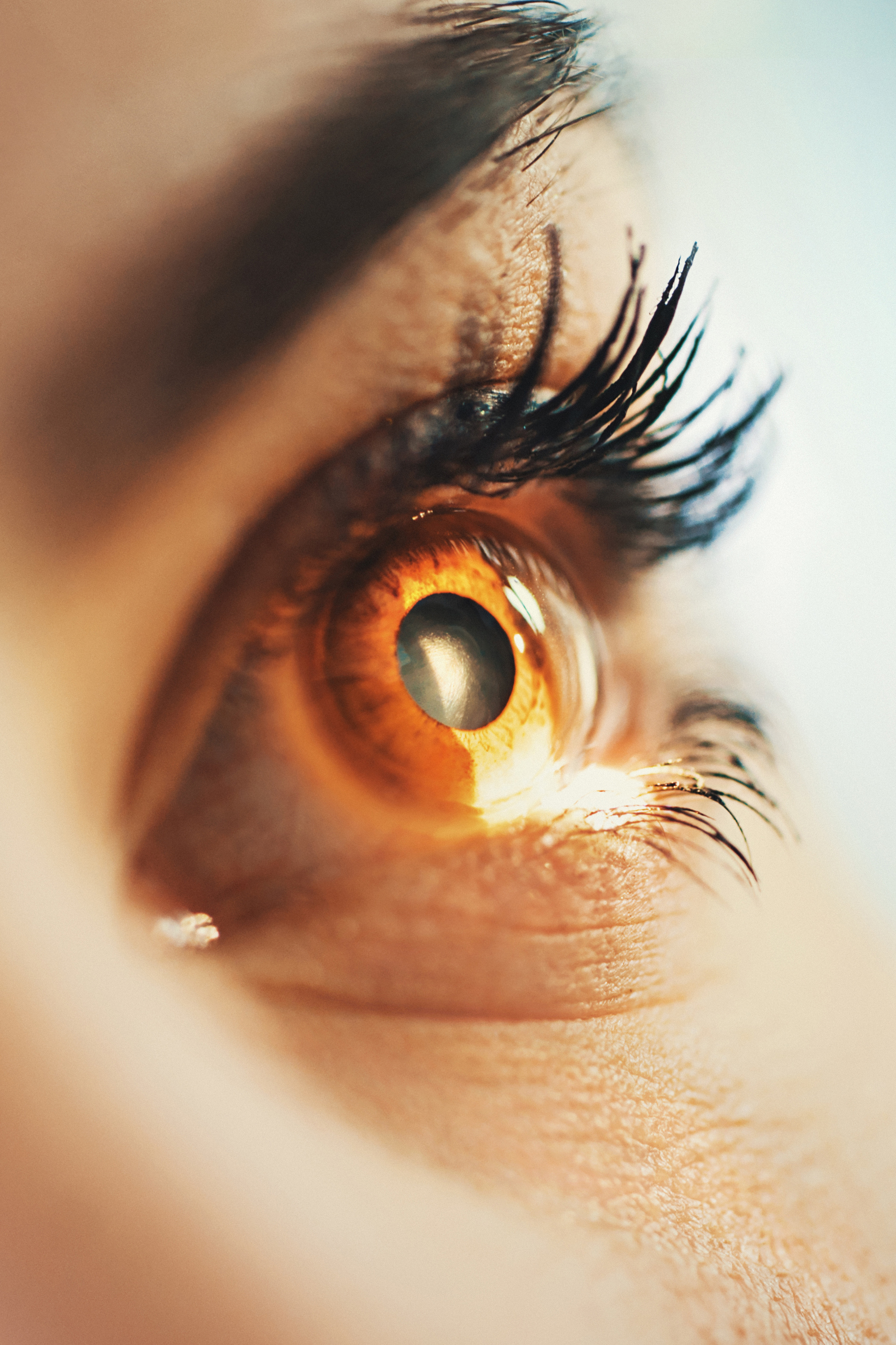 Blog | 11/12/2018
Highlights from AAO 2018: Changes in the Management of Retinal Conditions on the Horizon
By Patrick Symmonds, Consultant
Ophthalmologists and the eye care industry came together this past month in Chicago in hopes of staying in 'the loop' on the latest options for managing eye care patients. Those following the retina space closely were not disappointed as there were a number of data readouts and trial announcements this year, driving a number of therapeutics options closer to approval.
In the management of retinal conditions including neovascular age-related macular degeneration (nAMD) a.k.a. 'wet' AMD, the paradigm of selecting between bevacizumab, ranibizumab, and aflibercept has been well-established for some time now. In recent years, choosing between these options has sparked fascinating debate about the nuances of efficacy in specific populations, medical ethics and patient safety, cost-effectiveness, treatment sequencing, and practice economics. However, with a number of high-profile data readouts leading up to and over the course of the meeting, ophthalmologists are likely to be choosing amongst a new set of options for patients in the near future.
As these new treatment options become available, ophthalmologists will look for ways to determine the most appropriate treatment for individual patients based on a number of factors. While there are undoubtedly important nuances that suggest superior efficacy or safety in patients with certain clinical characteristics, the preliminary thought is that the positive impacts on vision are fairly comparable across these therapeutic options. This will likely lead ophthalmologists to make decisions between the agents based on clinical attributes, namely the dosing interval in this situation, and the cost. While the cost-effectiveness of these options will likely be a continued subject of debate, it is already possible to compare the anticipated dosing intervals.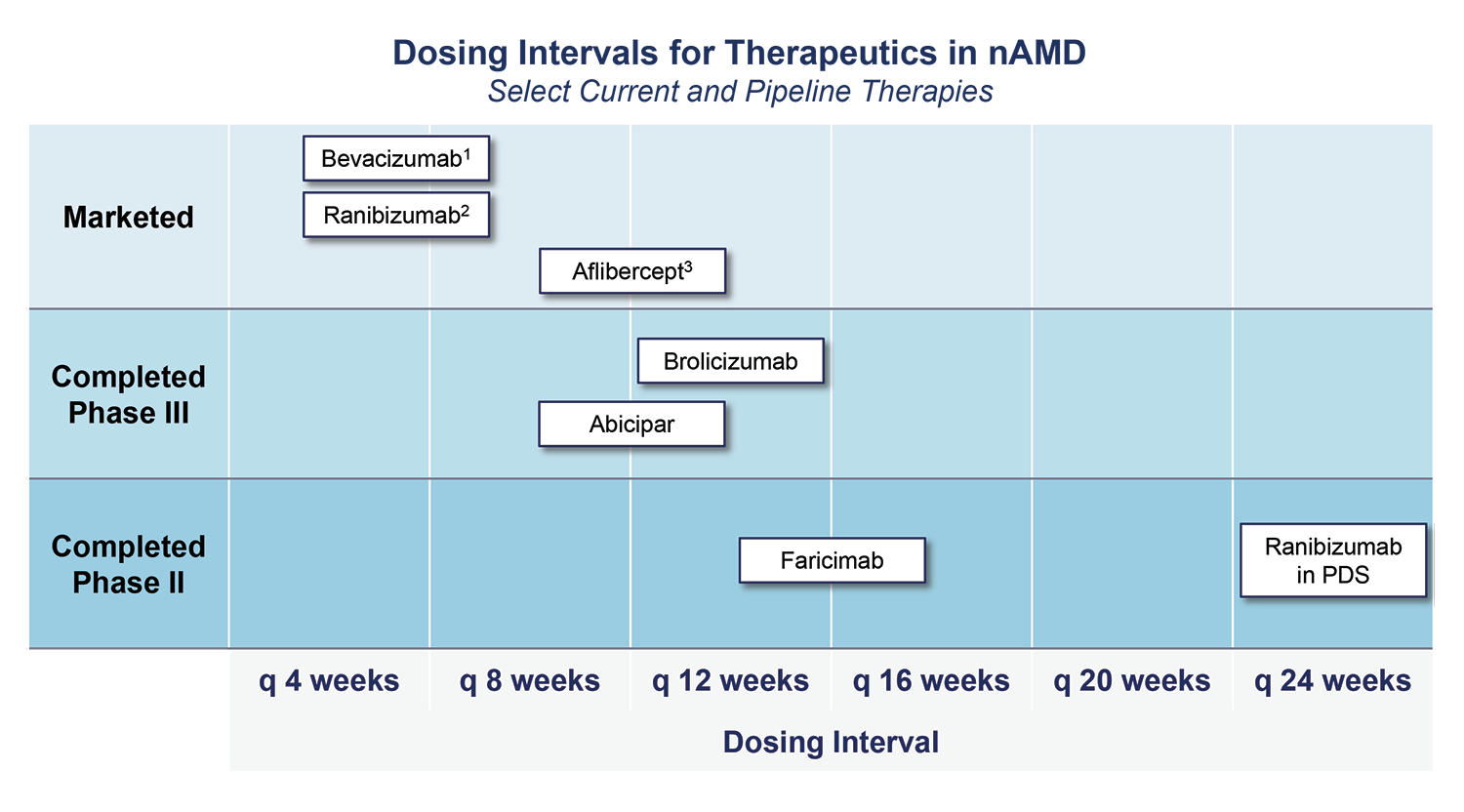 During this year's meeting, Novartis shared year-two data on brolucizumab from the HAWK and HARRIER trials with the key takeaway being that the results reaffirmed the first year findings. Brolucizumab is an anti-VEGF with the potential for favorable q12w dosing interval. Last year, it was announced that brolucizumab met the primary endpoint of non-inferiority in mean change in BCVA at week 48 versus aflibercept. New data this year showed that brolucizumab maintained these visual gains in year two. Beyond comparable vision outcomes, secondary endpoints of anatomical measures from the study demonstrate that brolucizumab might have a slight edge on the competition with statistical superiority in lowering intra-retinal fluid (IRF) and/or sub-retinal fluid (SRF) measures as well as reductions in central subfield thickness (CST). It has been previously reported that Novartis intends to file with the FDA by the end of 2018, so we might see brolucizumab approved in time for the AAO meeting in San Francisco next year.
In an investor-oriented presentation during the meeting, Allergan shared supplemental data on abicipar, which had an initial readout this summer, from the SEQUOIA and CEDAR trials. Data indicates the potential for this anti-VEGF therapy to be dosed q12w, but that treatment is associated with an increased risk of intraocular inflammation (IOI). These trials both looked at the proportion of nAMD patients with stable vision at week 52 comparing abicipar dosed at q8w and q12w and ranibizumab q4w. The abicipar q8w and q12w arms were shown to be non-inferior on the primary endpoint compared to ranibizumab, however, more than 80% of the patients in each abicipar study arm were treated with topical steroids to manage IOI. The need for the majority of patients to use a topical steroid in conjunction with abicipar may relegate it to a second-line treatment option in patients who fail initial anti-VEGF therapy, which is about a third of patients. Allergan plans to file with the FDA in the first half of 2019, creating the potential for another approval within the next two years. In an attempt to overcome the challenge of high rates of IOI, Allergan is developing an optimized formulation of abicipar and expects to announce data from the MAPLE trial, which is testing the new formulation, in the first half of 2019.
Regeneron looked to remain competitive with impending pipeline agents by demonstrating efficacy of aflibercept on a q12w interval with data from the VIEW 1 & 2 trials. Data from those studies were submitted to the FDA as part of a sBLA late in 2017. After an initial hiccup with an FDA complete response letter, Regeneron won approval for q12w dosing for aflibercept in patients with nAMD who have been treated for at least one year effectively with q8w dosing. This new dosing regimen may be particularly helpful for Regeneron in maintaining share in patients who are well-controlled on aflibercept even if brolucizumab and abicipar are approved with q12w doing. Further down the pipeline are two therapeutics from Roche seeking to even further extend the dosing intervals for the management of retinal disease. Roche announced Phase II data from the STAIRWAY study in nAMD of faricimab, their bispecific anti-VEGF, anti-ang-2 antibody. Ang-2 is thought to work synergistically with VEGF in the pathologic neovascularization in AMD and Ang-2 also plays a role in the inflammatory process associated with nAMD. Faricimab targets both pathways with the single antibody. In the STAIRWAY study, faricimab was administered at q12w and q16w after initial loading doses, and these treatment arms demonstrated sustained vision outcomes comparable to ranibizumab administered q4w. Roche plans to initiate a Phase III program in nAMD, though details of this study were not announced. The company did announce the start of twin studies, RHINE and YOSEMITE, to evaluate faricimab in diabetic macular edema (DME), which are now recruiting.
This past summer, Roche announced preliminary data from the LADDER study supporting the Port Delivery System (PDS) with ranibizumab. The PDS with ranibizumab uses a novel delivery mechanism, which is a refillable eye implant that provides sustained delivery of ranibizumab. In the Phase II LADDER study, approximately 80% of patients in the highest dose treatment arm were able to go six months or longer until their first refill was required; this dropped to roughly 70% and 60% in the lower dose arms. The company used AAO as an opportunity to announce additional details from that study as well as the initiation of a Phase III study (ARCHWAY) of the PDS with ranibizumab. This study will evaluate a larger population in two treatment arms, which are ranibizumab refilled via PDS implant q24w and ranibizumab q4w injections. It will evaluate the primary outcome of change from baseline in BCVA at the average of weeks 36 and 40.
Treatment decisions for ophthalmologists will become increasingly complicated as new therapeutics become available for the management of nAMD; however, more choices will hopefully lead to more optimized therapies for individual patients. Health Advances looks forward to continuing to follow the nAMD treatment paradigm and other trends in eye health in the coming year, and we are excited to see what unfolds for next year's AAO conference in San Francisco.
About the Author
Patrick Symmonds
is a Consultant at Health Advances and a member of the firm's Ophthalmology Practice. He regularly researches the glaucoma, retinal diseases, and ophthalmology rare disease markets. Health Advances provides growth strategy consulting services to all types of organizations working across a broad range of clinical areas, including organizations participating in the eye care sector, and investors in those companies. Our Eye Care Specialty Practice members stay abreast of the emerging data and expert perspectives on novel technologies and the market dynamics to support developing the most forward-looking insights and implications for our clients.