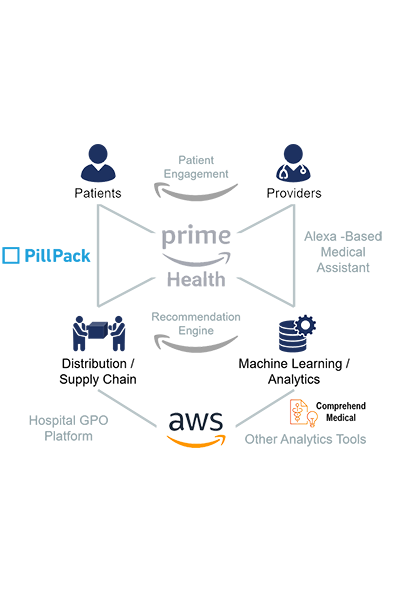 Blog | 12/10/2018
Amazon's Healthcare Strategy Hinges on Data
…and why patient engagement, GPOs, and health insurance are their next target
By Greg Chittim, Vice President
When is Amazon going to transform [insert the name of just about any part of healthcare here]? That is the question that we hear in every corner of our industry, nearly every day. There has been no shortage of recent news, from the formation of the AMZN-BRK-JPM health venture with an unconventional, inspirational CEO in Atul Gawande and the $1B acquisition of online pharmacy PillPack, but the most recent announcement provides the clearest indication of Amazon's strategy in healthcare. With the formal creation of Comprehend Medical, Amazon is making clear its intentions to become the leader in connecting healthcare data to patients and providers through Amazon's core competencies – distribution, supply chain, and machine-learning based analytics. With this foundation, Amazon will expand its leadership across the healthcare value chain, from patient engagement to group purchasing and healthcare logistics, all the way to digitally-enabled health insurance. With its set of business and technical competencies, and a 100 million-plus strong Prime customer base (all of whom are patients), Amazon has jumped far ahead of technology-focused competitors and leapfrogged the healthcare interoperability barriers that have plagued the industry for decades.
What is Comprehend Medical?
According to the official announcement, Amazon Comprehend Medical is "a new HIPAA-eligible machine learning service that allows developers to process unstructured medical text by identifying information such as patient diagnosis, treatments, dosages, symptoms and signs, and more." Comprehend Medical is an optimized set of key phrases, entity definitions, topics, and other configurations built on top of the generic Amazon Comprehend Natural Language Processing (NLP) platform used in industries in retail, industrial, and legal applications. Comprehend Medical allows developers to identify the critical common types of medical information automatically, with high accuracy, and without the need for large numbers of custom rules. The stated core use cases of the platform include:
clinical decision support (e.g., extrapolating a historical snapshot of a patient's medical history)
revenue cycle management (e.g., simplifying the time-intensive manual process of data entry)
clinical trial recruitment (e.g., by identifying and recruiting patients with certain attributes into clinical trials)
building population health platforms
helping address (PHI) requirements (e.g., for privacy and security assurance)
Until specific evidence proves otherwise, the medical portion of Comprehend does not appear technically differentiated from similar healthcare NLP platforms such as those from 3M, Nuance, or MModal, beyond its tight integration with Amazon Web Services (AWS) – which is the whole point. Similar to its founding approach to the tired bookselling industry with low prices, convenience, and great recommendation engine, Amazon will disrupt healthcare by bringing a well-established set of integrated technologies to bear on an entrenched industry with the support of what could be a second-to-none data asset.
AWS is the Foundation of Healthcare Data
Amazon Web Services hosts trillions of healthcare transactions from many of the healthcare leaders in the delivery, measurement, and payment spaces. Theoretically, any of those AWS customers, under a Business Associate Agreement with Amazon, could leverage its technical capabilities to easily extract full data sets. While some of this data is structured and accessible, much of it lives in records that were never rationalized (such as raw patient records), or unstructurable (like prose patient notes). At its core, Amazon is an analytics company that excels at managing a complex distribution network and supply chain. It can figure out who wants to buy what, for how much, and get it to them quickly, all while they "put the customer first." We've seen multiple instances of Amazon already applying these core competencies to healthcare, the first being Comprehend Medical, bringing actionable data to providers with machine learning analytics. The second is the recent acquisition of PillPack. In a recent earnings call, Amazon's Chief Financial Officer, Brian Olsavsky, told analysts, "we're looking for well-run companies with highly-differentiated customer experiences, and a real sense of customer obsession that matches ours—we think PillPack has got all those traits." Beyond this cultural alignment, Amazon's distribution network and recommendation engine to upsell supplements and other health products will quickly create a leader in the retail pharmacy market of approximately 59,000 physical locations, currently dominated by CVS (~9,800 locations), Walgreens (~7,900 locations), and grocery chains. In addition to outright acquisitions, Amazon has numerous exclusive partnerships building upon their supply chain and analytics expertise – like the BasicCare line of over-the-counter medications with private label manufacturer Perrigo, and an eCommerce partnership with Xealth to order and deliver medical supplies via physician office consultations.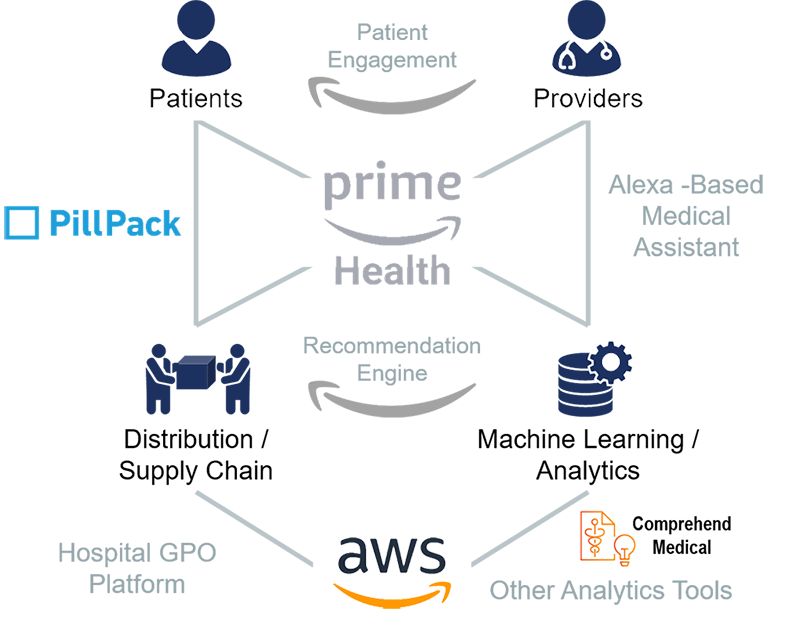 Figure 1: One possible view of future Amazon healthcare services.
What Comes Next?
SOURCE: Health Advances While Amazon's long-term strategy is anyone's guess, their recent moves suggest a few possible and intriguing next steps:
1. Alexa-based Medical Assistants for the Clinic
Good medical documentation is critical to good healthcare. Unfortunately, good documentation relies on trained physicians spending many extra hours of their days on the computer, or less trained scribes doing the documentation on the physicians' behalf. By connecting the Alexa-based Natural Language Processing to Comprehend Medical vocabularies, it is not a stretch to envision a specialized voice assistant in each exam room to both provide lookups on a patient medical record or other references, as well as record and transcribe the visit as structured data into the electronic health record. To accelerate this process, Amazon might consider building upon its Alexa Fund investment in Aiva with acquisitions of Suki or Saykara. Suki is already trialing Comprehend Medical according to an Amazon case study.
2. Hospital GPO Platform
The top 3 hospital GPOs in the US (Vizient, Premier, and HealthTrust) spend nearly $200B, and the top 3 supply and pharmaceutical distributors in the US – McKesson, CardinalHealth, and AmerisourceBergen – spend twice that amount. While much of this spending is on products requiring special temperature controls and handling for which Amazon would have to augment capabilities, Amazon is already playing a major role in the distribution of commodity medical supplies through Amazon Business, as described in this Healthcare Dive article. While Amazon already has a strong business here, Amazon might consider the acquisition of a distributor with a stronger set of hospital relationships, like Owens & Minor or Medline.
3. Patient Engagement via a Recommendation Engine
In Q3 2018, Amazon shipped nearly 32% of the 20MM smart speakers worldwide. With the combination of PillPack, an Alexa-powered medical assistant, and this increasing number of voice assistants in the home and in consumer devices, Amazon is well positioned to directly engage patients about their health. Alexa skills could understand which prescriptions a patient should be taking, what supplements they're buying, and how often they are exercising with the integration of fitness trackers or home diagnostics. A recommendation engine could suggest healthy alternatives when a patient asks for a recipe for brownies, or when searching for symptoms of acid reflux. Patients could communicate via video to telemedicine or home health providers with the Amazon Echo Show. Potential acquisitions include telemedicine providers like American Well, Doctor on Demand, or more virtual engagement platforms like Babylon Health.
4. A Real Health Insurance Exchange
Nearly 12MM Americans have purchased insurance in 2018 through Affordable Care Act insurance exchanges. Amazon could provide a true shopping experience with a nationwide exchange to compete with a hodge-podge of state and federal programs. Or in a groundbreaking move, it could become an insurance company itself, providing low cost, digitally enabled coverage and health maintenance programs by emulating or purchasing a new insurance entrant like Oscar. A move on this level would disrupt the health insurance market to a degree equivalent with the Whole Foods acquisition on the grocery business.
Prime Health
Whichever of the above come true, it appears inevitable that Amazon will continue to aggregate its health technology and service offerings under a single umbrella – "Amazon Prime Health" maybe? John Doerr, one of Amazon's most prominent early investors thinks so. The combination of a data asset built on the most flexible and powerful infrastructure, interpreted by a world-class analytics capability plus the best digital and physical package distribution system are capabilities unmatched in healthcare and too powerful to ignore in a trillion dollar market. Amazon is notoriously hard to pin down, but it will certainly be interesting to watch, and exciting to partner with and compete against.
About the Author
Greg Chittim is a Vice President at Health Advances, a strategy consulting firm focused exclusively on commercial strategy and product development strategy for health technology innovators. He co-leads the firm's Health IT and Digital Health practice and regularly works with health IT, medical device, and life sciences companies, as well as private equity investors on strategy in population health, patient engagement, interoperability, data monetization, and analytics.
Follow Greg on Twitter:
@chittim