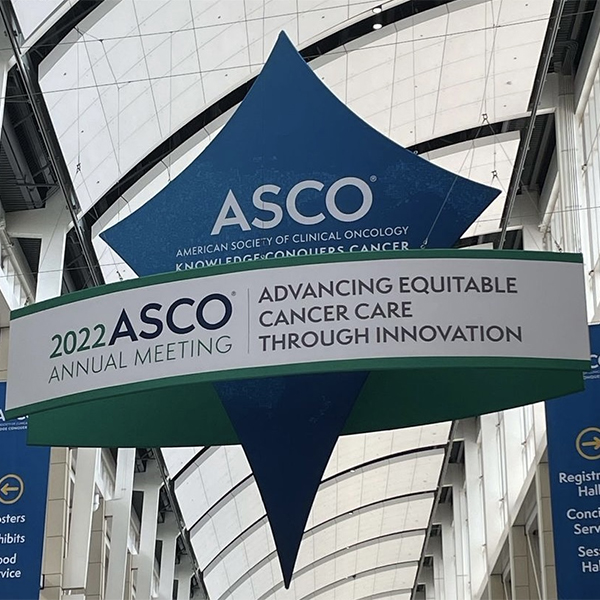 Blog | 6/16/2022
ASCO 2022: Striving to Ensure No Patient is Left Behind
By Karson Kump, Consultant
For the first time in two years, oncologists, scientists, industry leaders, and everyone in between were able to rest from the Zoom fatigue and put their physical stamina to the test trekking McCormick Place and the city of Chicago for the ASCO Annual Meeting. Health Advances joined the homecoming to soak in the (quite literally breathtaking) data, social connections, and enthusiasm to bring hope to each cancer patient. The presented data immediately impacts how we inform and guide our clients in their development and business strategies to reach patients in need.
The Standing Ovation
It would be negligent to not immediately comment on the most thrilling presentation of the week (and quite frankly, the past several years), which was the reveal of the trastuzumab deruxtecan (Enhertu) data from the DESTINY-Breast04 trial in HER2-low metastatic breast cancer. When the Kaplan-Meier curves were first unveiled, no squinting was needed to elicit "oohs and aahs" from the tens of thousands in attendance. With a near doubling of median progression-free survival (mPFS) (5.1 to 9.9 months) in all patients, irrespective of hormone receptor (HR) status, it was clear that this was game changing data. Jaws dropped even lower as the overall survival (OS) and HR- cohort data was revealed. Median overall survival (mOS) in the overall Enhertu treated population was 23.4 months (compared to 16.8 months) and even more surprising was the 18.2-month OS in the HR-/HER2-low subgroup (previously defined as triple negative breast cancer, or TNBC) compared to the dismal 8.3 months with chemo. Not only will this data immediately impact the treatment paradigm, but it will also shake up how we segment breast cancer patients by defining a new sub-segment of HER2-low disease (which comprises ~50% of all breast cancers). Say hello to the new diagnostic paradigm of HER2+, HER2-low, and HER2-. This also raises the question, do we need better diagnostic tools to stratify these patients based on HER2 quantification? The answer is yes, as current immunohistochemistry (IHC) methods were shown to miss patients who could potentially benefit from Enhertu. Throw Enhertu into the mix with PARP, HER2, CDK4/6 inhibitors, and immuno-oncology (IO), and the future is looking a bit brighter for all breast cancer patients. It is no surprise that following the presentation the entire plenary hall erupted in a standing ovation to celebrate not the presenter, not the data itself, but the implications for individuals who suffer and will suffer from the crippling diagnosis of metastatic breast cancer.
Advancements That Should Not be Overshadowed
Enhertu was a tough act to precede and follow, but it was not the only new data from the week with lifesaving implications. The conundrum of left- versus right-sided colorectal cancers (CRC) and their clinical responsiveness to therapy was highlighted on the center stage during the plenary session. In short, it boils down to differences in molecular characteristics and histology (i.e., each side has different physiological roles and mutational propensity). What that translates to in terms of clinical actionability is that right-sided tumors carry poorer prognosis due to increased mutational burden and EGFR inhibitor resistance. With that said, right-sided tumors remain difficult to treat and left-sided tumors (~70% of cases) have a newly proven frontline treatment option in the form of anti-EGFR therapy + chemo after the final Phase III PARADIGM trial demonstrated that panitumumab + chemo increases OS by 3.6 months (and overall response rate, or ORR, from 69% to 80%) compared to the standard of care (SOC) bevacizumab combo in KRAS wild-type (WT) patients.
Aside from the plenary presentations, there were promising data illuminating hope for cancer patients everywhere you looked. Here are just a few additional study results that were presented:
Neoadjuvant "immunoblative" treatment in MMRd Stage II/III rectal cancer with dostarlimab (anti–PD-1) had a 100% complete response (CR) rate in 12 patients and zero grade 3+ adverse events (AEs). Larger studies are needed before this becomes paradigm changing, but hard to ignore a 100% CR rate!
The pivotal Phase II glofitamab (CD3xCD20 bispecific) study in heavily pretreated relapsed/refractory diffuse large B-cell lymphoma (R/R DLBCL) patients hit its primary endpoint with a 39% CR rate (with CRs lasting a median of 34 months). This provides a promising option after CAR-Ts or in patients who cannot access them.
Serplulimab is the first anti-PD-1 to improve OS in extensive-stage small cell lung cancer (SCLC) when combined with chemo (15.4 months vs. 10.9 from chemo + placebo). This is likely to become the frontline option for SCLC patients.
Pembrolizumab + ramucirumab is the first non-chemo backbone combo to show survival improvement (14.5 vs. 11.6 months) in immune checkpoint inhibitor (ICI)-refractory non-small cell lung cancer (NSCLC) patients. This provides an additional line of IO-based treatment before resorting to chemo.
Nimotuzumab (anti-EGFR) when added to gemcitabine increased mOS to 10.9 months (from 8.5 months in the comparator arm) in KRAS WT pancreatic cancer, with 44% of patients surviving one year (versus 27%). Although KRAS WT only accounts for 5-10% of cases, this shows that we should not ignore an opportunity to chip away at improving survival in this lethal disease.
Crafting More Personalized Treatment
Personalized medicine certainly had its presence at ASCO this year with a focus on refining our ability to elucidate each patient's tumor to map the therapeutic course with the highest probability of success. Dozens of oral and poster presentations from companies such as Guardant, Tempus, and Foundation taught us that novel therapies can only take us so far and we need better strategies to elucidate each patient's tumor. Integrating multiple data points like DNA/RNA sequencing and real-world data will provide the best visibility to make sure each patient gets the best treatment.
Minimal residual disease (MRD) analysis via circulating tumor DNA (ctDNA) testing is an exciting arena in early-stage solid tumors and is poised to help answer the great adjuvant debate, "to treat or not to treat?" The DYNAMIC trial in Stage II colon cancer illustrated the impact of ctDNA by using MRD+ status to guide adjuvant treatment leading to a ~50% reduction in adjuvant chemotherapy use (28% to 15%) with no impact on recurrence free survival. These results teach us that sometimes less is more (or equal…) and can spare patients from the unnecessary toxicity of adjuvant chemo. The utility of MRD was demonstrated across an array of tumor types including head & neck cancers, NSCLC, breast cancers, and sarcomas. ctDNA and MRD developments are rapidly accelerating and are sure to continue to improve adjuvant and recurrence monitoring patient management.
A quote that stood out from the week was "patients are the experts on their own experience," which set up the need for more usage of patient reported outcomes (PROs). The previously reported randomized control trial (RCT) results using the PRO app, Moovcare, were discussed and show that non-progressive Stage III-IV NSCLC patients who followed up weekly with Moovcare experienced a 7-month mOS improvement compared to those who stuck with standard of care reporting. This teaches us that patients cannot just be pumped full of drugs and then just "watch and wait," they need to be constantly monitored with an immediate plan of intervention when signs of decline are signaled.
Addressing and Tackling Disparities
This year's theme was "Advancing Equitable Cancer Care Through Innovation," and disparities across the board were rightfully highlighted throughout the sessions. On the main stage of the plenary the presentation of the DETERMINATION trial called out the African American disparities in oncology which are possibly the most acute in myeloma. Despite incidence rates of myeloma being twice as high with diagnosis 5 years earlier in African Americans compared to white patients, they are underrepresented in clinical trials, making it difficult to answer the question of Black patients, "are these clinical data applicable to me?" The DETERMINATION trial set a new bar with the highest fraction of African American patients enrolled in a Phase III myeloma trial, representing 19% of patients. The most shocking disparity is that despite the recent survival improvements in myeloma, African American patients still face an OS that is half that of white patients, primarily driven by lack of access to the "Four Ts" (Triplets, Transplants, Trials, and CAR-Ts) which is especially poignant given the fact that when access to treatment is equalized, African Americans survive at similar (if not better) rates.
It is not enough just to talk about the problems, so it was encouraging to see a presentation that explicitly showed how a 10% increase in state welfare spending led to an 8.6% increase in OS for African Americans, which translates to closing the disparity gap with white patients by ~45%. The presenter, Dr. Justin Barnes (University of Washington Medical School), concluded with, "the main message is actually relatively straightforward and simple—disparities can be impacted by investing in programs that address the social determinants of health."
While there is a myriad of reasons why we are plagued with racial and socioeconomic disparities in oncology (and society in general) the bottom line is that they are unacceptable, and it is invigorating to see them acknowledged head on with actionable plans to narrow the gaps.
Conclusions
Therapeutic efficacy continues to be improved with novel therapies and combinations across a wide range of tumor types in the frontline and relapse/refractory settings, which leads to lives saved, one at a time.
Therapeutic breakthroughs do not need to be confined by pre-defined patient segmentation and discoveries can re-define how subgroups are classified to ensure no patient falls through the cracks and can get the most effective treatment possible.
No patient sub-segment should be neglected; if there is a way to improve survival, no matter how small the population, it is worth it.
Novel diagnostics and technologies will continue to elucidate personalized treatment plans and enable patients to have a voice in their own experience.
Disparities in oncology care are real and unacceptable and they need to be confronted with action, even if it sacrifices the efficiency of clinical development, to make sure that no patient is left behind.
###
Karson Kump is a consultant based in the Boston office and works primarily in the biopharma and precision medicine practices.