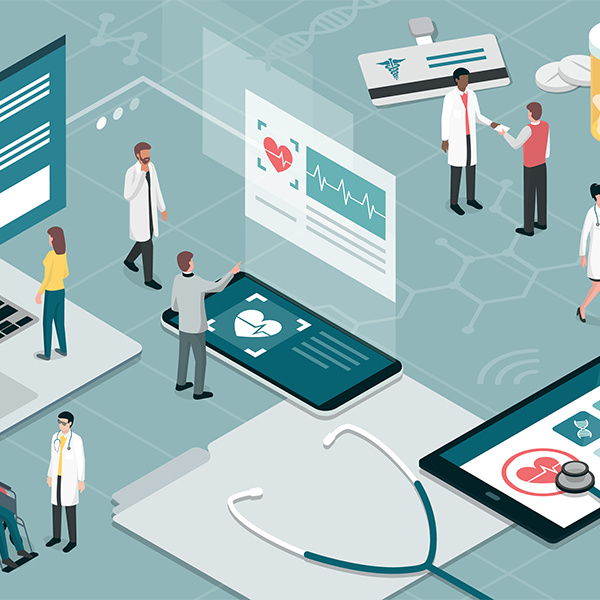 Blog | 5/4/2022
Digital Health in Japan and Korea – Where Is It Heading?
By Melisa Junata, Andrew Chen, and Gary Cheng
Takeaways
Japan and Korea hold significant market potential for digital health products post-COVID
Regulatory governance is maturing, while reimbursement remains a critical challenge
Artificial Intelligence and Machine Learning (AI/ML) are booming, with approvals mainly focused on medical imaging
The market outlook in Japan is more favorable than in Korea in the near term
Introduction
Digital Health has been under the spotlight for years, and the interests have been further intensified ever since the outbreak of COVID-19, as well as the crucial underlying technologies such as big data, artificial intelligence (AI), telemedicine, and wearable devices. A large and aging population advanced IT infrastructure, and a single national healthcare system are among the features that will make Japan and South Korea ideal candidates to adopt digital health technologies at scale. These attractive features were offset by regulatory and reimbursement restrictions in the past. However, the outlook is favorable as the shift to digital, greatly accelerated by the pandemic, continues. With healthcare spending on the rise in Japan and South Korea, the respective governments are looking into alternatives to lower costs by boosting R&D investment and improving regulations for digital health products and services.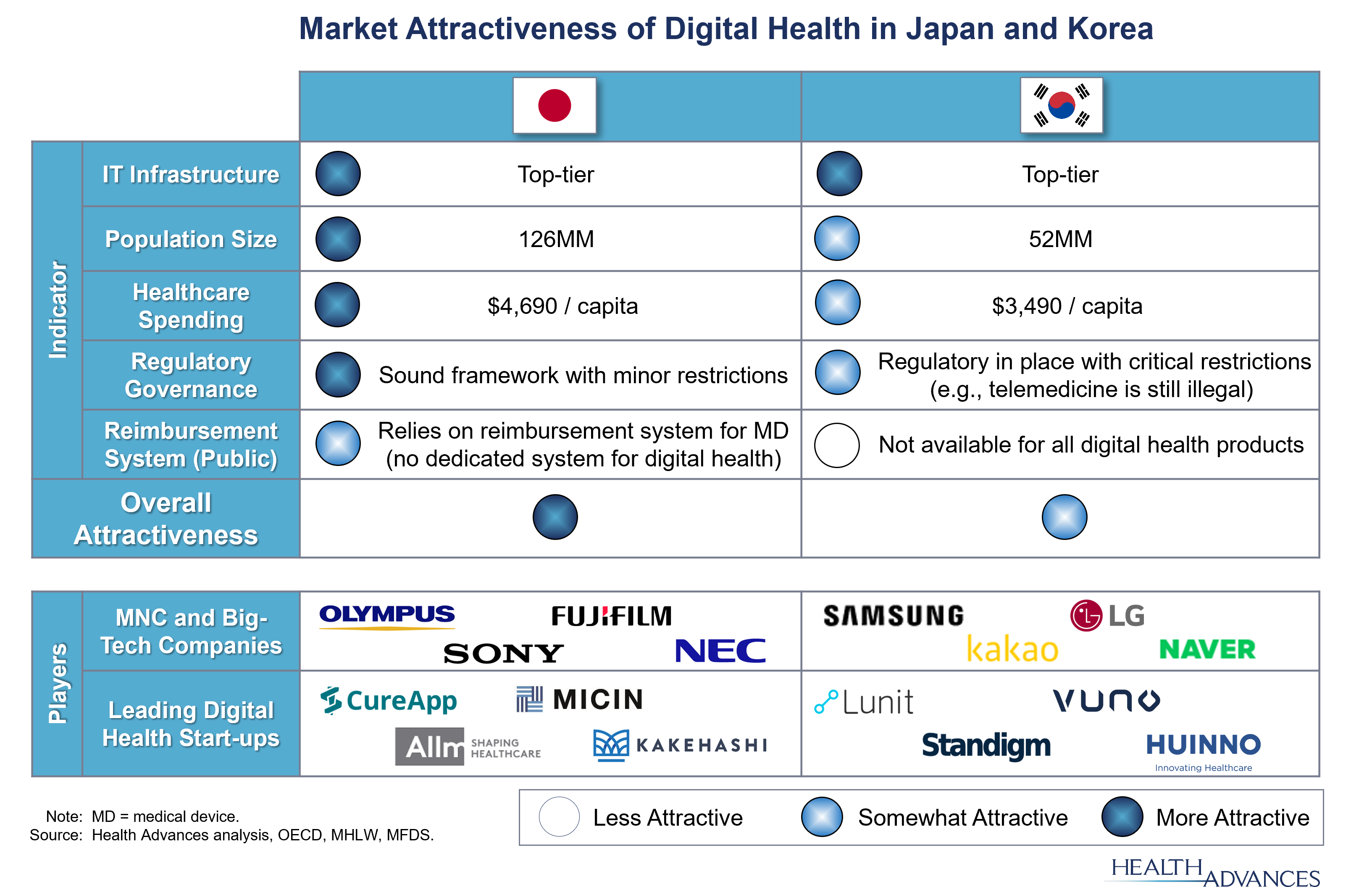 Positive Regulatory Trends Continue
Japan
The regulatory framework for digital health solutions first emerged in 2014, when SaMD (Software as Medical Device) became officially regulated under the PMD Act (Pharmaceutical and Medical Devices Act). In the years that followed, regulatory reforms were relatively slow, and criticism in the ambiguity of SaMD regulations remain.
The situation has changed since COVID-19 hit Japan. In April 2020, the government temporarily relaxed the regulatory restrictions of telemedicine. For the first time clinicians were allowed to use telemedicine for initial visits. A couple of initiatives such as IDATEN (regulations to streamline post-approval variations) and DASH for SaMD (action plans to facilitate SaMD development) were also launched in late 2020. In 2021, the government released new guidelines to further clarify ambiguity in whether a software constitutes a MD. Moving into 2022, as these initiatives continue to mature, we expect the government to keep up with ongoing efforts and take further action to streamline the regulatory governance.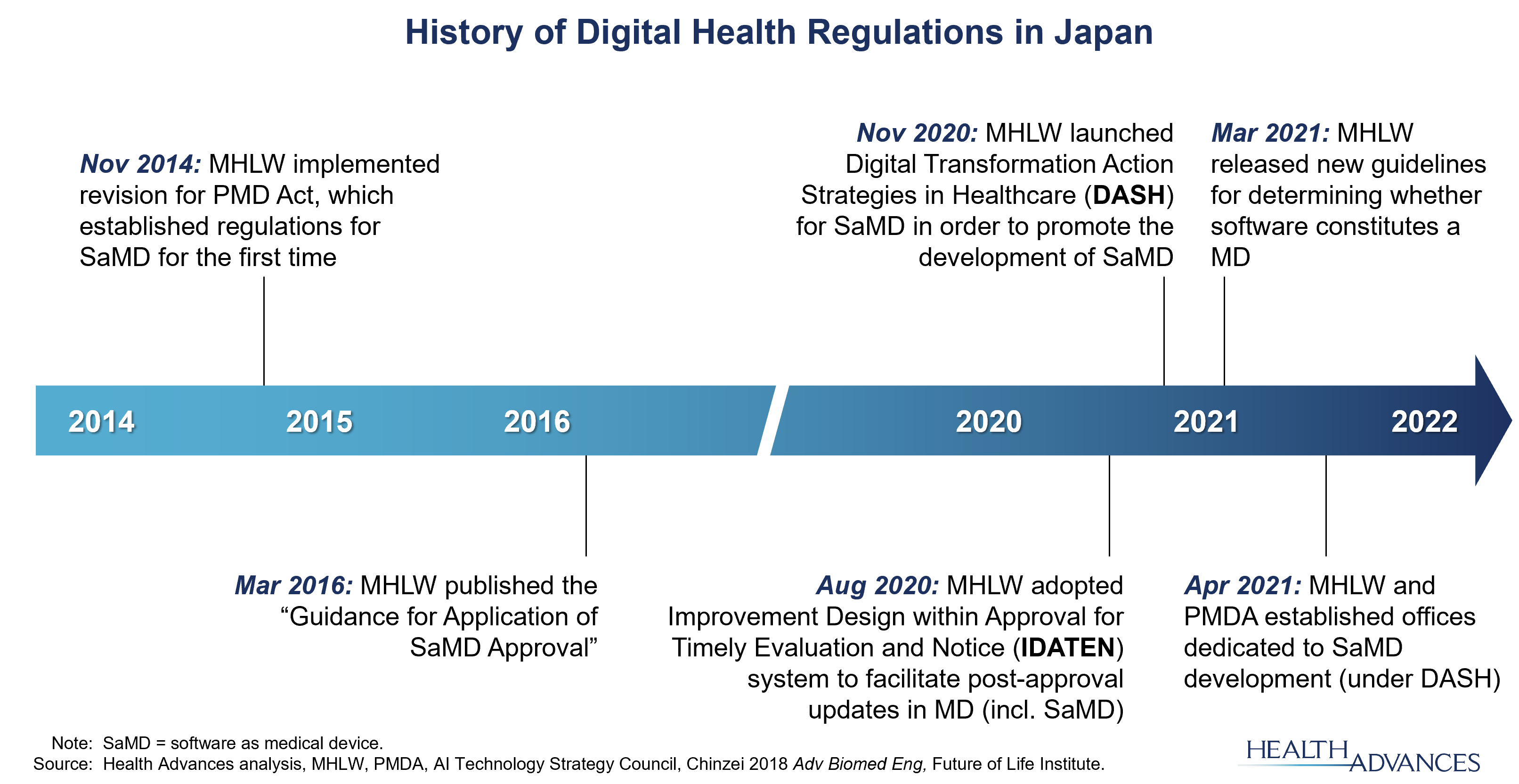 Korea
Korea has established regulations for digital health in the last few years, and a special scheme has been set up to foster domestic digital health solutions. In Korea, SaMD is defined as software utilized in the direct diagnosis and treatment of patients and does not include software that supports administrative work related to medical institutions such as EHR (electronic health records). Act on Nurturing Medical Device Industry and Supporting Innovative Medical Devices became effective in May 2020, and is designed to encourage the commercialization of innovative medical devices, including SaMD. An innovative medical device is defined as, a medical device with marked improvement in safety and effectiveness over existing ones. Innovative SaMD can benefit from a shorter market entry time by going through step-by-step approval at the early stage of their development and taking advantage of the priority review process. As part of the innovative SaMD designation, benefits include preferential treatment and accommodation for R&D projects, tax relief, exemption of research facility construction, clinical trials reimbursement, and Ministry of Food and Drug Safety (MFDS) support for product utilization promotion; however, the company must have long-term plans to invest in R&D in Korea to benefit from the policy.
Telemedicine in Korea is regulated by Medical Service Act and Personal Information Protection Act. Medical Service Act only allows online consultations between health care professionals but not with patients, and restricts digital health business that non-medical professionals can undertake. Personal Information Protein Act (PIPA) requires medical professionals to obtain prior patient consent to the use of personal and health-related data by third parties. PIPA has been challenging for healthcare organizations and companies to use data for outside research and diagnostics purposes.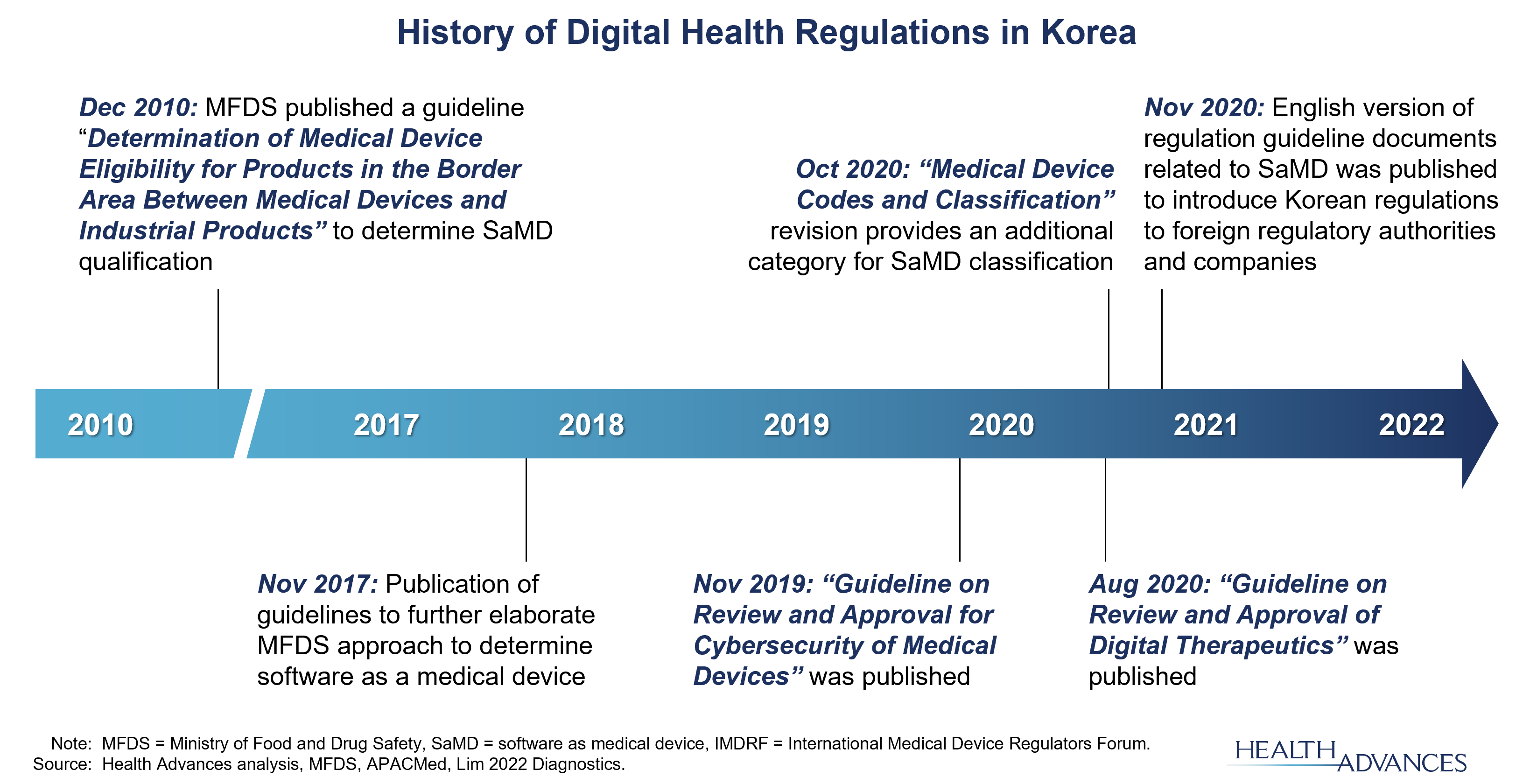 Read More on Telemedicine Landscape in Europe
Read More on Telemedicine Landscape in APAC
Challenges in Reimbursement Remain
Japan
Reimbursement is a critical issue in digital health products due to the very different nature compared to traditional medical devices. In Japan, reimbursement for digital health products are considered under the traditional medical device framework, in which products are directly reimbursed by material fee (paid for the product) or indirectly reimbursed by technical fee (paid for the procedure). As digital health products usually lack a "physical" presence, companies have struggled to find a path to public reimbursement.
Although the challenges remain today, initial positive signs have been observed. For example, the government has indicated a clear reimbursement pathway as a top priority in digital health, following the first of its kind reimbursement decision for CureApp SC (a digital therapeutic for smoking cessation) in Dec 2020. The government also raised the reimbursement rate for online consultations (i.e., telemedicine) to bring it to nearly the same rate for in-person consultations. Japan is on track to establish an ecosystem favorable for upcoming digital health players.
Korea
With the exception of temporary telemedicine authorization during COVID-19 since February 2020, digital health services and products were not eligible for reimbursement under the National Health Insurance. The strong focus on the cost-effectiveness in a single health insurance system has been a major barrier for applications in digital healthcare system. Restrictive reimbursement policies are driving domestic companies to look into the global market. Big tech companies also ventured out into the healthcare sector with Kakao talk establishment of the healthcare division. They plan to utilize Korea's world-class medical care services and Kakao's IT capability to seek global medical services business opportunities. Entering the global market is also a strategy adopted by Monit's Elderly Care System. The strict systems and regulations in Korea focus on cost-effectiveness, leaving no market for premium healthcare products, a situation industry players struggle with.
The government is aware of the importance of fostering Korea's digital healthcare sector and is currently in the initial stages of deregulation. Regulation and reimbursement policy for telemedicine and digital health as a whole has a positive outlook beyond temporary telemedicine authorizations. The reimbursement allowance under the national health insurance system during the temporary telemedicine authorization, the high number of users, and the support from President-elect Yoon Suk-yeol are the first steps in Korea's journey to fully adopt digital health.
AI-based Imaging Software is Booming
The availability and lower cost of powerful computer resources enable AI to take part in the digital transformation in healthcare. The data generated from innovative technologies within healthcare professionals' day-to-day tasks are being applied for robotics, medical imaging, and precision medicine. Medical imaging, in particular, has been the most active category of approvals.
Read More: AI in Healthcare: Insights from Two Decades of FDA Approvals
Japan
In Japan, the use of AI in healthcare was brought to the table in 2017, when Ministry of Health, Labour and Welfare (MHLW) set up a series of conferences (Promotion of AI in Healthcare Round-table Conferences) with key stakeholders and discussed the strengths and issues of developing medical AI in the local context. Following the conferences, MHLW published a summary report, which identified six key areas for AI development. The key areas include 1) genomic medicine, 2) imaging, 3) diagnosis and treatment support, 4) pharmaceutical R&D, 5) long-term care and dementia, and 6) surgical support. In Jul 2018, MHLW established "Healthcare AI Development Acceleration Consortium" in order to further expedite AI development.
These efforts have facilitated the approvals of the first wave of AI-based SaMDs, such as EndoBRAIN (endoscopic imaging diagnosis tool) in Dec 2018 and EIRL aneurysm (brain imaging diagnosis tool) in September 2019. By the end of 2021, a total of 17 AI-based SaMD, all being indicated for imaging assistance purposes, have been approved in Japan. In particular, four of the approvals were secured by Cybernet and Olympus for the EndoBRAIN series, which consists of different algorithms for different use cases in endoscopic imaging (e.g. tumor screening, cancer diagnosis and categorization, inflammation assessment).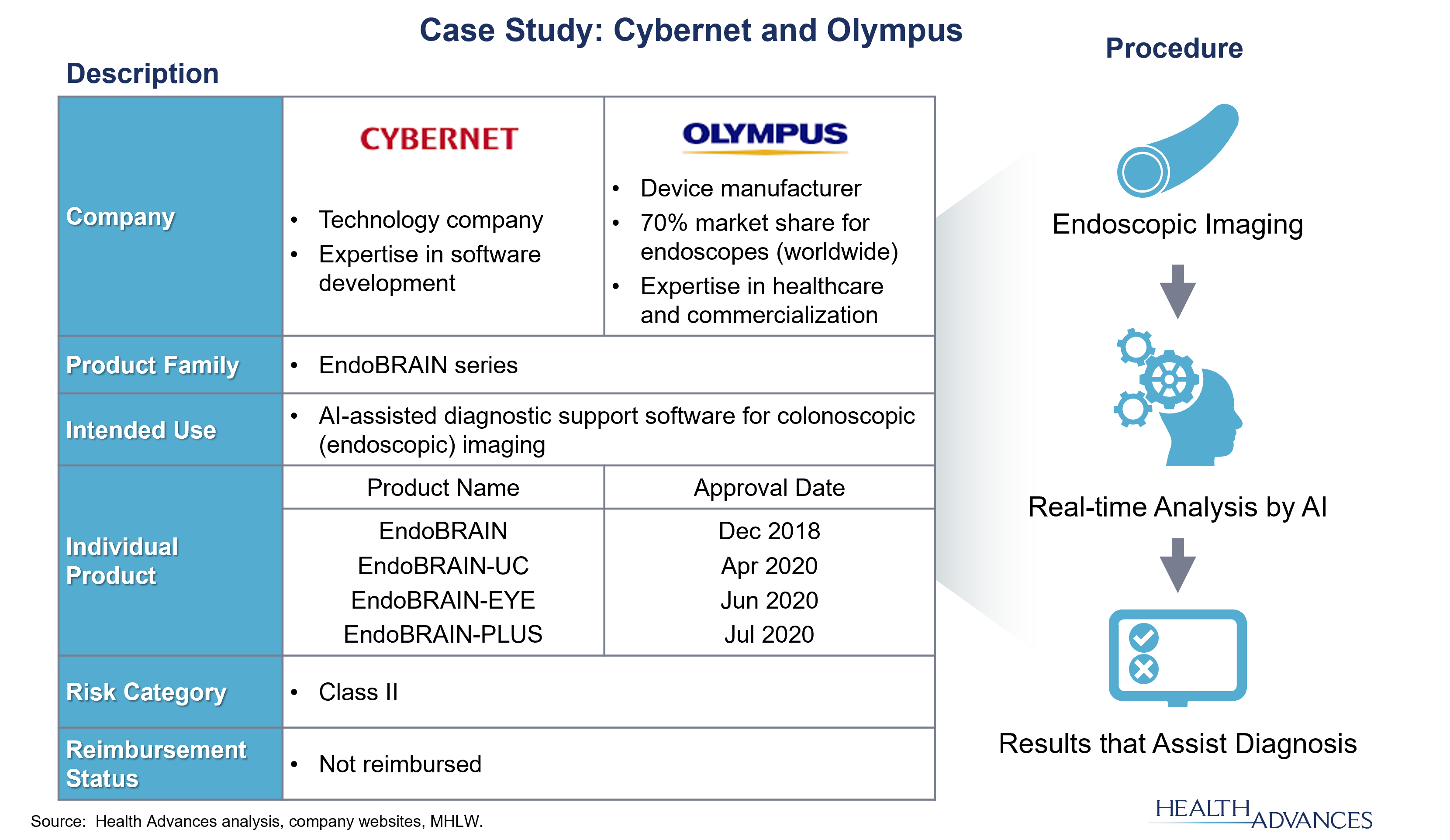 Korea
Similarly, Korean government is well aware that AI and big data will play a vital role in the future healthcare industry. MFDS has published Guideline on Review and Approval of Artificial Intelligence (AI) and Big Data Based Medical Device to inform the industry players about the regulatory requirements for AI-based SaMD. AI-based SaMD is regulated and classified as medical devices according to these guidelines.
Korea approved an AI-based medical device for the very first time in May 2018. The approval was granted to VUNO Med-BoneAge, a device utilizing deep learning algorithms that can determine a person's bone or skeletal age based on a left-hand X-ray scan. Since then, medical imaging has become a category in which many AI-based SaMD have gained approvals. The software helps clinicians save time by assessing medical images and providing additional analysis to help with diagnosis and treatment. AI-based medical image diagnostic software constitutes a large proportion of the Innovative Medical Device Designation. There are 18 innovative devices (as of 21 March 2022), and 10 of them are AI-based medical image diagnostic software. Lunit, VUNO, Coreline, and Heuron have been certified as Innovative SaMD Manufacturing Companies.
Lunit and VUNO are the first two companies to receive MFDS approval for AI-based SaMD. Lunit has recently secured a second innovative medical device designation for their Lunit Insight MMG, an AI software for breast cancer detection based on mammography images. On the other hand, VUNO has obtained the MFDS certification for their AI-based computed tomography (CT) quantification solution to help diagnose infectious respiratory diseases. It allows healthcare professionals to grade the type and severity of lung disease based on CT image segmentation and quantification. Additionally, the software can be used as a screening and follow-up tool for respiratory infectious diseases, such as COVID-19.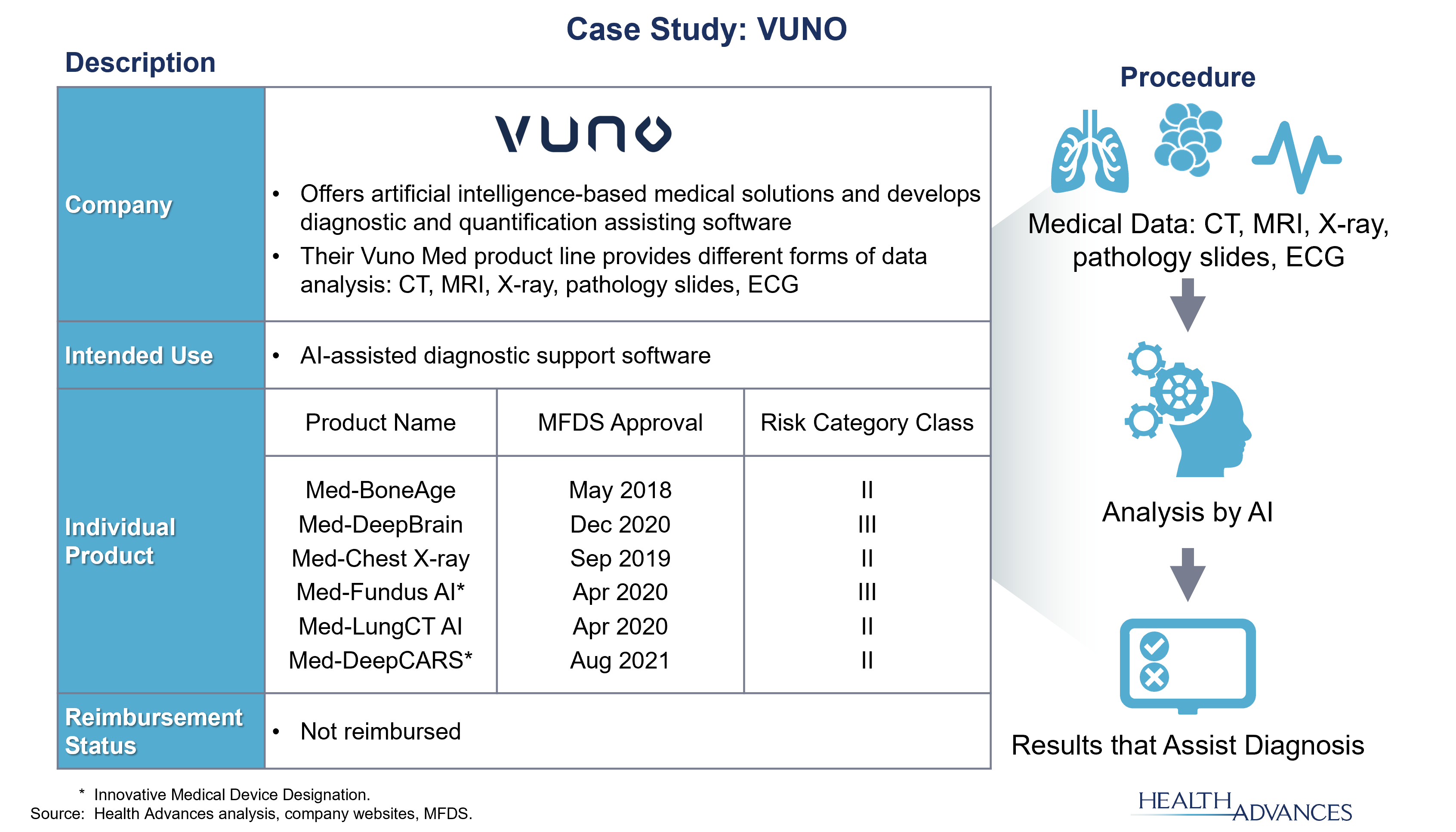 Summary
The approvals of AI-based imaging tools in Japan and Korea attest to the potential of digital health in both countries. While efficiency generated by digital health products could allow Japan and Korea governments to save the national spending on healthcare, a few steps need to be taken to increase adoption. First, establishing a reimbursement framework that is complementary to digital health products would allow commercial visibility and attract investments in R&D. Second, continuous deregulation / rationalization in areas such as data sharing and telemedicine would further facilitate the growth of the industry. We foresee that digital health market growth in Japan would first outpace Korea in the near term, but an equal playing field is expected once the Korean government has established more favorable policies for digital health regulations and reimbursement.
###
Melisa Junata is an Analyst based in the Hong Kong office with experience in market landscape assessment, competitive analysis, and portfolio strategy in Asia Pacific (APAC); Melisa supports the office in Korea business development.
Andrew Chen is a Senior Analyst based in the Hong Kong office with expertise in market analysis and due diligence in Japan, China, and other APAC markets.
Gary Cheng is a Vice President based in the Hong Kong office and leads Health Advances' APAC practice.