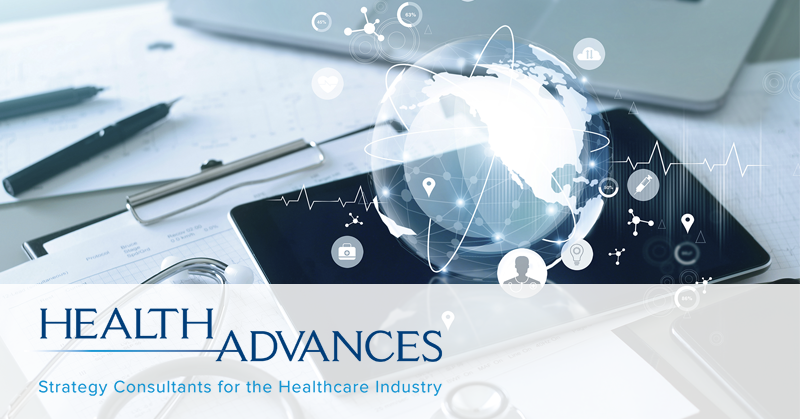 Blog | 5/8/2020
How COVID-19 is Accelerating Telemedicine Adoption in Asia Pacific
By Gary Cheng, Vice President, Frances Wu, Engagement Manager, and Daniel Huang, Analyst
In Asia Pacific, the COVID-19 pandemic is bringing to the forefront digital solutions that allow patients to gain access to a doctor without stepping into a hospital or clinic. In this post of our continuing series on the worldwide impact of COVID-19 and the future of healthcare, we explore how telemedicine (i.e. virtual visits) in several Asia Pacific countries is being adopted and the future outlook. An introduction to the impact of telemedicine worldwide can be found
here
.
Key Takeaways
The impact of COVID-19 on telemedicine adoption in Asia Pacific depends on the market conditions of each geography before the pandemic, and what technical, market, and regulatory barriers remain to be overcome following the pandemic.

There must be clear provider and patient demand as well as unmet need for telemedicine.

Government support and guidance around the regulation and reimbursement of telemedicine serve as a foundation to expand telemedicine to the broader market.

Increasing presence of companies in telemedicine aiming to innovate and provide customized solutions for the market will continue to grow adoption.

COVID-19 will continue to grow the adoption of early adopter markets like China, Singapore, and Australia where telemedicine adoption is already underway.

Follower markets, like Japan and Indonesia, stand to make leaps in adoption and catch up to early adopter markets following COVID-19 if they can successfully attain government support for telemedicine.

Conservative markets, such as Hong Kong SAR and South Korea, may see near-term uptake in telemedicine during the pandemic, but without high demand or clear unmet need for these services, lasting adoption is unlikely.
Telemedicine in Asia Pacific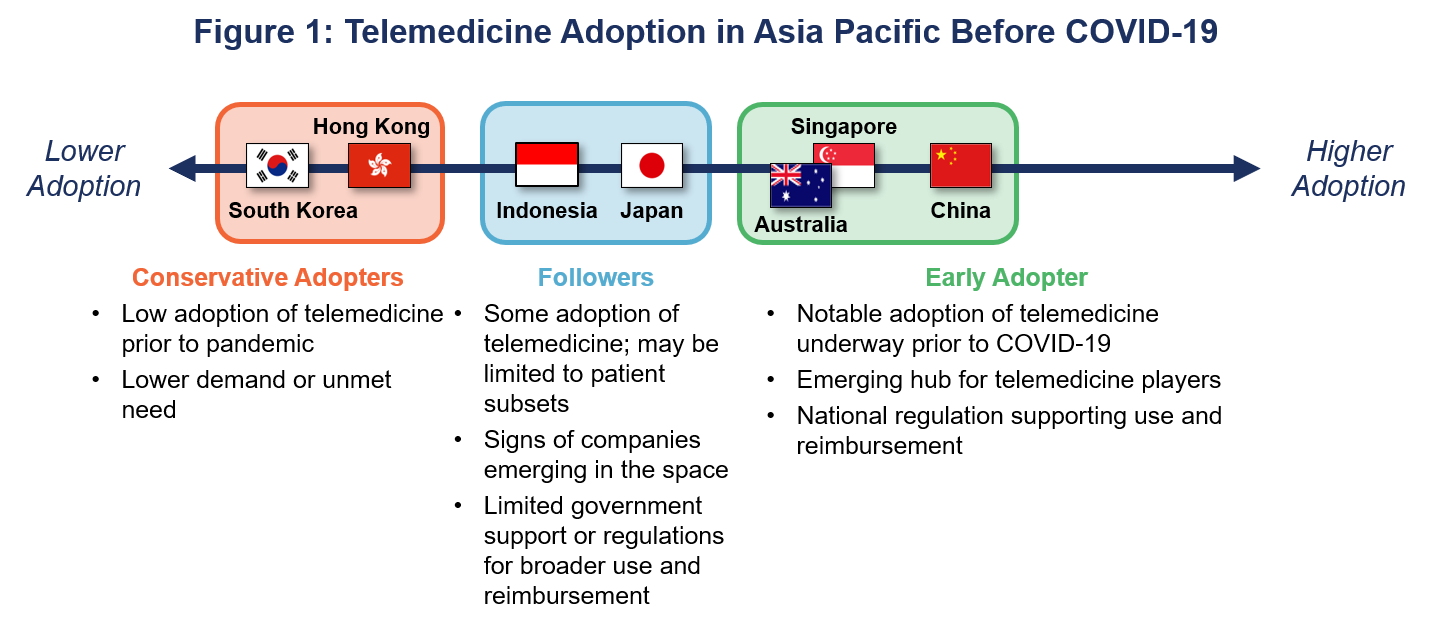 Figure 1 above illustrates, at high level, the relative position of each Asia Pacific geography of interest on the telemedicine adoption scale. Taking into account factors such as provider and user adoption, number of available companies and telemedicine platforms, regulatory guidance, and reimbursement, we map out where each country was in adopting telemedicine before COVID-19 and grouped them into three core archetypes.
The early adopters, encompassing China, Singapore, and Australia are far ahead on the adoption curve, lending to their drive to be the leading nations in digital health and to minimize the gap in health access.
The followers include Japan and Indonesia, which are seeing ongoing growth in the telemedicine adoption and the landscape of companies in the space.
Lastly, the conservative adopters are countries that had been slow to adopt telemedicine before the COVID-19 breakout. In our analysis, this includes Hong Kong SAR and South Korea.
Next, we can take a look at how COVID-19 will impact the relative adoption of these countries on this simplified scale in Figure 2.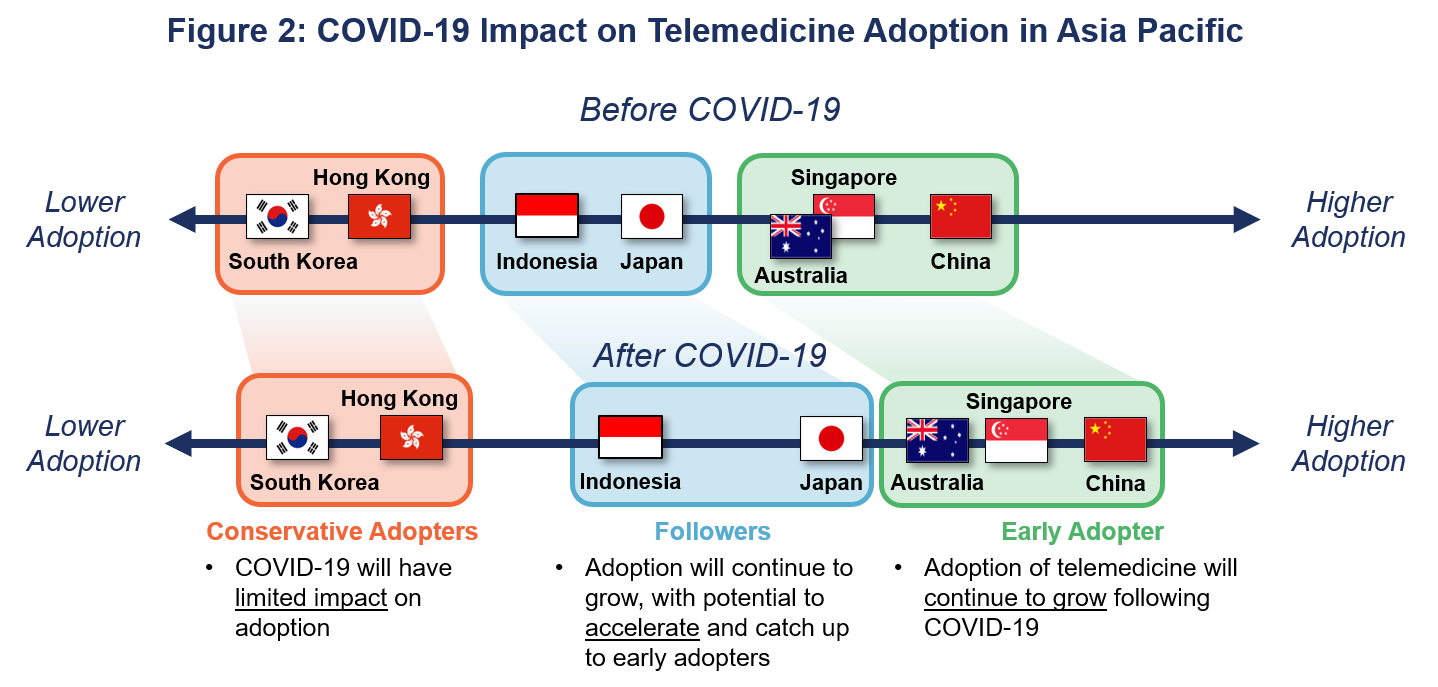 To understand why these countries and types of telemedicine adopters are poised for this adoption, we can take a closer look at the market environment for telemedicine and criteria for further uptake in each of these types of adopters: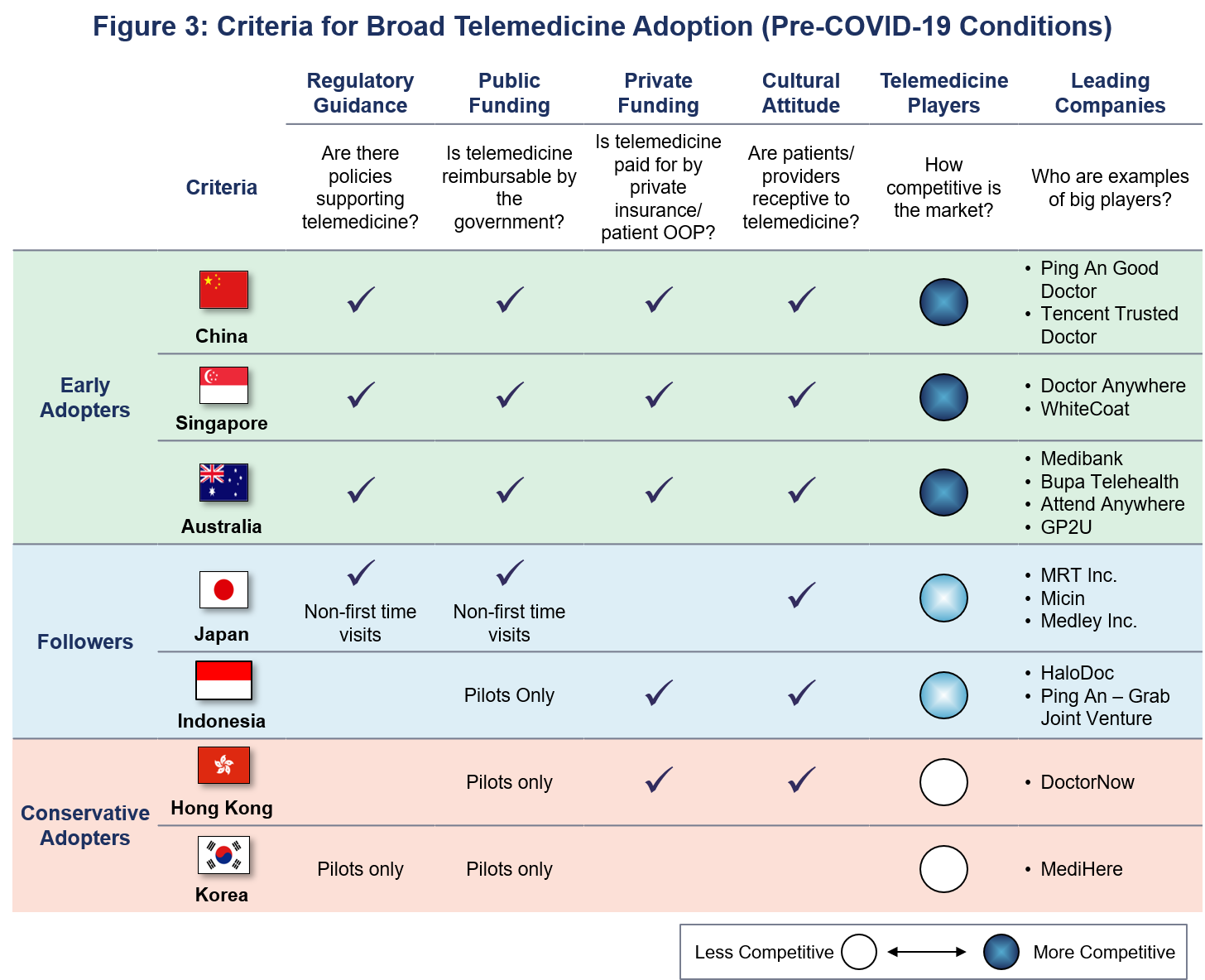 Early adopters already show notable uptake of telemedicine services, and will see continued growth as a result of the COVID-19 pandemic
China, Singapore, and Australia are early adopters of telemedicine within Asia Pacific. Before COVID-19, these countries were already characterized by strong telemedicine platforms and government support. Adoption of telehealth, including provider-to-patient and provider-to-provider solutions, in 2019 was 89% for providers in China, and 64% for Singapore and Australia, according to Philips' 2019 Future Health Index survey. The outbreak is expected to continue increasing adoption given the following favorable pre-existing market conditions:
The private sector has been leading the way in developing robust telemedicine platforms to lay the groundwork for adoption. This is most notable in China, where high-profile corporations including Ping An, Tencent, and Alibaba have used their deep resources to develop telemedicine platforms. Meanwhile, Singapore's Economic Development Board (EDB) has fostered a positive environment for telemedicine start-ups like Doctor Anywhere, which reports serving almost one million users in Southeast Asia. Australian telemedicine platforms are also being supported by large insurance groups like Bupa and Medibank. For all three countries, private companies developed solutions to pave the way for telemedicine.
Both before and during COVID-19, early adopters' governments have demonstrated national support recognizing telemedicine services and establishing regulatory and reimbursement for these services. In China, policies such as "Promoting Internet + Medical Insurance to Prevent and Control COVID-19" among others have served to limit price points, increase reimbursement, and broaden telemedicine's use beyond follow-up services. Similarly, Singapore is enhancing its framework for telemedicine as part of its upcoming "Healthcare Services Act 2020". Australia has also demonstrated dramatic commitments to telemedicine since the outbreak, expanding public reimbursement of such services in March 2020 for all Medicare-covered population beyond COVID-related care. Policies like these are critical as government recognition and reimbursement are key to broader adoption of new healthcare technologies like telemedicine.
Unmet need for telemedicine is recognized in early adopter markets, and demand is high. Citizens of these and other countries strongly benefit from the value proposition of a virtual service like telemedicine, such as the elderly and those living in rural or remote areas. In markets where healthcare is characterized by long queuing times, like China, telemedicine serves a clear purpose. The value of virtual services in circumstances like these will bolster the adoption of telemedicine.
The outlook for telemedicine is positive across these early adopters. We expect increased consumer use and positive regulatory changes to grow the adoption of telemedicine even after COVID-19 subsides, though the pace of such growth would depend on how much additional support the governments of these markets provide.
As an example, China's Ping An Good Doctor already recorded over 60MM monthly users before the outbreak and over a 9X increase in virtual visits since then. While signals are positive, it will take time for telemedicine to reach peak adoption in this market. Reimbursement policy is a key gate holder to adoption and, in China, will be implemented in stages at the provincial level.
For continued growth of telemedicine, these markets must demonstrate continued commitment to telemedicine even after COVID-19 subsides. Nevertheless, telemedicine's future is bright across these countries, and we can look to them as leading the way for the broader Asia Pacific region.

Follower countries have the potential to accelerate adoption in telemedicine following COVID-19, but still must clear key hurdles to fully realize this potential
As followers in telemedicine, Japan and Indonesia serve as interesting examples with contrasting anticipated telemedicine adoption following COVID-19 due to their different responses to the pandemic.
However, grounded support from the government in follower markets is necessary to drive broad adoption. In this regard, it appears that between the two follower examples listed, Japan is best prepared for rapid adoption:
In 2018, Japan's government announced "The Japan Vision: Health Care 2035", indicating its support for the use of telemedicine in non-first time visit "consultations". The pandemic has further led to deregulation of telemedicine that allows patients to use virtual visits for first-time visits. The government has even launched a free remote health teleconsultation service for COVID-related concerns in collaboration with companies like Mediplat and LINE. Though temporary, this will likely give the government and providers the confidence to implement telemedicine more broadly, and perhaps can even move the needle for Japan to catch up to the early adopter markets – what remains to be seen is whether such policies and reimbursement will continue to be implemented to ensure its success.
On the other hand, the Ministry of Health in Indonesia has yet to provide guidance or support for physician-to-patient telemedicine, which significantly hampers long-term adoption since such services are thus paid for privately or out of pocket. COVID-19 has stimulated greater telemedicine use in the near-term, driven by free consultations and testing for suspected COVID-19 cases. However, the Ministry of Health has not demonstrated major commitments for positive long-term changes to regulatory or reimbursement policies, making longer-lasting change unlikely.
Conservative adopters have a long way to go to overcome market barriers to see greater adoption in telemedicine
Hong Kong SAR and South Korea are conservative adopters in telemedicine and support the fundamental business concept that markets with low demand for new products are unattractive markets. Though recent temporary policies amidst the pandemic in these geographies have granted some leeway for telemedicine, a lasting meaningful impact is unlikely for both countries.
Provider trust and confidence that telemedicine will improve quality of care and health access is critical for adoption. We can look to South Korea as an example, where "physician-to-patient" telemedicine was explicitly banned prior to COVID-19:

Providers in South Korea have historically been reluctant to adopt due to concerns that telemedicine will lead to greater errors in diagnosis and treatment decisions, thereby lowering quality of care.
With the lifted ban on telemedicine during COVID-19, providers in areas where COVID-19 hit the hardest are beginning to offer such phone consultations. However, the Korea Medical Association continues to fiercely resist telemedicine due to the lack of regulations. Without the full acceptance of telemedicine by providers, the possibility of long-term adoption is challenging.
Markets where access to healthcare is a lower unmet need also have lower demand for telemedicine services. Hong Kong SAR is a unique market that has shown limited adoption of telemedicine services which supports this basic assertion:

As a high-density city, Hong Kong SAR is a market where providers are easily accessible to the public, decreasing the demand for remote solutions. With a low unmet need, Hong Kong SAR's Medical Council has not provided concrete regulatory guidance or notable reimbursement for telemedicine services.
Before COVID-19, telemedicine was used in limited situations like elderly homes, and during COVID-19, few pilots have expanded its use to specialties like psychiatry and physiotherapy. Without a strong need or government support, adoption of telemedicine is unlikely to greatly advance.

Conclusion
Though the story of telemedicine adoption across these geographies in the midst of COVID-19 varies, telemedicine is still rapidly gaining credibility and traction, particularly in early adopter and follower markets. Patients are shifting their behavior to use telemedicine and other forms of digital health to be more proactive in their health, and providers are following suit as they recognize the role telemedicine plays in improving care.
As the model for healthcare delivery evolves and becomes more integrated with these digital platforms, it will become increasingly important for biopharma and medtech companies to pick up their pace in digital health strategy. Specifically with telemedicine, manufacturers may have the opportunity to partner with the emerging telemedicine platforms to customize patient engagement solutions. In doing so, they can play a role in further personalizing the patient journey experience, cultivating real-world data, and improving patient outcomes.
###
About the Authors
Gary Cheng is a Vice President of Health Advances and leads the Asia Pacific practice in the Hong Kong office.
Frances Wu is an Engagement Manager based in the Hong Kong office, and works across therapeutic areas and sectors in Asia Pacific and beyond, including biopharma, medtech, and digital health.
Daniel Huang is an Analyst based in the Hong Kong office with expertise in growth strategy and due diligence projects across verticals including biopharma, medtech, and digital health.
About Health Advances Asia Pacific Expertise
Health Advances is a healthcare-focused strategy consulting firm that has built deep global expertise in Asia Pacific countries across various sectors, including biopharma, medical devices, diagnostics, and digital health. Health Advances partners with clients to support their clinical development, business development, and go-to-market commercialization strategies.
If interested, please contact one of the members of our Asia Markets Practice Management Team at HAAsiaMarkets@healthadvances.com.