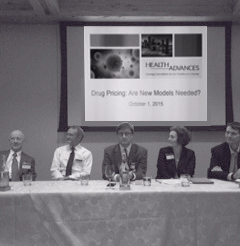 Blog | 11/9/2015
Beyond Turing and Valeant- Why is Drug Pricing Such a Hot Issue?
by Maggie O' Brien
At a recent event sponsored by Health Advances, a panel of experts from the healthcare industry weighed in on drug pricing, a topic that is frequently a part of industry discussion but has also recently entered the national spotlight. Beyond the media hype around the recent Turing Pharmaceutical controversy, panelists pointed to potential reasons why drug costs and pricing reform are currently at the forefront of the American consumer consciousness.
According to MacArthur Professor of Health Policy at Harvard University Joseph Newhouse, American households are currently paying much more out-of-pocket than they ever have before for health care (see Figure below). As premiums and deductibles reach unsustainable levels, further cost increases from drugs or services are likely to be felt by consumers more than in the past. In this era of increased scrutiny, manufacturers will need to justify drug prices more than they currently are, says Van Crocker, President of Healthagen Outcomes, an Aetna Company.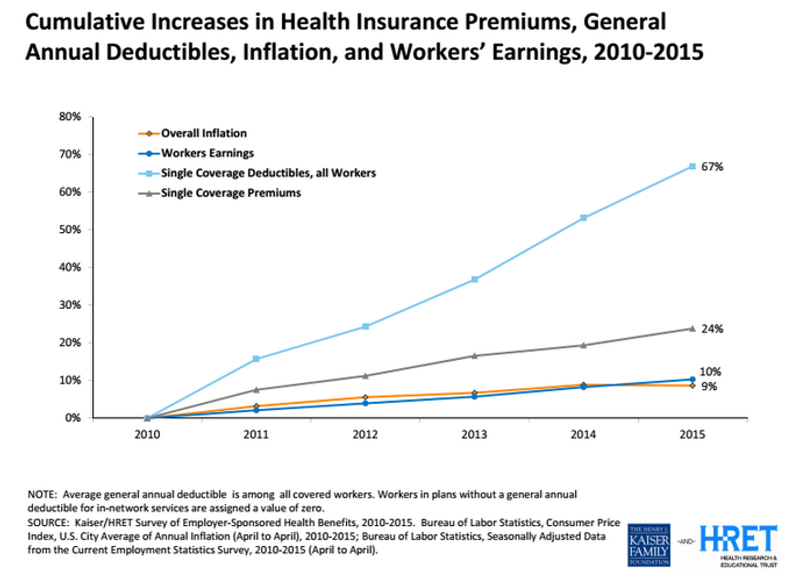 Part of the reason for this increase in drug prices may be due to recent healthcare reform. As CVS Health Chief Medical Officer Troy Brennan explained, the passage of the Patient Protection and Affordable Care Act (PPACA) improved access to healthcare for millions of Americans, increasing utilization of healthcare services and costs. Drug prices therefore reflect a higher demand for healthcare products and services, as pharmaceutical companies have begun to take advantage of the higher utilization by inflating launch prices.
Additionally, as panelist bluebird bio exec Doug Danison, Sr. Director, Global Pricing, Reimbursement & Market Access explains, pharmaceutical companies haven't done a great job of articulating the relationship between price and value in the United States. The FDA approved 41 new drugs in 2014, the highest number since 1996 when 53 drugs were approved. Among these were PD-1 inhibitors for cancer, Hepatitis C medications Harvoni and Viekira Pak, and SLGT-2 inhibitors and GLP-1 agonists for diabetes. These indications are costly to treat, and the drugs represent important breakthroughs. Yet as recent Gallup poll shows, only 35% of Americans have a positive view of the pharmaceutical industry, with high drug prices likely playing a role in their perception.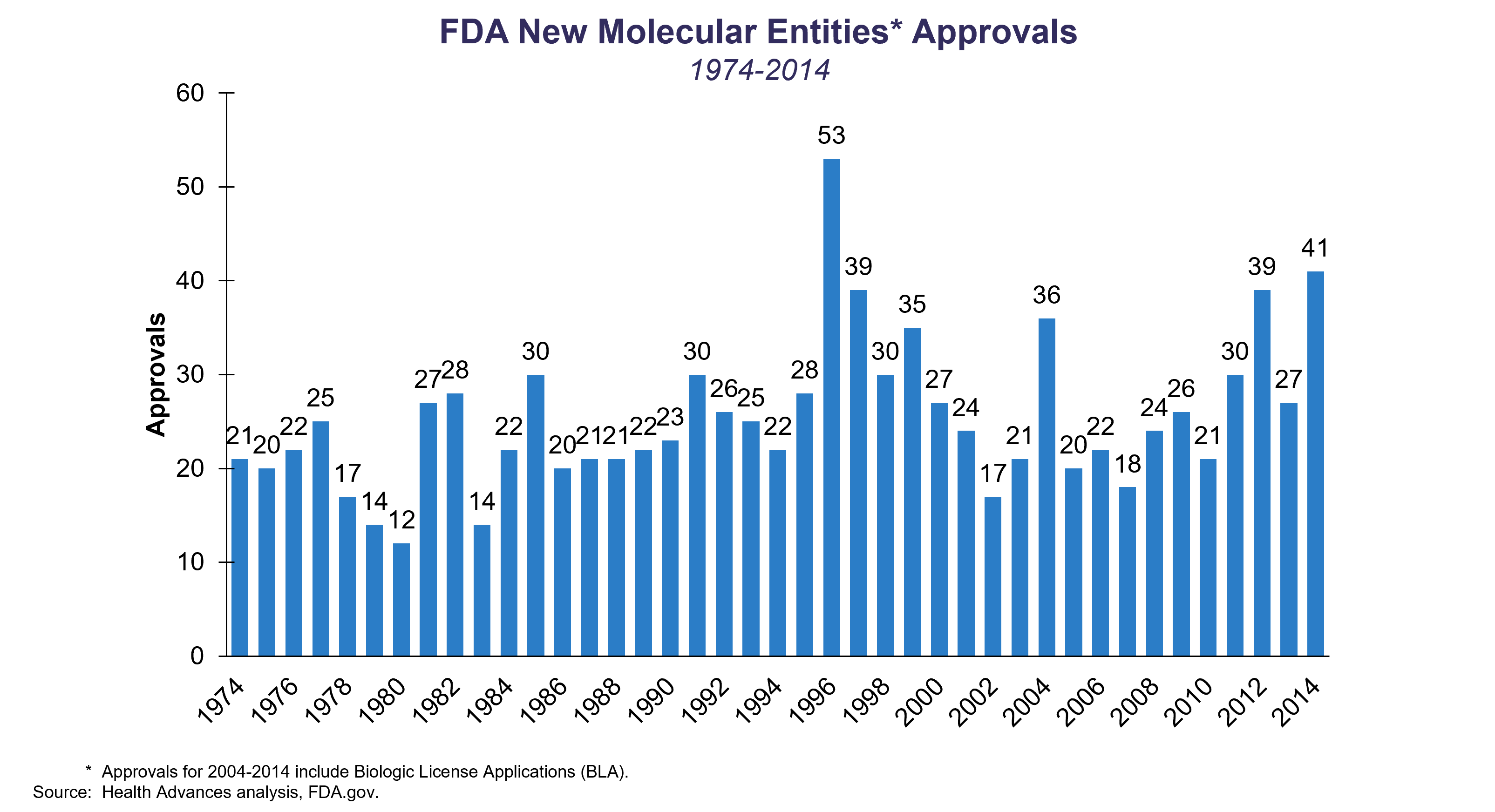 Another factor influencing drug pricing is the recent generic "waterfall", or patent expiration of several blockbuster drugs including Lipitor, Cymbalta, and Plavix, which reduced revenues and forced drug manufacturers to look to other ways to earn a profit. This has led to companies like Valeant to adopt the strategy of acquiring and raising the price of undervalued branded drugs. So far, savings from the generic influx have outweighed these brand-name price increases, with drug spending overall rising relatively slowly the past few years. However, Turing Pharmaceuticals' ability to exert price control over generic daraprim was evidence to some of a market failure. As pharmaceutical production becomes increasingly more concentrated over time, the ability of generic competition to prevent effective monopolies for similar small market specialty medications could become less certain.
Finally, as panelist and Vice President, Head of Global Market Access and Pricing at EMD Serono, Inc. Ana Cespedes reflected, in a soon-to-be election year the national focus often turns towards cutting costs, and drug prices are an easy target. It's unclear how long political candidates will focus on this issue, as many have thus far directed their criticism at companies raising the prices of older drugs to make up for declining volumes, rather than those releasing novel medications. Yet Sovaldi's 2014 market entrance was seen as an inflection point, leading to increased scrutiny of disease-modifying medications – even very effective ones – with high price tags. With gene therapies, CAR-T cell immunotherapies, and other groundbreaking drugs expected to gain approval in the next five years, it's likely that the intensity of the drug pricing debate will only increase.
Maggie O'Brien is an Analyst at Health Advances.
Opinions expressed here are solely those of the authors and do not reflect the views of Health Advances LLC, its management, or affiliates