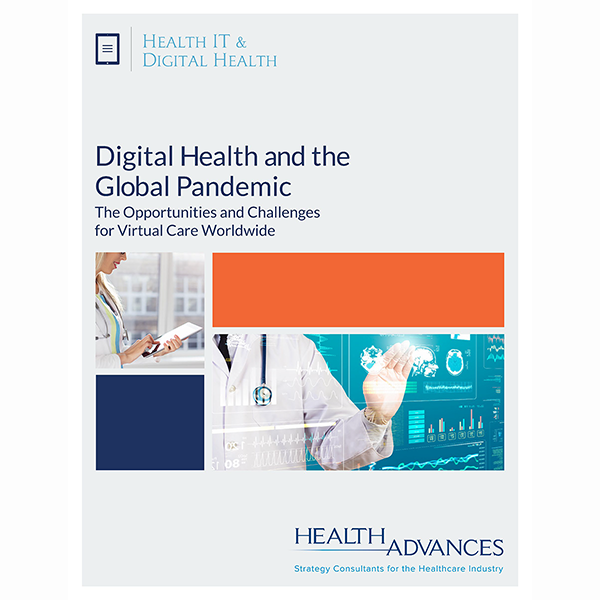 Blog | 6/25/2020
eBook: Digital Health and the Global Pandemic
As we continue through the response to and recovery from the COVID-19 pandemic, it is tempting to imagine a post-COVID future that includes some silver linings. As terrible as the situation is today, this calamity will lead to some lasting, positive changes, particularly in healthcare.
Virtual Care (often referred to in common parlance as simply telemedicine, and we will use them interchangeably here) has emerged as the poster child for this line of thinking. Providers and patients have dramatically increased the use of telemedicine to ensure continued access to quality healthcare services while maintaining social distance and modulating the enormous burden on our healthcare workers and facilities. Regulators and payers are encouraging and enabling this shift by temporarily relaxing policies that have historically limited telemedicine. Adjacent areas of digital health including digital therapeutics, digital disease management, and remote monitoring have followed suit, finding similarly relaxed policies, more accessible reimbursement, and increased adoption by providers and patients alike. Many have questioned whether these changes will endure as life returns to a "new normal", or if policies will be reverted and accelerated growth will subside.
We begin by examining the potential for COVID-19 to drive lasting change for various categories of digital health technologies. Given the large scale of virtual care, in combination with its potential for lasting COVID-19 impact, we then will dive deeply into this category as a leading indicator of other areas of digital health. Because the US experience has been so widely covered (and to some degree, it is still playing out in real time), we highlight key characteristics and trends across Asia Pacific (APAC) and European markets.
Download the full eBook here.
###
Acknowledgments
This eBook draws heavily on blog posts originally posted on www.healthadvancesblog.com. Original blog authors include current and former colleagues at Health Advances including:
Andrew Matzkin, Partner – amatzkin@healthadvances.com
Greg Chittim, Vice President – gchittim@healthadvances.com
Claudia Graeve, Vice President
Gary Cheng, Vice President
Frances Wu, Engagement Manager
Anastasios Pappas, Consultant
Justyna Bomba, Analyst
Daniel Huang, Analyst

Special thanks to Alyssa Ostrow, Analyst for editorial and content support on the eBook, Pat McLaughlin and Emily Golinko for graphic design, and the entire Library Services team for research support.