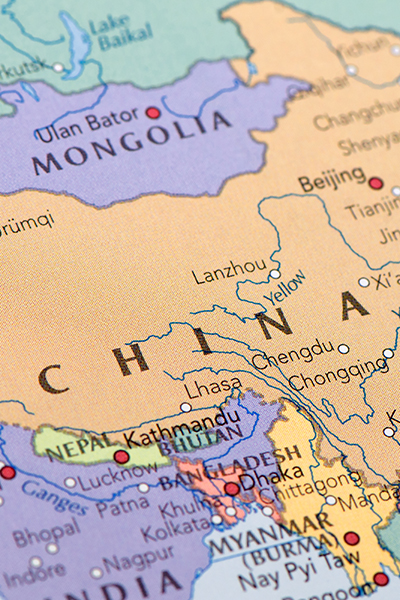 Blog | 3/27/2019
Improvements in China Drug Registration – Opening the Door to the China Market for Global BioPharma
By Balazs Felcsuti, Vice President; Chelsea Pan, Engagement Manager; Abigail Higgins, Senior Analyst; Vivek Mittal, Partner; and Paula Ness Speers, Managing Director
With so much recent news focused on the ongoing trade dispute between the world's two largest economies, the changing landscape for drug development and commercialization in China may have been overlooked by many. Yet, these changes are important and provide significant new opportunities for global biopharma companies seeking to expand into China. China will soon be the largest healthcare market in the world, driven by its aging population, growing middle class, and the increase in access to healthcare services for many, not to mention a worsening health status caused by the penetration of a less healthy western-style diet into the major population centers. In addition, the Chinese government has repeatedly committed to the provision of universal healthcare, most recently in the "Health China 2030" blueprint announced in 2016. Having successfully implemented rudimentary health insurance coverage for over 95% of the population, the Chinese government is now aiming to achieve a health standard on par with developed countries by 2030, which will further improve the broad, yet basic, insurance coverage today. All of these forces are accelerating the growth of the domestic healthcare market in China. Yet, while the domestic Chinese biopharma industry is realizing successes and gaining traction, local innovation alone is unlikely to satisfy the medical needs of this vast population in the near- to mid-term. Given this large and growing market, many regional and global biopharma companies are eager to tap into this market. Below, we have highlighted some of the recently introduced regulatory initiatives in China that benefit global and regional biopharma companies looking to enter the Chinese life sciences market.
Leveraging Global Clinical Trial Data for Local China Approvals
In July 2018, China took a significant step toward streamlining the drug approval process for biopharma companies by agreeing to accept clinical trial data from other countries as the pivotal part of the drug registration process, thereby reducing development cost and time to market in China.1-4 Previously, all products were required to conduct clinical studies in China, even though they may have already undergone extensive clinical testing in other countries. Now, however, manufacturers can leverage qualified data from ex-China trials for expeditious registration and subsequently update their dossiers with China-based post-marketing safety and efficacy data submissions. These new guidelines apply to both innovative, as well as generic and biosimilar, therapies.1-4 Furthermore, in an effort to expedite access to therapies treating life-threatening or serious pediatric diseases, ex-China clinical data classified as "partially acceptable" may be used to grant conditional approval in China, supplemented by post-marketing efficacy and safety data.1 In October 2018, the National Medical Products Administration (NMPA; formerly CFDA) formally established a "special channel" for the review and approval of new drugs approved and marketed in the US, EU, or Japan in the past 10 years, but not yet approved in China. Through the special channel, the timeline for technical review of eligible drugs will be shortened from six months to three months. The NMPA is working to publish a list of eligible products and will focus on drugs for rare, orphan as well as life-threatening diseases.5
Special Incentives for Rare, Orphan and Life-Threatening Diseases
In addition to the loosening of clinical trial requirements, in October 2017, the Chinese drug regulators issued guidance to accelerate registration for rare, orphan and life-threatening diseases with high unmet needs through conditional approvals based on limited, but promising clinical trial data.6 Then, in May 2018, the central government of China released a list of diseases it regarded as "rare," which will enjoy various levels of data exclusivity and pricing benefits. The first wave included 121 conditions, and additional waves are expected in coming years.7 Just last month, the Ministry of Finance announced a list of 21 drug products and 4 drug substances for rare diseases that will be eligible for a reduction in the value-added tax (VAT) rate. For these products, VAT will be reduced from 16% down to 3%, providing significant economic incentives for commercialization in China.8,9 This list, too, is expected to expand in the coming years.
Expanded Data Exclusivity Protections Favoring Early Launch in China
In a new draft guideline released April 2018, Chinese regulators have expanded the scope of data exclusivity protections to cover not only new chemical entities, as had been the case previously, but also innovative therapeutic biologics, orphan drugs, pediatric drugs, and generics for which patents have expired.10,11 These protections disproportionately favor drugs first filed in China. Under the new guideline, innovative drugs and therapeutic biologics will receive 6 years and 12 years of data exclusivity, respectively, from the date of marketing authorization in China. Importantly, this applies only to products for which clinical trials are conducted at least partially in China and their initial NDAs are submitted first in China or concurrently with other countries.10,11 These data exclusivity protections encourage drug manufacturers to include China in their clinical development plans as well as to prioritize early launch in China. While we closely monitor any impact that the US-China trade dispute may have on the Chinese healthcare market, we view the above-mentioned developments as part of a larger, favorable trend for US, EU and other global drug manufacturers.
###
Health Advances Expertise in the China BioPharmaceutical Market
Health Advances has built a deep understanding of the China domestic healthcare system over the past two decades, and has worked with a range of US, EU and Asia-based biopharma companies to help formulate their market entry strategies into China.
We are excited to open our fourth corporate office in June 2019, which will be located in Hong Kong. This office, together with our other US and European offices, will help us serve clients seeking to evaluate, enter and/or expand into the China market and/or other leading APAC markets. In addition, it will deepen our ongoing relationships with a wide variety of Asia-based companies seeking to expand their commercial footprints beyond their domestic markets.
Should you be interested in exploring market entry into China, please contact one of the members of our Asia Markets Practice Management team at HAAsiaMarkets@healthadvances.com.
Sources 1. National Medical Products Administration 2018. "Technical guidelines for accepting drug clinical trial data abroad." 2. Liao 2018. "China National Drug Administration Sets Guidelines for Overseas Drug Trial Data." Morgan Lewis. 3. China Center for Food and Drug International Exchange 2018. "CNDA Announcement on the Issuance of the Technical Guidelines for Accepting Overseas Clinical Trial Data of Drugs." 4. Fassbender 2017. "China now accepting clinical trial data from other countries." Outsourcing-Pharma.com. 5. The US-China Business Council 2018. "Healthcare Industry Update – December 6, 2018: New fast-track approval process for urgently needed new foreign drugs." 6. Guo and Su 2018. "China: Regulatory Reform 2.0 Changes the Game." DIA. 7. He et al. 2018. "China has officially released its first national list of rare diseases." Intractable & Rare Diseases Research. 8. Yang 2019. "Orphan Drug Makers Get Selected Tax Breaks as China Turns to Access." Scrip. 9. Li 2019. "China Releases List of Rare Disease Drugs with Reduced VAT." Biocentury. 10. Tan and Wininger 2018. "China plans to increase market exclusivity term for pharmaceuticals based on improved pharmaceutical trial data protection." China IP Legal Report. 11. Coventus Law 2018. "China Drug Administration Publishes a Key Draft Guidance on Data Exclusivity for Pharmaceuticals."