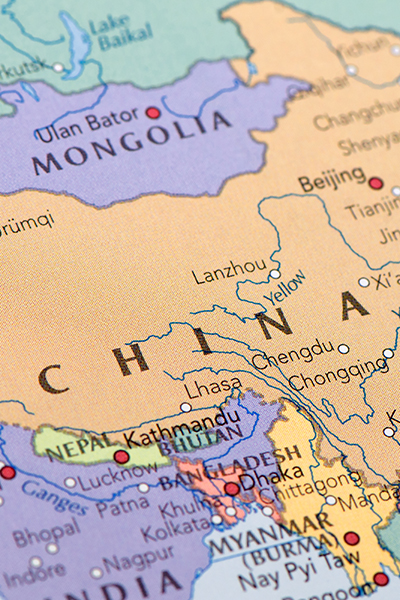 Blog | 4/7/2019
Keytruda, a case study for the improved regulatory environment in China
By Vivek Mittal, Partner; Balazs Felcsuti, Vice President; Chelsea Pan, Director; and Yinzi Liu, Consultant
On March 27, we published a blog post ("Improvements in China Drug Registration – Opening the Door to the China Market for Global BioPharma") highlighting several regulatory initiatives in China aimed to expedite the process of innovative products by ex-China manufacturers coming to market. Just a few days later, Keytruda was approved as first-line treatment for metastatic nonsquamous non-small cell lung cancer (NSCLC) in China, a mere 7 months after its approval in the US. Keytruda's success well exemplifies how multinational companies begin to benefit from these recent reforms, in particular, conditional approvals granted through an accelerated review process by the NMPA, the Chinese regulatory agency, on the strengths of foreign clinical data.
The conditional approval1 of Keytruda combined with chemotherapy was based on the KEYNOTE-189 study (NCT02578680) conducted in 16 ex-China countries2. This is the same trial Merck used for its blockbuster anti-PD-1 immunotherapy's approval in the US, Europe, and Japan. Conditional approval is one of several new initiatives that the Chinese government implemented for innovative drugs for rare and life-threatening diseases3. Orphan drugs approved outside of China or with early clinical indicators may qualify. This is not the first foreign data-based conditional approval Merck has enjoyed in China. Approximately a year ago, the company received a conditional green light for Gardasil in a similar way4, 8 years after the initial approval in the US. However, although foreign clinical data can now be used to support a conditional approval, manufacturers still need to provide evidence to support clinical benefits in the Chinese population in confirmatory studies or post-marketing surveillance in order to obtain a full approval, as is the case with both Keytruda in NSCLC as well as Gardasil.
Keytruda's accelerated review and approval was due to Merck's ability to demonstrate that the product addresses significant unmet need in China, as is the case for a select list of 48 "drugs with urgent clinical need" that China's Center for Drug Evaluation designated for priority review in 20185. To date, approximately 200 innovative molecules have received such designation. Compared to up to 1-2 years of review time before, under priority review, INDs are approved or rejected within 60 days; and NDAs are reviewed within 6 months; and the first round internal review could be as fast as 3 months for orphan drugs6. This accelerated review process, coupled with the acceptance of foreign data, helped shorten the time gap between approvals in the US and China for Keytruda in NSCLC to just 7 months, as opposed to an average of 6 years observed prior to 20187.
With a healthy pipeline of drugs benefiting from priority review or other fast track designations, we expect to see an increased number of accelerated approvals of foreign biopharmaceutical products in China in the near- to mid-future. In an interview with the China Daily, Novartis CEO Vas Narasimhan has lauded the recent changes in the Chinese regulatory system and the country's transformation from focusing on generics and me-too products to embracing innovation.
The fast-changing regulatory process and the shortening approval timeline have significant impact on market entry strategies. We are eager to help our clients achieve commercial success in China with market assessment, market access (pricing, tendering, and reimbursement), life cycle management, as well as other strategic issues.
###
Should you be interested in exploring market entry into China, please contact one of the members of our Asia Markets Practice Management team at HAAsiaMarkets@healthadvances.com.
Sources
1. Merck 2019. Merck's KEYTRUDA (pembrolizumab) Approved in China for First-Line Treatment of Metastatic Nonsquamous Non-Small Cell Lung Cancer (NSCLC) in Combination with chemotherapy.
2. Gandhi L et al 2018. Pembrolizumab plus Chemotherapy in Metastatic Non-Small-Cell Lung Cancer. N Engl J Med.
3. Hogan Lovells 2018. The China Food and Drug Administration Pushes Forward on Conditional Approval and Compassionate Use of New Drugs.
4. FiercePharma 2018. 9 Days for Gardasil: China Hands out Landmark Nod with Lightning Speed.
5. The Chinese Center for Drug Evaluation 2018. List of Drugs Approved outside China with Urgent Clinical Need.
6. The Chinese Center for Drug Evaluation 2016. Priority Review Process.
7. Health Advances analysis.