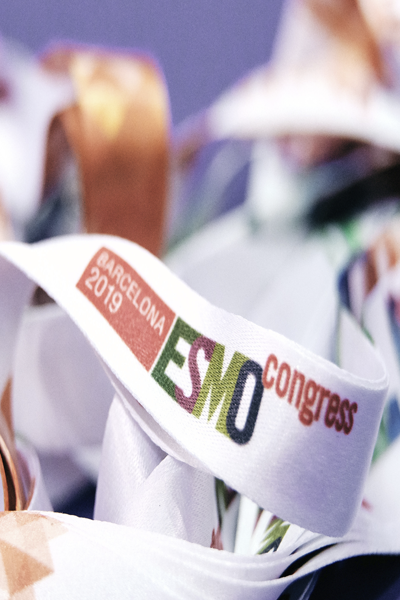 Blog | 10/14/2019
Key Takeaways from ESMO 2019
By Ned Wydysh, Director and Ruggero Rossi, Vice President
In the last week of September, the oncology community flew to Barcelona for the European Society for Medical Oncology (ESMO) Congress to learn about the latest progress in the field since ASCO (American Society of Clinical Oncology) and to begin preparing for the J.P. Morgan Conference in January.
Health Advances was there. Across dozens of presentations and hundreds of posters, we synthesized key themes that emerged from the conference.
Theme 1: Targeted therapy is back in the spotlight
Much of the discussion at the conference was directed not toward immunotherapy or CAR-T, but on targeted therapy results.
On the positive end of the spectrum were studies of PARP inhibitors Zejula (GSK) and Lynparza (AstraZeneca) in first-line maintenance treatment of advanced ovarian cancer. Zejula's PRIMA study1 demonstrated improved PFS in all-comer (BRCA-unselected) platinum-responsive patients when used as maintenance therapy, while Lynparza's PAOLA-1 study2 demonstrated a PFS improvement in platinum responders when used in combination with bevacizumab.
The overall data appear similar, with a hazard ratio of 0.59 for Lynparza + bevacizumab vs. 0.62 for Zejula. Subgroup analyses based on HRD and BRCA markers have suggested that Zejula may be favored in the HRD+/BRCA- group, while Lynparza may be preferred in both the BRCA+ and HRD-/BRCA- subpopulations, but the two studies had differences in design that make them not directly comparable. It will certainly be worth watching to see how the competition between the two agents shakes out in this setting, which may largely depend on oncologists' willingness to dig deep into the data and segment their platinum-responsive patient population.
Less favorable data, however, came out of Amgen's KRAS-targeting AMG 510 study3 in advanced colorectal cancer with G12C mutations. One of 12 patients treated with the highest dose achieved a partial response (overall response rate of 12%), representing much lower activity than demonstrated in non-small cell lung cancer (NSCLC) (7/13, 54%) at ASCO earlier this summer. The ASCO results stimulated excitement over the promising results for the historically quite difficult to drug target, but the ESMO CRC data may represent a limitation of clinical applicability to NSCLC.
As different combinations involving these targets are under study for a range of tumor types and molecularly defined subpopulations, the field will continue to learn more about how to best employ these approaches. Based on the most recent data, PARP inhibition continues to expand its reach, while additional work will be required to build on the modest efficacy of KRAS-targeting strategies in CRC. Ultimately, combination therapy will likely be needed for true optimization of these targeted approaches, as we have seen in melanoma with BRAF + MEK inhibitors, PD-1 + CTLA-4 antibodies, and other combinations under study.
Theme 2: Competition in high-profile indications poised to increase
As would be expected when multiple players are simultaneously developing products within the same mechanism of action, competition in high-profile indications is heating up.
In addition to increased PARP inhibitor competition in first-line ovarian cancer, new data are poised to ramp up competition in NSCLC, triple negative breast cancer (TNBC), and metastatic hormone receptor positive (HR+) breast cancer.
The CHECKMATE-227 study of Opdivo + Yervoy demonstrated improved survival in patients treated with the immunotherapy combination over chemotherapy alone, regardless of PD-L1 expression,4 which should help BMS make a small dent in Keytruda NSCLC use. The survival data aren't quite as impressive as Keytruda's in this population, but the results are expected to lead to greater Opdivo use in patients intolerant of chemotherapy.
While Keytruda's KEYNOTE-119 study in second line metastatic TNBC failed to show an improvement in patient outcomes5, it holds promise in earlier disease settings. An interim analysis demonstrated Keytruda + chemotherapy produced a significant improvement in pathological complete response (pCR) in neoadjuvant TNBC over the chemotherapy arm,6 suggesting it could gain approval in this setting as well as the much larger adjuvant TNBC market. Roche's Tecentriq (atezolizumab) was approved earlier this year in locally advanced or metastatic PD-L1 positive TNBC and should therefore remain the leader in later-stage disease, but it is increasingly likely multiple PD-1/L1 inhibitors will be approved in TNBC in the near future.
Novartis's Kisqali and Eli Lilly's Verzenio are lagging Pfizer's Ibrance in advanced HR+ breast cancer, but confirmation of their overall survival benefits in the MONALEESA-37 and MONARCH-28 Phase III studies should lead to increased competition and CDK4/6 inhibitor market share fragmentation.
As efficacy data from multiple similar compounds coalesce in the same patient populations, it will become more important to differentiate therapies through other means. Outside of additional clinical data on adverse events, developers will increasingly look to differentiate their products through demonstrating lower treatment-associated costs, novel payment models, and value-added services to gain an upper hand over similar products launching at similar times.
Theme 3: Immuno-oncology consolidates and regroups
Aside from this continued deluge of PD-1 data, there was no really exciting clinical news on the immuno-oncology front. After the initial excitement a few years ago, the oncology community is starting to realize that it might be a while before the next wave of truly breakthrough cancer immunotherapy will come to fruition.
During this time of regrouping, one area of inquiry that we found interesting at ESMO was around the identification of biomarkers of response for immuno-oncology therapies. A study9 of patients treated with Keytruda in KEYNOTE-158 showed an association between tumor mutational burden (TMB) and patient outcomes. TMB is a measurement of all nonsynonymous coding mutations in a tumor and can be used as a surrogate of neoantigen load. On the other hand, the analysis10 of the KEYNOTE-021, -189, and -407 trials in NSCLC showed no significant association between TMB and the efficacy of pembrolizumab plus chemotherapy.
These conflicting results further demonstrate that the complexity of the immune system represents a significant challenge to the use of biomarkers to guide immuno-oncology therapies. While the work in TMB may end up being unfruitful, the greater availability of sophisticated technologies like mass cytometry, gene expression profiling, and whole exome sequencing, will eventually lead to the development of biomarker-driven immuno-oncology treatments.
Theme 4: Liquid biopsy gains traction
Results from Roche's BFAST trial11 presented at ESMO provided a great validation of the use of liquid biopsy to identify complex DNA mutations in the cells of patients with NSCLC. The study showed how liquid biopsy could be used to detect a complex type of driver mutation, called ALK, in patients with NSCLC. These patients responded at least as well to targeted therapy as in previous studies using conventional biopsy techniques.
While we are still in the early days for liquid biopsy, the BFAST results gave us further confirmation that the use of a blood test to replace an invasive biopsy is getting closer to becoming a reality in the clinical practice.
Theme 5: Pressure on the cost of oncology drugs intensifies
Two new studies12,13, presented at ESMO uncovered interesting findings on the link between clinical benefits of oncology drugs and their pricing in Europe and the USA.
Both studies looked at the clinical benefit as measured by added value scores based on the ESMO Magnitude of Clinical Benefit Scale (ESMO-MCBS), American Society of Clinical Oncology Value Framework (ASCO-VF), and the Added Therapeutic Benefit Ranking (ASMR) scale, which is used by French drug regulators.
The upshot of the two studies was that the cost of oncology drugs is not associated with clinical benefit scores – in other words, the price of many drugs does not correspond to the actual clinical benefit provided.
While the discussions about drug pricing are not new, these studies suggested a potentially new way to align cost to value. What if patients and physicians used scores like the ESMO-MCBS, which anyone can go online to check, to make treatment decisions or choose between alternative treatments?
NCCN Evidence Blocks14 already include a category for affordability, but it does not appear to be broadly used in clinical decisions. However, in a world where more people will be exposed to higher out-of-pocket costs or to capitated access to healthcare, it is not hard to imagine the value of a drug being assessed not only at the payer level but also at the level of the individual decision maker.
While these tools will provide a way to scrutinize drug cost relative to benefit, they might eventually be used to support the price of oncology drugs that are truly innovative and game-changing.
Conclusions
Although there were no earth shuttering news events, this year's ESMO ended up providing valuable insights on the status of oncology research and development. In our view, the key takeaways from the Congress are the following:
Both targeted therapies and immuno-oncology have a place in the armamentarium of approaches needed to fight tumors. Cancer cells exploit multiple mechanisms to proliferate, and we will likely need multiple approaches and many failed attempts to make the next breakthrough.
Liquid biopsies are gaining legitimacy, and drug manufacturers should consider whether to incorporate them into future clinical protocols. As these become established, they might influence patients' decisions on which clinical trials to participate in.
Competition continues to increase in many tumor types and so is the scrutiny on the cost of oncology drugs. Being first to market will become even more important as a way to secure higher market share and potentially better pricing. Additional ways to differentiate therapies with similar clinical trial data packages will continue to become more integral to product development strategies.
###
About the Authors
Ned Wydysh is a Director based in Health Advances' San Francisco office. His experience spans across biopharma, medical devices and health IT in various therapeutic areas. Ned specializes in oncology drug development, oncology-related devices, rare diseases, and orphan neurology.
Ruggero Rossi is a Vice President in the Biopharma practice based in the United Kingdom. He focuses on growth strategy, business development, product marketing, and data analytics. Ruggero has substantial expertise in specialty pharmaceuticals, with an emphasis on oncology and rare disease, and has direct work experience in the United States as well as major European markets.
REFERENCES
[1] Abstract LBA1 'Niraparib therapy in patients with newly diagnosed advanced ovarian cancer (PRIMA/ENGOT-OV26/GOG-3012 study),' Annals of Oncology, Volume 30, Supplement 5, October 2019
[2] Abstract LBA2_PR 'Phase III PAOLA-1/ENGOT-ov25 trial: Olaparib plus bevacizumab (bev) as maintenance therapy in patients (prs) with newly diagnosed, advanced ovarian cancer (OC) treated with platinum-based chemotherapy (PCh) plus bev,' Annals of Oncology, Volume 30, Supplement 5, October 2019
[3] Abstract 446PD 'Phase I study of AMG 510, a novel molecule targeting KRAS G12C mutant solid tumours,' Annals of Oncology, Volume 30, Supplement 5, October 2019
[4] Abstract LBA4_PR 'Nivolumab (NIVO) + low-dose ipilimumab (IPI) vs platinum-doublet chemotherapy (chemo) as first-line (1L) treatment (tx) for advanced non-small cell lung cancer (NSCLC): CheckMate 227 part 1 final analysis,' Annals of Oncology, Volume 30, Supplement 5, October 2019
[5] Abstract LBA21 'KEYNOTE-119: Phase III study of pembrolizumab (pembro) versus single-agent chemotherapy (chemo) for metastatic triple negative breast cancer (mTNBC),' Annals of Oncology, Volume 30, Supplement 5, October 2019
[6] Abstract LBA8_PR 'KEYNOTE-522: Phase III study of pembrolizumab (pembro) + chemotherapy (chemo) vs placebo (pbo) + chemo as neoadjuvant treatment, followed by pembro vs pbo as adjuvant treatment for early triple-negative breast cancer (TNBC),' Annals of Oncology, Volume 30, Supplement 5, October 2019
[7] Abstract LBA7_PR 'Overall survival (OS) results of the Phase III MONALEESA-3 trial of postmenopausal patients (pts) with hormone receptor-positive (HR+), human epidermal growth factor 2-negative (HER2−) advanced breast cancer (ABC) treated with fulvestrant (FUL) ± ribociclib (RIB),' Annals of Oncology, Volume 30, Supplement 5, October 2019
[8] Abstract LBA6_PR 'MONARCH 2: Overall survival of abemaciclib plus fulvestrant in patients with HR+, HER2- advanced breast cancer,' Annals of Oncology, Volume 30, Supplement 5, October 2019
[9] Abstract 1192O 'Association of tumour mutational burden with outcomes in patients with select advanced solid tumours treated with pembrolizumab in KEYNOTE-158,' Annals of Oncology, Volume 30, Supplement 5, October 2019
[10] Abstract LBA80 'Pembrolizumab (pembro) plus platinum-based chemotherapy (chemo) for metastatic NSCLC: tissue TMB (tTMB) and outcomes in KEYNOTE-021, 189, and 407,' Annals of Oncology, Volume 30, Supplement 5, October 2019
[11] Abstract LBA81_PR 'Phase II/III blood first assay screening trial (BFAST) in patients (pts) with treatment-naïve NSCLC: initial results from ALK+ cohort,' Annals of Oncology, Volume 30, Supplement 5, October 2019
[12] Abstract 1629O_PR 'The price of added value for new anti-cancer drugs in France 2004-17,' Annals of Oncology, Volume 30, Supplement 5, October 2019
[13] Abstract 1631PD_PR 'Clinical benefit and prices of cancer drugs in the US and Europe,' Annals of Oncology, Volume 30, Supplement 5, October 2019
[14] NCCN Clinical Practice Guidelines in Oncology with NCCN Evidence Blocks, (https://www.nccn.org/evidenceblocks/)