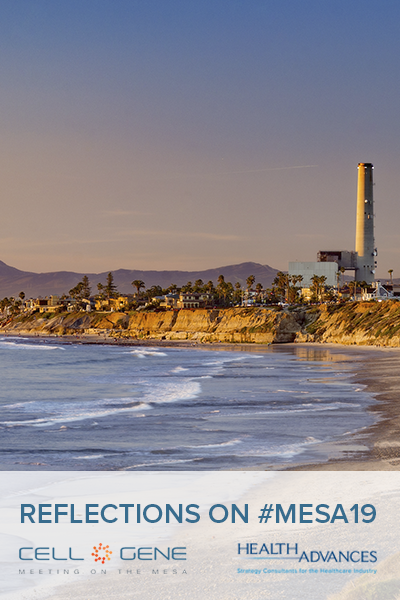 Blog | 10/23/2019
Reflections on #Mesa19
By Amanda Sani, Consultant
In the first week of October, the leaders of the cell and gene therapy industry gathered in sunny Carlsbad, California for the Alliance for Regenerative Medicine's Meeting on the Mesa. This year's meeting, upgraded to a fresh venue to accommodate the 1,200 attendees, mirrored the growth of the industry as a whole.
As of September 20th, global financings for the year totaled $7.5B, putting 2019 on track to meet the $13B raised in the watershed year of 2018. While the conference was bigger, it addressed many of the same key issues as last year, such as manufacturing, market access, and technological advancements of the field. Panels and presentations covered a multitude of provocative topics, but conversations largely converged on three key questions for the field:
(1) How do we manufacture gene therapies outside of the "sweet spot" volume?
Once again, Peter Marks, Director of the Center for Biologics Evaluation and Research (CBER), addressed attendees in his talk titled "Advancing Gene Therapies Great and Small." Momentum for gene therapy continued to build in 2018, with a total of 206 INDs filed, nearly doubling the 106 INDs filed in 2017. While totals for 2019 are not yet available, Marks noted that 2019 is on pace to exceed the growth seen in the 2017 to 2018 period. While this growth is a sign of sustained enthusiasm, kinks in the process remain, particularly when it comes to manufacturing of gene therapies, both at small and large scales.
Marks used the analogy of coffee cup sizes – he asserts that we are rapidly gaining competency in developing and manufacturing gene therapies at medium or "grande"-sized volumes, which Marks defined as serving 100 to 10,000 patients. At volumes less than that, (as would be requisite for things like individualized cancer vaccines or gene therapies), economies of scale make it difficult to produce therapies with reasonable cost-of-goods. On the other end of the spectrum, no one in the industry has yet to execute full commercial manufacturing of a gene therapy at the scale required to serve more than 10,000 patients. While there are no easy answers to the questions posed here, Marks cited creation of a public-private consortium, ongoing development of FDA guidance documents, and the CBER Advanced Technology Team (CATT), as key efforts to help drugmakers navigate the questions here.
(2) How do we ensure access to regenerative medicines to the patients that need them?
As of now, payers have been mostly tolerant of the high priced regenerative medicines that have made it to the market, recognizing the long-term value and clinical benefit these therapies can offer. But with new therapies on the horizon in larger indications like hemophilia and wet AMD, the question of how to handle the large upfront cost of these agents becomes even more critical. This question, along with the tools drugmakers are using to make therapies accessible to patients, were highlighted in the panel titled "Myth Vs. Reality – Implementing Payment Arrangements for Cell and Gene Therapies."
Right now, companies like Novartis and bluebird bio are working with payers to explore different models of how to bill for these therapies. John Coombs, Executive Director, CAR-T Patient Access Lead for Kymriah, touted Novartis's utilization of indication-based pricing as well as outcomes-based contracting for the CAR-T therapy. "It's in the agreement that the hospital doesn't even send the bill to the payer if the child doesn't respond," cited Coombs. With Zynteglo, bluebird bio is spreading the cost out over five equal installments of 20% over five years. If, after the therapy is administered, the patient hits a certain number of transfusions required, payment for Zynteglo stops.
As the examples above illustrate, outcomes-based contracting is gaining traction, but open questions still remain. For instance – is it really feasible for companies to track and measure response in each patient? Novartis's model for Kymriah, where hospitals wait to bill insurers until response is determined, works because you can see indicators of response quite early in leukemia. Is this model feasible for indications where you may not be able to objectively measure impact of therapy that easily? Can companies with expertise in real-world data like Flatiron Health or Verana Health address the gap here? And in bluebird bio's handling of Zynteglo – what happens if over the course of the five years of payment, that patient switches to a new insurer? The primary consensus of the panel regarding payment arrangements for cell and gene therapies was there is no "one-size-fits-all" approach that will work in this space. The individual attributes of each drug and indication will determine what will and will not work effectively. Ultimately, policy change or guidance by governing bodies will likely be required to navigate some of the thornier issues including how to handle patients switching insurance plans.
(3) How will these therapies impact patients in the long-term?
Easily, the most impactful moments of the conference were talks by Emily Whitehead, the first pediatric CAR-T recipient, and her father Tom Whitehead. Tom recounted their harrowing journey, in which Emily exhausted all treatment options for her relapsed acute lymphoblastic leukemia (ALL). Despite being advised that hospice care was the only realistic path left, Tom persisted and took Emily to the Children's Hospital of Philadelphia, where she was able to enroll in Novartis's ELIANA trial. Today, Emily looks and acts like your run-of-the-mill 14-year-old girl – she listens to Taylor Swift and Lizzo, and Tom joked that she stubbornly refused to practice her speech for the conference. There are no visible signals of her struggle at the young age of seven; no obvious signs that her existence today represents massive strides in the management of hematopoietic malignancies. Emily is now seven years cancer-free, a positive sign for long-term efficacy for patients receiving CAR-T therapies.

Unfortunately, not all regenerative medicines look to be so clear cut in the long-term benefit that they can offer patients and the broader healthcare system. In the hemophilia gene therapy space for instance, there are signs that benefits to Factor VIII levels may not persist indefinitely. Avrobio's stock took a tumble last October when patients in the trial of their gene therapy for Fabry disease saw drops in vector copy number in the peripheral blood. This is not to say that gene therapies are incapable of eventually delivering on the promise of "one-and-done" dosing. But companies looking to ensure long-term efficacy will need to develop strategies for re-treatment, consider gene-editing modalities, or account for eventual decline in efficacy in pricing and payment arrangements.
While no one can say exactly how the answers to the questions above will pan out, one thing is for sure – the landscape for regenerative medicine is evolving at lightning speed, and the impact our healthcare system and patients' lives is only growing. Personally, I look forward to hearing many more speeches by patients like Emily Whitehead.
###
About the Author
Amanda Sani is a Consultant at Health Advances and a member of the firm's Cell and Gene Therapy Practice. She regularly tracks developments in the regenerative medicine space as well as in the broader oncology, neurology, and rare disease markets.
Follow Amanda on Twitter: @AmandaSani4
Health Advances Expertise: Cell and Gene Therapy
Regenerative medicine is one of the fastest-growing practice areas at Health Advances. Our work has covered a variety of modalities including cell therapy, gene therapy, gene editing, and RNA-based technologies. These modalities have been explored through the lens of market landscaping, due diligence, indication prioritization, competitive positioning, and target product profile development.
If you are looking to discuss the topics above or other questions about the regenerative medicine space, please reach out to our Cell and Gene Therapy Practice at biopharma@healthadvances.com.