Blog | 10/19/2018
Major Themes from Meeting on the Mesa 2018
By Amanda Sani, Senior Analyst
Two weeks ago I had the privilege of attending the Cell and Gene Therapy Meeting on the Mesa on behalf of Health Advances. This conference, put on by the Alliance for Regenerative Medicine (ARM), brings together stakeholders across the regenerative medicine space in sunny San Diego, California to discuss industry advancements and issues. Among the many presentations and panels, three key themes emerged:
1. "First to Market" can't replace "Best-in-Class" or ability to scale
As many speakers noted, 2017 was a hallmark year for regenerative medicine, with the first FDA approved gene and cell therapies making it to market. With "first to market" titles officially taken for a handful of indications, regenerative medicine companies are setting their sights on new milestones, most notably "best in class" and the less sexy but just as important "first to scale." The "best-in-class" title is a more obvious play. If these therapies work the way we hope they will, the largely single administration nature makes it such that physicians will have just one shot at choosing the right cell or gene therapy for their patient. Switching therapies a month in due to tolerability issues, lackluster efficacy or for any of the other myriad of reasons patients switch traditional therapies today just isn't feasible. With that in mind, physicians are expected to be even more discerning and particular when it comes to matching patients with the most appropriate therapies. Drugmakers are expected to pull out all the stops in competing for patients including use of outcomes-based contracting – we've published a white paper on those efforts here. While being first to market is valuable in indications with high unmet need (i.e. relapsed/refractory diffuse large B-cell lymphoma (DLBCL) where historical median survival is just 6 months), the value of being first may be dampened in diseases where serviceable treatment options exist today. Take hemophilia B for instance, where both Spark Therapeutics and uniQure have promising gene therapy agents in late-stage development. Today, hemophilia B can be managed with infusions of purified factor IX, meaning that patients and physicians may be willing to wait a few extra months for a second to market therapy or even forego gene therapy if they don't perceive a good risk-benefit. Importantly, all of this becomes functionally irrelevant if a company can't scale effectively to meet demand. Highly innovative regenerative medicines, and in particular autologous cell therapies, present a brand new set of challenges for commercial manufacture and delivery of drugs. Novartis's public struggle with manufacturing of Kymriah post-label expansion to DLBCL highlights the perils of stumbling while scaling. In regenerative medicine, it is not just about being first, it is about being built to last.
2. Everyone, including the FDA, is "learning as we go."
A second running theme observed was the highly collaborative and learning-centric attitude exuded by presenters and panelists. As we enter new territory, addressing diseases we have been unable to address before, in ways that have not been possible before now, the ability of stakeholders to learn and adjust throughout development process is paramount. While it's obvious that drugmakers who want to play here need adaptability to succeed, it can't end there – suppliers, couriers, CMOs, and regulators need this mindset as well for regenerative medicine to reach its full potential. One simple example of the need for collaboration was highlighted during the "Evolving the Supply Chain for Advanced Therapies Workshop" sponsored by World Courier. Today, there is no standardization of the way apheresis packets are labeled, creating a step of interpretation for handlers of said packets. The current situation is akin to if USPS, UPS, and FedEx all wrote addresses in slightly different ways, but with much higher stakes. Minor differences in handling based on interpretation of these labels could ultimately impact therapy viability and whether or not patients actually receive these potentially lifesaving drugs. To tackle these kinds of issues, stakeholders have formed the Standards Coordinating Body (SCB), with the imperative to develop and advance best practices to ensure quality of, and access to, cell and gene-based medicine. The value of adaptability and collaboration was echoed by Peter Marks, Director of the Center for Biologics Evaluation and Research (CBER) at the FDA. Dr. Marks highlighted the recent introduction of CBER's INTERACT (INitial Targeted Engagement for Regulatory Advice on CBER ProducTs) program. This program is designed to replace the existing CBER pre- pre-investigational new drug (IND) meeting process, allowing sponsors that are not yet ready for a pre-IND meeting to receive feedback. Dr. Marks expressed hope that this program can help sponsors right-size their investments in pre-IND experiments and submissions. Furthermore, Dr. Marks called out the six recently published draft guidance documents related to gene therapy posted on the FDA website. As many gene therapies target conditions currently lacking disease-modifying therapies, getting regulatory input on meaningful endpoints and trial design will be critical for success.
3. We're just at the tip of the iceberg.
Last but certainly not least, is the takeaway that we have only just begun to scratch the surface of regenerative medicine's potential. Throughout the conference, you could feel a particular buzz in the air – a tangible sense of the excitement and optimism for the future of the space. But, as all good consultants are inclined to do, I look to data to validate gut feelings like these. Fortunately, you don't have to look far to find numerical evidence backing the rise of cell and gene therapy. According to ARM's data report for Q2 2018, this quarter has seen $4.1B in global financing within the sector, a 164% increase from Q2 2017. During his presentation, Dr. Marks shared a slide illustrating the number of INDs filed for gene therapy products over the last 15 years, which Health Advances has replicated below. In 2017 alone, we saw more than 100 filings for new gene therapy products, up from 79 in 2016, and double the 53 filings seen in 2013.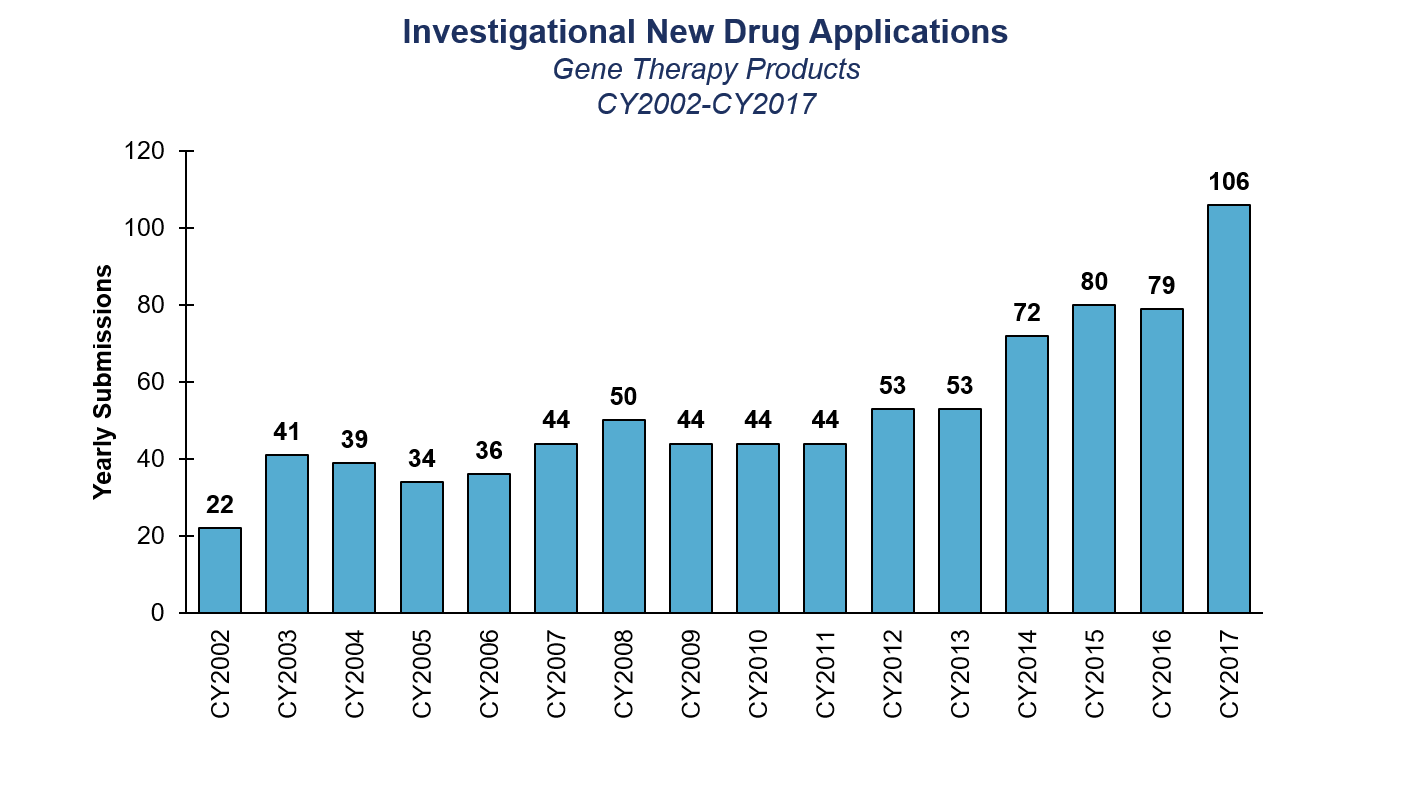 Additionally, the increase in financings and IND filings is mirrored by an increase in conference attendance. This year's conference attracted more than 1,200 attendees, up from 900 last year, and a far cry above the 350 (predominantly) scientists who attended the first conference in 2006. In fact, 2018 is the last year that the Meeting on the Mesa will take place at the Estancia La Jolla for the foreseeable future as the conference has outgrown the space. Next year's conference will be held at the Park Hyatt in Carlsbad, CA to better accommodate the ever-increasing number of regenerative medicine enthusiasts and stakeholders.