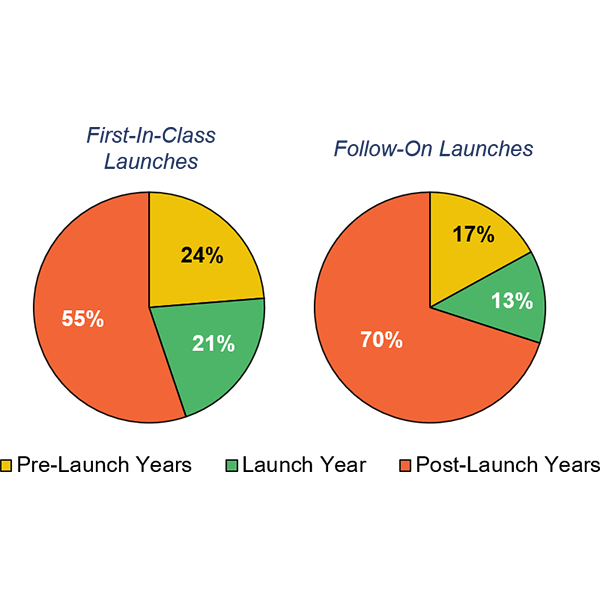 Blog | 4/13/2020
Medtech Geographic Launch Sequences Warrant Reevaluation
By Andrew Briggs, Engagement Manager; Lauren Nardacci, Analyst; Mark Speers, Co-Founder and Managing Director
Summary
Medtech companies have traditionally launched their novel innovative products in Europe. The prioritization of Europe has been particularly logical for higher-value Class III implantable medical devices that generally have the greatest clinical evidence requirements and most complex regulatory approval processes because Europe's CE mark process has been relatively pragmatic and efficient. However, as Europe raises the bar for regulatory approvals with the recently delayed, but nonetheless 2021 implementation of its new Medical Device Regulation (MDR), it is timely to revisit medtech companies' modus operandi to reconsider their geographic launch sequences. Health Advances identifies the key criteria for geographic selection for the launch of a novel medical device. By comparing several geographies on these criteria, we highlight additional geographies that should be increasingly considered in many medtech companies' early launch plans.
Driving Factors of Geographic Launch Priority
It is well known within the medtech industry that many innovative products have first been commercialized in Europe. Transcatheter Aortic Valve Replacement (TAVR) technologies offer an archetypal example: after initial human testing in the early 2000s, Edwards Lifesciences and Medtronic received CE marks for their respective devices in 2007, while approvals in other major markets lagged by 4-5 years. Other implantable products like deep brain neurostimulation devices and left ventricular assist devices (LVADs) followed a similar pattern of initial approval and launch in Europe followed by launch in the United States and other geographies years later.
Based upon Health Advances' experience working with a diverse set of medtech clients for over 27 years, we know that Europe has been a "no-brainer" first priority market for commercial launch due to the attractive combination of its relatively low burden for gaining marketing authorization and its large profit potential.
As each country's regulations and market dynamics shift, it is important to step back and consider several criteria that contribute to a geography's marketing authorization burden, its profit potential, and its value preparing a company for other markets (see Figure 1). Below, we will discuss each criterion and highlight other countries that rate highly.
Figure 1: Key Drivers of Geographic Launch Priority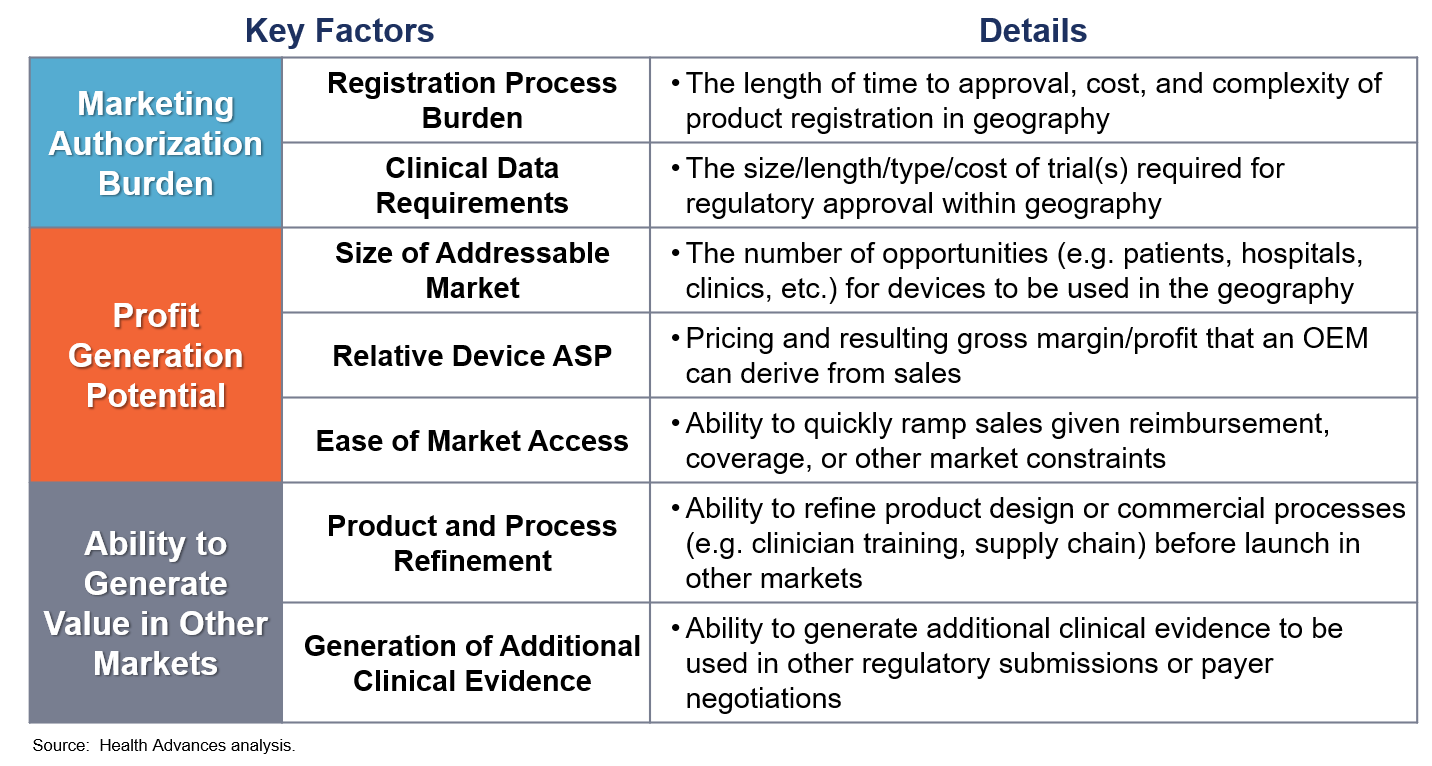 Marketing Authorization Burden
Achieving approval of the local regulatory body within a geography is the primary barrier to bringing an innovative medical device to patients. There are two major elements that dictate the efficiency of this process for a medical device company:
The cost and complexity of applying for and receiving marketing authorization approval.
The cost and timeline of fulfilling clinical data requirements required by the regulatory body.
When examining these two principles in more detail, Europe has historically maintained a less burdensome route to gaining marketing authorization for two reasons. Firstly, the decentralized process of the European regulatory process allows medtech manufacturers to work with Notified Bodies that, like manufacturers, are incentivized to quickly and efficiently conduct reviews of novel products. Secondly, Europe has historically focused on evaluating the safety of medical devices with a lower clinical evidential burden for bringing new devices to market compared to other geographies, like the US or Japan.
Some geographies offer less burdensome processes if a product has already been reviewed and approved elsewhere. For example, Israel requires no additional data if a product is already approved in another major geography. Prior review and approval also expedites the review process in Canada and Australia. In contrast, China and Japan have complex regulatory processes that may require dedicated clinical data and often have extended timelines compared to other geographies. Figure 2 (see below) compares the marketing authorization burden of several geographies.
Figure 2: Marketing Authorization Burden Across Geographies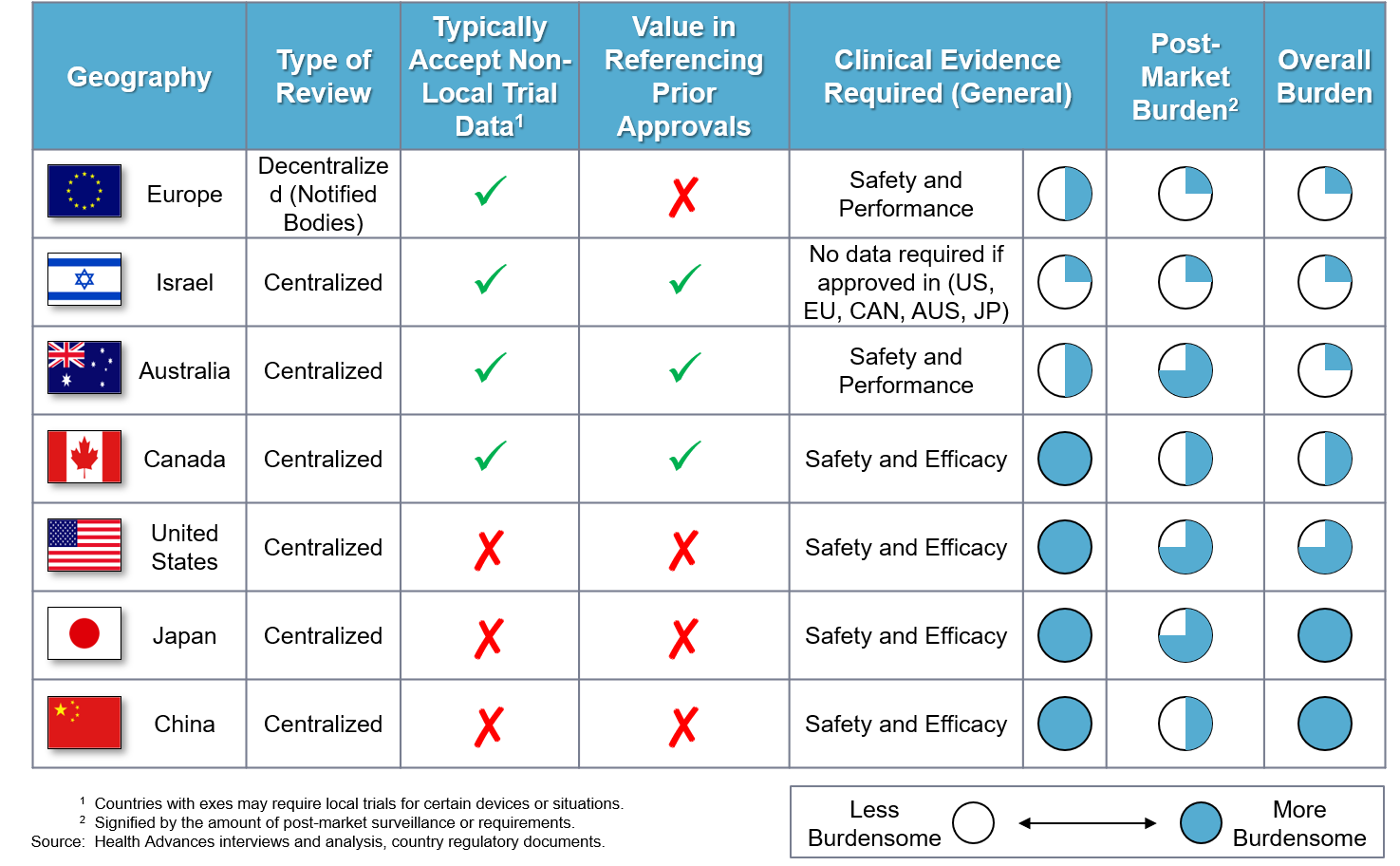 Profit Generation Potential
After investing significant resources in product R&D, clinical studies, and the marketing authorization regulatory process, medtech OEMs are eager to recoup their investments and generate profits. There are four main factors to consider when assessing the profit potential of a geography:
The size of the total addressable market, in terms of number of relevant patients or potential use cases of the device
The average selling price (ASP) for a device
The ease of achieving market access
The speed of adoption by users
For many medical device products, and particularly for Class III implantables, the United States is the largest market due to a large patient population and relatively high device prices. Europe presents a larger absolute potential patient population than the US, but often more modest device ASPs that tempers the overall market potential. China has a sizable and extremely fast growing addressable device market, but, for many product categories with domestic manufacturers, much lower ASPs compared to Western markets are seen as a barrier to achieving notable profit for some foreign OEMs. Japan, Canada, and Australia have similar medtech spending per capita compared to the US and Europe, and therefore offer an attractive profit potential despite smaller populations than the US or Europe.
Achieving market access for a novel medical device is an extremely complex process that varies significantly by geography and product type, but usually includes securing payer coverage, and receiving adequate reimbursement. Geographies with single-payer healthcare systems or relatively few payers often require fewer OEM resources to secure broad payer coverage. However, fewer payers within a geography often correlates to lower device or procedure reimbursement as payers can command greater negotiating power.
Differences across healthcare systems often have implications for sales and marketing and driving healthcare provider uptake of a novel product. For example, in France, Centers of Excellence often provide specific care to certain patient types, which regionalizes an OEM's call point and minimizes sales and marketing spend. Similarly, a large portion of specialized surgical care in China is conducted at large Tier 3 hospitals. And, while routine utilization of multiple independent distributors in China often complicate marketing tactics, the new "Two Invoice" regulation should streamline the process. See Figure 3 for a comparison of the profit potential and some market access considerations for a few major medical device markets.
Figure 3: Profit Potential Across Geographies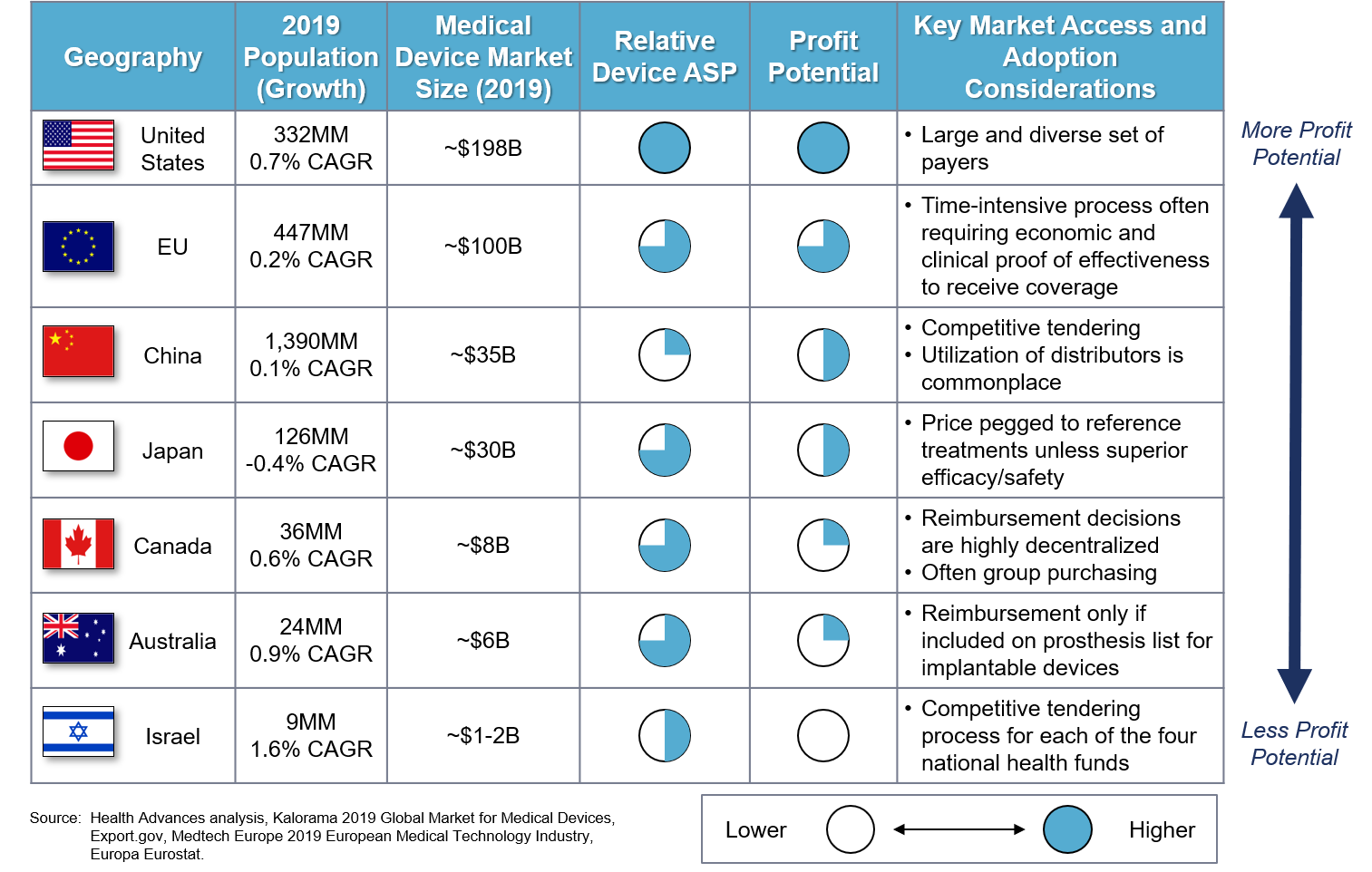 Ability to Generate Value in Other Markets
The last main criterion to consider when determining a launch sequence is whether or not experience in an early launch geography can provide value in other markets. Initial commercial experience can prove invaluable to ensure that a new medical device product is ready for launch in the rest of the world. Ensuring that new physician training and support is sufficient, validating that supply chain processes can accommodate demand, and confirming that the device's design and features are optimized before expanding the launch of a new product can save a manufacturer time and resources.
Many regulatory bodies will consider real-world clinical data in the marketing authorization review process. Although this type of data cannot replace well-designed prospective clinical trials, demonstrating positive clinical experience in a geography can provide additional momentum for device approval in other geographies. In terms of market access, on-market experience can also allow manufacturers to demonstrate the cost-effectiveness a new device that can be used to support positive payer coverage decisions and/or more attractive reimbursement.
Lastly, launch sequence could have future implications for device ASPs in other markets if reference pricing gains momentum in the medical device industry. Reference pricing, whereby a central payer determines price of a product based on the existing prices in a "basket" of reference countries, is commonplace in Europe and Asia as a pricing mechanism for many pharmaceuticals. While reference pricing has been considered as a scheme for medical device pricing in some geographies, no large countries currently use the system. However, if adoption of reference pricing occurs in the future, manufacturers will want to consider launch sequence carefully to maximize ASPs and value capture.
Historic Geographic Launch Sequence
Comparing the marketing authorization burden and the profit potential of various geographies substantiates why Europe has been the initial launch geography for many innovative devices (see Figure 4). But other countries also rank highly as early launch pads. For example, we are recommending that many of our clients consider early launches in Canada and Australia. Early launches in Australia and/or Canada can provide an OEM with valuable market experience due to similarities in the countries' patient populations and standards of care. Australia offers an easier clinical development pathway given IRBs are not required as physicians can sign onto trials individually. Canada has traditionally been extremely quick to approve devices. Figure 4 represents an historic picture of what has been true for medtech manufacturers. However, there are several ongoing initiatives across the globe that may serve to reshape the landscape of geographic priority for new product launches.
Figure 4: Current Geographic Launch Priority
Shifting Dynamics and Future Geographic Launch Sequence
European Union Medical Device Regulation (EUMDR)
The impending changes to the European medical device regulatory system and the consequent effects have been covered extensively. Although recently delayed, the ultimate implications have not changed:

Likely longer/slower review timelines due to fewer notified bodies
Potential for additional clinical data/studies to be required for some high-risk devices

It should be noted, however, optimists are hopeful that the new regulatory approval standards will partly negate, and possibly expedite, market access approvals.
Increasing Price Pressures
Initiatives by many governments to scrutinize spending on medical devices, e.g. more extensive reference pricing, will likely depress device ASPs in some countries, particularly in Europe.
Greater Cost Containment through Tendering Processes in China
Multi-national and foreign medtech OEMs are likely to see significant downward pricing pressure from greater adoption of competitive tendering processes for high-value medical devices throughout Chinese provinces.
Japan Incentivization of Healthcare Innovation
PMDA initiatives (e.g. Fast Break Scheme) to expedite approval of innovative medical devices offer a lower marketing authorization burden, but with greater post-market requirements.
Australian Action Plan to Improve the Medical Device Regulatory Framework
The Therapeutic Goods Administration (TGA) of Australia has proposed changes to the medical device regulatory process that may include additional clinical evidence requirements and greater post-market surveillance for high-risk medical devices. If adopted, some of these proposed policies could make it more burdensome to achieve regulatory approval in Australia.
Figure 5: Potential Future Geographic Launch Priority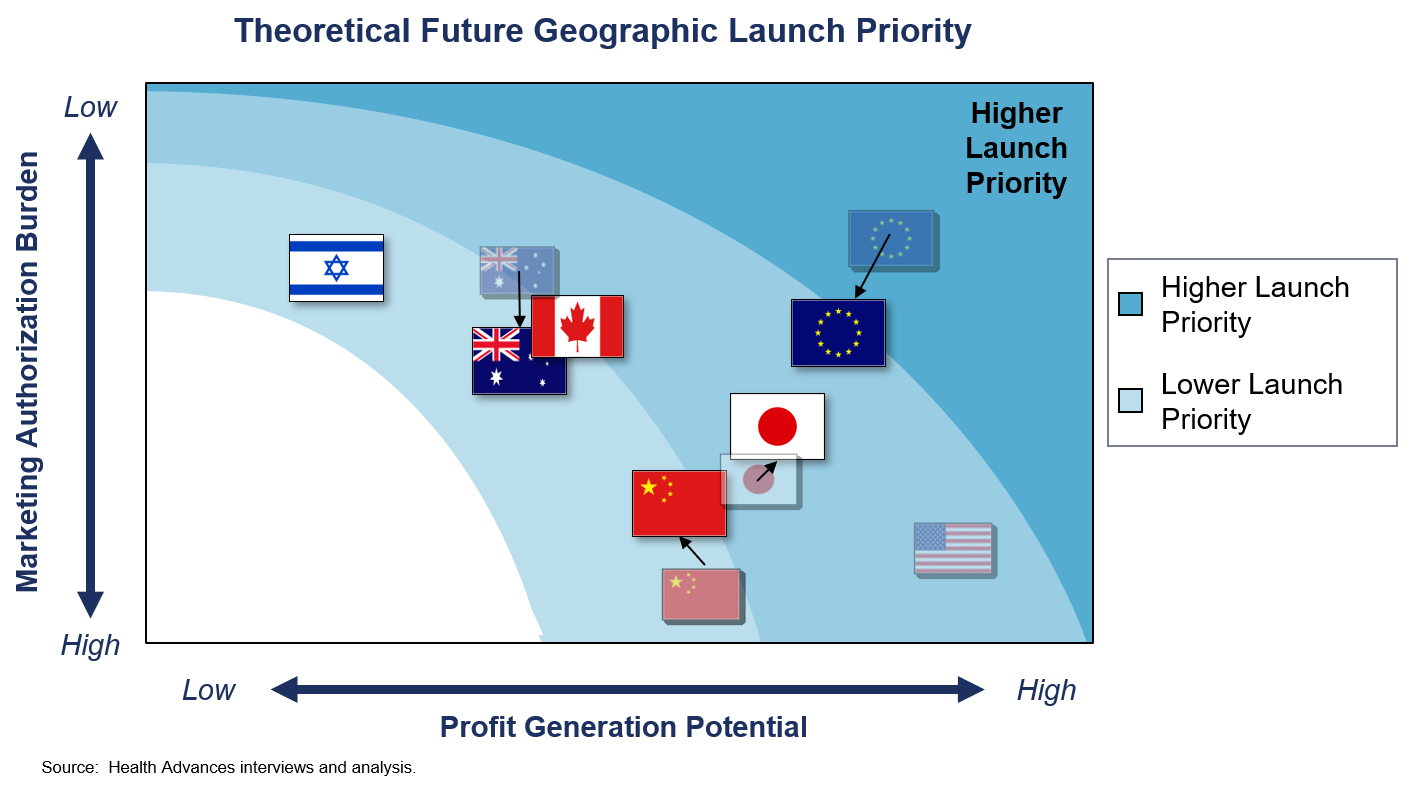 In light of these shifting dynamics, Health Advances believes Europe remains the most attractive geography for initial launch of many novel high-value medical devices (see Figure 5). However, if MDR implementation does not ease market access in Europe, the increased burden of marketing authorization and price pressures in Europe will make the prioritization of Europe less clear-cut for certain medtech OEMs. These ongoing dynamics present a unique opportunity for regulatory bodies in smaller medical device markets (e.g. Canada, Australia, and Israel) to attempt to bring early medtech innovation to their respective geographies by making the marketing authorization process more efficient for new devices. The jury is still out on this front as one of the main reasons smaller countries like Canada, Australia, and Israel have had efficient and fast marketing authorization processes is due to their historic reliance upon review work previously conducted by other regulatory bodies (e.g. Notified Bodies in Europe or FDA in USA). A significant increase in truly novel device applications without prior approvals/reviews may actually lead to more conservatism in the review process, protracted review timelines, and an overall less efficient process for achieving marketing authorization compared to today. Nevertheless, medtech OEMs should seriously consider these three markets for, at least, concurrent regulatory submissions.
Every medical device and OEM has unique circumstances that should be considered carefully when determining global geographic launch priority and commercialization strategy within a geography.
###
About Health Advances
Health Advances is a healthcare-focused strategy consulting firm that works with medical device companies to evaluate and execute commercial opportunities across the globe. Health Advances serves as a partner to medical device OEMs throughout the product lifecycle of innovative devices, including developing value propositions, identifying and navigating target customer segments and geographies, and product lifecycle management. If interested, please contact one of the members of our Medtech Practice at medtech@healthadvances.com.
About the Authors
Mark Speers is Co-Founder and Managing Director of Health Advances. Mark has been advising senior medtech executives for nearly 40 years.
Andrew Briggs is an Engagement Manager based in Health Advances' Hong Kong office, leading teams to develop growth strategies and conduct commercial due diligence for medical device, biopharma, and investor clients.
Lauren Nardacci is an Analyst based in the Health Advances Newton Office, helping clients navigate commercial strategies across the healthcare industry.