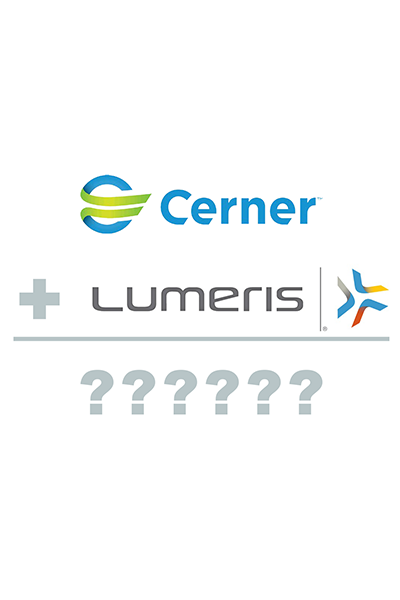 Blog | 8/1/2018
Putting Cerner's Big Investment in Lumeris Into Strategic Context
By Greg Chittim, Vice President
Any time two repeat Best in KLAS Health IT companies announce a major partnership that involves more than a quarter billion dollars in investment, one should sit up and take notice. What does Cerner's recently announced $266M investment in a strategic partnership with Lumeris mean for their competitors and partners in Electronic Health Records, Population Health Management platforms, Value-based Care Managed Service providers, and Medicare Advantage plans? Who should be happy? Who should be worried? And what questions remain about the implications of the mega-partnership? First and foremost, why do a deal in the first place?
Lumeris is a leader in the tech-enabled service population health management business, focused primarily on Medicare Advantage plans and new provider-led accountable care organizations. They have a strong legacy in claims-based analysis and workflow management within practices. But they (like many others) seem to struggle with scaling the integration of clinical data from EHRs and in efficiently building their business nationally into the largest academic medical centers.
Cerner is a leader in the enterprise electronic health record space, serving the largest academic medical centers, multispecialty physician groups and large government systems like the US Veterans Administration and international health systems. As EHR companies look for new markets in which to demonstrate their role in the value-based care system, they are often searching for large enough (but not too large) populations where comorbid health risk factors can be addressed effectively to promote lower cost, higher quality care.
So, Cerner brings a proven record of building scalable technology and businesses in the US and internationally. Lumeris brings a deep knowledge of risky and lucrative Medicare populations and the ability to support provider care teams to effectively intervene with them. It certainly makes sense in theory, but how might the partnership actually work?
What will the partnership actually do?
According to the mutual press release, "Cerner and Lumeris Launch Offering to Reduce Complexities for Health Systems Delivering Value-Based Care" which seems to include the following:
A partnership for a term of at least 10 years, so they're in it for the long haul.
A new tech-enabled service offering called Maestro Advantage that will be deployed (or developed?) specifically for Medicare Advantage (MA) and provider-sponsored health plans (PSHPs), notable because Cerner has historically focused on large academic health systems while Lumeris has focused on accountable care organizations.
Maestro Advantage will streamline claims processing and reimbursement cycles and reduce obstacles to sharing data and records by leveraging technology, process, and services from each firm. Cerner has historically been focused on enabling better care for acute providers, while Lumeris has historically been focused on value-based care operations and risk assessment for a variety of players. On paper, there is a strong complementary set of services here.
The initial focus will (presumably) be on Lumeris-owned Essence Healthcare, an MA plan in Missouri with 65,000 members, a great testbed for any new solutions.
Who should be happy?
Medicare Advantage plans – Medicare Advantage patients (and the providers who care for them) are prime targets for Health IT vendors trying to demonstrate value by promising more accurate risk assessment, and thus maximum CMS reimbursement. But, the MA plans themselves are generally underserved from a process, technology, and financial operations perspective. If Lumeris and Cerner together can efficiently roll out a solution that meets the requirements of clinical, financial, and operational stakeholders across MA plans, it will meet a key gap in the market to make value-based care scalable nationally.
Population Health and Analytics vendors who are EHR-agnostic – Population Health (and the related data and analytics platforms) remains an emerging market that is just beginning to consolidate. This deal furthers that trend. As we saw with the Phytel and Explorys acquisitions by IBM in 2015, mergers of this kind can hinder commercial success as potential customers wait to see how the deal will impact the product and service level of the vendor. Similarly here, potential Lumeris customers might reevaluate their relationship if they are not already a Cerner client. Those few remaining independent PHM vendors (Health Catalyst, Forward Health Group, io) who are not affiliated with a larger parent will likely gain momentum among those systems that have multiple EHRs and data sources to integrate.
Who should worry?
Epic – While the team in Verona has been the perennial leader in KLAS and acute EHR adoption, that position has begun to erode in recent years, both in new health system sales and in lagging adoption of their PHM platform Healthy Planet. In a few cases, entrenched Epic EHR health systems like Geisinger Health System have chosen Cerner's HealtheIntent or independent PHM platforms over Epic's Healthy Planet offering. If this deal strengthens HealtheIntent (e.g., through more cost-effective financial, adoption, and operational workflows), Cerner will pose an even greater threat to Epic in PHM.
Performance Improvement Consultants – Health IT vendors are increasingly developing tech-enabled services to augment lagging technology-only revenues with the winding down of Meaningful Use. Former EHR employees and clinicians who have hung shingles as health system performance improvement consultants will find themselves increasingly shut out if they cannot bring data, analytics, and technology to bear. The low-hanging fruit of performance improvement is generally gone, and really hard problems that require detailed patient data and complex, ongoing analytics are all that remain. The Lumeris services and analytics based on the combined datasets of Essence and Cerner will excel at both.
Generic or Narrow Value-based Care Managed Services (VBCMS) vendors –VBCMS companies aim to provide a complete "back office" for health plans, provider groups, or PSHPs to succeed under a value-based care model. According to KLAS, this includes (1) transformation consulting, (2) technology, (3) clinical support services, (4) administrative support services, and (5) full health plan administration. In this nascent market, smaller companies could get away with providing just one or two of these services well, but with a new player on the block that can do it all (and owns a health plan) the only vendors who will excel in the future are those that are a clear leader a few areas (data aggregation, provider adoption, patient engagement), or do all of them very well like Lumeris/Cerner will.
What questions remain?
As with any corporate partnership, especially those of this scale, time will tell who wins and who loses. As Maestro Advantage rolls out, the partnership grows, and outcomes are demonstrated, we should also keep the following in mind.
In the case where Lumeris is sourcing data from non-Cerner clients, does this give Cerner an advantage in unseating incumbent EHR vendors (either with relationships or practice pattern insights via detailed analytics)?
Which, if any, brands change? Where does the line between Maestro Advantage and HealtheIntent get drawn? Will the latter be exposed to non-Cerner users? How does the Cerner/Lumeris organization avoid the recent challenges demonstrated in the years since the IBM Watson Health rollup of Phytel, Explorys, and Truven?
What impact, if any, does Lumeris have on the Cerner/VA deal?
Cerner is a founding/leading member of both the Commonwell Health Alliance and Carequality collaborative – will Lumeris become a supporter, and will the "reducing obstacles to sharing data and records" be built upon these industry standard foundations?
Why did Cerner invest "only" $266M vs. buying the Lumeris technology and/or Essence Holdings outright?
---
About the Author
Greg Chittim is a Vice President at Health Advances, a strategy consulting firm focused exclusively on commercial strategy and product development strategy for health technology innovators. He co-leads the firm's Health IT and Digital Health practice and regularly works with health IT, medical device, and life sciences companies, as well as private equity investors on strategy in population health, patient engagement, interoperability, data monetization, and analytics.
Follow Greg on Twitter: @chittim