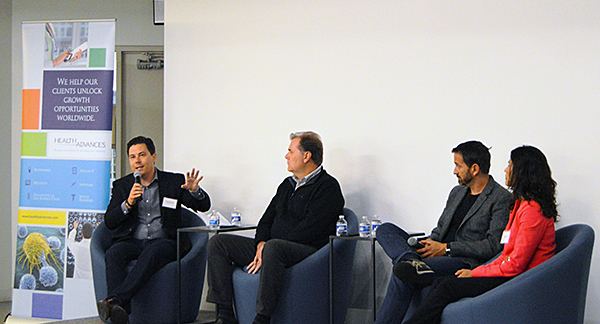 Blog | 5/11/2018
Scaling the Mountain: Adoption Strategy for Digital Health
By Andrew Matzkin (Partner), Emre Karatas (Senior Analyst), and Katherine Kaiser (Analyst) of Health Advances
Pictured above from left to right: Andrew Matzkin, Partner at Health Advances; Kevin King, CEO of iRhythm; Mike Payne, Head of Commercial & Policy at Virta Health; and Monisha Perkash, CEO of Lumo Bodytech.
The Challenge: Scaling Digital Health
Digital health seems to exist in its own hype cycle. Most buzzworthy areas of innovation enjoy only a few short months or years of excitement and optimism before entering the trough of disillusionment, a resetting of expectations based on failure to deliver quickly on unrealistic promises.
But for digital health, the honeymoon period has already lasted seven years and shows no signs of abating, as evidenced by record-breaking digital health funding in 2017 and 2018.
While there are good reasons for continued excitement—including rapid advances in technology, increased clarity on regulatory pathways, and growing clinical evidence for digital health—there are still only a handful of examples of digital health adoption at scale.
Most of the companies and solutions funded with the over $20B in capital pumped into this space since 2011 are still stuck in development, pilots, or small scale deployments, if they're still in business at all.
In order for digital health to realize its full potential, the industry must find ways to drive adoption (and profitable revenue) at scale.
This is a difficult challenge for a host of reasons. For example:
Despite the gradual emergence of value-based care reimbursement models, stakeholders across healthcare are reluctant to absorb additional costs for solutions without overwhelming evidence of near-term value or savings.
Evidence of clinical and economic value is emerging but still insufficient in most cases.
Busy and overworked clinicians resist solutions that require additional time, especially when reimbursement is difficult or nonexistent.
Chronic disease patients, the intended audience for many digital health solutions, tend to be older and sicker, which creates a high bar for ease of use and engagement.
...and the list goes on.
Complicating matters further, there are not yet well-worn paths for digital health companies to follow. Biotech companies have to contend with the complexity and uncertainty of biology, but they at least know that if their drug works well enough, there is a clear set of steps to get their drug approved, distributed, and paid for. Not so for digital health companies, which have to figure out their path on the fly and convince other stakeholders to go along with a new way of doing things.
To explore these critical issues in more depth, Health Advances recently convened 75 leaders in digital health and life sciences for an event featuring an expert panel discussion of adoption strategy for digital health. This event was hosted at iRhythm's offices in San Francisco on April 17, 2018.
This article recaps some of the key insights from that discussion.
Digital Health Adoption Strategy Panel Overview and Takeaways
Panel Participants
Key Takeaways
1. Prioritize Business Model Innovation Early On
For an early-stage digital health company, developing and validating the company's technology is typically the top priority, for good reason, but companies should be careful to avoid underinvesting in business model strategy early on.
Companies should develop early answers to key questions about business models and iterate their answers to these questions as they learn:
What are we selling (e.g., device, software, service, data)?
Who are the buyers (e.g., providers, payers, employers, patients)?
Who are the end-users?
What value proposition do we need to deliver to both end-users and buyers?
What revenue and pricing model will work for buyers and for us?
How will our product be distributed? (ordered/prescribed by physicians, offered by payer/employer, hunting license model, direct to consumer)
How do our answers to the above questions impact our plans for product development, evidence generation, and potential partners?
Early input and feedback from key stakeholders on these questions, whether through direct discussions or double-blinded research by an expert third party like Health Advances, is invaluable.
"Establishing the right business model is key and may even be more important than the actual product. You can be truly revolutionary by focusing on business model innovation, not just technology innovation."
~Monisha Perkash, CEO of Lumo Bodytech
Many digital health solutions require providers, payers, or employers to pay up front for new technology that may deliver value at some point in the future. Value propositions built around disease prevention, earlier diagnosis, increased diagnosis rates, or improved disease management make all the sense in the world on paper, but in practice, stakeholders worry that the promised value will never materialize or, if it does, it will be so far in the future that another payer or provider will reap the benefits. That can be a tough sell.
2. Consider Selling a Service Rather Than Technology
It's an even tougher sell when the technology requires the buyer to take on tasks that they don't have to do today, like helping patients set up an app or use a wearable device, or reviewing streams of data from a monitoring solution, or dealing with an influx of patients who have been screened using a digital diagnostic.
One increasingly common solution to these problems is to sell a technology-enabled service rather than technology. As part of the service, companies can take on much or all of the added work that might be required. And because the company has more control over the process and the outcome when delivering a service, services lend themselves to pricing models that are more predictable (like per patient per month) or more closely tied to value (like outcomes-based pricing).
iRhythm is a great example. Over a decade, iRhythm evolved its business model from selling Zio patch devices to selling a diagnostic service that delivers all the advantages of Zio without any added burden on the cardiologists ordering the test.
"We learned that our physician customers were overloaded with information and had too little time to review data. We realized we needed to become a service provider."
~Kevin King, CEO of iRhythm
There are downsides to selling a service rather than a technology, of course, including lower margins and reduced scalability, but in some cases, these tradeoffs are worth it and may be the only way to achieve scale in the near-term, as long as companies can effectively manage operational challenges and investor expectations.
"You need to pick your investors well. If you know you might sell a service, you need investors that understand healthcare and don't expect tech margins."
~Mike Payne, Head of Commercial & Policy at Virta Health
3. Think Carefully About Distribution Strategy
Imagine that you are leading a digital health company that has spent three years developing your technology, generating evidence that it is effective, and painstakingly negotiating your first contract with a large health system. You finally complete a contract that will allow you to engage relevant patients and be paid for doing so. All you have to do is figure out how to reach those eligible patients and get them up and running with your solution. Simple, right?
You don't have a large sales force that can call on doctors within the health system in order to convince them to recommend your solution to their patients, so you will have to do outreach yourself. It turns out that the health system doesn't have a way to identify all of the patients who would benefit from your solution due to gaps in their clinical data. They give you an incomplete list of patients based on spotty clinical records, but contact information is missing or out of date for many patients. Your target pool of patients is now a fraction of what it could be.
You begin to reach out directly to these patients but, lacking a personal relationship, you are only able to convert 5-10% of the patients on the list. The net result is disappointing; after all that work to get a contract in place, you have only a small fraction of the patient volumes (and revenue) that you had hoped for.
This situation is all too common in digital health. For all the effort companies invest in developing technology, many fail to anticipate the very real challenges of reaching and enrolling target patients.
The panel suggested a few tips for overcoming this critical hurdle:
Anticipate the distribution challenge and think through your strategy early on
View patient acquisition and engagement as a fundamental part of your offering, every bit as important as the technology itself
Explore partnerships with parties that have the resources and incentives to do more traditional marketing or detailing to physicians, like drug and medical device companies, or that have direct relationships with patients, like employers and retail pharmacies

"You have to look at patient acquisition as part of the product, equally important as the efficacy of the product itself… Don't hire healthcare marketers. Hire consumer marketers."
~Mike Payne, Head of Commercial & Policy at Virta Health
4. Don't Be Afraid to Pivot
Like all tech companies, digital health companies generally rely on rapid development and iteration to develop and refine products. While most companies and their investors are prepared for product iteration, business model iteration is a much scarier proposition.
But, without well-worn paths to market for digital health, business model iteration may be every bit as necessary as product iteration. Many companies will have to go through two, three, or more business models before finding one that can lead to adoption at scale.
Instead of fearing or delaying these shifts, companies should start experimenting and learning early and be prepared to pivot quickly when necessary. Pulling this off successfully requires strong leadership and careful management of teams and investors, but the payoff can make this effort well worth it.
"When you have to pivot and pressure is breathing down your neck, you just need the courage to make that change."
~Kevin King, CEO of iRhythm
Conclusions
Given all the investment and innovation happening in digital health, more success stories of adoption at scale are on their way (we all hope!). Until standard business models and paths to adoption at scale emerge, digital health companies will need to approach business model strategy with the same energy, creativity, and innovation that they apply to building their technologies. Companies that do so successfully have a great opportunity to maximize their impact on patients while blazing the trail for the digital health sector as a whole.
###
About The Authors
Andrew Matzkin is a Partner at Health Advances, a strategy consulting firm focused exclusively on commercial strategy and product development strategy for health technology. He co-leads the firm's Digital Health and Health IT practice and regularly works with digital health companies, tech companies, life sciences companies, and investors on strategy in digital health, advanced analytics, and precision medicine. Follow Andrew on Twitter: @MatzkinHealth
Emre Karatas is a Senior Analyst at Health Advances and an active member of the firm's Digital Health and Health IT committee. He regularly tracks industry developments at the intersection of digital health and life sciences and inpatient engagement technologies.
Katherine Kaiser is an Analyst at Health Advances and an active member of the firm's Digital Health and Health IT committee. She regularly tracks the activities and strategies of large tech companies and biopharma companies in digital health.