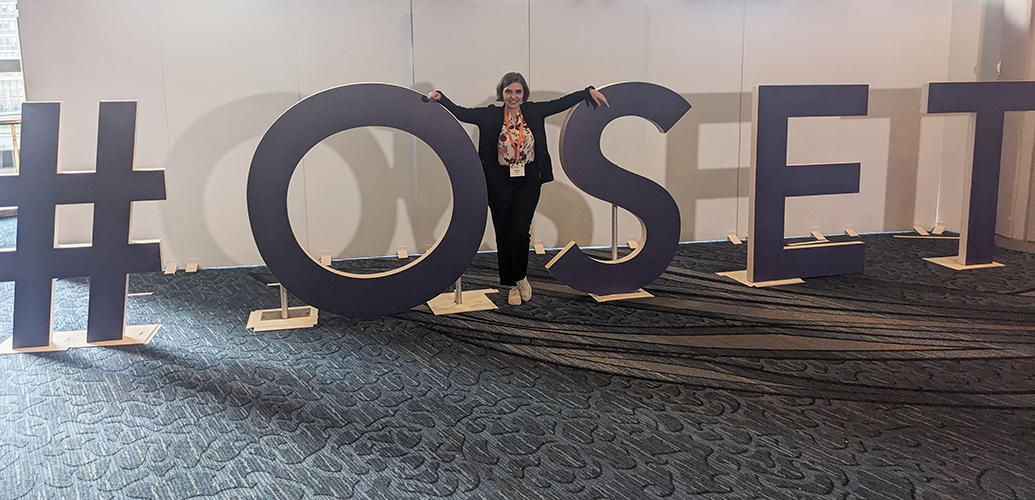 Blog | 10/16/2023
OSET 2023 – The "IT" Ortho Conference
by Masha Dumanis
Every year, at every conference I attend, I am on the lookout for a unifying theme (e.g. "Data" from AAOS 2022) and this year at the Ortho Summit for Evolving Techniques, also known among those in-the-know as OSET, the theme was unquestionably – "Efficiency" and its corollary – "the ASC". Are either of those new concepts in the world of MSK? Absolutely not! But at OSET this year, they seemed to permeate every product, every talk, luncheon, and discussion.

Miniaturization and Simplification
In an era when our technology is seemingly getting more and more complex (be honest, how often have you heard the words "generative AI" just in the last week?) the MSK world is aiming to simplify it – at least its user interface, much of it geared for the ASC.
Take for example the ASC ready Tmini from THINK Surgical – a handheld, open platform robotic instrument to rival the large footprint systems in place today. Or a newcomer to the spine navigation world, Bolt Navigation (also implant agnostic, by the way) – aiming to reduce the cost, space, and time associated with industry accepted spinal navigation. The Bolt system uses a handheld iPod touch and its built-in gyroscope to guide effective placement of posterior fixation. In a cost constrained environment, companies like Bolt eliminate the need to invest in pricey capital. Meanwhile, arthroscopy world startup darling Lazurite is aiming to reduce complexity in another way – by cutting the cord. Their ArthroFree wireless surgical camera (and light) are an industry first. We are also seeing other examples like Pristine Surgical, who earlier this year had their single-use arthroscope FDA cleared. Their slogan is quite literally, "simplifying endoscopy".
ASCs are looking to streamline just about everywhere they can and OEMs have been taking notice. While the "knee in a box" concept is not new (Medacta's MyKnee, and Conformis, now Restor3d, have long been champions), OEMs are recognizing the need to streamline their cases and trays. For instance, Maxx Orthopedics – an emerging player with innovative products in both revision and in primary knee materials (e.g. nickel free and PEEK knees), is leading the way in its traditional TKA offering with the ability to streamline down to one tray through the use of x-ray based AI-algorithms that can efficiently size patients through their QRS (Quick Recovery Solutions) offering. Speaking of Medacta, they were showcasing a new mixed reality headset far slimmer than other offerings I have seen. They share my sentiment that one technology will not meet everyone's needs, so while they will continue to offer patient specific guides (which btw…are coming back in vogue?), they view mixed reality as another way to address personalization.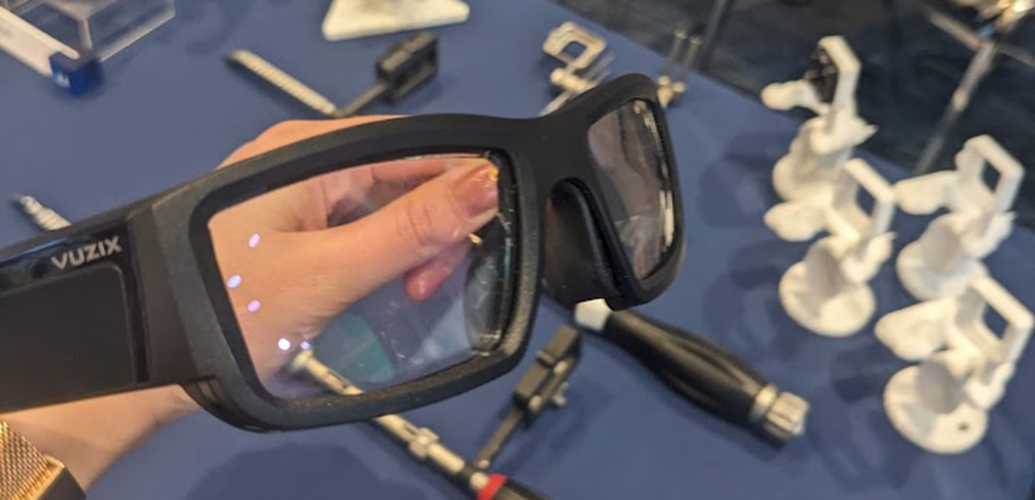 Efficiency
Not all technology improves efficiency, but efficiency is undoubtedly the answer that surgeons are seeking. By far the most powerful session I attended over four days at OSET was Charles DeCook's lunch session, which, while sponsored by Zimmer Biomet, spoke mostly of the efficient processes that he has in place at his surgery center. He and his staff seemed to be light years ahead of his peers – "12 surgeries before noon". The trick, he notes (at least in part), is parallel processes and meticulous tracking of all that happens in the OR. His ORs seem to run like highly choreographed ballets – and you could see from the look of everyone in the room, they were wondering why they haven't been doing the same. Its notable that Dr DeCook is also the Chief Innovation Officer of Ospitek, a software company that aims to help ASCs with scheduling and streamlining through AI and IoT surgical coordination. To be sure, Zimmer Biomet, and several other OEMs, like DePuy, were positioning themselves to be the efficiency partner for the ASC.
If you followed my LinkedIn posts throughout the conference, you know that Day 1 was a special session dedicated to the role of private equity in orthopedics. Moderated and hosted by experts Gary Herschman at Epstein Becker Green and Dana Jacoby at Vector Medical Group, the pair, as well as many owners, operators, bankers, and surgeons shared their experience. Over the last several years, nearly 85 orthopedic groups have partnered with private equity. And while the market has cooled this year for large platform deals, the focus has still very much been on value creation. Ownership of ancillary services and facilities such as an ASC support value creation. The theme of efficiency plays centrally into maximizing this value creation. Facilities that can streamline surgeries, improve throughput while maintaining, or even elevating the highest level of patient care and outcomes, will undoubtedly be rewarded in this market.

Digital and Enabling Technologies
To be sure, this year, the theme of digital technologies – particularly those aimed at improving accuracy and standardization intraoperatively was prominently featured. All the major firms were showcasing their robotics and/or navigation platforms.
One of the more enjoyable sessions of the show focused on novel TKA technologies including AR, hand-held and traditional robots, navigation, and personalized guides. Moderated by legends Kevin Plancher of OSET (and founder of Plancher Orthopaedics and Sports Medicine) himself, along with Ira Kirschenbaum of JOEI fame (and Chairman of Ortho at Bronx Lebanon Hospital) – the session drew an impressive crowd. Heavyweight surgeons, repping new technologies on behalf of the industry faced off in an effort to prove to the audience "Who Will Triumph" among TKA technologies. If you weren't there to hear who the winner was – message me to find out 😊
While pre-operative planning and navigation still have variable use throughout different ortho specialties – one area where technology has clearly become a mainstay of care is shoulder arthroplasty. The complexity of shoulder has surgeons convinced that surgeries go smoother and outcomes are better when some combination of pre-operative planning, computer navigation, and PSI (patient specific instrumentation) are used. What does the future of shoulder hold? According to several speakers at OSET, robotics! #OSET24 anyone?
We are also witnessing the initial foray of AI into MSK. For all the time that word gets thrown around, its true implementation in the OR is still a bit fuzzy. AI has the capability to make initial planning and robotics more and more reliable, but experts caution that we must maintain surgeon oversight.

Biologic Augmentation
What started as a tiny startup, Rotation Medical, touting a unique collagen membrane that supports healing is now practically a household name in the ortho sports med world. Regeneten, sold by Smith and Nephew, now has a whole slew of competitors and new entrants in the biologic augmentation category, most offering a slightly different approach to this game changing product.
At last year's OSET, Conmed was celebrating its acquisition of BioRez and Biobrace – a platform that has been highly successful for the company. BioBrace is made up, like Regeneten and others, of a collagen matrix, but also a bioresorbable PLLA microfilament which gives this implant strength to reinforce constructs. In addition to rotator cuff repair – their team is actively promoting its use in ACL reconstruction.
At this meeting, Anika launched its own version of hyaluronic acid-based patch. Like several others, it comes packaged with fixation implants and single use arthroscopic instruments. Anika is citing an independent head-to-head animal study against a "leading competitive collagen device" (we can all take guesses) and says that at 26 weeks, the new collagenous tissue infiltration resulted in a nearly 3x greater repaired tendon thickness. Will be eager to hear what surgeon's think of this animal data. Atreon, whose Rotium patch, which is an inlay vs onlay, was also in attendance. Their non-woven, nanofiber, polymer matrix mimics extracellular matrix, promoted cellular ingrowth, and has significant cost advantages over collagen.
Meanwhile, earlier this year, Zimmer Biomet acquired Embody's Tapestry product. Tapestry RC, like Regeneten, has a convenient arthroscopic delivery device, and its unique 3D weaving makes it an incredible sponge for all the healing fluids (e.g. blood, PRP, BMAC, etc). Additionally, Zimmer was also promoting, for the first time, Tapestry's sister product – ActivBraid – biointegrative collagen co-braid. Think suture (don't you dare call it that 😉) – but integrated with collagen to help improve biointegration and ultimate strength.
On a related note – biologic repair is taking off in ACL too. There were several podium talks about Miach's BEAR (bridge enhanced ACL repair) and successes to date. The procedure eliminates donor site morbidity for autograft, and improves healing as compared to allograft.
What this all goes to show is that biologic augmentation is here to stay and there are now many options available to surgeons. What the true believers will tell you, is that every repair benefits from biologic augmentation. The early clinical data clearly show that retear rates are significantly diminished. The question ultimately lies in the economics? Will reimbursement rise, or will prices fall, or will ASCs accept decreased margins often enough to enable broad-based use?

What Else Did We Hear and See
We continued to hear about the evolution of the cartilage repair world. Microfracture is falling out of favor (vs microdrilling). Vericel, the leader in cartilage regeneration, is preparing for launch of its long awaited arthroscopic system. Meanwhile, a novel approach to treating OA and bridging to TKA is Moximed's MISHA knee system – a low profile implantable shock absorber. The implant is placed under the skin, but outside the joint, preserving future treatment options. The implant can definitely be felt and seen externally so will be interesting to hear about patient experience are commercial launch progresses.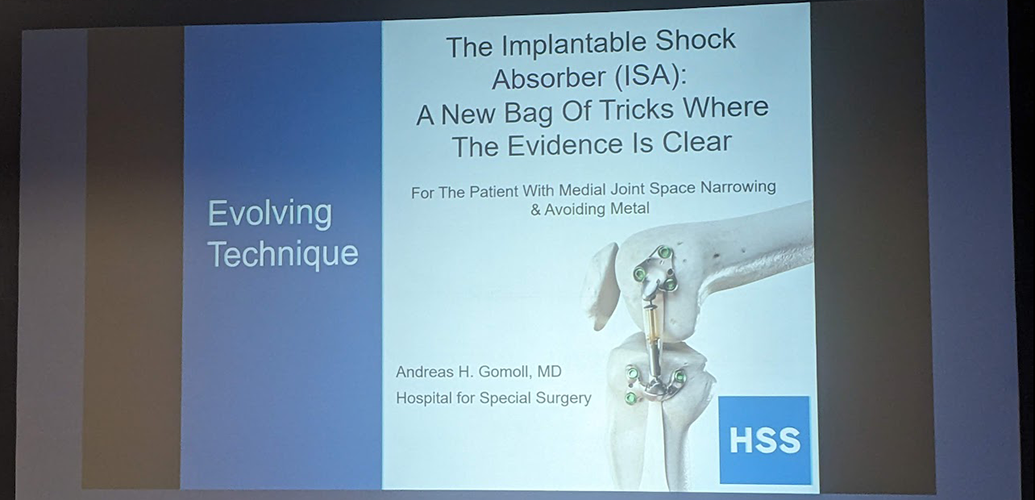 It's no secret that the role of the consumer is growing across healthcare. Historically, the patient has not been a major stakeholder in MSK care – but as cost burdens shift, new technologies come into play, and payers are still slow to cover innovation – patients become increasingly more important advocates and decision makers in their own care. That makes educating them all the more important. OEMs are thinking about what that means for them from a marketing perspective, and even a channel perspective.
OSET this year also had a much bigger spine presence than in years past and was an exciting prelude for what might await me at NASS in a few weeks. Hints: motion preservation is taking off like never before and of course robotics, navigation, and AR continue to be big themes in spine, as well. Stay tuned for my NASS insights.
What is most special about the OSET is the way that it uniquely brings together industry and clinicians. Thought leaders speaking about their cutting-edge use of novel products. Innovators getting to listen to clinicians talk about the most pressing needs.
Were there major themes you heard that were not discussed here? That's because OSET is so full of content, one person could not capture it all in four days. Your insights are valued too. Share them with us Follow #MSKMonday by Masha Dumanis on LinkedIn.

Author
Masha Dumanis is a Vice President at Health Advances with over 12 years of experience in healthcare consulting supporting clients developing commercial strategies with expertise in market assessment, competitive landscape, due diligence, and product and corporate strategy. Masha is the co-leader of the Health Advances MSK Practice and a member of the Digital Health and Health IT, and MedTech Practice leadership teams. Masha also serves as Senior Advisor to the Journal of Orthopaedic Experience and Innovation.