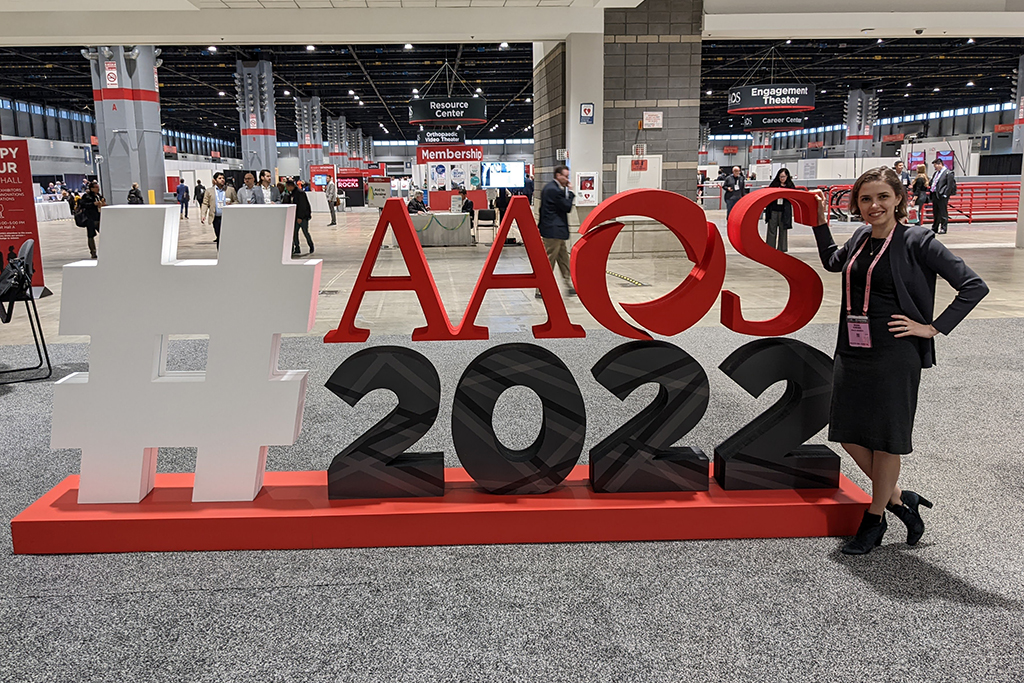 Blog | 3/30/2022
AAOS 2022: The Latest Ortho Insights
By Masha Dumanis, Senior Director
Ortho Conference or Tech Conference?
If I had to sum up the theme of AAOS last week in one word, it would be: Data!
This year, the conference was techier than ever – shiny and slick digital displays lined nearly every booth. From robotics and their integrated surgical planning (or even implant design) solutions like THINK and Monogram, to collection of patient data through sensors – like Zimmer's new PersonaIQ. There were various navigation platforms – handheld (like OrthAlign) or mounted on a screen, and data insights to drive improved patient experiences and product design, and AI algorithms for streamlining cases were being advertised as products. Companies were touting data as the future wave of orthopedics – so much so, that it was even the slogan on Stryker's booth.
Indeed, we are entering an era where our access to information is growing rapidly – harnessing this information to improve patient outcomes and develop value for the industry may take a bit more time, however.
With the advent of remote patient monitoring (RPM) and remote therapeutic monitoring (RTM) codes, physicians and other providers finally have a mechanism to bill for time interacting with patient data. That being said – not all data are equal, and in the MSK world, we do not yet know which will prove to be truly meaningful from a predictive standpoint, such that they warrant clinician monitoring. This is where time and robust studies are what are needed to answer these questions.
Collecting data from patient scans, from patient outcomes, from recovery parameters matched with implant types, techniques, etc can prove extremely valuable as companies develop next generation implants that more closely follow not just native anatomy, but also dynamic movement. Unfortunately, these data use cases are unlikely to lead to immediate revenue opportunities – but they are sure to lead to better patient outcomes and possibly the ability to predict and match which patient will do better with which implant.
Understanding Kinematic Alignment of Joints
Improving implant design, and most importantly, learning to optimally plan and execute cases will become imperative as surgeons come to recognize the need to improve and optimize the kinematic alignment of joints. This concept, too, seemed like a buzzword at this year's conference, much like sagittal alignment became an important concept in the spine world about 5-7 years ago. While many implant and robotics companies were discussing this concept at their booths, Lima Corporate was prominently displaying it on their signage.
Competing Technological Modalities: Varying Role of the Surgeon
Technology has made its way into the OR and it's not leaving. Many ask – what kind of technology will win out? Navigation? Augmented Reality? Robotics? Custom Solutions?
My personal perspective is, given surgeon variability in preference, abilities, and needs – at least in the short to mid-term, there will be a role for all these technologies to co-exist. They allow surgeons a menu from which to choose. Each technology, however, will require surgeons to take on different, and perhaps, new to them roles.
Robotics: From Cutter to Planner
As robotics permeate deeper into the OR – for those surgeons that choose to leverage this tool, their expertise, skill, and focus will shift from the OR table, to the surgical planning station. While robotics brings with it the promise of better precision in cutting or placement – it can only be realized by skilled and optimal surgical planning. A surgeon's ability to properly plan a case, to properly determine alignment and placement virtually, will all but determine the success of robotic outcomes. As time goes on, surgical planning may be aided by AI, but review of the plan will continue to be a central role of the surgeon. Additional benefits to surgeons may include lower impact on their own bodies and joints, but it remains to be seen how the surgeon community will react to increasingly autonomous MSK robots.
AR: Retaining Control With More Information
Augmented reality, when used in the OR, allows the surgeon additional visual information, anatomic or quantitative, to "augment" their direct visualization, while retaining their control over procedural execution. Market leading Osso VR had a large and prominent booth at this year's conference. Another one that caught our eye was French startup Pixee Medical, who debuted their recently FDA approved augmented reality knee and mixed reality shoulder systems which have seen significant use in Europe. Physicians wear a smart headset with camera, markers with QR codes are placed on low profile, reusable metal cutting blocks. Glasses project patient anatomy and/or demonstrate angles from certain markers. Particularly with the knee system – this is entirely intra-operative with no pre-op prep, allowing surgeon control.
The Expanding Pain Care Continuum
Pain management of both acute and chronic pain has become an increasing focus area for the industry in recent years. Physicians and patients alike seek to move away from opioids in the treatment of post-operative and chronic pain, in light of the nation's opioid epidemic. Simultaneously, pain management becomes a critical tool as patients look to delay surgery in the hopes of avoiding revision surgery with growing lifespan.
New tools and modalities have joined the arsenal. In the acute pain space, this year Heron Pharmaceutical's Zynrelef joined market leading Exparel as a new option for post-operative pain management.
New treatment options are also emerging in chronic pain and upstream of surgery, including laser treatment for OA and various other MSK pain through the OrthoLazer franchise opportunity. In an incredible show of support for the clinical evidence, laser treatment for OA pain were included in both the AAOS and CDC guidelines recently.
As we see regenerative therapies, like the Biorez Biobrace, Miach BEAR, and CartiHeal's Agili-C enter the commercial market, they bring with them the hope, and the reality, that the growth of the metal implant surgical market may begin to contract. Many OEMs understand this clearly and have begun investing to move up the care continuum. But the truly game changing therapies that we are awaiting, like disease modifying injections for OA or DDD, still carry a lot of risk and leave behind a development graveyard. Companies that have spent decades, some centuries, selling metal will have to adapt to selling tissue, injectable, and pharma-like products.
Who Wasn't There?
Despite the emphasis on digitally integrated solutions among large OEMs and new startups alike, notably missing from the conference, were software based MSK solutions (e.g. Hinge). While the conference targets orthopedic surgeons – it makes me wonder if these companies are trying to position themselves so far upstream of surgery that surgeons are not their referring partner.
As was the trend of the last few years, spine companies had a much-reduced presence at the conference, choosing to focus more on NASS and other spine specific gatherings.
Anecdotally, attendance at this year's AAOS, while significantly improved over last August's show in San Diego, was still only a fraction of prior years. Many international surgeons are still unable or hesitant to travel to the US, while other local surgeons may be choosing to work through a backlog of cases as our covid case rates have slowed.
To that point – while many have returned to pre- or near pre-covid levels of surgical volume in most US geographies, the data and anecdotes both show that the industry never saw the bolus of cases above pre-covid levels that were expected due to the cancellations and delays of many surgeries. It begs the question – what happened to those patients? What does that mean for future case volumes? How do we ensure they are getting adequate care, and will we be able to address their issues in the least invasive way if they wait too long?
'Til next year…
Contact
Masha Dumanis is a Senior Director at Health Advances with over 10 years of experience in healthcare consulting supporting clients developing commercial strategies with expertise in market assessment, competitive landscape, due diligence, and product and corporate strategy. Masha is the co-leader of the Health Advances MSK Practice and a member of the Digital Health and Health IT, and MedTech Practice leadership teams.
###