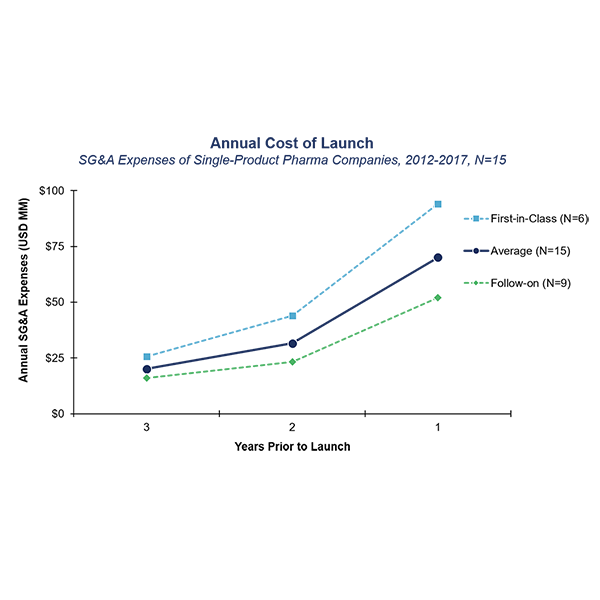 Blog | 6/21/2019
The Cost of Launch
By Haley Fitzpatrick, Mike Davitian, Remy Denzler, Grace Perkins, Tara Breton, and Dean Giovanniello
In our previous white paper, "Launch Excellence: Once In A Life Cycle Opportunity", we highlighted the key attributes that comprise a successful launch strategy. Launch plans must provide an actionable roadmap for the entire organization, allowing rapid execution across hundreds of activities. Here we introduce the financial investment required to deliver these activities in order to launch a new therapy.
After analyzing the launch costs of 15 pharma companies, we found that in the three years leading up to launch, the average single-product pharma company will spend over $125MM in SG&A (Figure 1), most of which will be dedicated to launching their product. This is not surprising when one considers the vast infrastructure required to launch a product: commercial salesforces; marketing; regulatory; pharmacovigilance; chemistry; manufacturing and controls; etc. Furthermore, companies launching novel, first-in-class products spend more with three-year accumulated costs of approximately $160MM. This is in part due to products needing to establish a market and; the ultimate revenue opportunity is larger, thus warrants a larger investment. Given that commercial launch can be a hugely expensive endeavor, pharma companies launching a new therapy, particularly those launching their first product, need to fully understand the financial investment required and the key factors driving launch costs.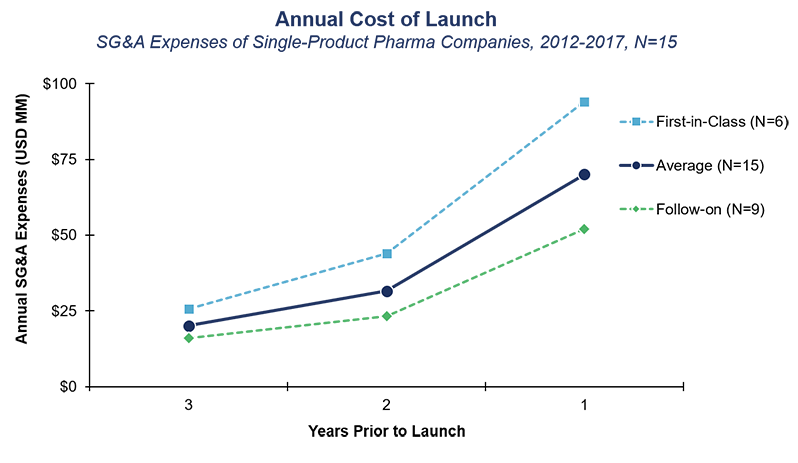 Figure 1: Cost of Launch: SG&A expenses of single-product biopharma companies in the three years prior to launch
Our original cost of launch analysis required significant effort and creativity to isolate and quantify the commercial investment required for launch. Our team identified companies that had products launching from 2012 to March 2017. From that list, we focused on the public, single-product companies from which we could determine Selling, General and Administrative (SG&A) expenses using SEC filings in the three years prior to launch (as available) of their first commercial product. With a consolidated list of companies that fit the criteria noted above, we averaged the SG&A costs from the remaining 15 companies for each year prior to launch (up to three years). We further analyzed the data based on key attributes of the first product being launched by each company to understand how cost of launch varied based on first-in-class versus follow-on, orphan versus non-orphan designation, and therapeutic area. The results of our analysis (Figure 1) demonstrated the significant impact that first-in-class versus follow-on has on the launch investment.
The Health Advances Launch Excellence team is currently writing a follow-on whitepaper to our original cost of launch analysis. We plan to provide additional and more recent benchmarks for the average cost of launch as well as a more detailed understanding of the key factors that impact launch costs. The cost of launch white paper leverages several resources to identify drug-specific and company-specific characteristics that influence cost and resource requirements for launch. This work will show that successful launch planning requires appropriate budgeting, correlating to launch success. Drug launch spending is high, and it requires the coordination and execution of many cost-intensive activities across different functional areas over multiple years, pre and post launch.
Please contact us if you would like to join our mailing list so we can send you the cost of launch white paper in the near future.