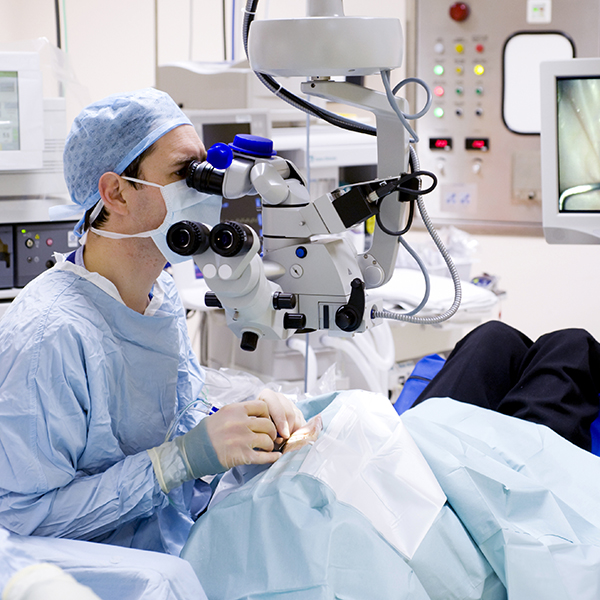 Blog | 6/11/2019
What's Next in Anterior Segment Ophthalmic Care: Highlights from the 2019 ASCRS Annual Meeting
By Jeni Takasumi, Health Advances Consultant
The American Society of Cataract and Refractive Surgery (ASCRS) was founded 45 years ago to support innovation and advance the art and science of ophthalmic surgery – the 2019 ASCRS and ASOA Annual Meeting delivered on these goals. The 2019 Kelman Innovation Lecturer, Dr. Ronald Kurtz, highlighted the environment of continued innovation by quoting the mission from a founding member:
"Clinical ophthalmologists were not supposed to be innovative. They were expected to use only 'tried and true' methods for treating their patients. The society was formed to satisfy a need that was not being met in ophthalmology." – Dr. Manus Kraff discussing the formation of ASCRS in a 2005 interview, quoted by Dr. Ronald Kurtz
Thousands of ophthalmologists, administrators, and industry attendees flocked to San Diego last month for the 2019 ASCRS/American Society of Ophthalmic Administrators (ASOA) Annual Meeting (May 4-7, 2019). ASCRS is the largest US specialty society dedicated to anterior segment (front of the eye) surgeons, emphasizing care of refractive conditions (e.g., myopia, presbyopia), cataracts, cornea diseases, and glaucoma. The program consisted of more than 140 clinical, administrative, and industry-sponsored sessions and a large exhibitor hall.
While I tried to explore a little bit of everything, including general sessions, podium presentations, and a symposium on the future of payment models in ophthalmic surgery, I was generally attracted to sessions discussing novel devices and technologies for anterior segment surgeons.
Cataract/refractive surgeons and glaucoma specialists have a variety of treatment options for patients with cataracts, glaucoma, and refractive error, but I witnessed presentations by innovators who continue to strive for new and improved solutions that can yield even better clinical outcomes and higher patient satisfaction. While the most common diseases commanded significant attention at the meeting, cornea specialists and companies also presented novel options for patients with less common, debilitating diseases like corneal blindness.
Here are some highlights from my time in San Diego, attending the Innovators General Session and other presentations by companies that are addressing remaining unmet needs for anterior segment diseases and glaucoma:

Cataract Surgery and IOLs
Cataract surgery is one of the highest volume ophthalmology procedures in the US. As such, the surgical procedure is a well-oiled machine. Most recent innovation has focused on improving pseudophakic vision through premium IOLs, and this meeting exhibited a continuation of this trend as ophthalmologists previewed many new technologies to improve visual acuity and quality (i.e., patient satisfaction associated with positive or negative dysphotopsia).
One notable technology was presented by Dr. Eric Donnenfeld at the ASCRS Innovators General Session: Lensgen's Juvene, a modular accommodating IOL. This IOL has two components: a base lens and a curvature-changing fluid lens. This combination enables the IOL to fill the capsular bag and contract more like a natural phakic lens, resulting in more stable effective lens position (ELP), stable refraction, and reduced complications like posterior capsule opacification (PCO).
Dr. Donnenfeld presented preliminary results from the Grail Study, which demonstrated 3 diopters of accommodation and high patient satisfaction, including no complaints of glare or halos (n = 20) and no reported PCO.
While still early in development, Lensgen has shown a promising IOL to improve vision quality for patients opting for premium IOLs with the flexibility to add or change components in future versions (e.g., upgraded lenses or even a digital health ocular monitoring system).

Refractive Error: Presbyopia, Myopia, and More
Many companies presented on continued development in presbyopia treatment at the Annual Meeting, including presentations on novel (see above) and adjustable IOLs, corneal inlays, and pharmacologic drops. This included a Phase IIa readout from Orasis Pharmaceutical's PresbyDrops, an update from AcuFocus' small aperture (pinhole) IOL, and updates on orthokeratology (gas permeable contact lenses that reshape the cornea to reduce myopia). However, I found Clerio Vision's laser induced refractive index correction (LIRIC) procedure to be the most disruptive.
Dr. Scott MacRae presented results of first-in-man trials at the Innovators General Session. While still very early in development, LIRIC has potential to transform refractive error management and free hundreds of thousands of people from glasses or contact lenses. The technology uses a low-pulse energy femtosecond laser to modify the refractive index of IOLs, contact lenses, and cornea directly. The energy is lower than that of existing femtosecond laser applications, so the procedure is less invasive and complication risk will likely be lower than that of LASIK as well. No induced inflammation or wound healing response was observed in preclinical or clinical trials thus far, creating a compelling argument for LIRIC as an early line treatment following launch around 2023. As a minimally invasive, more versatile treatment option, this technology has the potential to create a paradigm shift in optical care for refractive error for patients of all ages.
Glaucoma
Many pharmacologic and procedural options are available to treat varying degrees of glaucoma severity. In particular, micro-invasive Glaucoma Surgery (MIGS) and related devices, which are often implanted along with cataract surgery, were an area of great interest and excitement during the conference.
With last year's Cypass recall announcement still top of mind, ophthalmologists were encouraged to remain vigilant with Cypass patients and trim or remove the device for patients experiencing endothelial cell loss. Nonetheless, MIGS continues to be an area of significant innovation, as companies continue to improve safety and efficacy for patients who do not respond well to drops. Ophthalmologists presented on multiple types of MIGS devices including those placed in the conventional outflow space (e.g., Glaukos iStent, Ivantis Hydrus, Kahook Dual Blade, Ellex iTrack), the subconjunctival space (e.g., Allergan Xen), and suprachoroidal space (e.g., iStent Supra). Dr. Patrick Riedel also presented on a new way to shunt aqueous using MicroOptix's Beacon Aqueous Microshunt, which diverts fluid to the ocular surface.
Sustained-release IOP-lowering drugs is another area of interest, which is seeking to address the leading concerns associated with glaucoma drop patients: compliance, which negatively impacts efficacy. Ophthalmologists presented data on one of the most advanced clinical agents, Allergan's Bimatoprost SR data, which showed that these drug delivery systems may have added benefits beyond improving compliance. Patients in the clinical studies experienced pressure lowering effects beyond the four-month treatment interval.

Corneal Diseases
Corneal diseases, like keratoconus and corneal scars or dystrophies, are much less common than glaucoma or cataracts, but have significant unmet needs. Only a few percent of corneal blind people receive corneal transplants, as supply is extremely low and ~13MM people worldwide are on a waiting list. Dr. Yichieh Shiuey, the CEO of KeraMed, presented his solution to corneal blindness at the Innovators General Session. KeraKlear is a non-penetrating artificial cornea with non-inflammatory forms of corneal blindness, which can be implanted through a femtosecond laser-created corneal pocket. Results from the 24-patient ex-US trial showed favorable outcomes and safety profile with patients showing no increase in IOP, a significant improvement from other transplant options, as well as no retroprosthetic membrane formation or endophthalmitis. Some complications such as corneal melting, infection, and graft failure remain with KeraKlear, which is available in the EU. Nonetheless, the device adds another promising alternative to the growing keratoprosthesis market.


Conclusion
Cornea, refractive, and glaucoma surgery are areas of continued innovation in front-of-the-eye disease treatments. The femtosecond laser transformed refractive error correction via LASIK surgery in the 1990s and early 2000s. MIGS have significantly improved the surgical treatment paradigm for clinicians and patients over the past 5-10 years, with significant adoption in patients with open angle glaucoma receiving cataract surgery. What will be the next big wave of innovation? My bets are on surgical refractive error correction through direct refractive corneal changes (i.e., LIRIC or similar), but only time will tell. We look forward to seeing the latest innovations next year in Boston!
References
Donnenfeid, E. (2019, May). A New Modular, Curvature-Changing, Fluid-Optic, Accommodating Intraocular Lens. Presented at the 2019 ASCRS Annual Meeting, San Diego, CA.
MacRae, S. (2019, May). Laser Induced Refractive Index Correction in Humans. Presented at the 2019 ASCRS Annual Meeting, San Diego, CA.
Cataract & Refractive Surgery Today (2019, April). Laser-Induced Refractive Index Change – An Interview with Scott M. MacRae, MD. https://crstoday.com/articles/2019-apr/laser-induced-refractive-index-change/
Shiuey, Y. (2019, May). A Novel Non-Penetrating Keratoprosthesis as a Solution for Global Corneal Blindness. Presented at the 2019 ASCRS Annual Meeting, San Diego, CA.
About the Author
Jeni Takasumi is a Consultant at Health Advances in the San Francisco office. She works across therapeutic areas and sectors, emphasizing ophthalmology, oncology therapeutics and diagnostics, and digital health/real world evidence (RWE) strategy.
Health Advances Capabilities in Eye Care
Health Advances has worked on numerous projects in the eye care sector throughout the firm's 27+ year history. Our work has covered a variety of products, from various forms of imaging and diagnostic equipment for the eye, to surgical devices and ocular implants, and interventions ranging from novel drugs to contact lenses. We have also evaluated various service businesses in the optical space, from optical professionals' membership organizations to optical products distribution businesses.