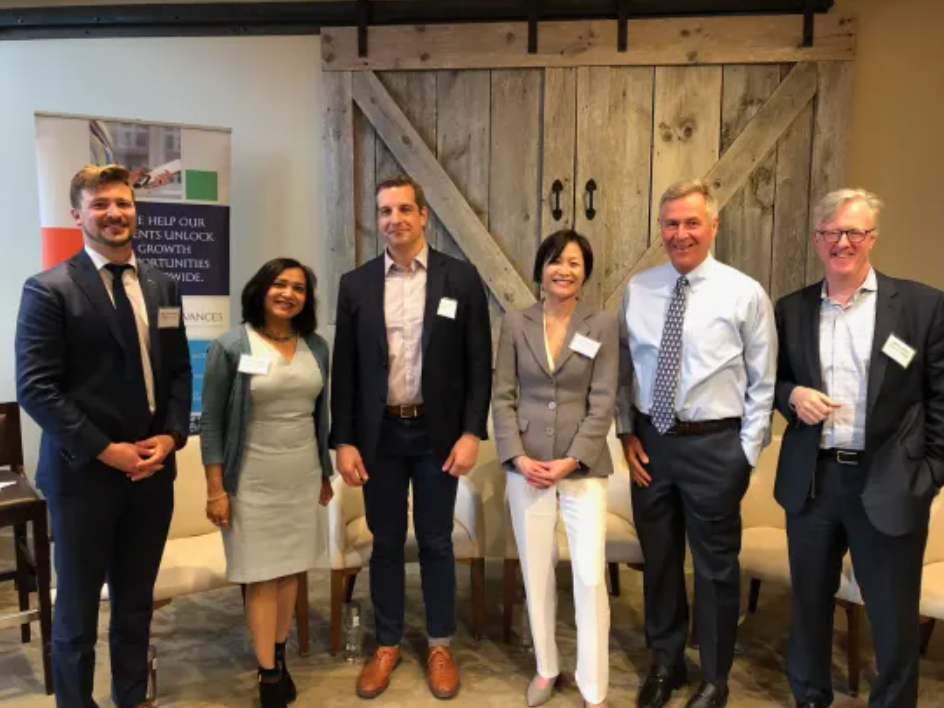 Blog | 6/7/2019
Highlights from Health Advances Executive Panel – Precision Medicine: Oncology and Beyond
Pictured (left to right): Gary Gustavsen, Health Advances; Jaya Goyal, Wave Life Sciences; John Truesdell, Foundation Medicine; Philina Lee, Blueprint Medicines; Kevin Hrusovsky, Quanterix; Jeff Elton, Concerto HealthAI
By: Kelsey Taylor, Consultant
On Thursday, May 16th, Health Advances' Partner and Managing Director, Gary Gustavsen, hosted an executive cocktail reception and panel at the Catalyst Restaurant in Cambridge, MA. A diverse panel of representatives from biopharma, diagnostic, and data companies at the forefront of precision medicine shared their personal experiences and answered questions from the audience. Panelists included:
Jaya Goyal, Vice President, Bioanalytical, Pharmacology and Biomarker Development at Wave Life Sciences
Jeff Elton, CEO, Concerto HealthAI
John Truesdell, Senior Director Product Marketing at Foundation Medicine
Kevin Hrusovsky, CEO, Quanterix
Philina Lee, Vice President, Commercial Strategy and Operations at Blueprint Medicines
The panel fostered a lively discussion that highlighted a number of evolving trends and implications of the precision medicine revolution:
►Oncology may see more tumor-agnostic precision drug approvals in the future:
Most cancer treatments are developed and approved for cancers within specific organs or tissues (e.g., breast cancer, lung cancer). However, the approvals for pembrolizumab for microsatellite instability-high (MSI-H) tumors, as well as larotrectinib for solid tumors with neurotrophic receptor tyrosine kinase (NTRK) gene fusions, represent the first tumor-agnostic approvals – or treatments used to treat any kind of cancer, regardless of organ or tissue of origin. Gary Gustavsen of Health Advances and John Truesdell of Foundation Medicine discussed that while there are many reasons to believe cancer development will remain focused on approvals indication by indication, it is very possible we will see more tumor-agnostic approvals in the near-mid future. Truesdell discussed how many of Foundation's biopharma partners are looking to do precisely this. The most notable molecular alterations of interest for pan-tumor approvals are homologous recombination deficiency (HRD) and tumor mutational burden (TMB).
►While Oncology has the greatest share of precision medicines, other therapeutic areas including neurology are seeing increased activity and advancement in biomarkers that could translate to precision medicines:
Philina Lee of Blueprint Medicines discussed Blueprint's focus on developing therapies for genomically defined subsets of cancer, including lead compounds avapritinib for KIT mutated gastrointestinal stromal tumors (GIST) and BLU-667 for NSCLC patients with RET fusions. Blueprint's partnerships with diagnostic companies, such as ThermoFisher, has supported their ability to remove barriers to precision medicine for their programs.
Jaya Goyal of Wave Life Sciences highlighted how finding a suitable partnership for companion diagnostic support was more difficult for Wave Life Sciences in the neurology space. Wave's asset for Huntington disease relies on determining the haplotype phase of their target SNP through a long-read sequencing approach. Given challenges with the current platform and manufacturers of long-read sequencers having no experience in commercializing diagnostic tests, Wave had to put considerate thought into their companion diagnostic strategy early on.
►In the future, there may be a need for novel partnership structures to bolster the business case for diagnostic companies to invest in companion diagnostics (CDx):
While pharma companies rely on partnerships with diagnostic companies for development of companion diagnostics, the incentives for the two are not always aligned. The business case for CDx for the diagnostic company is rocked by declining reimbursement and competition from lab developed tests, which may erode CDx profits in the future. Kevin Hrusovsky of Quanterix represents one company looking to leverage their expertise and capabilities in high-sensitivity immunoassays to partner with biopharma companies in the areas of neurology and oncology. Gustavsen and Hrusovsky discussed how novel partnership structures that support mutually beneficial collaborative relationships between companies could help support the business case in the future. Quanterix is currently working with biopharma partners to advance novel biomarkers as secondary and exploratory endpoints in clinical trials.
►Big data is being explored as a means to accelerate precision medicine development:
The panelists unanimously agreed that further advancements in precision medicine will rely on a deeper understanding of biology behind responders. Concerto HealthAI represents one company paving the way for use of real-world data to support discovery of novel biomarkers, reduce R&D costs, and advance drug development. Jeff Elton of Concerto HealthAI discussed how the company is leveraging real-world data from EMRs and insurance companies with AI and machine learning to help its partners (including Pfizer and BMS) to more efficiently design and select patients for their clinical trials. Truesdell noted the similar purpose behind Foundation's partnership with fellow Roche subsidiary, Flatiron Health, to create a clinico-genomic database that combines genomic profiling information from Foundation's CGP assays with de-identified EHR data from Flatiron.
###