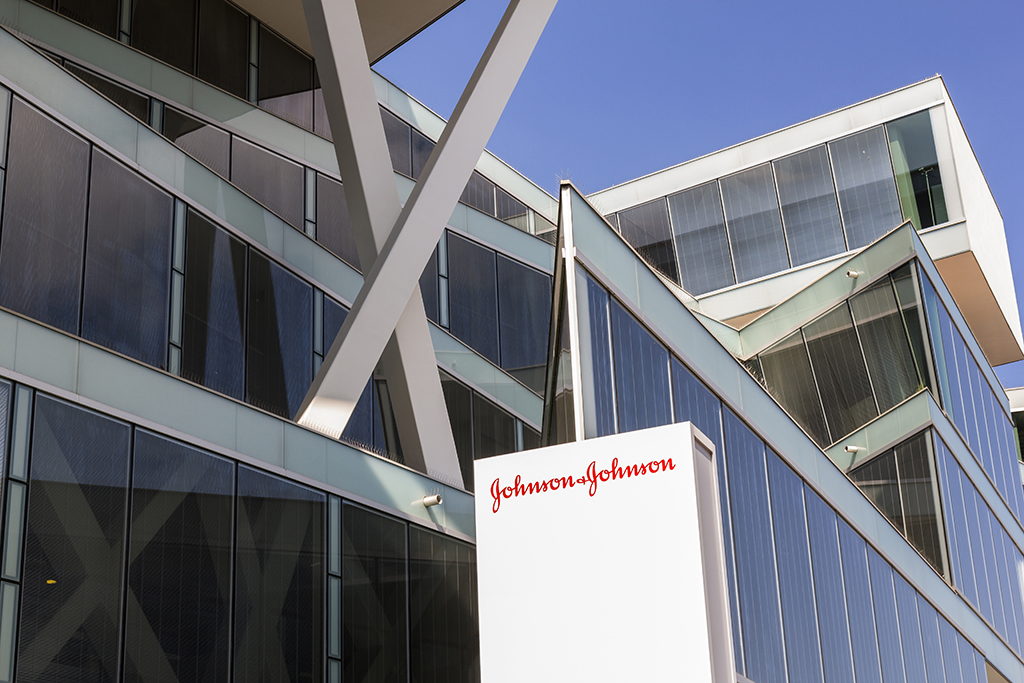 Blog | 5/18/2023
The Woes and Wins of CAR-T Manufacturing: Lessons from Abecma and Carvykti
Shay Pezzulo, Vivek Mittal, and Ned Wydysh
The burdensome nature of chimeric antigen receptor T cell (CAR-T) therapy manufacturing has characterized the industry since its inception. Challenges lie in everything from raw material supply to downstream processing and quality control scalability. While demand has historically outstripped supply, this imbalance is expected to grow with the increasing approval of CAR-T therapies as earlier-line treatments. The struggles of both in-house and contract manufacturing to meet the ever-growing demand have certainly stunted the commercial opportunity of these highly needed therapies. In this article, we will review the commercial implications of manufacturing bottlenecks within the CAR-T multiple myeloma space, how companies have attempted to mitigate such challenges, and how we expect the industry to move forward.
Commercial Implications
The challenges of manufacturing have always found their way into CAR-T company quarterly updates. Back in July of 2021, Bristol Myers Squibb (BMS) reported production issues immediately after the launch of its CAR-T therapy for multiple myeloma, Abecma, citing lentiviral vector shortages and limited production slots as their key constraints to a stable supply.[1]
As more players enter the market, they continue to face similar challenges. A couple of months ago, Johnson & Johnson (J&J) and Legend Biotech had to delay the UK launch of their own multiple myeloma CAR-T drug, Carvykti, for the same production issues BMS had with Abecma: lentiviral vector shortages and insufficient manufacturing slots.[2]
Interestingly, the abstract of J&J and Legend's Phase III CARTITUDE-4 study was leaked only a month later in April, revealing that one infusion of Carvykti has the potential to reduce the risk of tumor progression or mortality by 74% compared to standard treatment options.[3] These impressive results could certainly put Carvykti on track to beat out its more senior competitor, Abecma. However, whether J&J and Legend can address their manufacturing shortcomings for such a feat to come to fruition remains to be seen. For two consecutive quarters in Q3 and Q4 of 2022 at the peak of their manufacturing struggles, Carvykti's sales stagnated at $55MM.[4] In Q1 of 2023, however, they reported that sales increased to $72MM, suggesting they are making strides forward.[5]
Current Strategies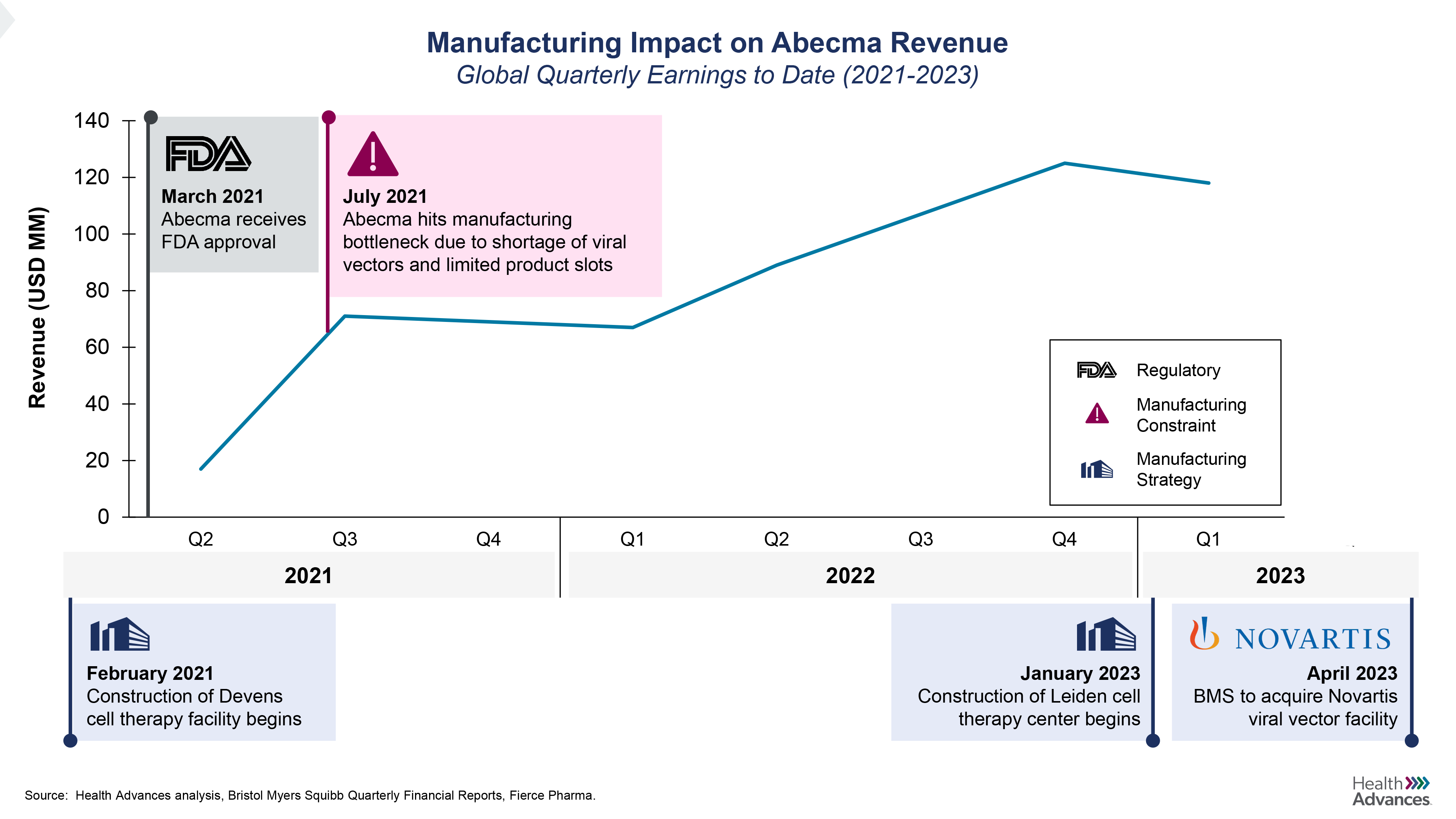 Since Carvykti's launch, J&J and Legend have employed a series of strategies to mitigate manufacturing challenges. In October 2022, the Carvykti manufacturers disclosed they were doubling their investment in their Raritan, New Jersey manufacturing facility to an impressive $500MM, which will be dedicated to both bringing viral-vector production in-house and increasing their capacity for engineering and culturing cells.[6] Last month, J&J and Legend announced a three-year contract with Novartis to manufacture the CAR-T drug.[7] Just two weeks after its competitors' announcement, BMS announced its plans to acquire a Novartis facility to also enable in-house viral vector production.[8]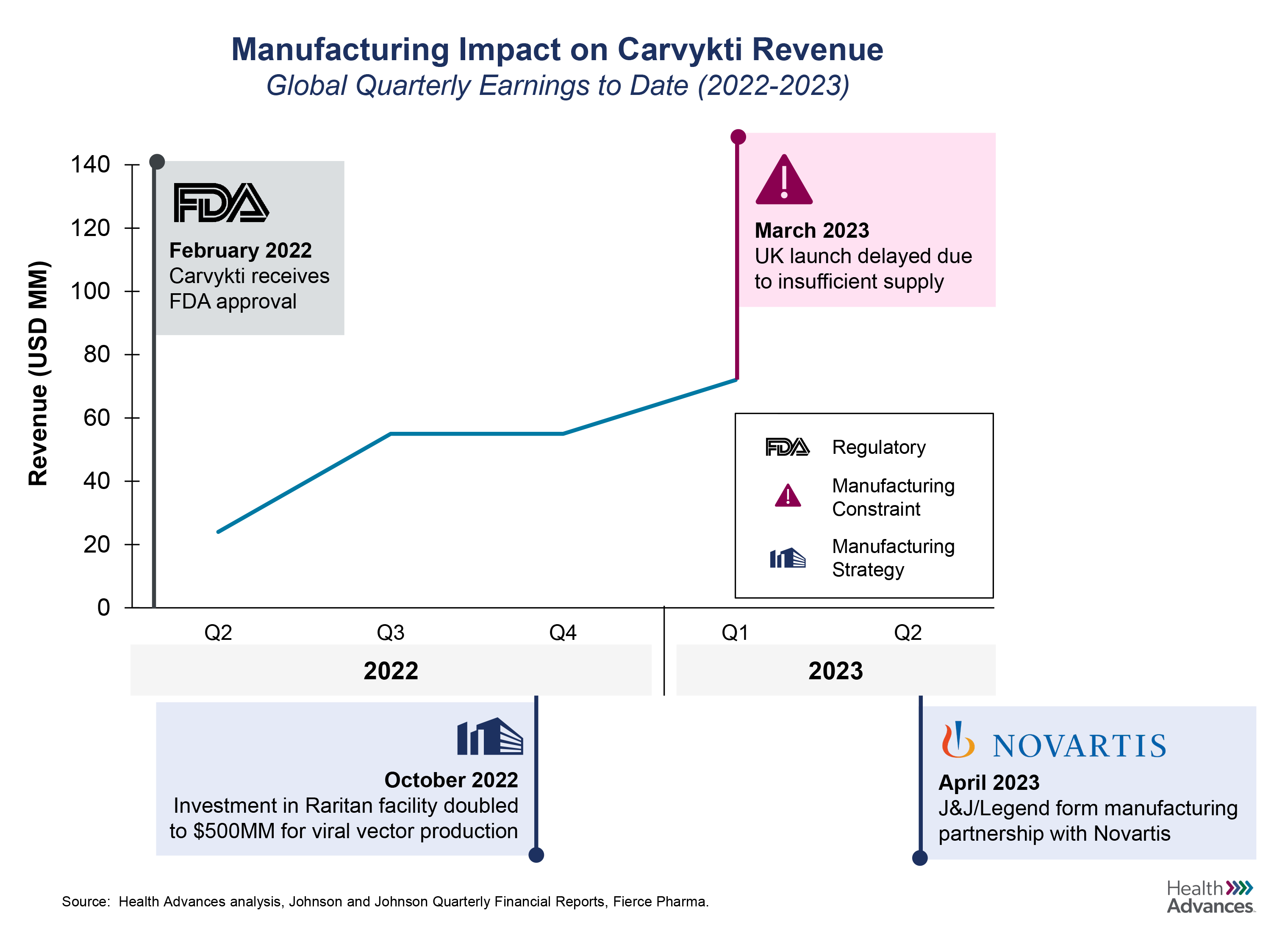 Even in a space with only a handful of players, such strategies are far from new. The first players in the CAR-T therapy space, Gilead/Kite and Novartis, started the trend of in-house viral vector production four years ago.[9] Although Yescarta and Kymriah both certainly had their own manufacturing hiccups, they seem to have since ironed out many of the issues that are still plaguing some of the greener players. Indeed, the turnaround time for Yescarta is nearly a week shorter than its newer counterpart and BMS' first CAR-T therapy on market, Breyanzi.[10] Meanwhile, Novartis has turned its own multi-year advantage into a successful contract manufacturing business that brought in $214MM last year.[11]
Future Implications
The woes and wins of players in the broader CAR-T therapy space have underscored the importance of proactively addressing manufacturing challenges to secure a competitive advantage. Companies that have had the time to learn and adapt to these challenges have undoubtedly seen greater commercial success compared to their counterparts.
On the other hand, junior biotech players who are willing to depart from the tradition of prioritizing clinical development over early-stage manufacturing may also see their efforts bear fruit. Although early and substantial investments in manufacturing certainly carry a sizeable risk given the uncertainty of clinical development in novel therapeutic areas, the benefits they offer are quite compelling. Such investments not only facilitate the ramp-up of supply to meet commercial demands but also grant companies greater agility during the initial stages of development, particularly when dealing with novel therapies. Point Biopharma, for example, was built on the premise of inadequate radiopharmaceutical production capacity across the industry and thus focused on manufacturing before even building a pipeline.[12] Although this decision was initially considered controversial, it has positioned Point well to compete with industry giants like Novartis, whose commercial prospects for both Lutathera and Pluvicto have been hampered by supply issues. Likewise, BioMarin's decision to build its first-in-class gene manufacturing facility has undoubtedly played a pivotal role in the progress it has made with Roctavian by giving it the flexibility required for rapid product development.
Whether more companies developing novel therapies will be willing to take on the risk of diving headfirst into manufacturing remains to be seen. However, given the current state of the industry, it is clear that the decision to invest in early manufacturing will continue to serve as a decisive factor in commercial success.
[1] https://www.fiercepharma.com/manufacturing/bristol-myers-hits-car-t-manufacturing-bottleneck-as-abecma-demand-outstrips-supply
[2] https://www.myeloma.org.uk/news/pharmaceutical-company-halts-access-to-car-T Cell-treatment-for-uk-myeloma-patients/
[3] https://scrip.pharmaintelligence.informa.com/SC148244/Leaked-Data-Boost-JJ-and-Legends-CART-Carvykti-But-Manufacturing-Issues-Remain
[4] https://www.fiercepharma.com/pharma/leaked-abstract-show-jj-legends-carvykti-reduce-progression-or-death-74-earlier-myeloma
[5] https://johnsonandjohnson.gcs-web.com/static-files/193ef6f3-7acf-4ab2-979e-44cdb7120d41
[6] https://www.fiercepharma.com/manufacturing/legend-jj-double-down-car-t-manufacturing-500m-carvykti-eyes-wider-myeloma-use
[7] https://investors.legendbiotech.com/node/7936/html
[8] https://news.bms.com/news/details/2023/Bristol-Myers-Squibb-Strengthens-Cell-Therapy-Capabilities-by-Adding-New-U.S.-Manufacturing-Facility-for-Viral-Vector-Production/default.aspx
[9] https://www.gilead.com/news-and-press/press-room/press-releases/2019/7/kite-announces-plans-to-bolster-industry-leading-cell-therapy-manufacturing-capabilities-with-new-viral-vector-facility
[10] https://www.fiercepharma.com/pharma/johnson-johnson-bristol-myers-kite-pharma-car-T Cell-therapy-struggle-sloan-kettering
[11] https://www.fiercepharma.com/manufacturing/jj-legend-tap-novartis-help-make-car-t-therapy-carvykti-amid-supply-constraint
[12] https://www.evaluate.com/vantage/articles/interviews/point-looks-turn-tables-novartis?mkt_tok=NjA3LVlHUy0zNjQAAAGLXRtURRYM6ARN3PB5jIlonHkbtyiSVO5u5M_Cj4m0pMMqDOUrlhq1z9LAP8QihrIs9BYL6Fa742HBc05HOtX8NJr0dyJzNbso0bkQQlqMZ2fxYg
###
Author Bios
Shay Pezzulo, Analyst and member of the cell and gene therapy practice at Health Advances.
Ned Wydysh, Vice President and Co-Leader of Health Advances' oncology and cell and gene therapy practices.
Vivek Mittal, Partner, Managing Director, and Co-Leader of Health Advances' oncology and cell and gene therapy practices.