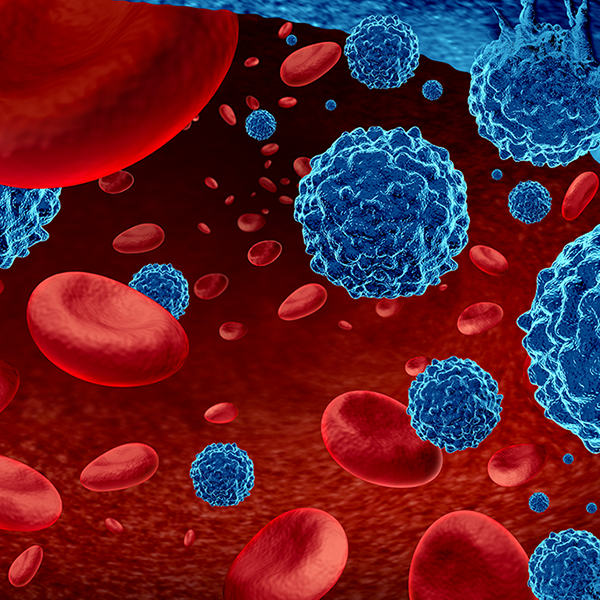 Blog | 12/21/2022
Allogeneic Cell Therapy: ASH 2022 Takeaways and Future Outlook
By Emmanuel Toroitich, Alfonso Barrios, Ned Wydysh, and Vivek Mittal
Introduction
With 2022 wrapping up and several allogeneic companies presenting their data at the recently concluded ASH conference, Health Advances reviews the current state and outlook of allogeneic cell therapy.
Allogeneic (allo) cell therapy has attracted a lot of interest due to its potential to address some of the shortcomings associated with autologous (auto) cell therapy, such as long manufacturing turn-around time, cost, scalability, and quality of starting cells. However, the potential has been dampened by less than impressive response durability, especially when compared to auto therapies.

Recent Data Updates…. Durability Challenges Persist
The recurring theme with allo data readouts has been a strong initial response but significant patient relapse within a few months. Unfortunately, the trend continued during the ASH conference and other recent meetings, where the data presented suggests there is still a lot of work to be done to address persistent durability issues.
Adicet Bio, Caribou Sciences, CRISPR Therapeutics, and Nkarta Therapeutics are just some of the players running into the durability challenges faced by fellow allo developers Allogene and Precision Biosciences. To highlight a few data readouts, Adicet Bio's, ADI-001, a gamma-delta CD19 CAR-T under study for NHL, showed 75% overall response rate (ORR) with 69% (11) complete responses in 16 patients. At only 6 months, 3 patients relapsed and 2 died of unrelated causes. Of the 6 ongoing complete responses (CR), 4 of them haven't reached 3 month follow-up. CRISPR Therapeutics' CD19 CAR-T, CTX110, showed 67% ORR with 41% CR in 32 patients. At 6 months, only 5/11 patients remained in CR. Of note, 2 patients still have ongoing CR at 24 months. Caribou Sciences received a lot of attention a few months ago after its CD19 CAR-T asset, CB-010, achieved 100% CR in 6 patients. However, 2 patients relapsed within 6 months and 1 more relapsed by 12 months. One patient still has ongoing CR at 18 months. Data from all companies is summarized in Figure 1 below.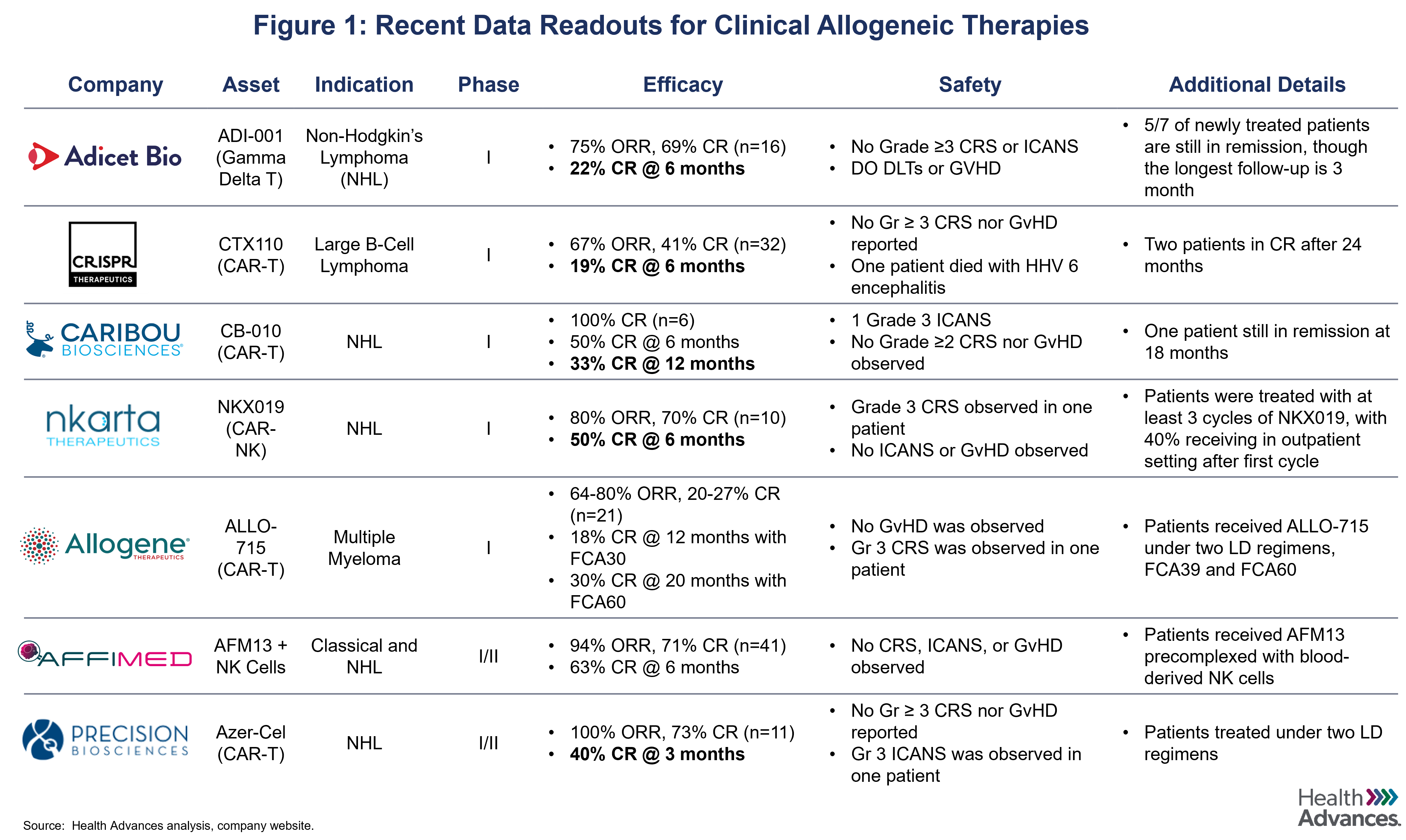 Allo's Role in Clinical Practice
With current durability challenges, it will be hard for allogeneic products to compete with auto cell therapies which have shown impressive response durability data. For example, Novartis' Kymriah in pediatric/young adult patients with B-ALL has shown 44% relapse-free survival and 55% overall survival at 5 years. Similarly, 5-year follow-up analysis of Gilead's Yescarta in R/R LBCL showed ~43% overall survival with 92% of patients having received no additional treatment. With great efficacy and durability data, it's not a surprise that auto CAR-T is moving up lines of treatment as evidenced by approval of Yescarta and Breyanzi as second line of treatment for R/R large B-Cell lymphoma. In its current state, allo cell therapy will likely be reserved for patients who can't access auto either due to manufacturing logistics or quality of patient cells, limiting its revenue potential. Additionally, if Novartis and Gracell's ongoing efforts to cut auto CAR-T manufacturing time from current ~4 weeks to 2 days succeed, allo CAR-T will have to generate comparable efficacy and durability data to compete.

Future Outlook for Allo – "This too shall pass"
While allo CAR-T durability pales in comparison to that of auto CAR-T's, the success of auto CAR-T should be an inspiration to allo developers, considering the rapid progress of innovation in allo. For context, the first CAR built to target CD19 was developed in 2003 by Dr. Sadelman, and it took 14 years for the first auto CAR-T, Kymriah, to be approved. The biggest hurdle for allogeneic cell therapies was how to overcome GVHD so it's laudable there have been no GVHD cases in recent data releases after the discovery of the major role TRAC KO plays in preventing GVHD. With the ongoing collaboration of key stakeholders, we believe significant advances to address the durability challenges will be made within the next 5 years.
Already several approaches are being evaluated, such as repeated dosing, dual antigen targeting, and genetic edits to eliminate MHC class I (B2M KO) and class II (CIITA KO). Preliminary data from Nkarta's NKX019 (CAR-NK) and CRISPR's CTX110 (CAR-T) trials showed patients can generally be safely redosed. For Nkarta's trial, patients were treated with 3 cycles of NKX019 over 28 days, and only 1/19 experienced grade 3 CRS which resolved within 24 hours. 3 patients with partial responses deepened to complete responses with additional cycles. The preclinical data on the effect of B2M and CIITA KO is looking promising, as we await clinical data in 2023 from Poseida, Sana, Beam and Crispr to confirm (Figure 2).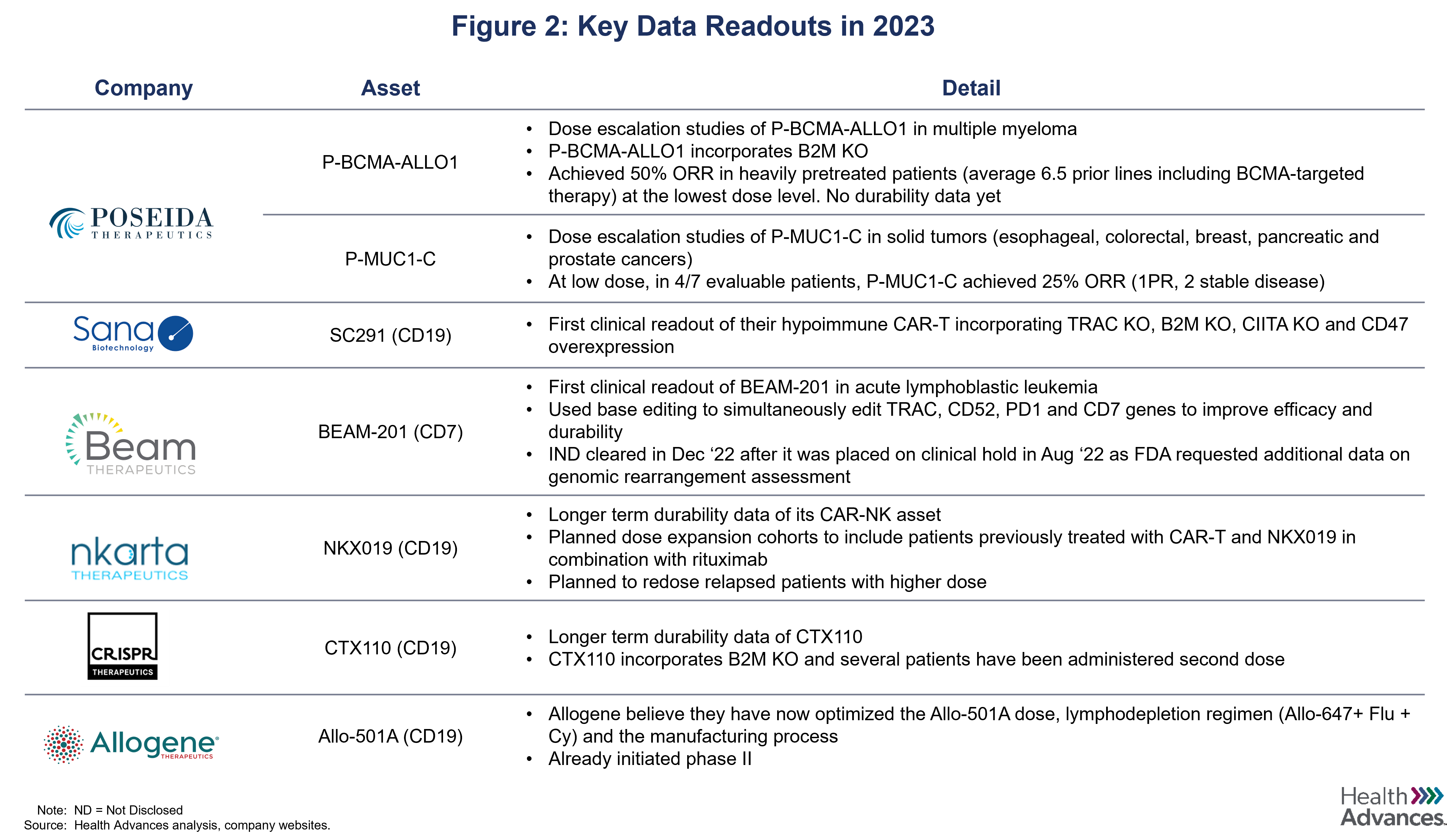 Conclusion
While the recent data updates have been disappointing due to durability issues, we are optimistic that with the ongoing efforts significant strides will continue to be made over the next several years. The increasing investment over the last 6 years is a sign of confidence in the space and critical in addressing the few roadblocks (Figure 3). Most notable, despite 2022 being challenging economically for many industries, it's comforting that there is still interest in allo led by big pharma such as BMS's ~$200MM upfront investment in Immatics and Century Therapeutics, and also top VC firms e.g., Arch Ventures leading Be Bio's $130MM Series B financing (Figure 4).
The European Commission's recent approval of Atara Biotherapeutics' Ebvallo for post-transplant lymphoproliferative disease (PTLD) who are EBV+ marks the first regulatory approval for an allogeneic T-cell therapy, bringing hope to allogeneic therapy pursuits. Ebvallo is also the first approved product for PTLD. As the first approved allo cell therapy, it will be closely monitored for price and initial uptake.
Health Advances is looking forward to continue following the evolution in the field and advancements that will hopefully improve on the existing standards of care across a range of hematologic malignancies and eventually solid tumors.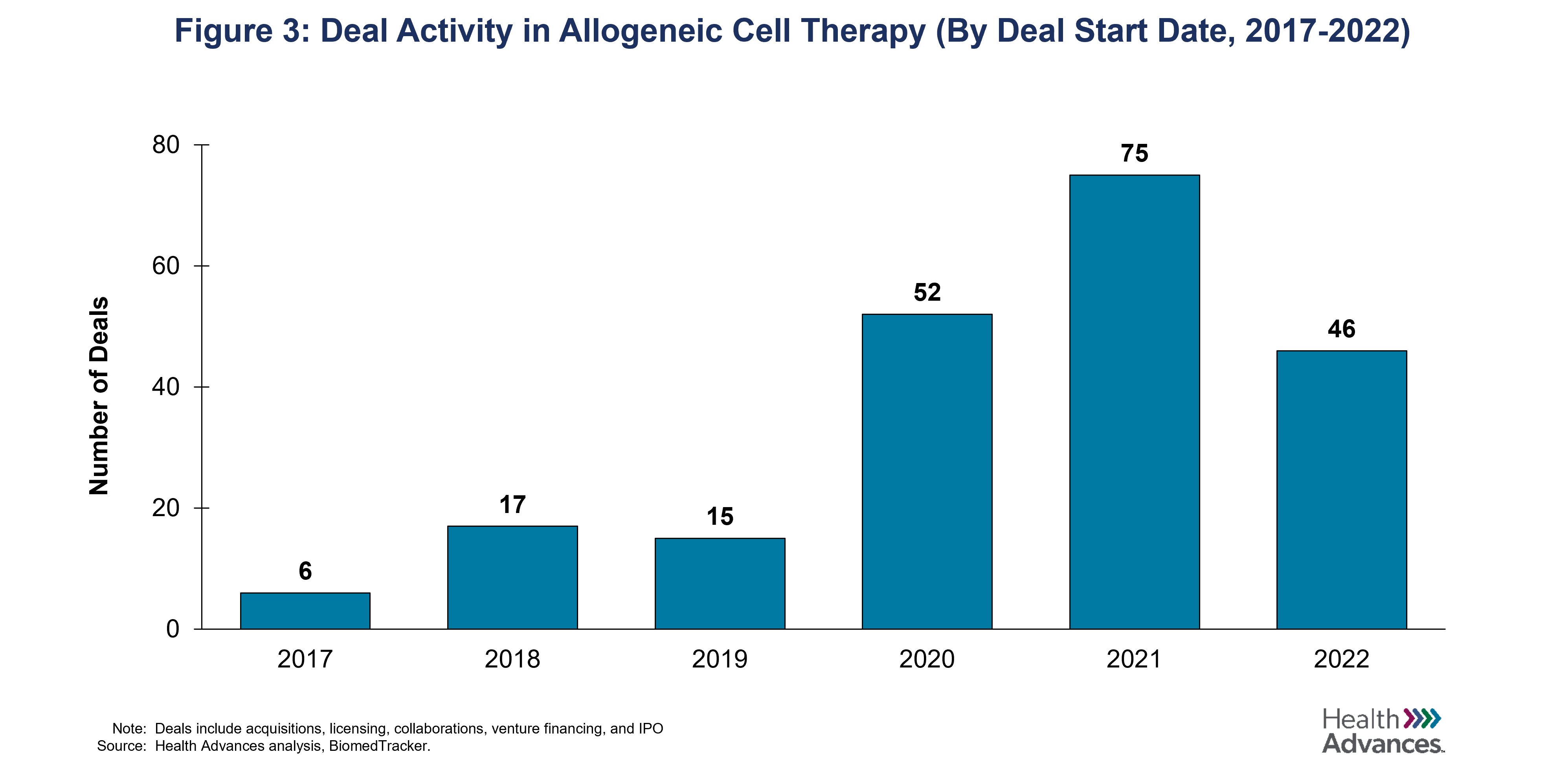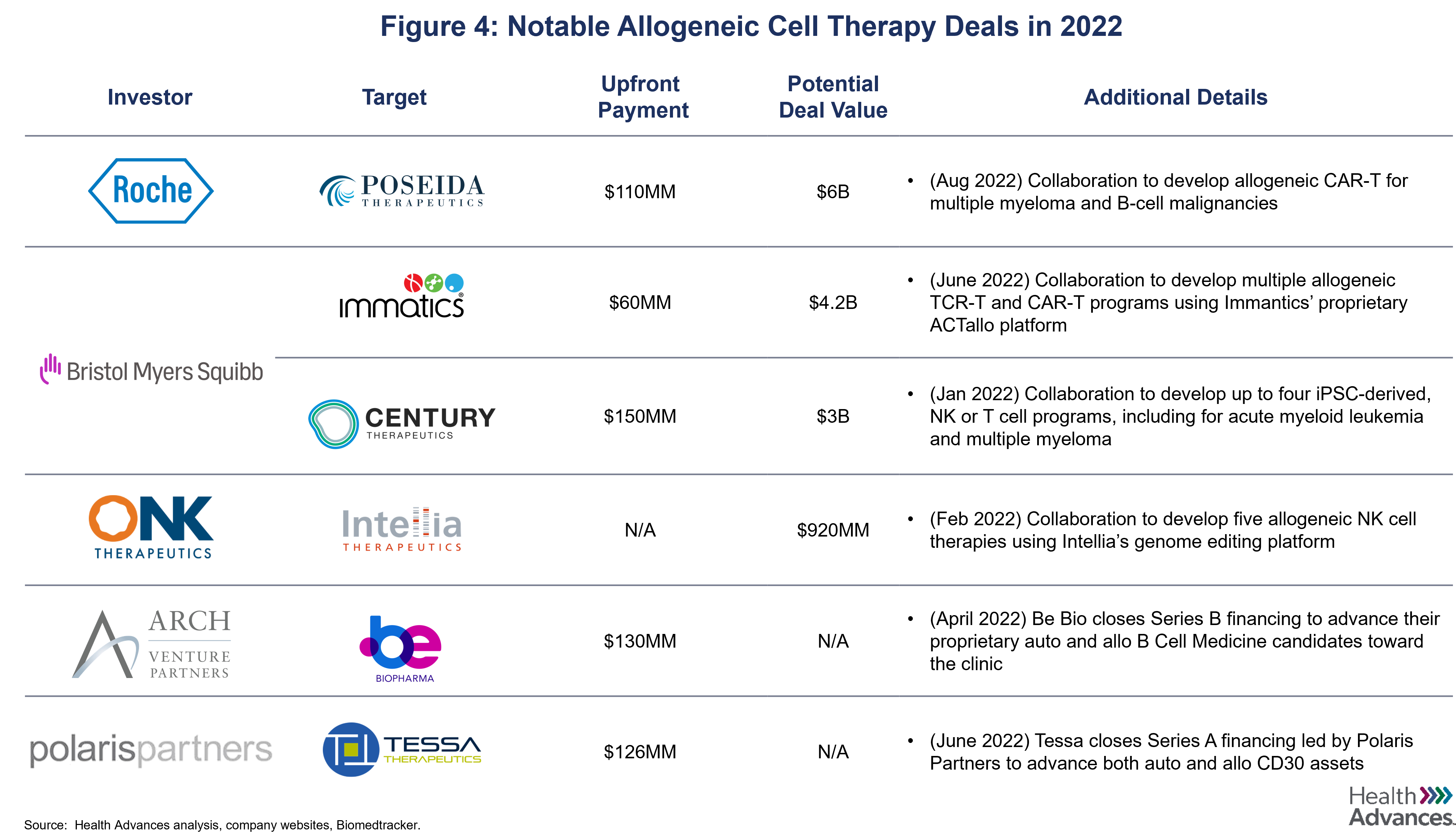 ###
Emmanuel Toroitich, Senior Analyst and member of the cell and gene therapy practice at Health Advances.
Alfonso Barrios, Senior Analyst and member of the cell and gene therapy practice at Health Advances.
Ned Wydysh, Vice President and Co-Leader of Health Advances' oncology and cell and gene therapy practices.
Vivek Mittal, Partner, Managing Director, and Co-Leader of Health Advances' oncology and cell and gene therapy practices.