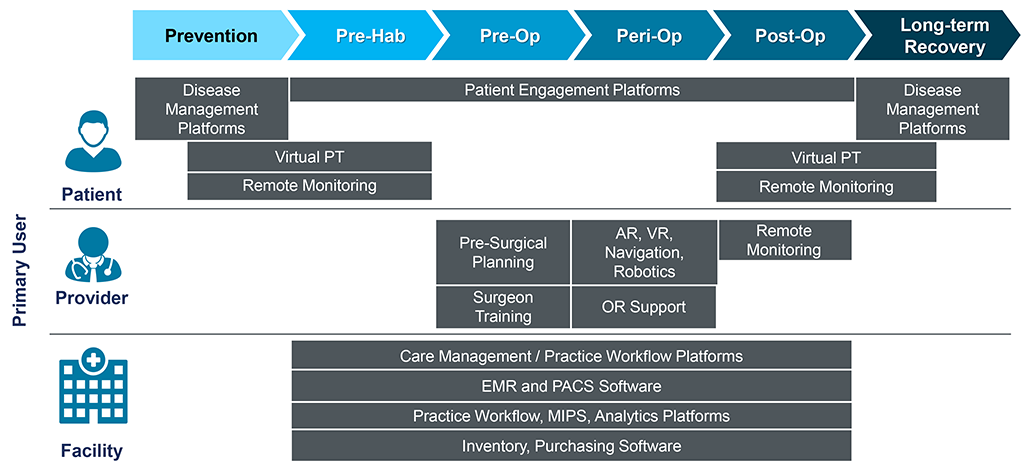 Blog | 4/27/2023
An (Unfortunately) Unoriginal Take on How to Improve MSK Care
By Michael Zhang, MD, and Brandon Wade
Management of musculoskeletal (MSK) diseases has long been challenging. Simple fixes are short-lived leading to repeat intervention, high costs, and persistent unmet need. So, what can be done about it? Given the upcoming Digital Orthopedics Conference in San Francisco (DOCSF), this post will be a bit biased and focus on the potential, and hurdles, for digital orthopedics.
Like any other chronic disease, MSK conditions will have to be managed across the entire patient journey, with an ultimate goal of improving long-term clinical outcomes, patient satisfaction, costs, and efficiency of care. Whether by traditional orthopedic OEM leaders, or by novel startups, investments are needed beyond the acute episode of care and beyond traditional products. Improvements in procedural technique, implants, and instrumentations will continue to move the needle, but that can't be the only solution. We need to rethink what an orthopedic "solution" can look like. The future is going to require new, digital tools that break the "orthopedists = carpenters" analogy. From improving traditional products with technology, to improved patient self-management and ownership of their disease, to harnessing the power of data and digitally enabled solutions…we will not be able to tackle the problems facing the MSK industry today without improvements across all these categories. Even the best carpenter can't fix a house built on a wetland.

What is Digital Orthopedics?
Digital Orthopedics is the application of digital health and software technologies to impact MSK disease management, with an effort to improve the patient experience, outcomes, and cost. Numerous categories of digital orthopedics technologies exist, in varying states of maturity / nascency. Broad categories include (but are not limited to):
Enterprise clinical and operational software (e.g., population health, workflow solutions)
HCP-facing solutions (e.g., clinical decision support, surgical planning)
Patient-facing digital health solutions (e.g., remote monitoring, virtual rehab support)
Consumer-facing technologies to support long-term health and wellness (e.g., fitness trackers)

Current Investment Landscape for Digital Orthopedics
While initial uptake and investments were limited, significant headway has been made, especially in recent years, to incorporate various digital solutions in and around acute episodes. These novel technologies are starting to demonstrate value by augmenting and even directly improving traditional orthopedic equipment and implants. Like in other clinical areas, an uptick in deals and funding towards digital orthopedic technologies occurred in 2020, coinciding with the COVID pandemic.
Despite the promising uptick in activity, investments by leading orthopedic companies have remained focused on supporting the acute episode, from immediately pre-op through immediately post-op. Most of the investments aim to enhance existing surgical tools / procedures to improve efficiency, reduce complications, and improve overall success. A smaller portion of investments have focused on supportive technologies used outside of the OR.
Despite the vast majority dollars flowing into the more obvious segments of the patient journey, there have been a few recent events that extend beyond the surgical theater:
OrthoSensor, a privately held company from Dania Beach, Fl, was acquired by Stryker in 2021. The company owns multiple digital offerings to strengthen Stryker's digital ecosystem. Its VERASENSETM intraoperative sensor creates a unique knee balancing solution and has been used with Stryker's Triathlon Knee System to improve outcomes following knee replacement. Most interesting for us, however, is OrthoSensor's MotionSenseTM remote patient monitoring wearables – the combination of these tools combined with Stryker's OrthoLogIQ cloud-based data platform has the potential to truly enhance Stryker's ability to capture, analyze, and empower data-driven patient management following procedures.
MediCrea, a French company, was acquired by Medtronic in 2020. The company applies AI and predictive modeling to spinal surgery by using sophisticated algorithms that measure and digitally reconstruct a patient's spine to its optimal profile. Its UNiD™ ASI (Adaptive Spine Intelligence) platform will help Medtronic boost its path to the leader in personalized implants and AI-driven planning and prediction capabilities. While focused on the procedure today, we are excited by the prospect of rich data enabling clinical decision support across the MSK patient journey to implement effective, preventative care and self-management.

Future Outlook for Digital Orthopedics
We certainly hope the tide is turning. While large orthopedic companies are not yet incentivized to expand too far from the core, smaller, digital-focused players are building out capabilities and testing the waters. Importantly, they are starting to pioneer novel business models, which will be required outside of the surgical setting. Frankly, business model exploration is happening all over the world of digital health technologies and will continue to be a major barrier to investment.
Outside of the patient journey, digital solutions also have significant promise to improve clinical and operational efficiencies for HCPs and health systems. Surgical training, clinical decision support, inventory management, intra-operative data capture, workflow automation, etc. etc.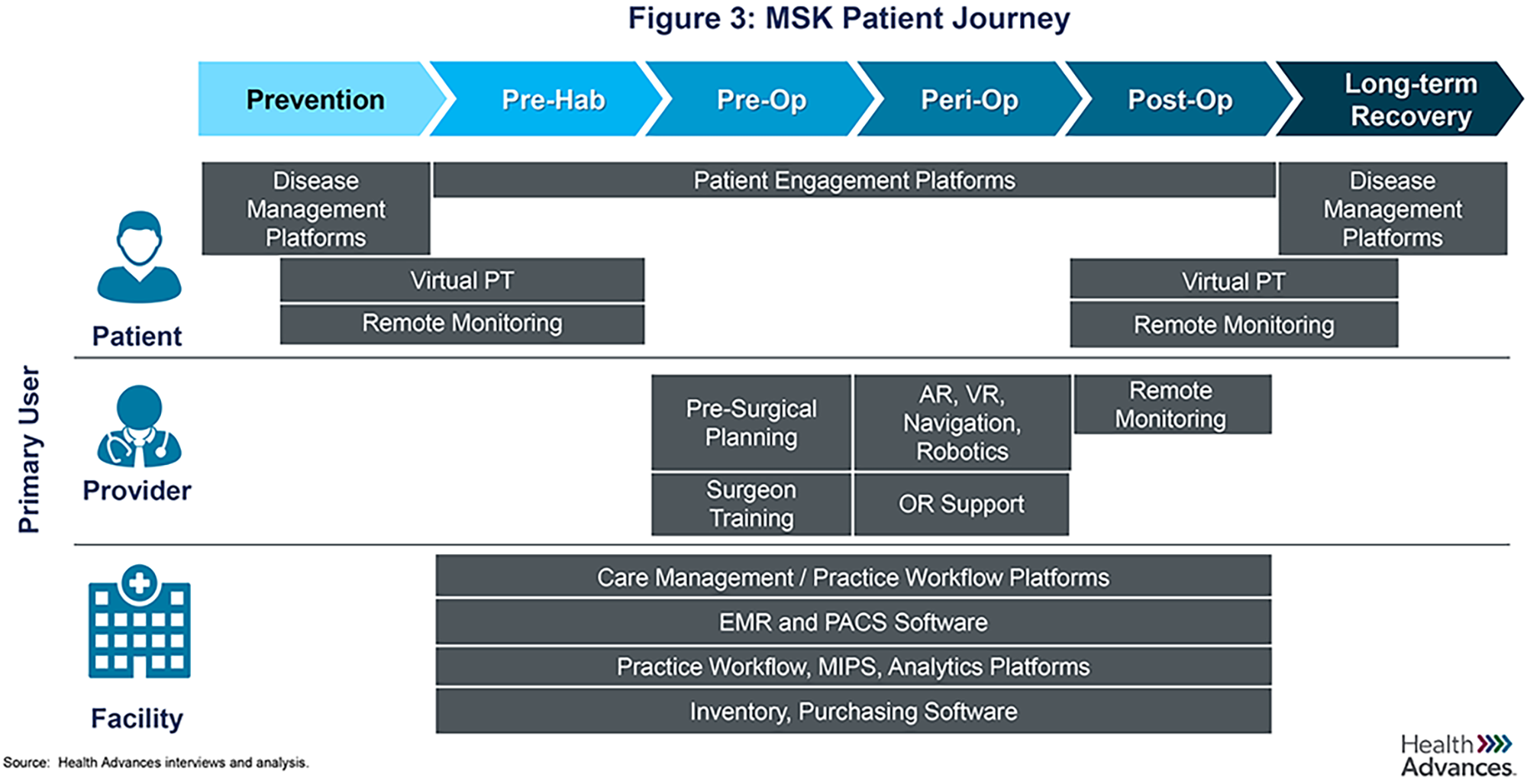 We are especially excited to hear updates from several exhibitors at DOCSF who are developing solutions outside of the acute care settings:
We at Health Advances are excited to support companies in their efforts to improve the MSK patient journey and build out the digital orthopedics ecosystem by advising digital and orthopedic-focused companies to maximize potential in their technologies and solutions. Paramount to success for all these companies will be their focus on addressing key unmet needs in the system and developing the right evidence to prove their value.
##
Michael Zhang, MD, is a Consultant at Health Advances and a member of the MedTech, Musculoskeletal, and Digital Health practices.
Brandon Wade is a Vice President at Health Advances and works in the intersections between the Health IT and Digital Health, Biopharma, and MedTech practices with a specific focus on cross-sector healthtech strategy. Brandon co-leads the Health IT and Digital Health practice along with the Musculoskeletal practice.