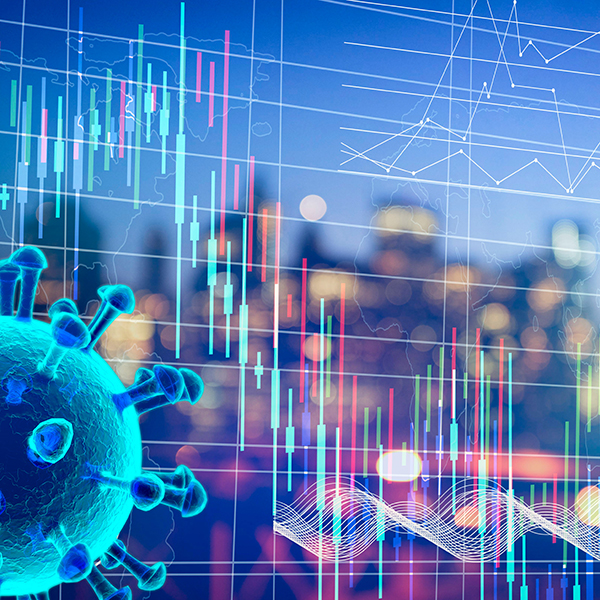 Blog | 9/11/2020
Biopharma R&D in the Post-COVID World
By Steven Chang, Ph.D., Senior Analyst; Yinzi Liu, Ph.D., Engagement Manager; Doug Mullen, Ph.D., Director; and Wyatt Gotbetter, Partner
While U.S. states and countries are in the process of reopening their economies and managing resurgence of cases, the long-term challenge of COVID-19 on our healthcare system is just beginning. Recent studies now indicate that patients recovering from COVID-19 can suffer from long-term complications that could last far beyond the acute phase of the infection. Managing these long-term complications will increase the demand for healthcare resources in the years to come and elevate the need for novel therapies to manage these complications. Additionally, the pandemic has created unprecedented public awareness on infectious disease, and the value of diagnostic testing, which can change patients' care-seeking behavior going forward. In this blog post, we explore how COVID-19 may impact the future of biopharma R&D.
Long-Term Complications of COVID-19
Emerging evidence suggests COVID-19 can manifest as more than just acute respiratory illness. Several articles have reported cases of lung injury, cardiac injury, and cardiovascular complications associated with COVID-19.1,2,3 Neurocognitive and mental health impacts are another area of concern.2 Cases of severe inflammation with unknown long-term implications have also been reported in both adults and children.4 Below is a brief summary of the current understanding of COVID-19 related complications: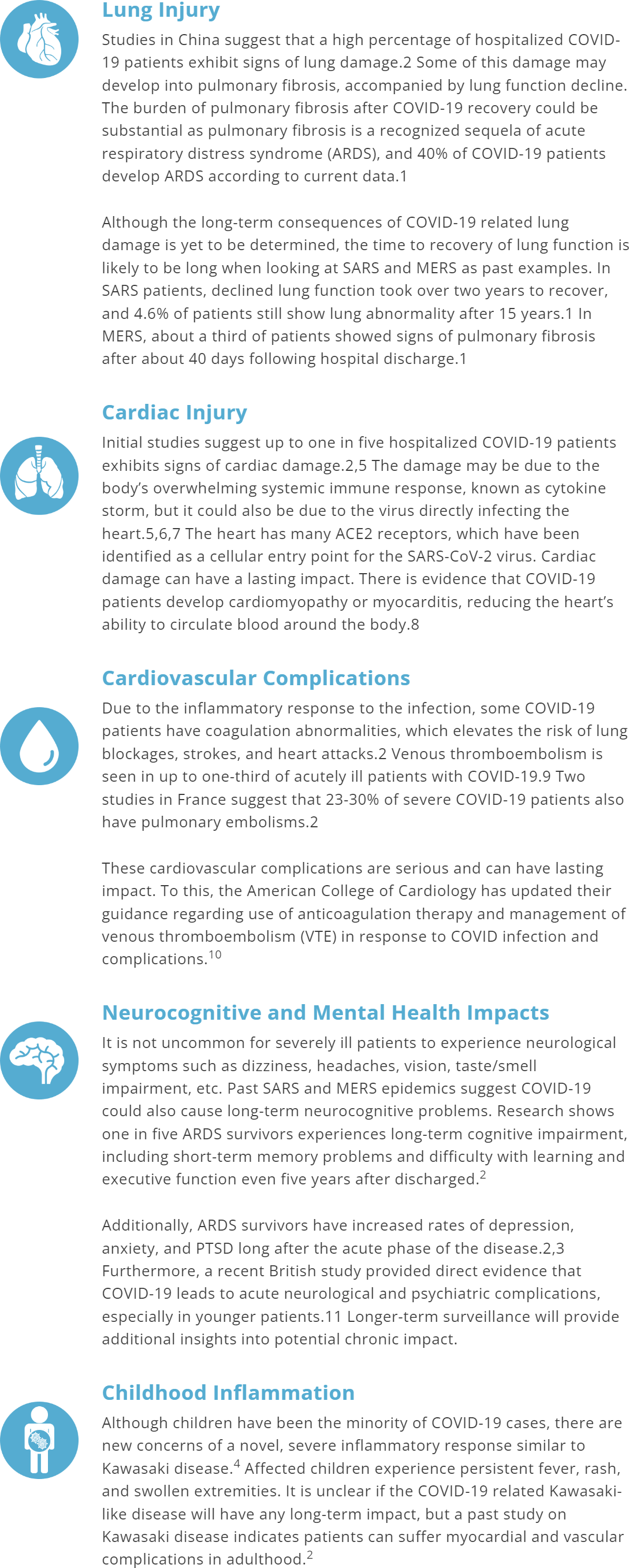 COVID-19 Impact on Biopharma R&D
R&D Unmet Needs due to COVID-19 Sequela
Although it is too early to determine the true magnitude of the long-term complications among COVID-19 survivors, the scale of the pandemic would suggest that there is an elevated level of unmet need to manage COVID-19 associated long-term complications in the years to come. For perspective, there were approximately 8,000 cases during the SARS epidemic and approximately 2,000 MERS cases to date, worldwide. In comparison, we have over 26 MM confirmed COVID-19 cases worldwide and over 6 MM cases in the US as of September 4, 2020.12 This suggests there will be a significant number of patients experiencing long-term complications even if the incidence rate is low. Although there are existing treatments to manage various COVID-19 related complications, the increased demand presents an opportunity for the biopharma industry and should motivate the research and development of novel therapies to manage these complications more effectively.
As companies work on novel therapies to address COVID, and its many severe complications, there is promising news of use of existing therapies offering life-saving benefits, but when used with caution and care. Beyond the now approved Remdesivir from Gilead, and case reports showing benefit from dexamethasone,13 Regeneron and Lilly are testing REGN COV2 and LY-CoV555, respectively – both monoclonal antibody approaches to neutralizing and possibly treating the SARS-CoV-2 coronavirus itself.14,15
Additionally, leading biotechs and pharma are working on immune-mediated approaches with long-approved medicines. Roche's Actemra, targeting IL-6, has recently posted generally negative results, while SOBI's Anakinra targeting IL-1, and Lilly's Olumiant targeting JAK 1/2 are still being studied.16
Beyond these well-known and available therapies, many biotechs and pharmaceuticals, large and small, are conducting studies of novel molecules in a global and urgent effort to address the virus.
Greater Demand for Infectious Disease Drugs
Beyond the COVID-19 related complications, the pandemic has generated an unprecedented level of public awareness of infectious diseases, which is likely to have a lasting impact on patients' healthcare-seeking behavior. As a result, we expect the infectious disease therapeutic category to be poised for growth. There will be greater recognition of the burden of disease for infectious diseases, particularly respiratory illnesses such as influenza, RSV, and human metapneumovirus. Patients are more likely to seek care when experiencing symptoms and request testing, resulting in an increased level of diagnosis of other infectious diseases following the pandemic. Additionally, recognizing that we currently have a weakness in our response to infectious disease, governments may look to reduce development barriers, increase commercial incentives, and invest in innovation to combat infectious disease. These factors should collectively incentivize biopharma companies to increase their R&D efforts in infectious disease, which has traditionally been a therapeutic area with fewer development activities.
Conclusion
COVID-19 has put a tremendous amount of strain on the U.S. healthcare system. As we slowly start to shift our attention away from treating the acute symptoms, we are only beginning to understand the scale of the long-term complications from COVID-19 survivors. The biopharma industry has an opportunity here to help society transition back to normal by conducting studies to understand the scope of the COVID-19 related complications, developing novel treatments that can manage the complications more effectively, and investing in R&D for infectious disease, so we could better respond to a future outbreak.
###
REFERENCES
[1] Spagnolo et al., 2020, Lancet Respir Med, 8(8): 750-752.
[2] Parshley, Vox, published Jun 12, 2020, accessible at: https://www.vox.com/2020/5/8/21251899/coronavirus-long-term-effects-symptoms.
[3] Klitzman, New York Times, published Jun 4, 2020, accessible at: https://www.nytimes.com/2020/06/04/opinion/covid-19-survivors-effects.html?searchResultPosition=6.
[4] Viner et al., 2020, Lancet, 395(10239): 1741-1743.
[5] Hawryluk, Scientific American, published Apr 6, 2020, accessible at: https://www.scientificamerican.com/article/heart-damage-in-covid-19-patients-puzzles-doctors/.
[6] Siripanthong et al., 2020, Heart Rhythm, 17(9): 1463–1471.
[7] Pesheva, Harvard Gazette, published Apr 14, 2020, accessible at: https://news.harvard.edu/gazette/story/2020/04/covid-19s-consequences-for-the-heart/.
[8] Pizada et al., 2020, CJC Open, 2(4): 278–285.
[9] WebMD, accessible at: https://www.webmd.com/lung/coronavirus-complications#1.
[10] Bikdeli et al., 2020, J Am Coll Cardiol, 75(23): 2950-2973.
[11] Varatharaj et al., 2020, Lancet Psychiatry, S2215-0366(20)30287-X.
[12] John Hopkins University Coronavirus Resource Center, accessible at: https://coronavirus.jhu.edu/map.html.
[13] RECOVERY Collaborative Group, 2020 N Engl J Med, NEJMoa2021436.
[14] Regeneron Press Release, published Jul 6, 2020, accessible at: https://investor.regeneron.com/index.php/news-releases/news-release-details/regeneron-announces-start-regn-cov2-phase-3-covid-19-prevention.
[15] Lilly Press Release, published Aug 3, 2020, accessible at: https://investor.lilly.com/news-releases/news-release-details/lilly-initiates-phase-3-trial-ly-cov555-prevention-covid-19-long.
[16] Roche Press Release, published Jul 29, 2020, accessible at: https://www.roche.com/investors/updates/inv-update-2020-07-29.htm.