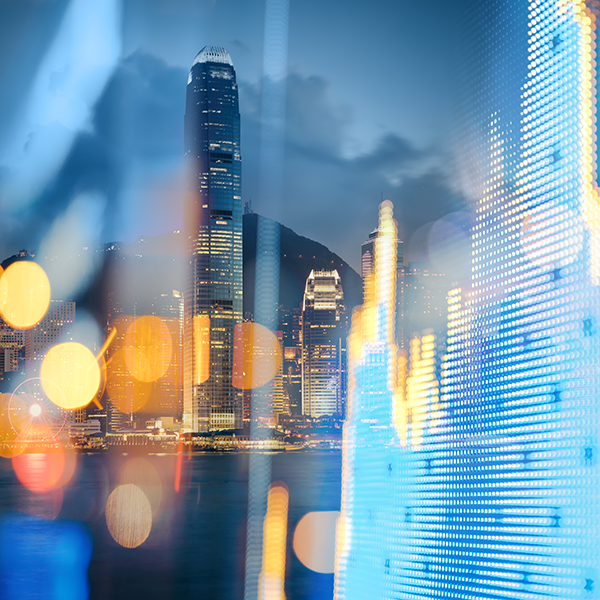 Blog | 9/15/2020
Hong Kong Exchange: Nurturing China's Biotech Valley
...
And a Conversation with HKEX's SVP & Head of China Issuer Services Silvia Chen

By Daniel Huang, Analyst; Andrew Briggs, Engagement Manager; Gary Cheng, Vice President
Today, Hong Kong Exchange (HKEX) is the second-largest market for biotech IPOs only after New York's NASDAQ, and it has successfully established itself as a first choice IPO destination for China-based biotechs. The HKEX grew to prominence for Chinese biotech companies in 2018 after a targeted initiative called Chapter 18A that eased listing requirements to accommodate pre-revenue companies. Since then, over 20 pre-revenue biotechs have listed in Hong Kong and collectively raised over $6B USD. Hong Kong's position as a conduit between China, the West, and the rest of the globe is HKEX's key competitive advantage that has enticed many of China's most innovative biotechs to list. Despite the well-publicized ongoing political issues in Hong Kong SAR, Health Advances believes that HKEX's unique position and the sustained growth of China's healthcare industry will continue to attract Chinese biotech companies with domestic and global-focused strategies to the exchange.

HKEX: Opening a Biotech Chapter
Figure 1: Overview of Chapter 18A and the Modified Listing Requirements that Encouraged an Influx of Chinese Biotechs to List on HKEX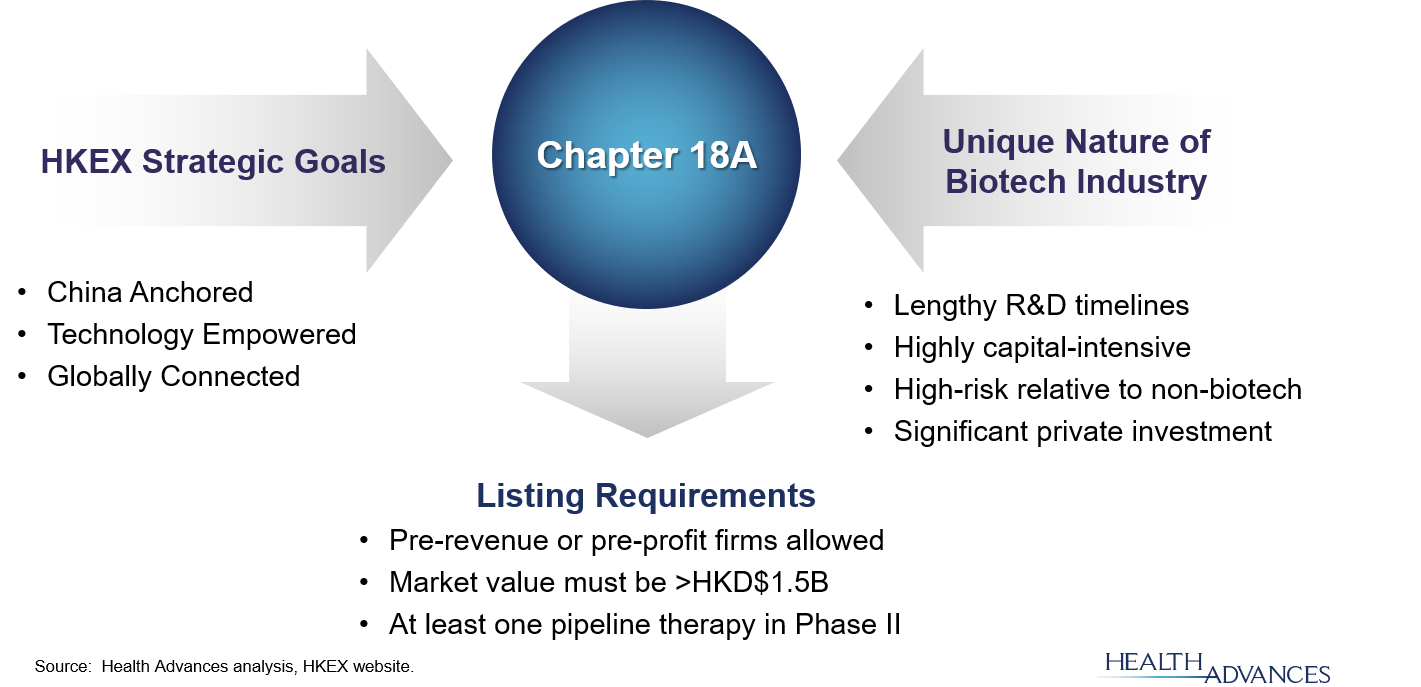 Prior to 2018, only a handful of biotech companies were listed on the Hong Kong Exchange, including Genscript Biotech and Wuxi Biologics. The following year, HKEX published Chapter 18A, a fundamental change in listing requirements specifically targeting biotech companies (See Figure 1). HKEX pursued this strategic initiative to capitalize on the rapid grow¬th of the thriving Chinese biotech industry. The biotech offering also aligned particularly well with HKEX's three broader strategic pillars – being anchored to China, globally-connected, and technologically empowered. Silvia Chen, Senior Vice President and Head of China Issuer Services at Hong Kong Exchange, describes Chapter 18A as a natural expansion for HKEX: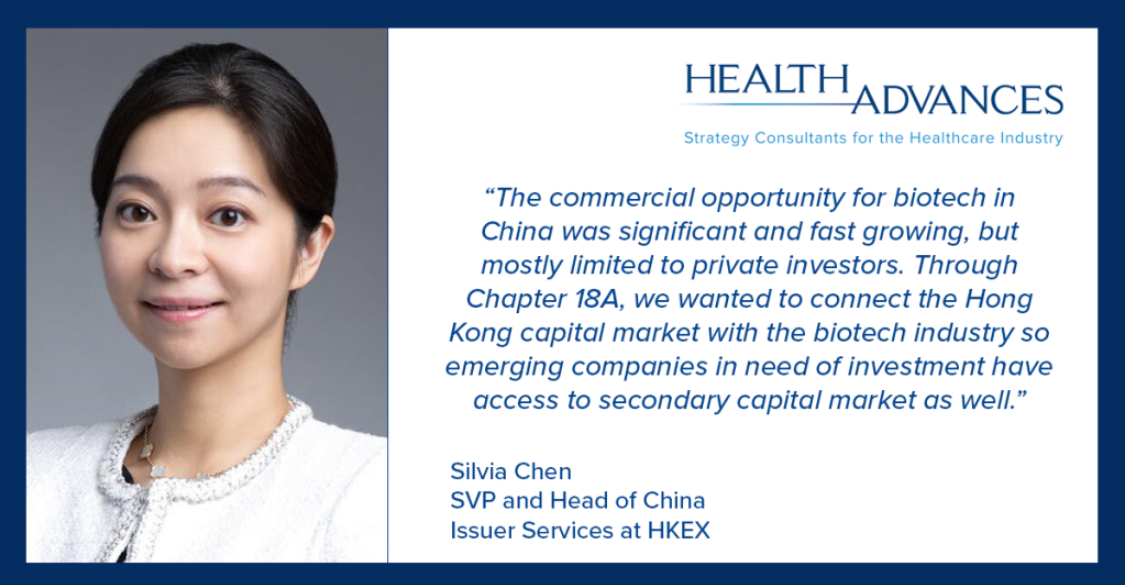 Chapter 18A allows pre-revenue companies to list and accommodates the relatively high-risk biotech industry characterized by lengthy research and development timelines and significant capital requirements. Hong Kong Exchange also serves as a platform where ever-active private biotech investors such as Hillhouse Capital and Qiming Venture Partners have the ability to seek liquidity after placing high-risk investments in early-stage Chinese biotechs. Since its launch, Chapter 18A has widely been considered a success with 20 pre-revenue biotech companies having listed via the initiative to raise over $6B USD (See Figure 2).
Figure 2. Number of Chinese Biopharmaceutical Companies that Have Listed on Each Exchange Between 2H2018 and 2H2020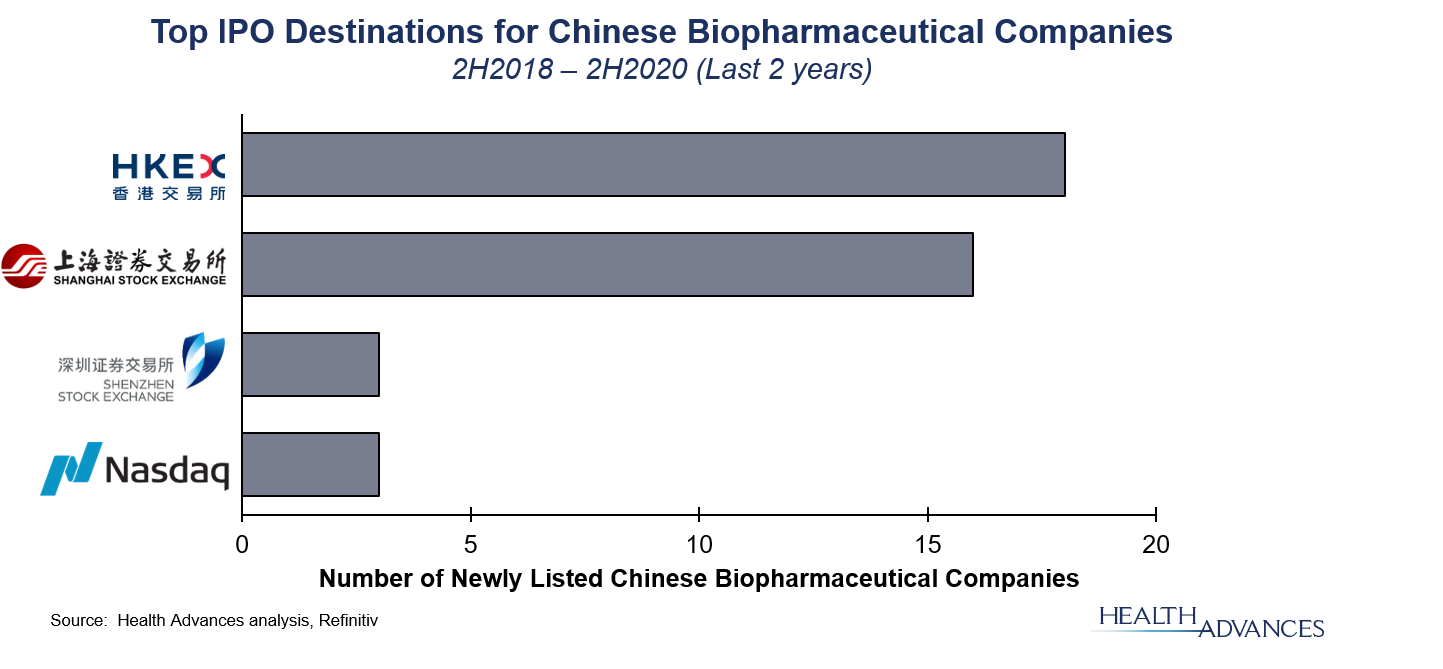 HKEX's Unique Offering: A Bridge Between East and West
While Chinese biotechs can choose a number of locations for their IPO, HKEX is uniquely positioned as an attractive IPO destination for Chinese biotechs and investors for several key reasons (See Figure 3). Firstly, Hong Kong is an international financial center that provides Chinese companies with access to global capital, talent, and opportunities (and vice versa). HKEX provides a reliable and sustainable fundraising platform post-listing with a diversified product ecosystem that allows existing IPO shareholders to conveniently sell their stake.
Despite its international benefits, HKEX's investor-base typically has a strong familiarity and understanding of Chinese markets, business, and culture. "Investors in Hong Kong who are closer to China can better understand the equity story of Chinese biotechnology companies. They also better understand the unique commercial, regulatory, and competition landscape of China." explains Chen. Hong Kong also has a market-driven environment with limited government intervention. And while the IPO process can often result in prolonged timelines for some exchanges, Hong Kong offers a more streamlined process for listing and investing. Chen notes that, "Hong Kong's free market without capital control offers a transparent and efficient pathway to invest in Chinese companies. At the same time, it is a politically neutral exchange for Chinese companies with global aspirations to establish a sustainable off-shore fundraising platform." Earlier this year, HKEX further clarified the listing requirements and due diligence process to encourage more companies to consider listing in Hong Kong.
Figure 3. Comparison of the Qualities of Major Exchanges that are Home to Chinese Biotechs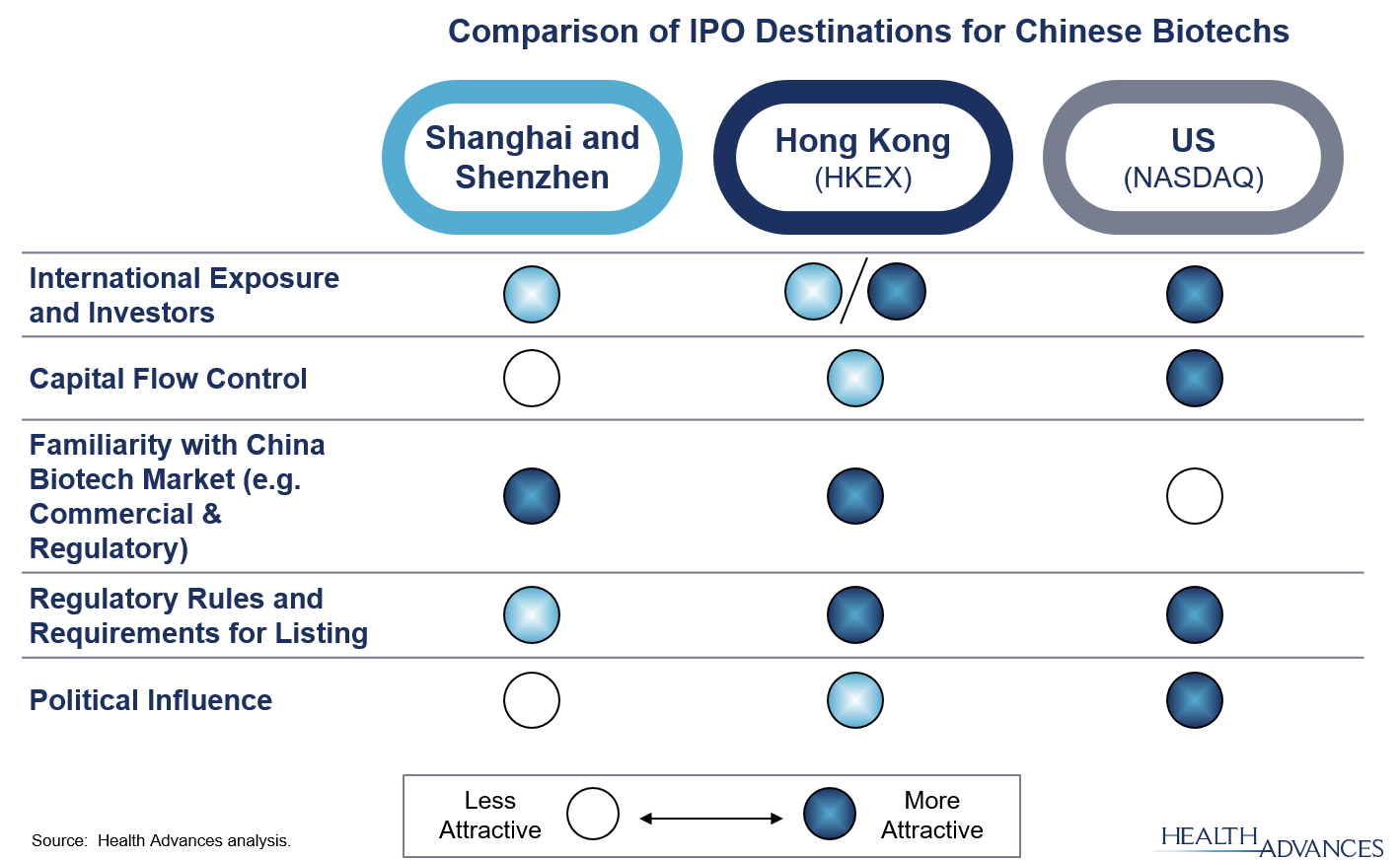 Competition from Other Exchanges
Modifying listing requirements to allow biotech companies to issue shares is not enough to entice all aspiring Chinese biotechs to Hong Kong. New York's NASDAQ is home to the most biotech companies in the world and remains the exchange with the longest history, highest degree of international exposure, and considerable depth of companies in the broader life sciences sector. More recently, exchanges in mainland China have begun to offer new listing options for Chinese biotechs with a strategic focus on the domestic market. Following Hong Kong's steps, Shanghai's Science and Technology Innovation Market (STAR) changed its criteria to allow pre-revenue biotechs to list in May. And just one month later in June, Shenzhen's ChiNext followed suit with a like-minded change to allow unprofitable but revenue-generating companies to list. Nevertheless, HKEX has remained a top destination for Chinese biotechs over the past two years. Chen shared that, "Recent A-share listing reforms are very encouraging. HKEX looks forward to continue working closely with Mainland exchanges and regulators to create more effective and efficient fundraising opportunities for biotech companies, such as A+H and Red chip+STAR board listings."
Innovative Chinese Biotechs Choose Hong Kong
Biotech and healthcare companies come in a variety of stages and levels of R&D innovation – so which are most likely to realize the unique benefits from HKEX and ultimately choose Hong Kong for listing? We find that early-stage innovative Chinese biotechs are particularly prominent on HKEX. Out of all exchanges, HKEX had the greatest proportion of Chinese biotechs with their lead asset still in clinical development, with oncology being the most common therapeutic area of focus. In comparison to Hong Kong, Shanghai has historically attracted many long-standing, mature healthcare companies with domestically focused commercial operations. Shanghai is also the home to an outsized number of healthcare companies with strengths in manufacturing, distribution, generic pharmaceutical products, and traditional Chinese medicines. This difference is apparent as the median 2019 revenue of Chinese biopharmaceutical companies recently listed on the HKEX is approximately $10MM USD as opposed to roughly $100MM USD for STAR-listed counterparts.
Figure 4. Defining Business Characteristics of Chinese Biotechs Listing on HKEX via Chapter 18A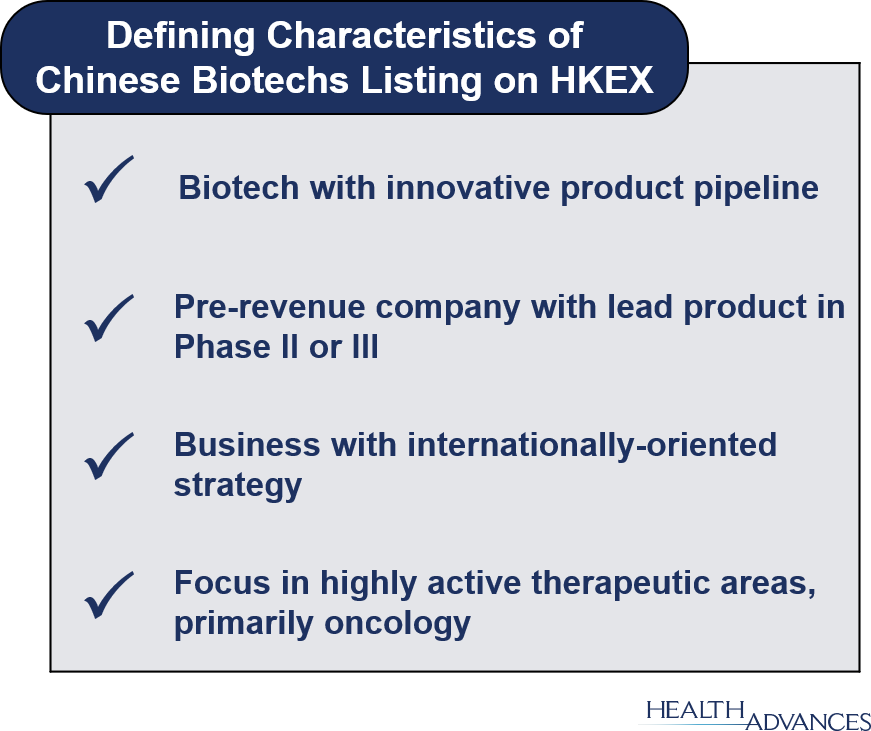 The companies listing on each exchange also tend to differ in their respective geographic priorities or end-markets. As an internationally-oriented exchange, approximately 30% of the Chinese biotechs listed on HKEX, including Innovent Biologics and Junshi Biosciences, have publicly shared notable strategic interests in markets outside of China. Similarly, the few Chinese biotechs that have listed on the NASDAQ have key strategic interests in the US or globally, as exemplified by recently listed companies Zai Lab and I-Mab Biopharma.
Nurturing China's Broader Healthcare Ecosystem Today and Beyond
Over the last two years, the success of HKEX and Chapter 18A has nurtured the broader Chinese healthcare ecosystem by funding the growth of key companies that are developing the next generation of medicines. The proceeds of IPOs of Ascentage and CanSino, for example, have been used to fund the clinical development and commercialization of their novel drugs and vaccines, with the promise to improve patient care.
While NASDAQ will likely continue to serve as the top home for global healthcare companies, Health Advances expects the success of HKEX's Chinese biotech foray to continue over the next five years. It is difficult to predict how ongoing tensions between the US and China, whether political or trade-related, will impact HKEX's role as an international financing center, but we believe several underlying trends in the broader healthcare ecosystem are likely to sustain the growing number of Chinese biotechs listing on HKEX under Chapter 18A.
Key trends driving Chinese biotechs to continue listing on HKEX:
(1) Greater Focus on Innovative Research and Development from Chinese Biotechs – Historically China's biopharma industry has found strength in the manufacturing of generic or biosimilar products. However, increasing private investment in China's healthcare industry has driven a new crop of biotechs to develop truly novel therapies that are sought after not only in China but around the globe. We expect this will lead more Chinese biotechs to choose Hong Kong as an IPO destination to align with the domestic and international opportunity for their innovative products.
(2) Desire of Chinese Biotechs to Access and Build High-Value International Partnerships – The enormous opportunity and continued growth of China's pharmaceutical industry has led to increasing, high-value partnership deals between Chinese biotechs and global pharmaceutical companies, such as Amgen's $2.7B deal with Beigene to commercialize Amgen's oncology portfolio in China. We expect the opportunity for funding and, more importantly, international recognition associated with being listed on a global exchange like HKEX will attract Chinese biotechs with a desire to build high-value international partnerships.
(3) Growing Investment in Other Healthcare Sectors – Today only 2 of the 20 companies that have listed via Chapter 18A are non-biotech companies. However, healthcare-focused product companies in other sectors, such as medical devices, digital health, and diagnostics, are growing rapidly in China. Similar to the biotech industry, we expect the IPO market for these companies to grow. Chen specifically shares that HKEX sees these industries as future growth drivers for HKEX – "Other healthcare verticals like medical devices, diagnostics, or digital health companies are something HKEX thinks about every day. And there are certainly such companies in the IPO pipeline. We are constantly thinking about how to support or provide better guidance for them, as well as how to maintain a competitive listing regime."
For the near future at least, HKEX already seems poised to build upon its recent success with a pipeline of over 10 healthcare companies in pursuit of listing.
###
About the Authors
Daniel Huang is an Analyst based in the Hong Kong office with expertise in growth strategy and due diligence projects across verticals including biopharma, medtech, and digital health.
Andrew Briggs is an Engagement Manager based in the Hong Kong office and works with clients and investors in the biopharma and medical devices industries.
Gary Cheng is a Vice President based in the Hong Kong office and leads Health Advances Asia Pacific (APAC) practice.
About Health Advances Asia Pacific (APAC) Expertise
Health Advances is a healthcare-focused strategy consulting firm that has built deep global expertise in Asia Pacific countries across various sectors, including biopharma, medical devices, diagnostics, and digital health. Health Advances partners with industry clients to support their clinical development, business development, M&A, and go-to-market commercialization strategies. Health Advances partners with investors to conduct commercial due diligence on healthcare-focused companies.
If interested in collaborating with Health Advances, please contact one of the members of our Asia Markets Practice Management Team at HAAsiaMarkets@healthadvances.com.