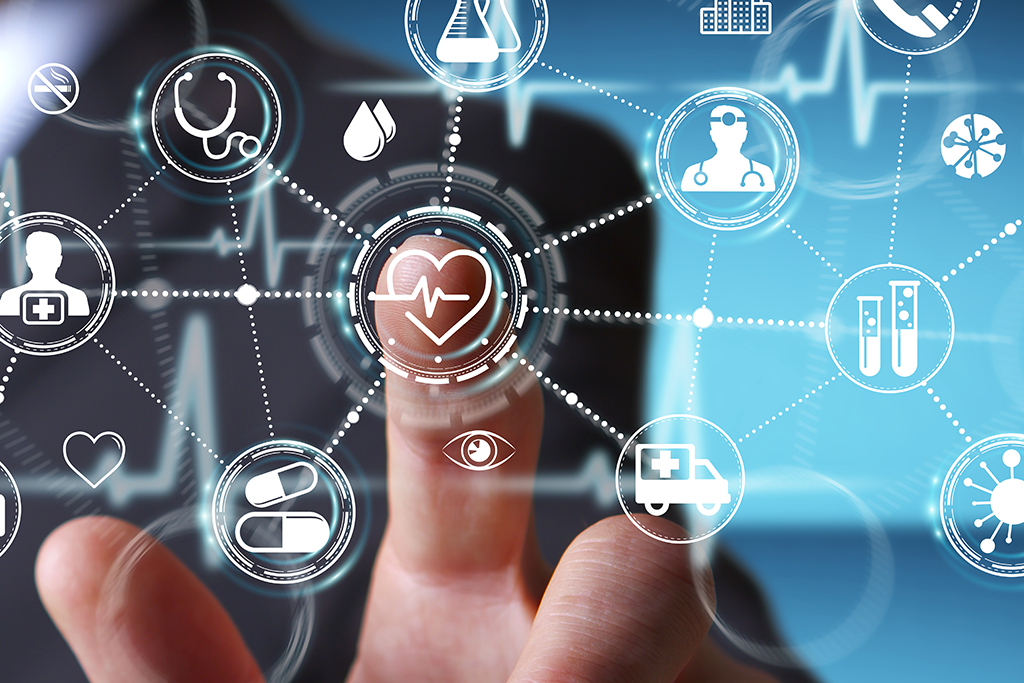 Blog | 4/6/2023
CNS Year in Review: Going Digital
By Michael Davitian, Viren Makhijani, Shreya Saraf, Drew Attar
This is the second installment of our ongoing 2022 CNS year in review. Please find our first blog here.
2022 saw growth in digital approaches to assess, treat, and manage CNS diseases. CNS commonly face challenges with respect to disease heterogeneity and a shortage of specialist providers; issues that are digital solutions are well-suited to address. As a result, CNS has served as a fertile testing ground for these technologies. Many of these technologies are still cultivating evidence needed for use in widespread clinical practice. However, FDA's regulatory guidance for digital health products has matured and made the path to market clearer. Several technologies are poised to have important impacts over the next three to five years:
Digital biomarkers may improve our ability to assess disease progression and activity and can enable precision medicine for CNS diseases
Digital therapeutics provide the potential for novel treatment modalities
Digital care support may enable, and expand access to, multidisciplinary care

Digital Biomarkers
CNS diseases are often challenging to diagnose and monitor because they lack specific and definitive causes, biomarkers, or diagnostic tests. Many diseases are diagnosed or monitored using primarily qualitative clinical examinations, which creates challenges when symptoms vary between patients with the same diagnosis, resemble the symptoms of other diseases, or change from day-to-day. This leads to a high degree of misdiagnosis in clinical practice, variance in clinical trial outcomes, and broader challenges in developing novel therapies to improve upon the existing standard of care.
Digital measures are emerging as an attractive means of screening and diagnosing, segmenting, and monitoring patients for many CNS diseases. They can provide an objective, continuous way to closely assess disease phenotypes. For example, gait measured by a smartwatch or speech patterns analyzed by a smartphone could provide important insights about patients' multiple sclerosis or Alzheimer's disease, respectively. Today, these tools are mostly immature and not widely used in the clinic, though they are growing more common as secondary endpoints for clinical trials.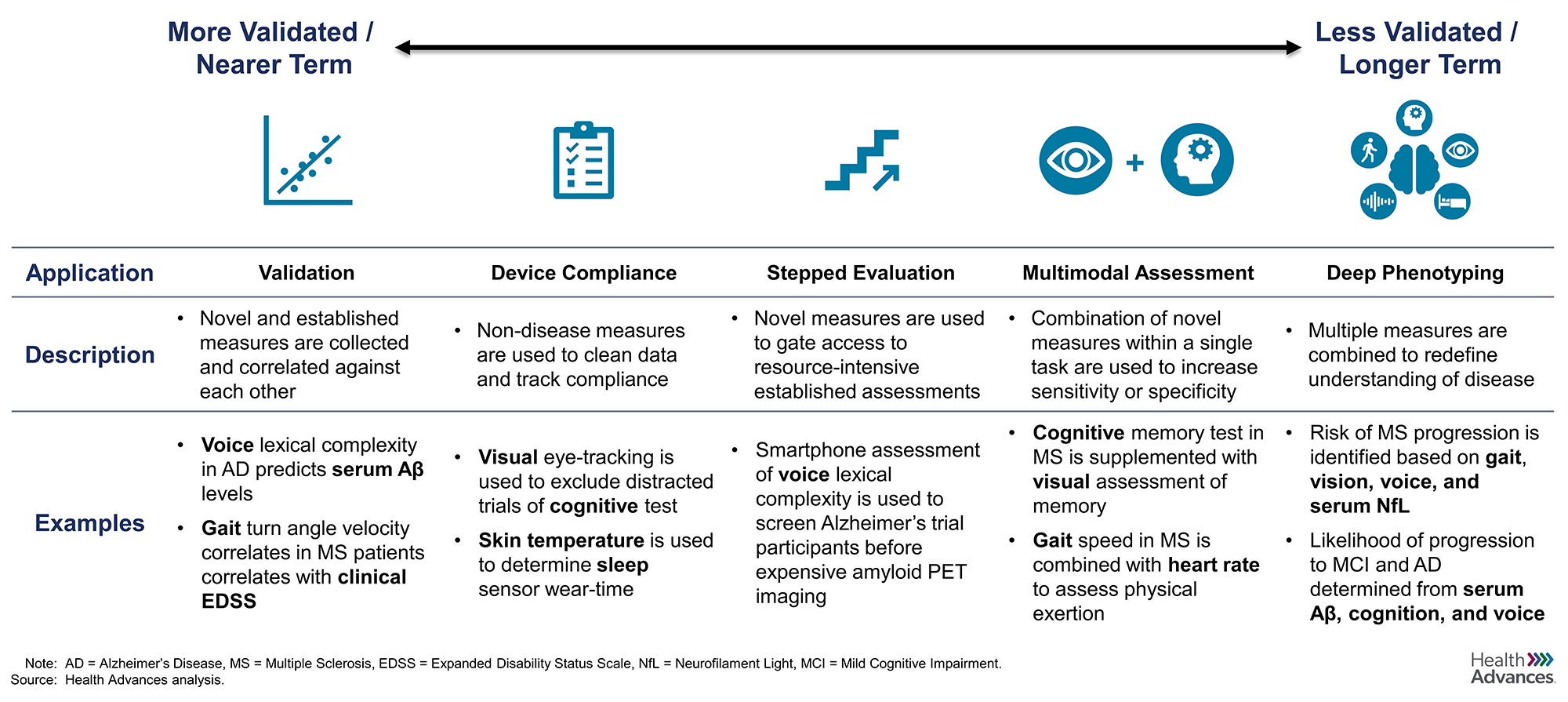 Multimodal approaches combine multiple inputs (e.g., genomics, data from wearable sensors, etc.) to provide more robust diagnostic information. These are nascent today but have promise over the long-term. At present, the most common multimodal applications include validation, in which novel digital and established measures are collected and correlated against each other, and compliance, in which non-disease measures are used to improve data quality with established measures. Some pharma companies, like Biogen, are using stepped evaluation to reduce the cost of trial recruitment by performing low-cost evaluations to screen candidates prior to more costly and definitive imaging studies. One example of a true multimodal assessment is Octave Biosciences who are leveraging protein signatures from blood, imaging data, and clinical assessments to provide a more granular picture of a patient's multiple sclerosis disease activity and progression.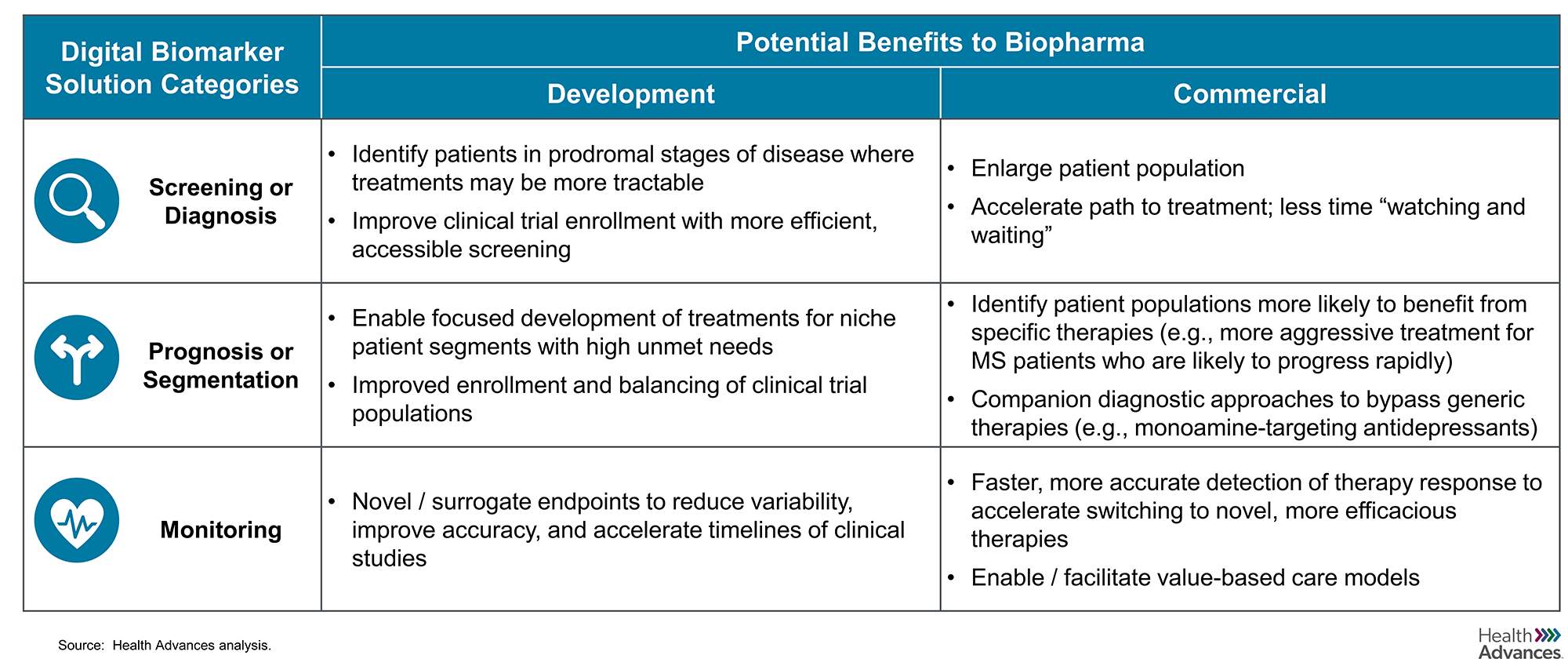 Biopharma companies have taken notice of these technologies and invested in them. Notably several companies have begun to integrate digital biomarkers as exploratory endpoints in their clinical trials.
AbbVie and Cortexyme used Winterlight Labs' voice assessment of Alzheimer's disease in their trials for AL002 and COR388 respectively
Eisai is conducting a large study to identify digital 'deep neuro signatures' of early Alzheimer's Disease in collaboration with Altoida's neuro motor cognitive assessment
Roche is working with the European Medicines Association (EMA) to qualify 95th percentile stride velocity as a primary endpoint for Duchenne Muscular Dystrophy by submitting a larger dataset with correlations to other ambulation measures over 6+ months

Digital Biomarkers: Key Takeaways
Outside of CNS, 2022 marked the first FDA-endorsement of a digital primary endpoint in a trial for pulmonary fibrosis: Bellerophon Therapeutics is thought to have nearly halved the size of their pivotal Phase III study in this indication by taking advantage of the increased resolution, precision, and accuracy of digitally assessed physical activity. Bellerophon's trial is an important milestone on the path to broader adoption and acceptance of digital biomarkers. This is significant for CNS because of the potential role that digital measures could play across a wide variety of indications where drug development has been stymied by poor endpoints.
Given the emerging state of digital biomarkers, it will take investments in evidence generation and continued maturation of the regulatory environment before biopharmas can expect digital biomarkers to significantly affect the scope of their clinical programs. That said, digital biomarkers may enable companies to make better informed go/no-go decisions in early development by enrichening the information provided by these studies and they can enhance evidence packages that can be shared with physicians and payers to support adoption and market access (even if the biomarkers don't contribute to regulatory approval). Thus, CNS-focused biopharmas should carefully consider digital biomarkers as they chart development paths. Integrating digital biomarkers may be challenging: given the diverse and rapidly evolving nature of digital solutions, companies should be prepared to navigate a landscape of solutions with varying levels of validation, adoption, and diagnostic/prognostic value. However, early adopters may be rewarded with better visibility into their drug's effect during development, and a differentiated evidence package during commercialization.

Digital Therapeutics (DTx) and Care Support
In recent years, the explosion of health-related smartphone applications has created new paths by which biopharma can provide solutions for its customers. Digital therapeutics are one class of digital health tools that aim to directly treat or manage conditions and provide evidence of therapeutic benefit, while digital care support products include a diverse array of solutions used to deliver more holistic, multidisciplinary care, often by helping users navigate providers, care settings, and living with their diagnosis.
2020 and 2021 saw a surge in venture funding for these solutions in mental health as the COVID-19 pandemic fueled the need for remote care solutions and exposed the gaps in access to mental health resources. That funding slowed in 2022 and investors increasingly focused on niche, higher-value areas including pediatric mental health and AI-driven coaching.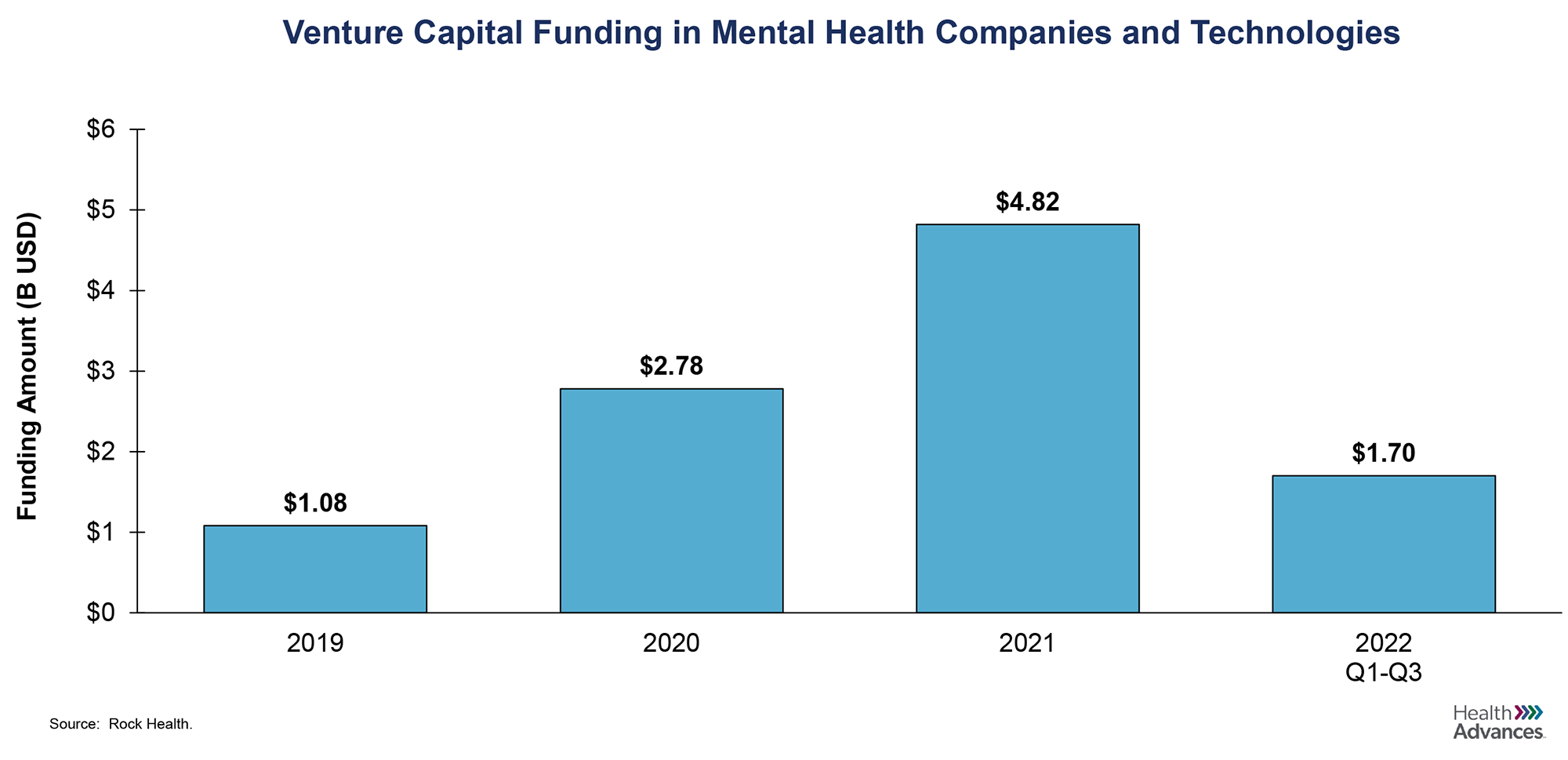 While smaller digital start-ups continue to innovate in areas of mental and behavioral health, large biopharma companies seek partners to support their portfolios of therapeutics for severe neurological conditions: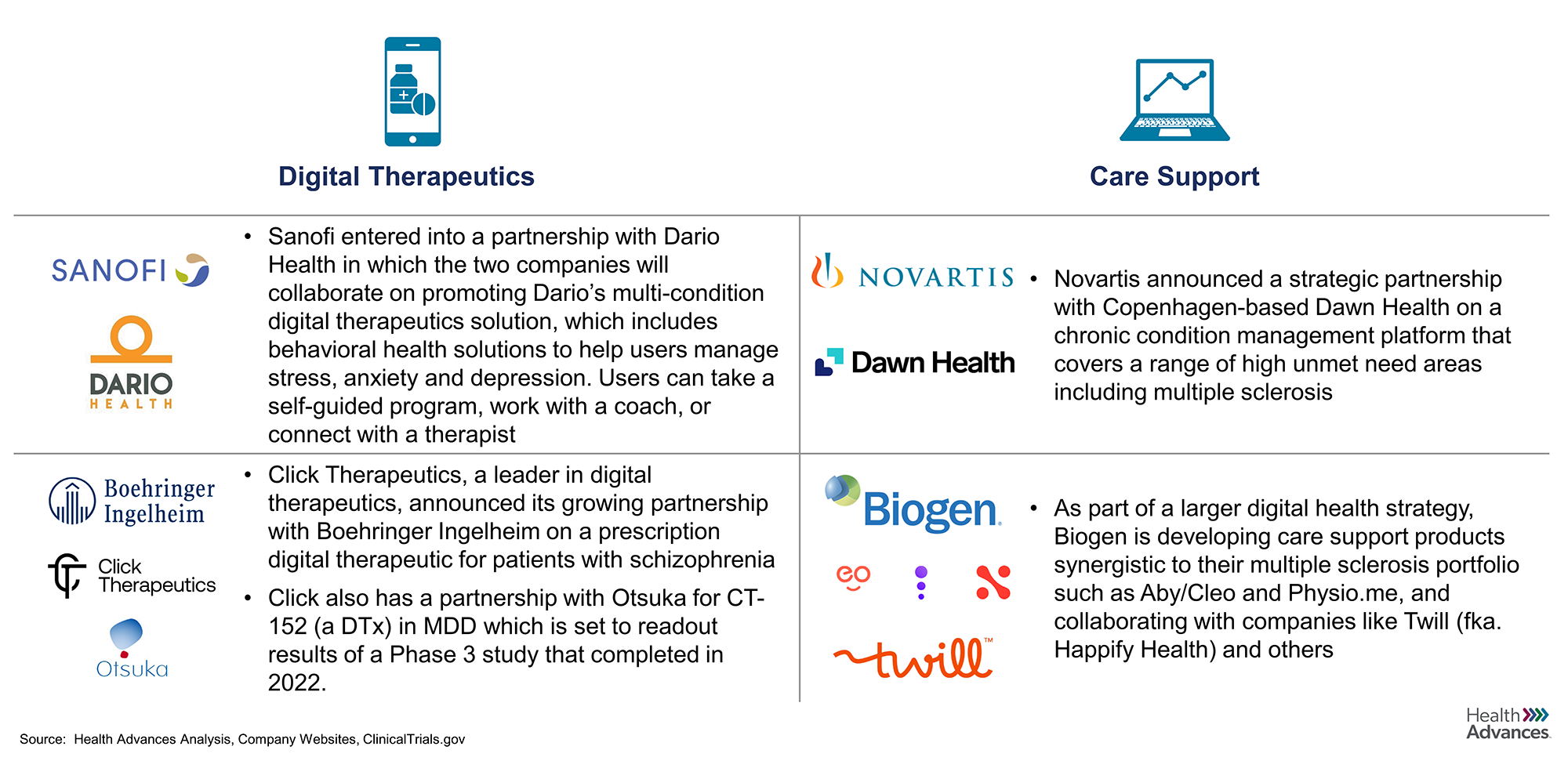 Biopharma partnerships with digital therapeutics companies for CNS can take several flavors: as an optional supplement or complement to drug therapy (Independent DTx), or as an integrated drug-DTx combination. We've observed the most activity in independent DTx solutions. Biogen and MedRhythms' DTx partnership for walking disability in MS is one such example. Here, the solution is complementary because it targets unique symptoms and pathology relative to the drugs. Otsuka and Click Therapeutics' is another independent DTx solution, but in this case, the DTx (CT-152) is an adjunct to standard antidepressant therapy targeting the same symptoms. Drug-DTx combinations are uncommon, which is unsurprising given that they bring significant development risk, complexity, and regulatory burden. Potential CNS applications for these types of combination products include neuromodulation, pharmaceutical-assisted psychotherapy, and closed-loop drug delivery. In various forms, DTx solutions are emerging as a way for biopharma to diversify their revenue streams, strengthen drug franchises, and solidify positioning in key therapeutic areas.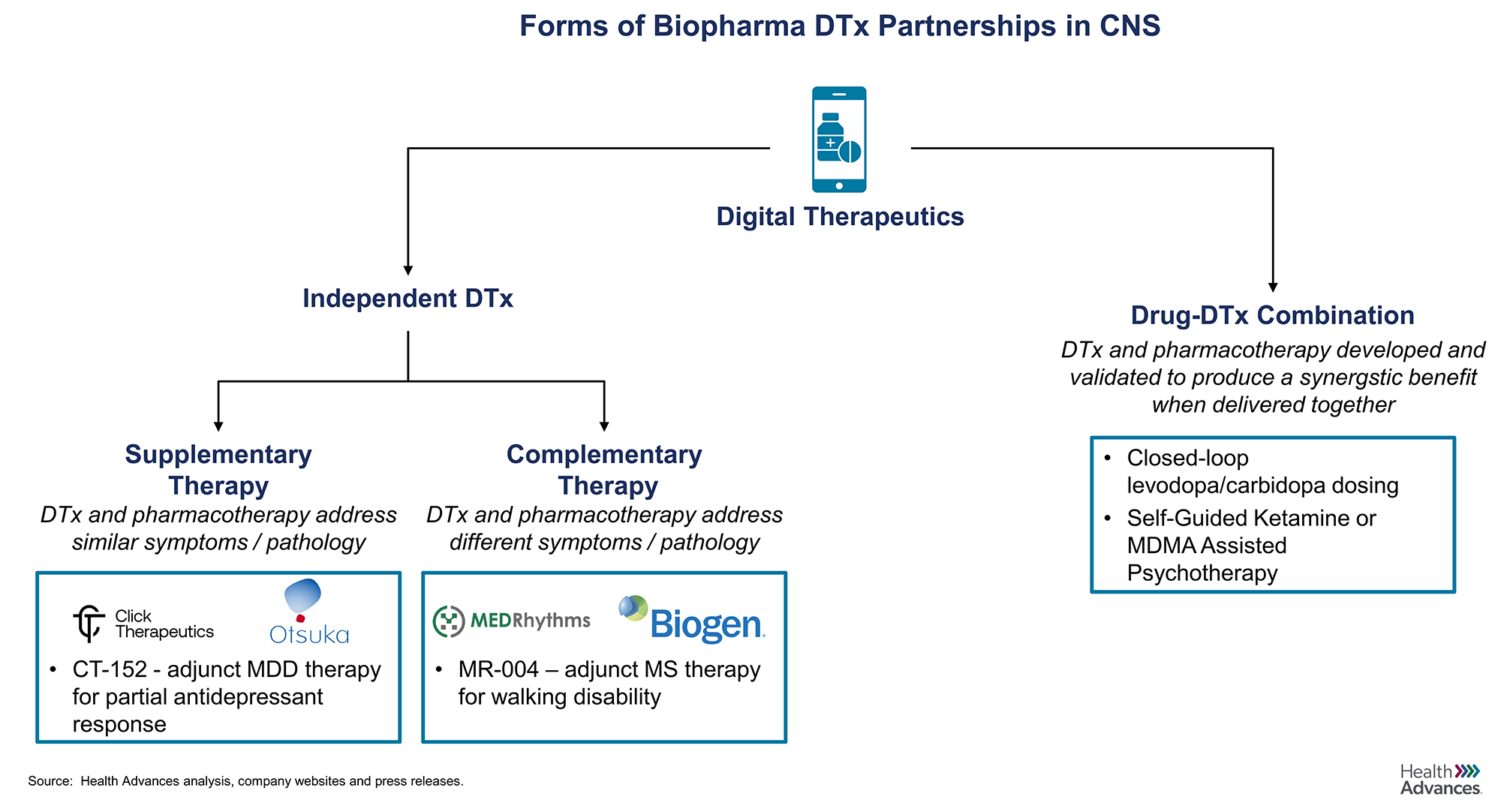 While some solutions may be offered at no charge to support pharmaceutical sales, reimbursement pathways are being created and refined by various payer groups for standalone DTx products that have cultivated sufficient evidence of value. To date, digital cognitive behavioral therapy (CBT) products are the most mature and have the strongest evidence base, followed by digital health coaching programs. In the future, these reimbursement pathways should accelerate the adoption and use of a broad variety of digital therapeutics by providing greater clarity on how they will be paid for.
The US Centers for Medicare & Medicaid Services (CMS) added a new code to bill for remote monitoring of CBT. Additionally, CMS has also opened the door for reimbursement through HCPCS (Healthcare Common Procedure Coding System) codes for digital behavioral therapies, and virtual reality-based medical devices that use CBT
Germany is the first country in the world to establish a national reimbursement pathway for prescription digital apps (DiGAs). Of the ~50 approved DiGAs today, over half incorporate mental health support
The UK National Health Service and the French National Authority for Health are also set to launch new guidelines for digital therapies in 2023, and early entrants into these pathways are expected to be digital CBT products

Digital Therapeutics and Care Support: Key Takeaways
Despite the recent slowdown in investment activity, digital therapeutics and care support solutions for CNS are likely to continue to grow as key stakeholders (investors, biopharma companies, regulators, and clinicians) come together to drive development, coverage, and uptake. These solutions can address key gaps in treatment left by traditional therapeutics. However, the impact of digital therapeutics and care support solutions on biopharmas is likely to be complex.
Digital care support solutions are likely to make care more holistic and improve the continuity of care for patients with challenging neurological or psychological conditions. Upstream of treatment selection, these solutions can reduce patient "leakage" (i.e., when patients are lost to follow-up) by improving patient engagement with their healthcare, reducing the churn and inefficiency in getting patients to the appropriate providers and identifying the right treatments. Additionally, these solutions provide biopharmas with new ways to engage with patients and providers and redefine their role in the patient's disease journey. Post-prescription, these solutions provide insight into where patients are treated and by which specialists can steer how biopharma companies deploy their sales and marketing resources. Additionally, by improving patient engagement and satisfaction with their healthcare these care support solutions can increase adherence and perseverance with effective therapies. Finally, as a bridge between biopharma and patient, digital care support provides an additional avenue to collect real-world evidence, enable outcomes-based contracting, clinical trial recruitment, and more. Despite their promise, biopharma also faces significant hurdles to successful deployment of these solutions. For example, if biopharma-sponsored care support programs or solutions become table stakes for a therapeutic area, it will add cost and complexity to launch. Additionally, it may become challenging to understand which features or modules drive meaningful value. Innovative companies would be well-served to understand the evolving role and landscape of care support solutions in their therapeutic area and think critically about whether, how, and when to partner for access to these solutions.
Digital therapeutics will have a mixed impact on biopharma. For biopharmas that adopt these solutions into their portfolios, they have the potential to (as mentioned above) supplement and diversify revenue streams; offer new ways to engage with, and support, customers; strengthen existing therapeutics franchises with complementary products; and solidify a company's positioning in key therapeutic areas. However, these DTx treatments are also likely to compete with pharmacotherapies to some extent. Digital therapeutics can make the future treatment paradigm more complex by giving patients and physicians more treatment regimens. For example, patients could add a DTx to an existing treatment before advancing to a new line of pharmacotherapy. Biopharmas should consider the role of digital therapeutics in the treatment landscape and their influence on the patient journey and the competitive positioning of their therapeutics when they develop their commercial strategies.
###
Michael Davitian is a Vice President in our biopharma practice, where he focuses on building the firm's expertise within neurology and ophthalmology.
Viren Makhijani, PhD is an Engagement Manager in our biopharma practice where he focuses on neurology, psychiatry, and the intersection of biopharma and digital health.
Shreya Saraf is a Director in our biopharma and digital health / health IT practices where she focuses on neurology and psychology.
Drew Attar is a Senior Analyst and a member of Health Advances' neurology and ophthalmology committee.