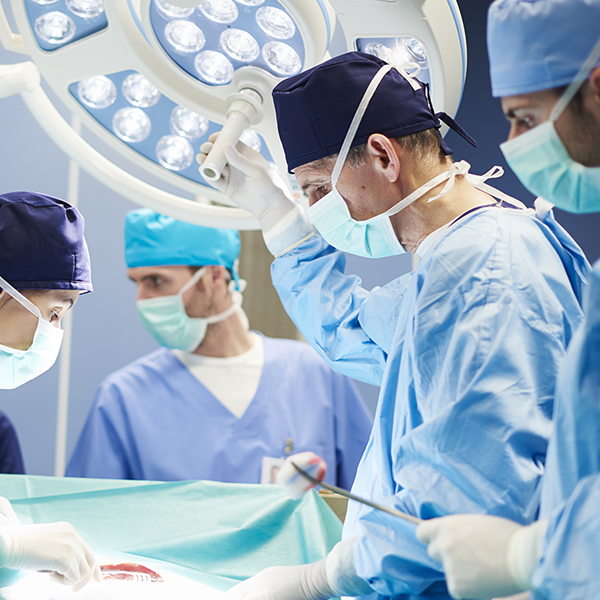 Blog | 4/21/2020
COVID-19 and the Medtech Industry: ASCs – Accelerating an Already Changing Market
By Alena Petrella, Engagement Manager; Susan Posner, Partner; Darcy Krzynowek, Vice President
This post is part of a series of articles about the impact of COVID on various healthcare markets.
Key Takeaways
Prior to the onset of COVID-19, ASCs were experiencing significant growth and represented an increasingly important market segment for medical device companies
Due to the COVID-19 crisis, all elective procedures and the majority of semi-elective procedures have been temporarily cancelled in ASCs
However, as the COVID-19 crisis subsides, we anticipate that ASCs will be the first setting to resume procedures due to lower risk of infection
Additionally, we anticipate that the effects of COVID-19 will accelerate the shift of procedures to ASCs, creating an even stronger imperative for medical device companies to target this setting
Just a few mere months ago, many medical device industry executives were continuing to design and fortify their ambulatory surgical center (ASC) strategy given its importance as a low-cost alternative to hospital-based care. As medical device strategy consultants, Health Advances has tracked the shift from higher acuity settings to lower acuity settings for many years and understands the economic drivers and the strategic implications to product sales. The tremendous growth in procedures in the ASC setting has been hastened by CMS reimbursing additional ASC procedures and increasing physician ASC ownership. As a result, we have been working with medical device executives evaluating sales, marketing, and product development strategies to capture share in this important, growing channel.
Then COVID-19 hit the US, and unfortunately, ASC procedures have temporarily almost ground to a halt. A Health Advances survey of ASC administrators in early April confirmed that all elective procedures have been stopped, the majority of semi-elective procedures have been canceled, and even some non-elective procedures have been delayed. The rationale is clear: protect healthcare workers and patients and preserve personal protective equipment (PPE) for the treatment of COVID-19. As one respondent noted, "Most of our equipment and supplies have been sent to the hospital that we are associated with." The results are staggering: survey respondents reported ASC volumes in March 2020 down 38% from an average month in 2019 and they are expecting a 93% decrease in April 2020 procedures.
"Most of our equipment and supplies have been sent to the hospital that we are associated with."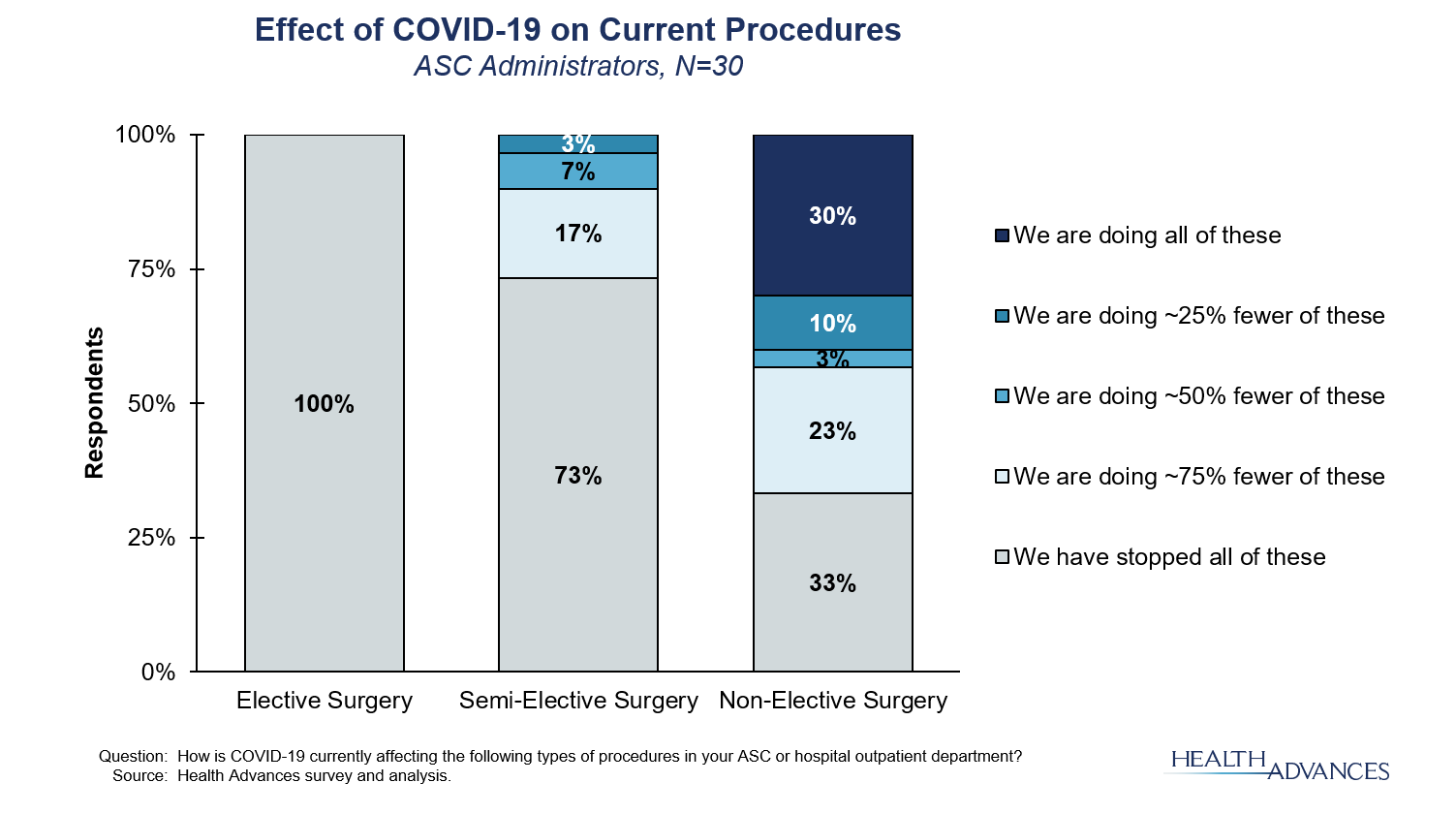 Unfortunately, current projections predict that coronavirus will seriously affect the US for another two months, at least. New York, currently the hardest hit state, is expected to be at its COVID-19 peak now in terms of hospitalizations, ICU admissions, ventilator use, and deaths. New York's crisis hopefully will be subsiding in early May, yet other states may just be experiencing their peaks.
But eventually, COVID-19 will recede and medical device executives will need to know how to proceed with ASCs. Many questions abound: for those procedures that have some urgency, and when it is safe to do so, will ASCs be the setting selected over hospital-based centers? Will patients and surgeons prefer to have procedures in a smaller center, like an ASC, where the risk of infection may be perceived as lower? Should medical device companies have a focused ASC strategy?
Health Advances believes ASCs will be a major care setting for procedures post-COVID-19, and executives should plan now to address this channel. Survey results indicate that 73% of ASC admins agree* that as the COVID-19 risk decreases, ASCs will be the first setting to start performing elective and semi-elective procedures and will play a critical role in allowing patients to undergo procedures that are needed but not emergent. In the same survey of ASC admins, the majority agree* that physicians would prefer to perform (53%) and that patients would prefer to have (67%) surgeries in the ASC setting. Furthermore, guidance from the American College of Surgeons recommends that any procedures not delayed or cancelled should be performed at ASCs.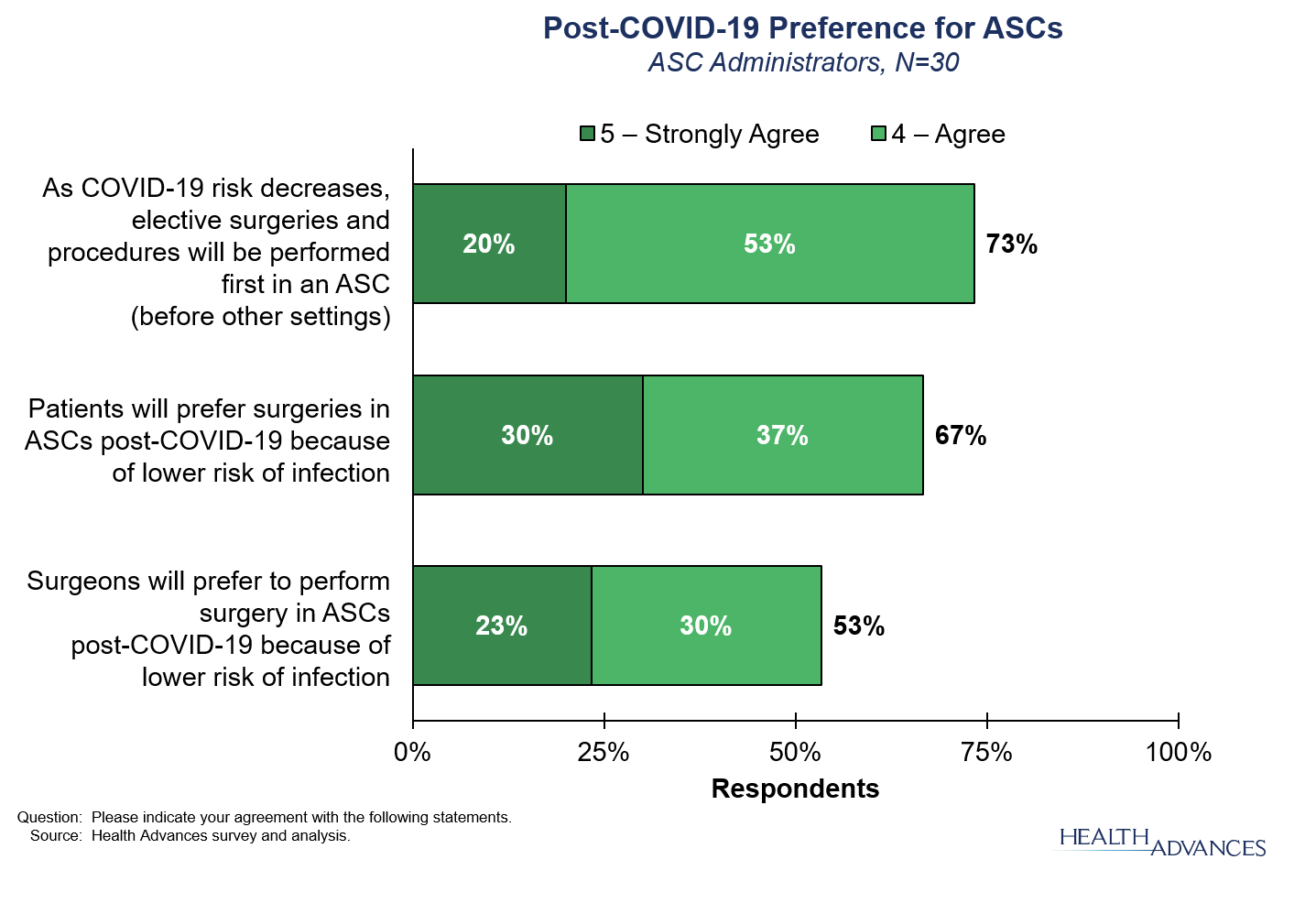 Lower risk of infection is one key driver. 97% of ASC admins perceive a lower infection rate in outpatient facilities versus inpatient settings, a sentiment which has been supported by national data, such as in these data by the CDC's National Healthcare Safety Network. Furthermore, when comparing ASCs to hospital outpatient surgery departments, 86% of ASC administrators perceive ASCs to have lower infection rates. While there is less data here, some experts state that ASC infection rates can be up to 10 times lower than that of hospital settings (0.1% vs 1%) due to fewer patients, less sick patients, and a need for ASCs to sometimes rely on their brand and quality to drive patient traffic. One respondent mentioned, "Our surgeons have publicly stated that they prefer to do their elective cases at the ASC due to decreased risk of infection."
"Our surgeons have publicly stated that they prefer to do their elective cases at the ASC due to decreased risk of infection."
As the COVID-19 risk continues to decrease in 6 months, 1 year, and 2 years from now, 70% of experts agree* that ASC volume growth will accelerate post-COVID-19, ultimately culminating in an 11% growth over 2019 average monthly procedures. The majority of experts (67%) also agree* that ASCs have the capacity to support this growth and meet this procedure demand. Commentary from experts supported these points, and they mentioned, "I anticipate a large increase in the future when conditions stabilize" and "I think COVID-19 will force hospitals to get used to sending many more cases to ASCs."
"I think COVID-19 will force hospitals to get used to sending many more cases to ASCs."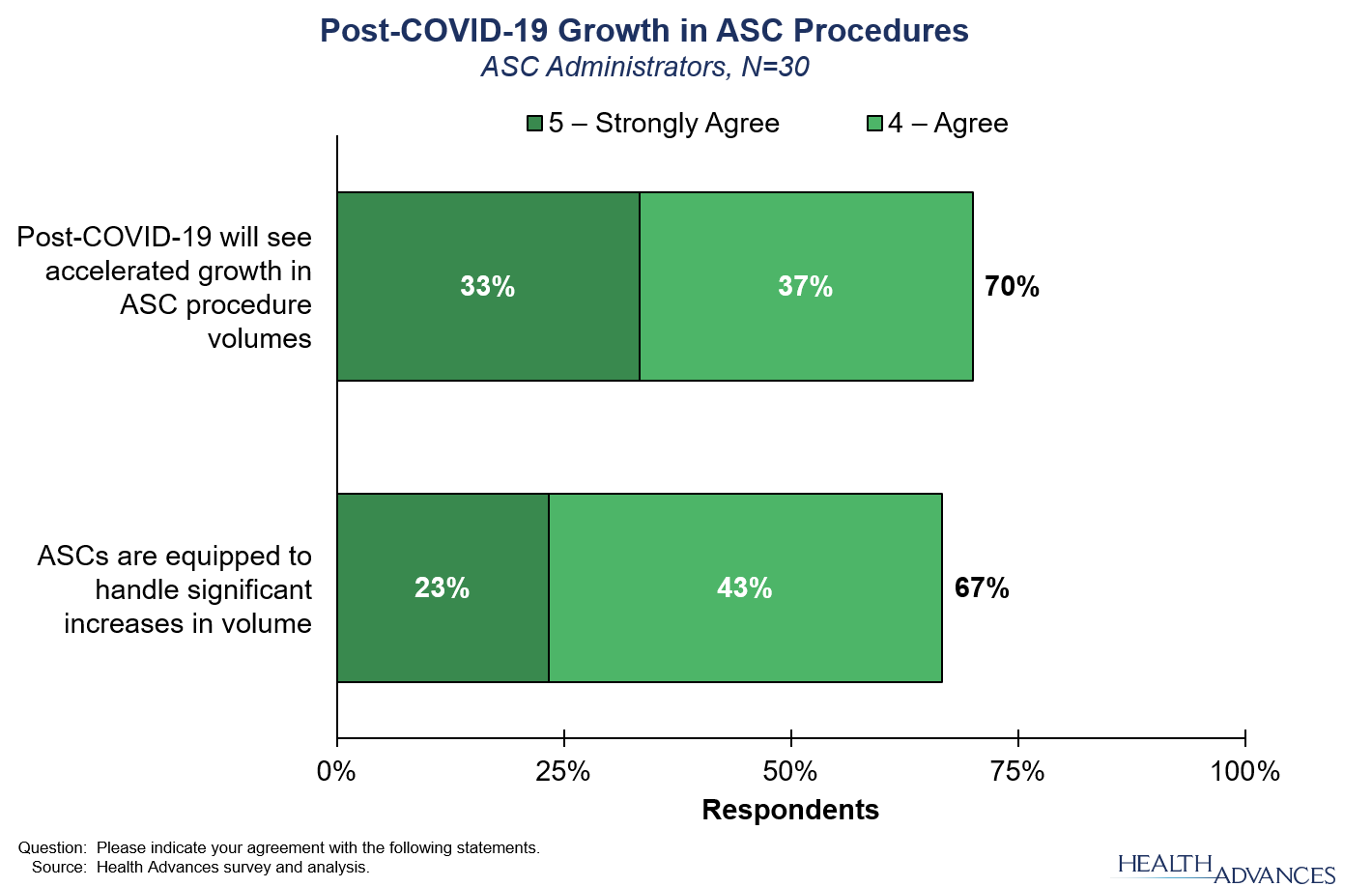 As noted in our previous blog, we anticipate the rebound to be faster for some procedures after experiencing a temporary delay. Others may lag longer due to the clinical and economic characteristics that comprise a procedure's "Deferral Index." The proliferation of ASCs will play a strong role in enabling this rebound, as the majority of administrators report almost all procedures will return to ASCs within 12 to 18 months. Overall, ASCs will play an important role in driving the healthcare recovery as hospitals focus on COVID patients.
Despite a current hiatus from ASC procedures, this care setting must continue to be a major focus for medical device manufacturers. The surgery center transition was already taking place, but an unexpected outcome of COVID-19 may be an accelerated shift, increasing the need for medical device manufacturers to adjust their marketing, sales, and product development models to take advantage of this growth and quickly capture the delayed product sales. The current slowdown will be temporary for many procedures and provides the opportunity for companies to step back and plan a targeted ASC strategy, so that they can gain market share once the crisis recedes.
Possible examples of the implications of these strategies include:
Changes in product development goals

Bias toward disposables versus reusables due to less autoclaving capacity
Bias toward cost efficiencies as most ASCs have a better understanding of their economics than hospitals

Changes in sales and marketing approaches

Increase in collaborations with complementary product OEMs to gain critical mass of sales bags to amortize the cost of a field force
More cross training of reps across clinical specialties
A shift in the mix of clinical support/account maintenance sales reps versus conversion reps depending on the product category and the product-specific lifecycle
Increased focus on the economic benefits of products especially as it relates to the unique considerations of a surgery center
*Note: respondents reported as agreeing with a statement selected a "5 – Strongly Agree" or a "4 – Agree" on a 1-5 scale.
###
About Health Advances Global MedTech Practice
Health Advances MedTech Practice supports medical device executives evaluate and execute upon commercial opportunities, both organically and through M&A. We serve as a partner to medical device companies throughout the product lifecycle including identifying unmet needs, developing value propositions for new products, assessing market opportunities by segment, gaining market access at attractive value-based prices, and launching new products through direct sales and/or creative partnerships. If interested in more information, please contact one of the members of our MedTech Practice at medtech@healthadvances.com.
About the Authors
Alena Petrella is an Engagement Manager at Health Advances, leading project teams for medical device and biopharma companies and investors in the Health Advances Newton office.
Susan Posner is a Partner at Health Advances and a leader of the MedTech practice. Susan has over 20 years of health care experience.
Darcy Krzynowek is a Vice President in the Newton office. Darcy has 20 years of strategic healthcare consulting experience, having advised medical device, biopharma, and diagnostic clients, with specific expertise in global market access planning.