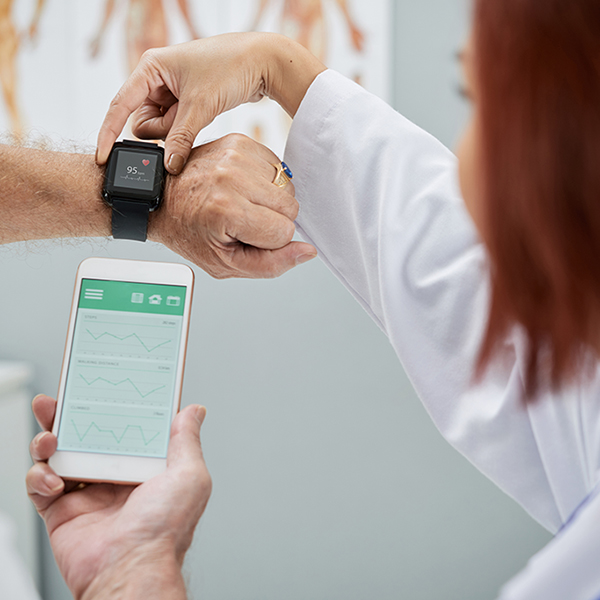 Blog | 7/21/2022
Digital Biomarkers – The Future of Precision Medicine
By Arushi Agarwal, Vice-President, Health Advances Precision Medicine Practice
IVDs: The Start of Precision Medicine (PM)
Precision Medicine (PM) has revolutionized oncology care, enabled by in vitro diagnostics (IVDs) that started with the approval of HercepTest in 1998 to identify patients with overexpression of HER2 for treatment with the targeted therapy Herceptin. Finding the "right treatment for the right patient at the right time" was an attractive alternative to broad brush treatment approaches, particularly in a disease state where a more general approach was toxic and debilitating to patients. Since then, PM has made significant strides with ~60% of drugs in late stage clinical development relying on biomarker data and 39% of FDA drug approvals in 2021 being personalized medicines. The industry has also recognized the value of taking a more patient-centric approach beyond therapy selection, with IVDs now available for screening and post-treatment monitoring.
The success of PM has been hinged on understanding the underlying biology of disease, which is why much of the activity to date has been in oncology. However, in many other disease states these mechanisms are not well understood or defined, for example in neurology, immunology, and cardiology. Rather than the disease mechanisms themselves, we have an understanding of hallmark clinical symptoms that are the visible manifestation of underlying disease pathways. Examples include:
Autoimmune diseases: Night itch in atopic dermatitis or urgency in IBD/Crohn's Disease
Neurology: Tremor and gait in Parkinson's Disease
Cardiology: Daytime physical activity in Congestive Heart Failure (CHF)
The ability to reliably and conveniently measure these symptoms could offer a path forward for PM.
Digital Health Measures Offer Unique Insights into Disease States
Digital Health Measures (often also referred to as digital biomarkers or digital measures) may be the answer to the challenges in broader adoption of PM. The ability to use the technologies we carry in our pockets or wear on our wrists offer a huge opportunity to measure what has previously been unmeasurable.
We define digital health measures to be digitally captured data that provides insights into patient status/experience, disease presence/status/progression, treatment response/experience or other relevant aspects of a patient's health. Collection of this data can be active or passive depending on the approach and platform/technology used.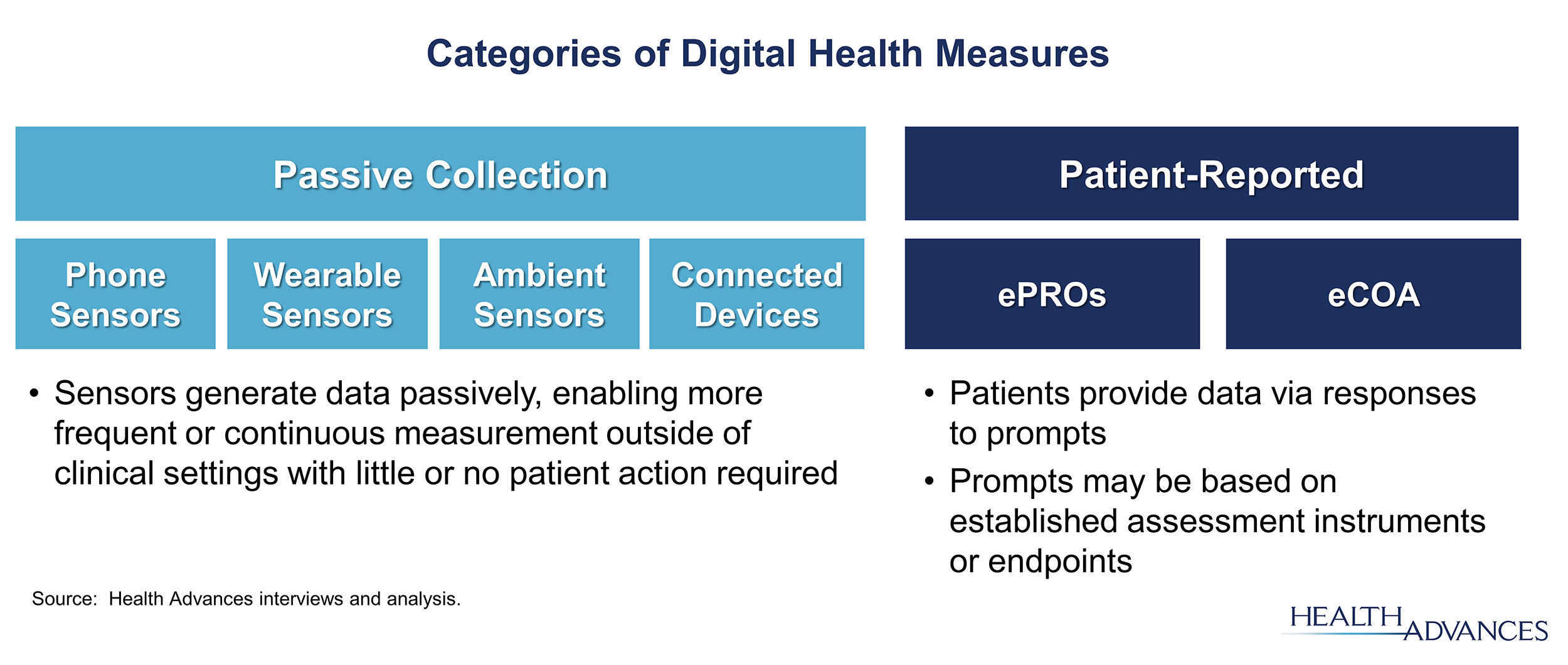 In the example of night itch in atopic dermatitis referenced above, a wearable sensor leveraging actigraphy could be used to record hand movements while a patient is sleeping to measure the total amount of time per night an individual spends scratching. The increase or decrease in scratching time could act as a biomarker to inform how a patient is doing on their treatment or whether their disease severity is worsening. This is akin to using genetic biomarkers for monitoring disease in oncology, for example measuring the change in BCR-ABL levels in response to treatment with tyrosine kinase inhibitors for patients with Chronic Myeloid Leukemia (CML).
Clinical Validation is a Challenge
The field of digital health measures is still nascent, and in need of robust validation in order to move into the forefront of care delivery. We typically think of the validation process for these measures as three sequential steps: verification, analytical validation, and clinical validation which build upon each other to establish accuracy and validity of the measurements collected by a particular device in a disease state.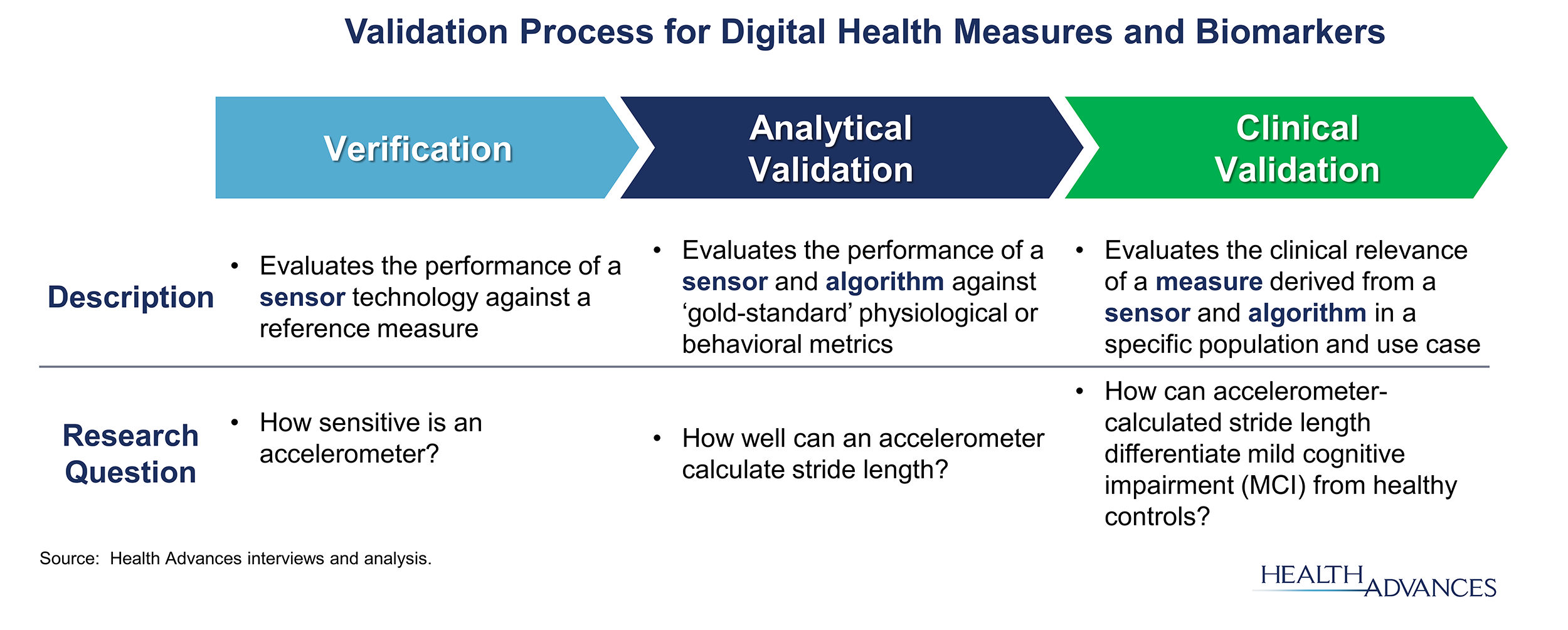 While each of these steps pose unique challenges, clinical validation (CV) can be one of the biggest hurdles. These hurdles affect both the companies' developing platforms for digital health measures (wearable/sensor companies) and those looking to use these measures for clinical development and commercialization (biopharma).
If we broaden the definition slightly, CV ultimately looks to evaluate whether a metric acceptably identifies, measures or predicts a meaningful clinical, biological, physical, functional state, or experience, in the stated context of use in a specified population. In the world of IVDs for oncology, specifically companion diagnostics (CDx) which is the most established area of PM today, the concept of a "driver mutation" inherently suggests that a clear link can be drawn between a specific biomarker and clinical outcomes. Even if the biomarker discovery process is arduous, the clinical validation process is more straightforward.
Digital biomarkers and measures are a different story. Once we move into the world of clinical rather than mechanistic definitions of disease manifestation, the subjectivity and variability of the factors we are trying to measure creates new challenges in defining what is "meaningful". We have already seen companies having challenges with this, for example with the FDA's rejection of the Verily Study Watch for Parkinson's monitoring a year ago concluding that device and associated motor examination are "limited in their capacity to evaluate meaningful aspects of concepts of interest that are relevant to the patient's ability to function in day-to-day-life" despite the fact that the tool was based on the Movement Disorder Society-Sponsored Revision of the Unified Parkinson's Disease Rating Scale (MDS-UPDRS) which is used in clinical practice today.
The Future Is Bright, but Collaboration is Key
If "meaningful" is truly the operative term for clinical validity, then successful clinical validation of a digital measure or biomarker will require collaboration across key stakeholders falling into three categories:
Creators: Pharma, who understands real-world care needs as well as clinical development challenges to determine which digital measures and biomarkers could be meaningful to pursue and collaborates with the sensor companies to validate relevant platforms and technologies for use in trials and beyond
Motivators: Physicians and patients, who feel the clinical unmet needs most imminently and can drive pharma as well as sensor companies to explore new digital measures and biomarkers that are valuable and practical for real-world care
Enablers: The regulators who facilitate approval of technologies and platforms and the incorporation of new digital measures into clinical trials as primary endpoints, as well as the payers who will drive reimbursement decisions for drugs and sensors based on the value demonstrated by digital measures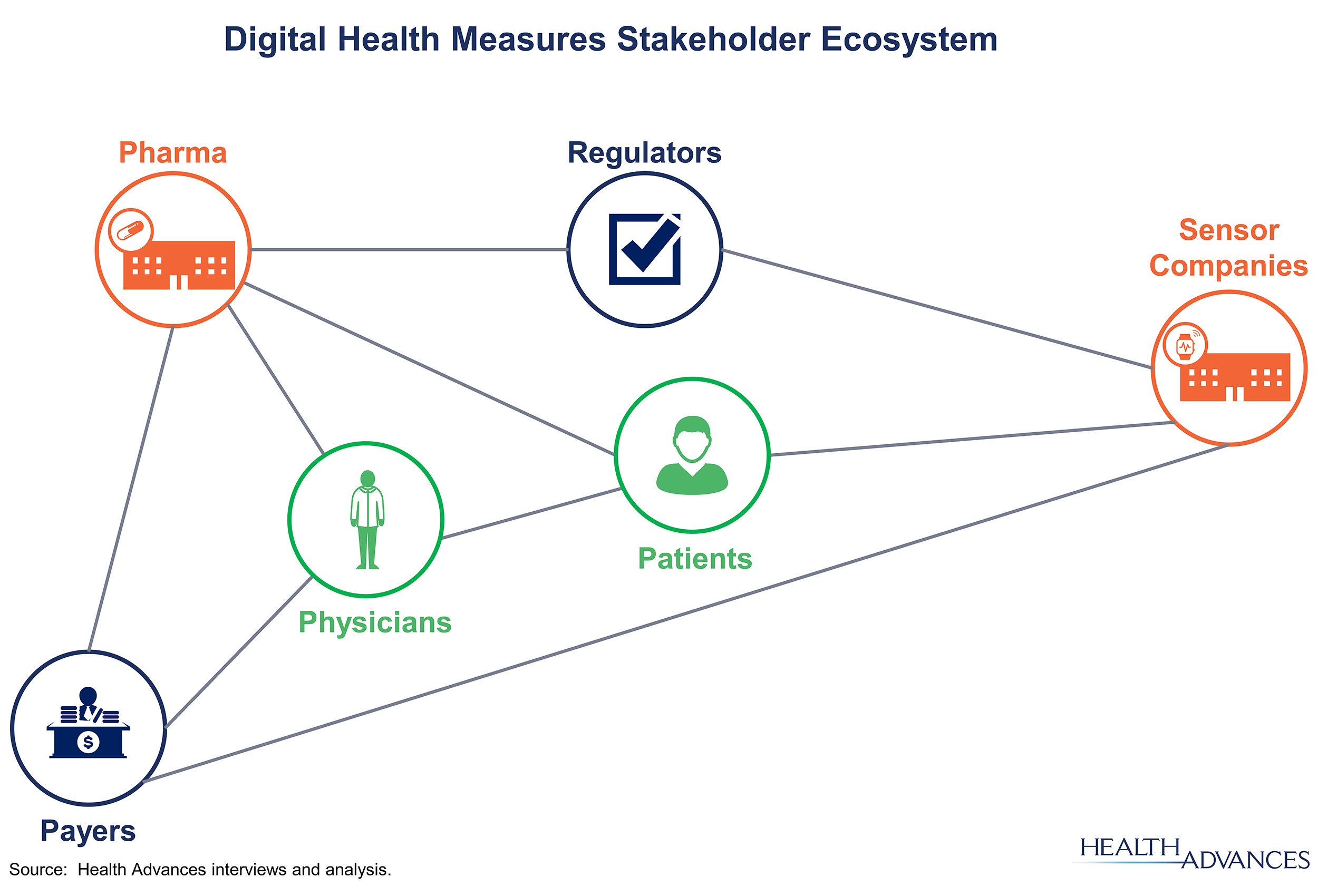 The engine behind this ecosystem also requires the interplay of the clinical and research settings. Observations from real-world clinical practice are essential to informing the development of digital biomarkers and measures that are initially used in clinical trial settings, then further refined and validated back in the real-word – clinical validation for digital biomarkers and measures is a cyclical not a linear path.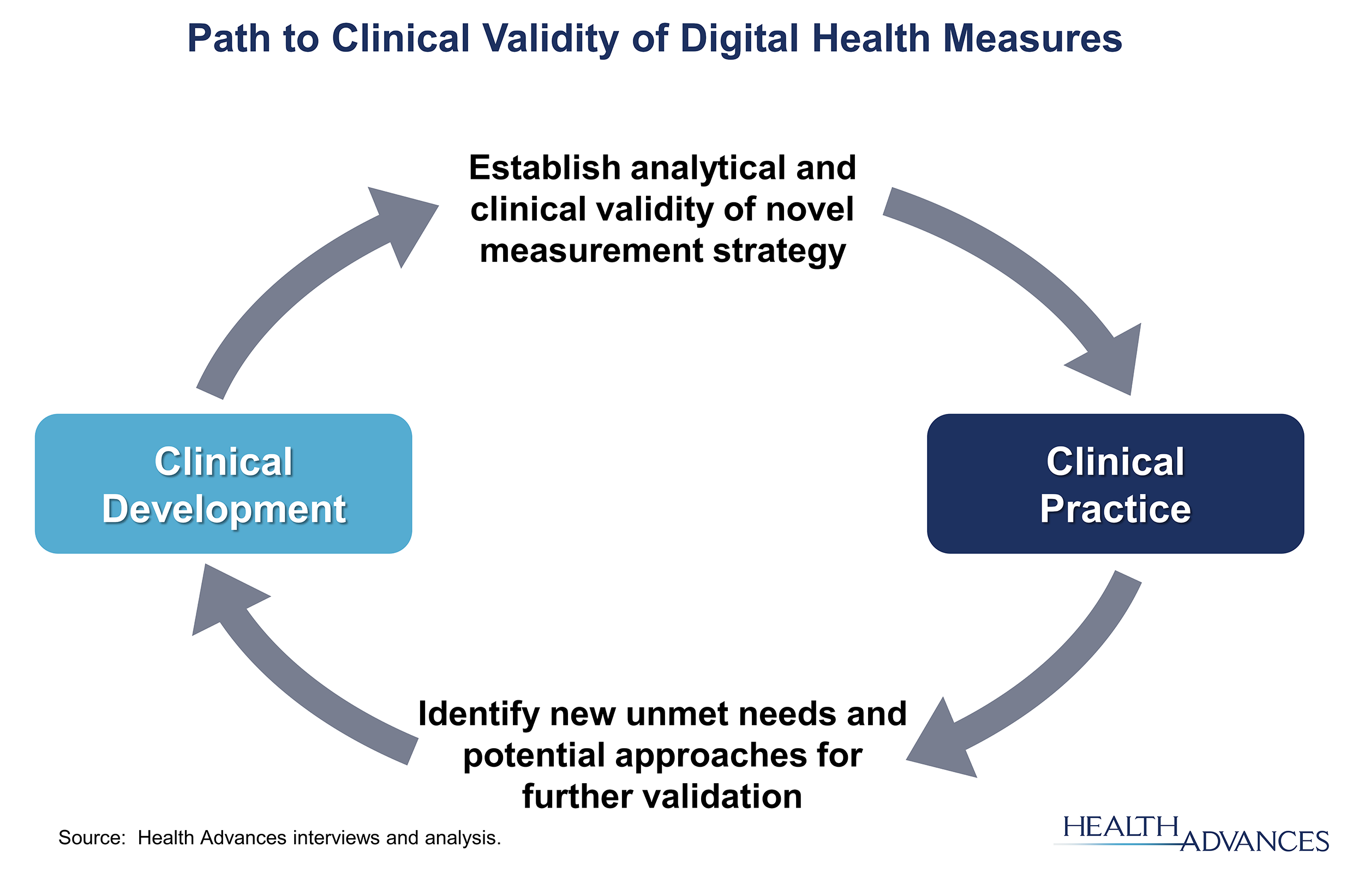 The encouraging news is that we have seen a lot of progress in the last couple of years that is helping to lay the foundation for digital biomarkers and measures to be the next foray into PM. For example, Verily has since overcome their earlier challenges and recently demonstrated that the Study Watch can record measurements that may serve as digital biomarkers for Parkinson's Disease progression, and Rune Labs has just received 510(k) approval for its StrivePD software using the Apple Watch to collect and measure data from Parkinson's patients. Even more notably, we have seen the industry start coming together to support the validation of promising digital biomarkers and measures such as the initiatives for Nocturnal Scratch Digital Measures Development and Alzheimer's and Related Measures Digital Measures Development. The Digital Medicine Society (DiME) reports, there are over 300 unique digital endpoints, many of which are primary endpoints, being used across almost 100 sponsor companies including industry sponsors.
With these recent developments, there is hope that we will one day see digital biomarkers and measures go the way of companion diagnostics (CDx) and other IVDs in oncology. At their heart, digital biomarkers and measures are just another tool that can enable PM just as physiological biomarkers did starting years ago. While the path forward may seem daunting, the continued investment and collaboration is encouraging, and we are optimistic that once the first major approval of a digital biomarker as a primary endpoint can happen it will open the floodgates for more to follow.
###
Arushi Agarwal joined the Health Advances team in 2011 and is a co-leader in the Precision Medicine Practice where she supports biopharma, diagnostic and sensor companies in global commercialization strategies for in vitro and digital diagnostic technologies. Prior to joining Health Advances, Arushi received her Masters in Biomedical Engineering from Columbia University and Bachelors in Biology from the Massachusetts Institute of Technology.