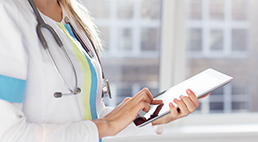 Blog | 6/6/2016
Envisioning the Future of Digital Health
by Patrick Campbell
The healthcare industry has been abuzz with the idea of Digital Health. You can hardly turn on the news today without hearing about a new digital health offering-- whether it is the latest wearable or a new telemedicine startup promising to revolutionize healthcare delivery by reducing costs and improving outcomes. Focus has been especially keen on costly, chronic conditions such as asthma, diabetes, and heart disease, where poor quality of life, absence from work and school, comorbidities, and even hospitalizations are major risks.
Traditional healthcare stakeholders are seeking to transform their care delivery and network models by making a digital health play with the goal of managing both patient and financial risk. Simultaneously, pharmaceutical and medtech companies are reinventing themselves by moving beyond their traditional product offerings to manage and measure patient outcomes, demonstrating their value across broad customer and stakeholder groups. It seems like everyone wants a piece of the pie, but in a landscape that is still being defined, there are a number of strategic questions yet to be answered around digital health. How do you design a digital health solution to complement your current offerings? What regulatory and reimbursement barriers could hinder the adoption of a solution? What are the critical success factors all digital health solutions must embrace?
Toward addressing these and other questions, Health Advances convened a group of 32 thought leaders and executives from across healthcare sectors for an all-day Digital Health Wargames, or scenario role playing session, held at MassBio's conference center in Cambridge, MA, in May, 2016. At this event, participants were introduced to a scenario with clinical, business, and patient engagement challenges, and were divided up into four teams roughly representative of their affiliations: Medtech, Pharma, Digital, and Service Companies and Providers. To set the stage for their scenario and role playing, each group was given a current offering that addressed one aspect of the care environment for a fictitious heart condition. The groups then had to brainstorm a digital health solution to complement their current offering and discuss questions around their solution regarding partnering, new models of care, payment and business models, and data access considerations. Participants conceived what a sustainable business model looks like for a digital health solution and identified critical success factors that would be necessary to make that model a reality.
While all four solutions were different, and reflected the current business models of each team, they all highlighted several common themes in their new digital solutions. All solutions emphasized some combination of economic and clinical benefit as their key value proposition. All groups also focused on deep patient behavior segmentation -- ensuring that their solutions would be impactful by addressing the right motivations and triggers to drive patients to promote self-management. Ensuring that solutions got into the hands of the right patients and providers was essential to demonstrating their maximum clinical and economic impacts.
Critical success factors almost universally included patient engagement, with some emphasizing a solution that would be "a delight to use" to help ensure patient use and engagement would not fade over time. Another critical success factor was the integration of multiple data sources into a single platform, whether those data were from multiple sensors attached to a universal implantable or from multiple patient data sets being accessed and aggregated. As we approach an age of nearly unlimited data streaming in continuously, all groups found it easy to conceive that the integration of these data sources would be the future. Lastly, financial incentives and alignment of risk with outcomes were viewed as critical to changing provider and industry behavior, but the teams also flagged that solution providers have thus far failed to accept risk schemes as a payment structure for their offerings.
Following the first exercises, members of the four groups were mixed up into new groups, with each prior team and industry bias represented, and given a new scenario: imagine that we have developed a comprehensive digital health solution to the fictitious condition, and successfully addressed disease progression, morbidity, and cost 5-10 years from now -- how did we get there? Participants imagined looking back from this successful future and brainstormed what had happened in the healthcare industry broadly, and in each sector, that allowed this solution to develop. What barriers had impeded progress? What enablers had encouraged it? What were the critical success factors to this solution's development? A lively discussion ensued, and participants were able to leverage previous suggestions and collaborate to both improve previous ideas and develop new ones. In the end, participants highlighted critical success factors they believed were applicable to any digital health solution. Key takeaways included the following:
Frictionless integration -- both system to system and system to person. Adoption of solutions critically require interoperability and the ability to exchange data with other proprietary systems in an ever-fragmenting workplace. Solutions also need to integrate well with current workflow and practices of their human users.
Meaningful clinical and economic measures -- any solution's value must align with improved outcomes, economic benefits, or improvements to active care management.
Preserve existing clinical relationships and encourage new relationship development -- solutions need to preserve and improve both patient-clinician relationships and the patient's relationship with their data. In addition, clinicians, and their training programs, will need to understand both how to use different types of data in clinical assessments and how to create better partnerships with community resources.
Leverage existing infrastructure to support adoption -- encouraging uptake is key, and to be successful solutions need to take advantage of what is already in place to get themselves in the hands of as many patients as possible.
Optimize data management to support ease of use -- huge data sets and analytical power are only useful when they can be translated into actionable guidance. Using solutions to better inform and guide patients and physicians with data will be key to demonstrating value and generating uptake.
Apart from these five key critical success factors, participants also identified a number of trends that would affect the development of digital health solutions. Among them were the reimbursement landscape, regulatory approval of digital solutions as non-traditional healthcare devices, and the future role of big data and predictive biomarkers in diagnosing illness earlier and more accurately.
On the more fanciful side of looking back from a successful future, many teams recognized the promise of microelectronics, near-field communications with now ubiquitous smartphones, and the use of next generation implantables with expanded functional and digital communication capabilities. Accordingly, each team envisioned an implant that at once offered the best of activity trackers, implantable defibrillators or pacemakers to measure heart activity, and point-of-care diagnostics to continuously monitor key blood measures and biomarkers. Behind this suggestion was the strong support for "passive" full-time monitoring that is invisible to the patient or consumer, yet provides a richness of data to the provider. As we look to digital health solutions to increasingly play a role in treating and preventing disease, it is important that healthcare players consider how digital health innovations may complement their current offerings. With the digital health market still in its nascent stage, forward-thinking organizations that integrate a clear digital health strategy into their overall priorities now are sure to benefit in the long run as this market continues to rapidly mature.
Patrick Campbell is an Analyst at Health Advances.
For more information about digital health or related solutions please contact Wyatt Gotbetter, Bruno Nardone, or Andrew Matzkin at: hitpractice@healthadvances.com