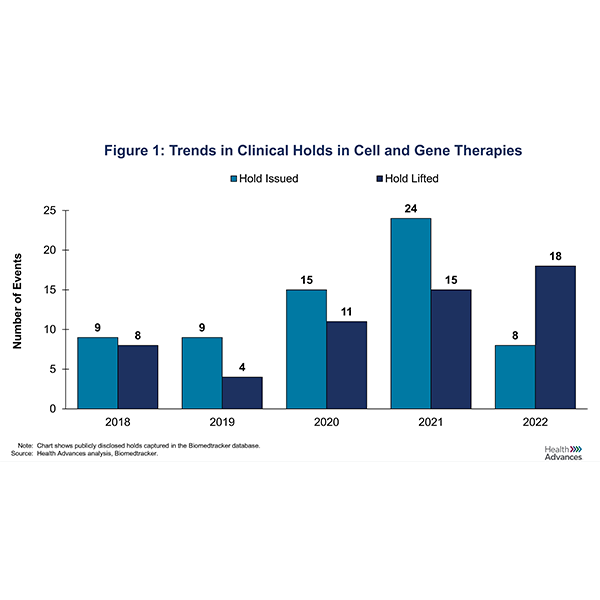 Blog | 1/31/2023
Growing Pains in Cell and Gene Therapy
By Alicia Shields and Vivek Mittal
Introduction
A few weeks ago, San Francisco was abuzz with events and participants attending the 41st Annual J.P. Morgan Healthcare Conference. Industry leaders, investors, scientists, physicians, and others gathered to share data, learnings, challenges, and hypotheses. Health Advances was in the midst to capture industry insights and network. We came away with a sentiment of cautious optimism for cell and gene therapies (CGT) because despite recent approvals, industry leaders voiced concerns about the rise in regulatory holds on CGT clinical development. In this article, we evaluate reasons behind the holds and postulate on factors that will help CGT developers move forward.

Vigilant Eyes on CGT Developers
To better understand trends in CGT clinical holds, we looked at the number of holds that were issued over the last five years (Figure 1). During that period, 75% (49/65) of holds were a result of clinical safety issues, ranging from allergic reactions to severe adverse events to patient deaths. 22% (14/65) were manufacturing holds for which the U.S. Food and Drug Administration (FDA) requested Chemistry, Manufacturing and Controls (CMC) related information.
Astellas, BioMarin, and Allogene were among some of the companies slapped with clinical safety holds. The FDA placed a clinical hold on Astellas' FORTIS Phase I/II trial of AT845 in Late-Onset Pompe Disease following the occurrence of a serious adverse event (SAE) of peripheral sensory neuropathy in one of the trial participants. The agency noted that there was insufficient information to assess risks to subjects and required more information about the SAE. BioMarin, another gene therapy developer, had its Phearless study on BMN 307, an AAV-phenylalanine hydroxylase gene therapy for adults with phenylketonuria, placed on hold based on interim safety findings from a pre-clinical study. A subset of mice treated with BMN 307 had tumors on liver autopsy with evidence for integration of portions of AAV vector into the genome. Allogene Therapeutics reported an FDA clinical hold of its ALLO-501A CAR-T trials because a patient showed a chromosomal abnormality in the CAR-T cells, which prompted further investigation into the finding including any clinical relevance, evidence of clonal expansion, or potential relationship to gene editing.
Similarly, companies including Beam, Sarepta, and Voyager among others were issued CMC/manufacturing holds. Beam Therapeutics' BEAM-201 Investigational New Drug (IND) application for the treatment of relapsed/refractory T-cell acute lymphoblastic leukemia (T-ALL)/T cell lymphoblastic lymphoma (T-LL) was placed on hold because the FDA had concerns about the company's gene-editing technology. BEAM-201 is an allogeneic gene-edited CAR-T and the agency requested additional control data from genomic rearrangement assessments and further analyses of certain off-target editing experiments. Back in its Phase 1/2a Duchenne Muscular Dystrophy (DMD) micro-dystrophin gene therapy trial, Sarepta received a letter from the FDA stating that the trial had been placed on clinical hold due to the presence of trace amounts of DNA fragment in research-grade third-party supplied plasmid in a manufacturing lot.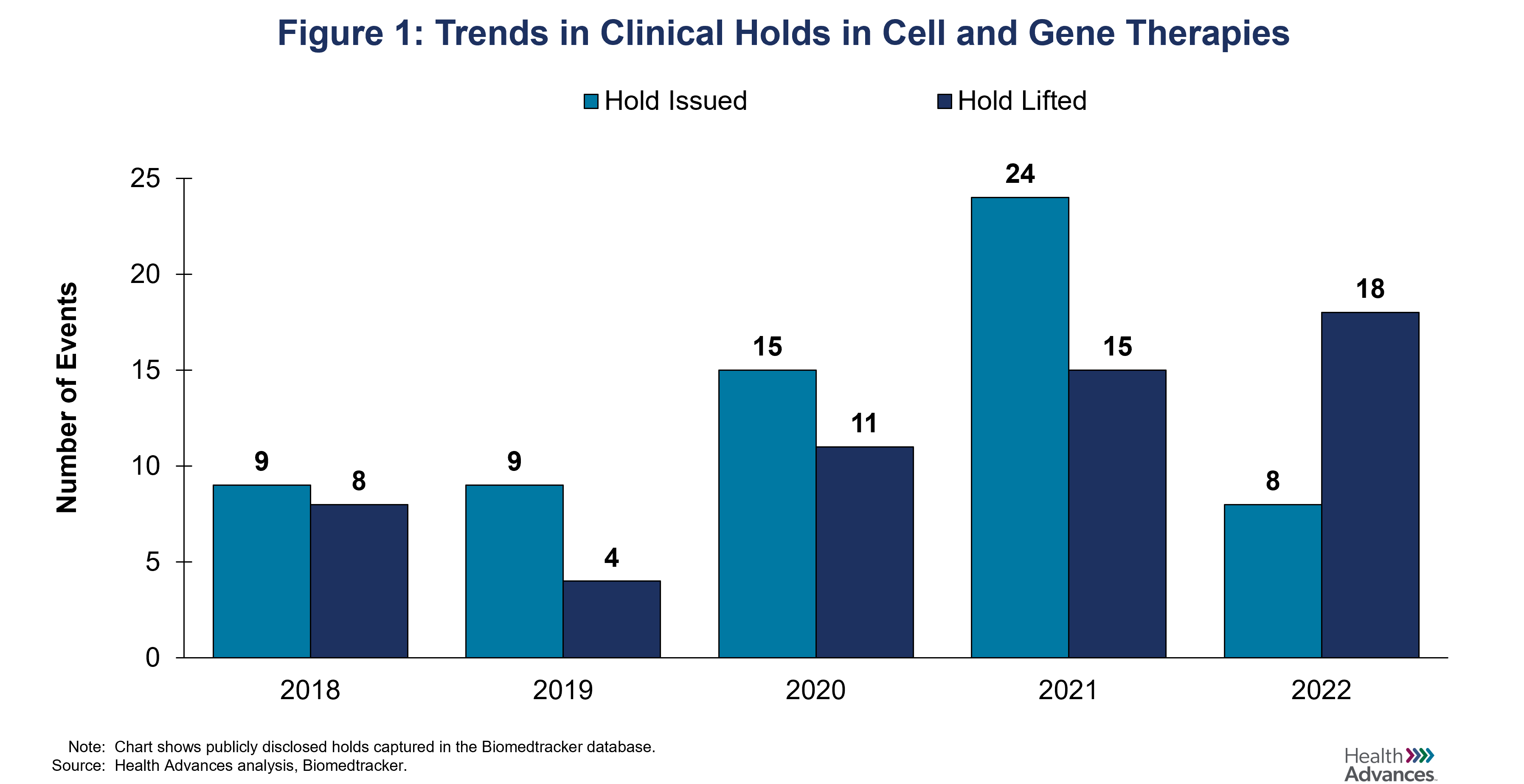 Lifts on Clinical Holds
As a result, CGT companies have been working diligently to address the FDA's concerns as evidenced by the concomitant rise in the number of holds lifted (Figure 1). However, the duration of CGT holds remains quite variable, with an average of 158 days and a median of 115 days (Figure 2). In some instances, holds can even lead to a CGT developer deciding to terminate a program. In the case of Allogene's ALLO-501A CAR-T above, the FDA lifted the clinical hold on development approximately 95 days later. For BEAM-201, the hold was removed after 126 days.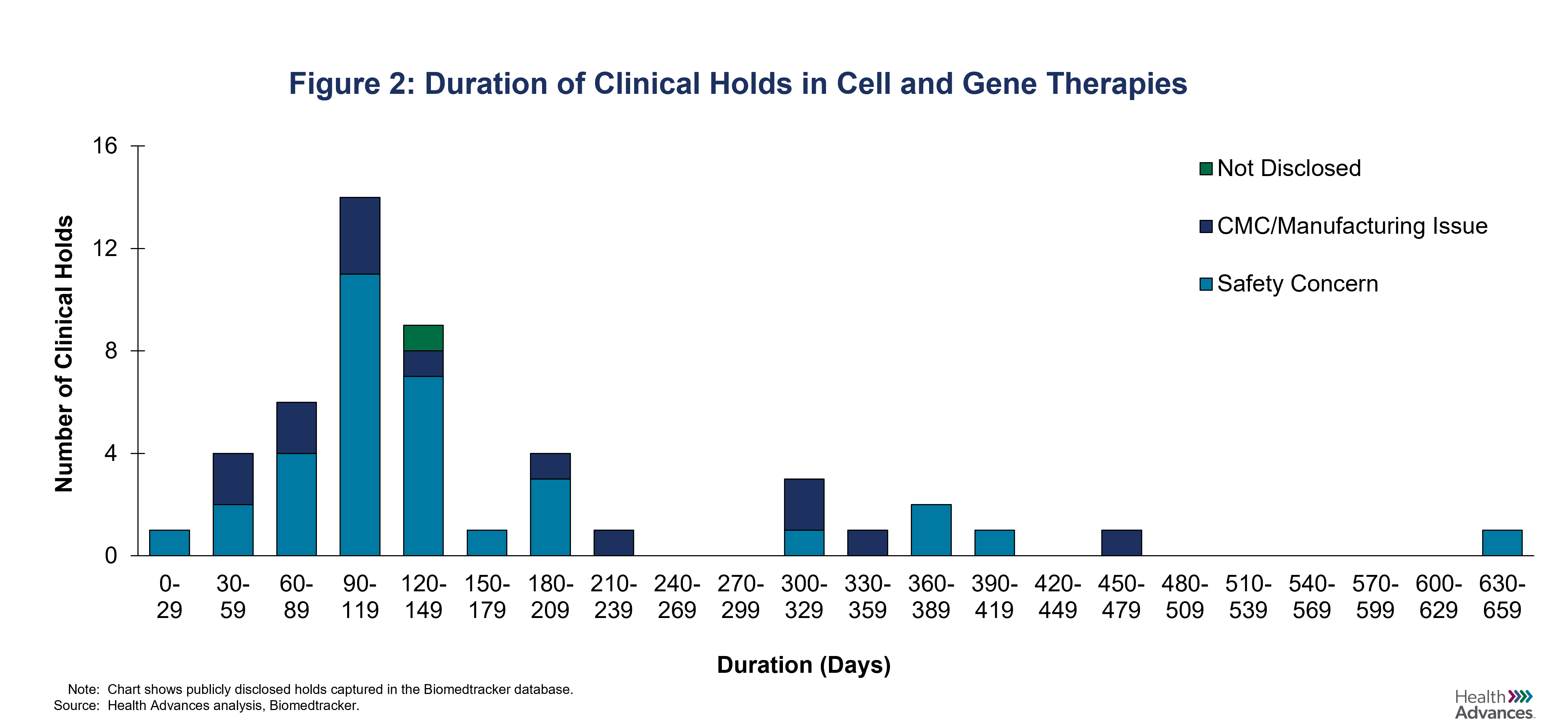 From Clinical Holds … a Journey to Medical Breakthroughs
We believe that the clinical holds indicate growth and metamorphosis of the CGT industry. Consider that a mere five years ago, CGT was an emerging niche but today, it is developing into a mainstay of medicine. There has been increased drug development outside of oncology into indications like immunology, neurology, and metabolic disorders. Expansion into ex-oncology therapeutic areas has already seen its share of clinical holds (Figure 3). Nonetheless, we welcome the evolution of CGT … warts and all.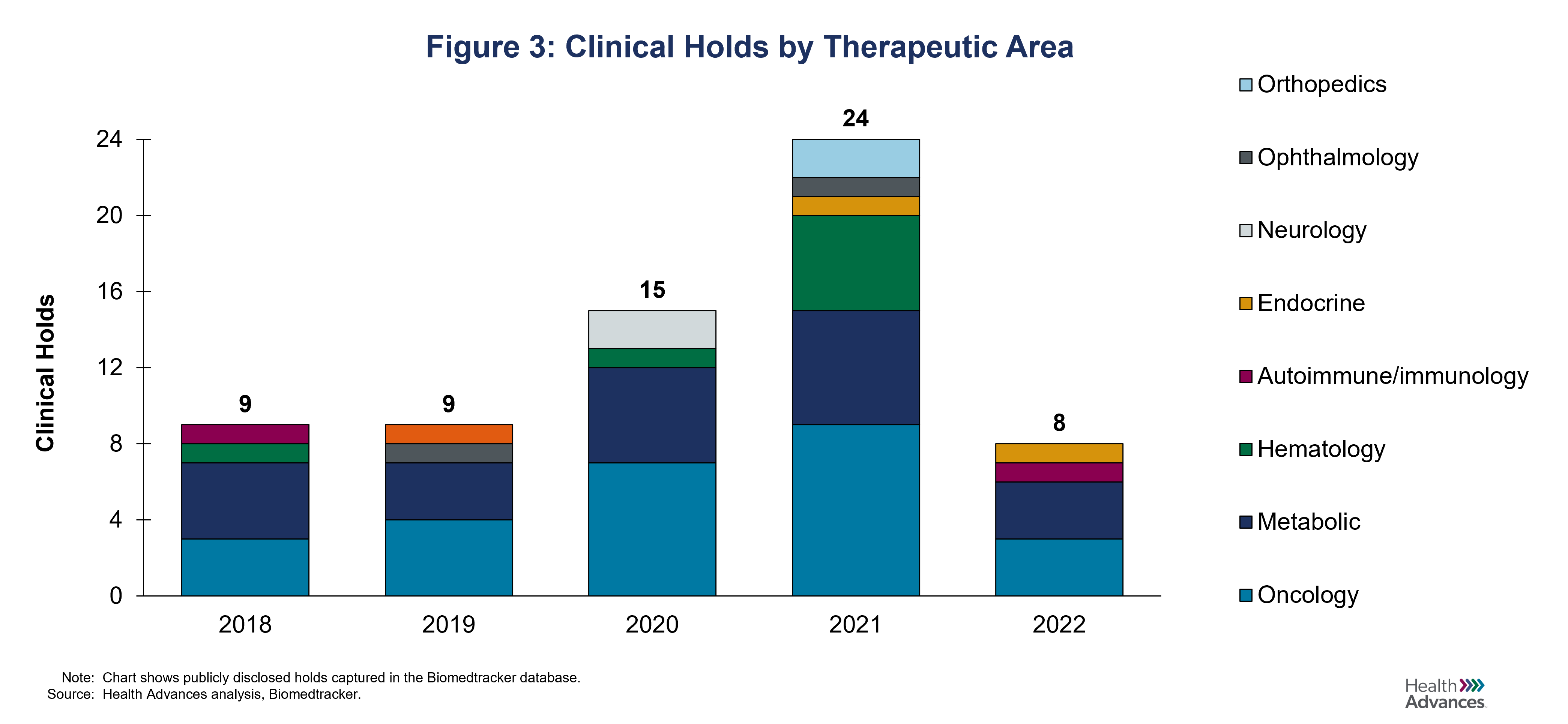 In a recent interview with Brad Loncar, UCSF Professor Nicole Paulk discussed the groundswell of technological innovation taking place in gene therapy. Advances include development of novel capsids and out-of-the-box thinking to modify and package genomic components such as promoters and other regulatory elements into vectors. Through our research, we found that biopharma companies are actively pursuing AAV construct optimization with a focus on engineering next-gen capsids to address unmet needs in immunogenicity, tropism, and payload capacity. Last July, Roche signed a potential $1 billion deal to assess and license AAV capsids from Avista for ocular diseases. In August, Sarepta entered an exclusive licensing agreement with the Broad Institute for MyoAAV next-gen capsids for rare genetic diseases. Per our analysis, about 40% of holds involved AAV-based gene therapies. Therefore, the hope is that improvements in vector design will help overcome AAV's safety and delivery limitations and expand its uses.
Beyond the investment in vector engineering, there is interest in novel delivery methods. Alternative non-viral delivery technologies such as lipid nanoparticles (LNPs) may provide solutions to some of the challenges faced with AAV gene therapies. LNPs have advantages over AAV including large payload, low immunogenicity, and reduced toxicity, making them attractive in vivo gene therapy vectors. Although limited tissue tropism is a current drawback, LNPs have demonstrated clinical utility, are easier to manufacture, allow redosing, and typically do not cause severe liver toxicity issues seen with AAV. LNPs have been used in mRNA COVID-19 vaccines with clinical success. First-in-human gene editing trials using LNPs are underway. Intellia is conducting clinical trials with an in vivo, LNP-based, gene-editing therapy. Verve Therapeutics is evaluating liver-directed LNPs in patients predisposed to familial hypercholesterolemia.
Switching over to cell therapy, we acknowledge that lentiviral vectors are well established for ex vivo T-cell applications; however, ex vivo electroporation may serve as an alternative to lentivirus for hematopoietic stem cell (HSC) editing. Electroporation poses less risk of insertional mutagenesis and has shown promise. An example is CRISPR Therapeutics' CRISPR/Cas9 gene editing therapy CTX001 for treatment of transfusion-dependent beta thalassemia (TDBT) and severe sickle cell disease (SCD). CTX001 utilizes MaxCyte's Flow Electroporation Technology to deliver CRISPR/Cas9 components to HSCs. In a June 2022 press release, CRISPR reported that 97% (73/75) of patients with TDBT or SCD treated with CTX001 were transfusion free after follow-up ranging from 1.2 to 37.2 months after dosing. Moreover, Maxcyte is a leading electroporation company that has boasted partnerships with more than 15 CGT companies in support of their preclinical and clinical programs.

Conclusion
In summary, in this era of innovation where different approaches, genomic components, and therapeutic areas are being explored, the CGT industry will creep, stand up, and fall before achieving a steady gait. In two recent publications (see paper and blog), Health Advances shared our thoughts on important developments in the space. We remain excited by the potential of these technologies and look forward to sharing our views on its progress.
###
Alicia Shields, Consultant and member of the cell and gene therapy practice at Health Advances.
Vivek Mittal, Partner, Managing Director, and Co-Leader of Health Advances' oncology and cell and gene therapy practices.