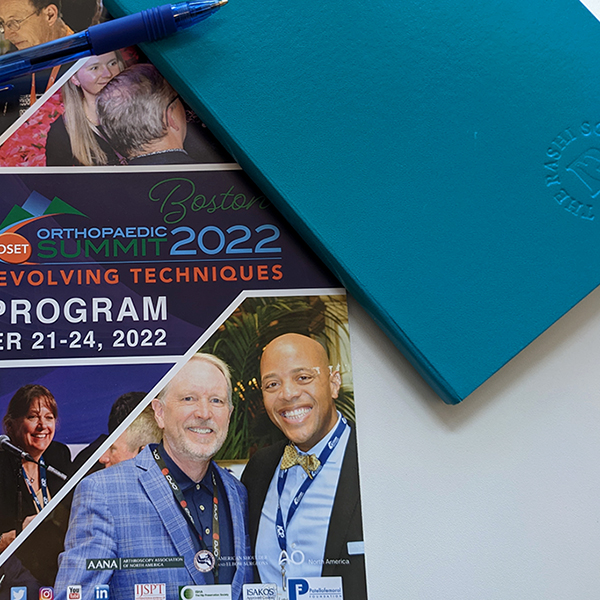 Blog | 10/17/2022
Ortho Summit 2022 – Chatting Cutting Edge MSK Innovation in Boston - Part 2
By Masha Dumanis, Vice President
IN PART 1 WE DISCUSSED BIOLOGICS AND OSTEOARTHRITIS TREATMENTS. THIS WEEK WE TURN OUR ATTENTION TO POST-OPERATIVE PAIN MANAGEMENT AND THE WORLD OF DATA.
Post-Op Pain Management – Many Ways to Skin a Cat
As I first shared in April – non-opioid post-op pain management has come front and center. Thanks to both lobbying efforts from the manufacturers and an emphasis on its importance from clinicians, non-opioid pain products have been granted pass-through payment status in the more cost-constrained ASC setting. This is crucial as we have seen a significant proportion of MSK procedures, particularly joint replacement, migrate there and CMS has recognized the need not to create opioid use incentives by making these products unattainable. That is not to say that this class of products does not face pricing and reimbursement challenges, but we are seeing recognition of their value.
In addition to incumbents Pacira with Exparel and more recently launched Zynrelef from Heron, Innocoll was at OSET initiating their commercial launch of Posimir, the highest concentration bupivacaine product currently available. While its indication is currently limited to arthroscopic subachromial decompression, the company envisions future indication expansions.
Another truly unique pipeline product was positioning itself prominently throughout the show. Gate Science and its team has developed a novel drug-device combo approach to 30 day coverage of post-op pain management. The product combines a port for nerve block with small a lead and stimulator for peripheral nerve stimulation to block pain messages. The product would be placed intraoperatively by the anesthesiologist but would be patient controlled through a companion app – thereby crossing us into the world of digital. The levels of stimulation and pain management that the patient selects would be objective, not subjective, measures of the patient's pain.

Digital Tools Will Integrate, Not Stand Alone
Digital tools were also a prominent focus of OSET, but in contrast to AAOS – where digital felt indiscriminately shoved in every corner, the digital tools presented at OSET seemed to focus on more streamlined integration with current practice. Clinicians spoke frequently on how these tools help them to elevate their practice and enhance their outcomes – they felt purpose built. As the hype of digital in MSK subsides, I expect we will see some of the products fall away, and the ones that will win will find a way to improve, instead of disrupt, workflow.
One such presentation – titled "AR in the OR" by Drs. Wesley Cox, Matthew Saltzman and Stephan Pill, used a simple demonstration of AR through videogames to relay its power in surgery. He showed a short clip of himself playing a golf simulation with his son. He demonstrated that the videogame showed the trajectory of the ball based on the planned stroke. If you knew where to hit the ball to get it into the hole every single time, wouldn't you use it? The same was true with surgery – in this case placement of shoulder prostheses and screw placement.
Several surgeons spoke about moving toward a future ecosystem of data integration. One example of this is the ZBEdge platform from Zimmer Biomet. At one of the lunch symposia, the surgeon described how this system streamlined his ASC operations – particularly his patient interactions, enabling him to prep and educate his patients, schedule his patients, and follow up with his patients through one portal. ZBEdge integrates with other Zimmer tools such as mymobility which uses an apple watch to track various recovery parameters, can integrate with the Rosa robot, and also with Zimmer's recently launched PersonaIQ smart implant stem.
As Dr. Ira Kirchenbaum noted in one of his talks, as we move towards this ecosystem, we move from "patient reported" outcomes to "patient generated" outcomes. The power these data hold can be impactful in their predictive nature. For instance, they could aid in identifying patients who are having poorer recovery curves and intervene sooner, potentially preventing emergency room visits or more significant interventions. But they also hold the power to help us understand which techniques, surgeons, implant designs, and tools are leading to better outcomes in our patients. The challenge is that the predictive value of this data is still a bit away, and we are caught in a chicken and egg conundrum. In order to prove the value of these tools and ecosystem, we need to put them into use. But most struggle to put them into use unless there is a mechanism for payment.
One mechanism that already exists to lessen the economic burden for uptake are the recently launched RTM, or Remote Therapeutic Monitoring codes. Thanks to the advocacy of industry leaders like Limber CMO and Co-Founder Dr. Marc Gruner, we now have a set of MSK-specific codes that allow surgeons and other clinical providers like PTs and PAs, to bill for time spent interacting with patient data coming from connected devices. Limber Health, a digital MSK care management platform, understands that the future of PT and MSK management cannot be solely digital so they have built tools to bridge the gap between in-clinic and digital care, and to help clinicians and therapists manage their patients. Limber conducted trials of its program at the Mayo clinic to validate that its home-exercise therapy app reduces pain and improves function, while also enabling clinicians to remotely monitor their patients and be reimbursed through the newly established RTM codes.

Captivating Meeting with Relevant Topics
We have only just scratched the surface of the rich discussions that took place – quite literally, simultaneously across the four-day meeting. Other trends that were notable were discussions around the move to the outpatient setting and now managing outpatient surgeries, innovation in spine surgery – particularly endoscopic spine surgery, and a captivating evening panel discussion on the increase in PE investments in orthopedic practices given macro trends.
As I posted immediately following the conference: The intimacy of the meeting allowed for a chance to make genuine connection and the openness between industry and clinical faculty enabled the outcome improving innovation to shine. I will undoubtedly be back and if you are seeking to genuinely connect and learn – I suggest you check it out next year too.
###
Masha Dumanis is a Vice President at Health Advances with over 11 years of experience in healthcare consulting supporting clients developing commercial strategies with expertise in market assessment, competitive landscape, due diligence, and product and corporate strategy. Masha is the co-leader of the Health Advances MSK Practice and a member of the Digital Health and Health IT, and MedTech Practice leadership teams.