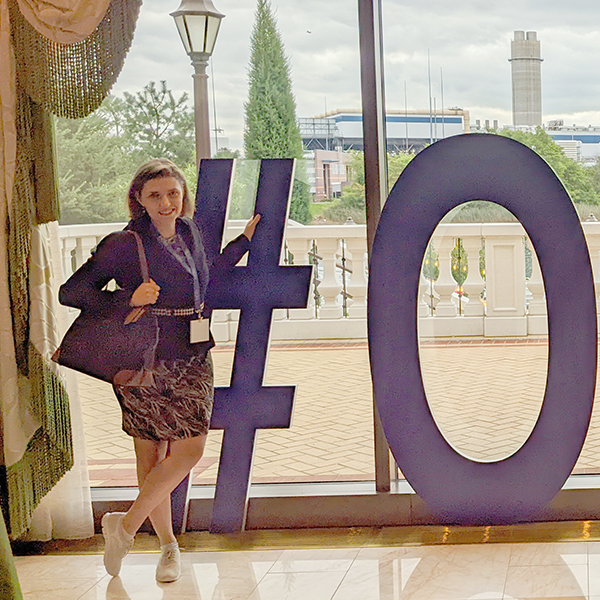 Blog | 10/11/2022
Ortho Summit 2022 – Chatting Cutting Edge MSK Innovation in Boston - Part 1
By Masha Dumanis, Vice President
If you were not at the Encore Boston on Wednesday September 21st to Saturday September 24th you were missing out. The Orthopaedic Summit of Evolving Techniques, AKA Ortho Summit, AKA OSET22 came to Boston for its 11th year. To calm your FOMO (that's "fear of missing out"), I have prepared a recap.
OSET brought into crystal clear focus many of the themes that I highlighted in my previous post on AAOS earlier this year – biologics, post-op pain management, and digital. Due its smaller nature and focus on innovation, OSET isn't burdened by large, flashy booths filled with commodity products – instead its focused on interpersonal connections and opportunities to teach each other and the greater orthopedic community about "evolving techniques" and emerging products. In fact, there were so many invaluable presentations, talks, panels, and symposia that my one regret was that I could not be in four places at the same time. So, my apologies to those whom I neglect to mention – I hope we can cross paths at upcoming NASS, at the next Academy, or most certainly next year at OSET.
Advances and Setbacks in the World of Regenerative Medicine
We are all still chasing the holy grail – a biologic and truly regenerative solution to degenerative conditions like OA, as well as traumatic injuries like ligament tears, tendon ruptures, and cartilage lesions. While this entire field has been muddied by many clinical setbacks and failures – we have simultaneously made both incremental and revolutionary advances. Regenerative medicine was undoubtedly one of the biggest focuses of this meeting as both industry and thought leaders pushed the envelope on aiding the body heal itself.
Betting on Biologic Augmentation
Biologic augmentation of soft tissue repair procedures was one of the hottest topics of this year's OSET – brought front and center by ConMed's seemingly surprising acquisition in BioRez. BioRez, a young company, led by a young CEO, Kevin Rocco, has ostensibly come out of nowhere, in just over a year, to become a formidable player in the biologic augmentation market. Their technology, BioBrace, uses a bioinductive scaffold to reinforce suture based repairs – whether RCR or ACL with a graft. They were granted a wide label by the FDA to "reinforce soft tissue where weakness exists". While they are now touting between 200 and 300 clinical cases, what shocked the industry with this particular acquisition was that the transaction took place with no published clinical literature on the efficacy of the product. Many ascribe the success of this company to its strong harnessing of the power of social media, and the rising impact of the "DOL" or digital opinion leader, in the world of orthopedics.
Another company seeing success in this space, but having taken a slightly different path is Miach Orthopedics, with their BEAR implant, or "Bridge to ACL Restoration". BEAR is the first product to allow for native regeneration of an ACL in place of an autograft or allograft, post complete tear. Miach, which was approved by the FDA in 2020, has placed a lot of significance on its clinical evidence – backed by Level 1 clinical evidence and with two major post-market trials underway BEAR III and BEAR-MOON (which compares BEAR to patellar tendon autograft). BEAR offers exciting promise, especially for younger patients, with no harvest site morbidity and excellent outcomes.
Still a third player with exciting technology bringing a new offering into the space, and commercializing their Rotator Cuff (RC) offering after a recent FDA approval is Embody with their Tapestry line of products. Like many of its competitors, Tapestry is also collagen based, but its proprietary manufacturing technology – a form of 3D printing – creates highly organized, highly porous designed materials that provide both uniform strength in the augmentation, and are highly absorptive to allow for any growth factors (PRP, blood, or BMAC) to stay in place and aid in the regeneration. A version of their proprietary technology is also being spun into suture to create tremendous surface area and healing properties.
And not to be forgotten is the product that started all the hype, and whose recent published data were so compelling its hard not to take notice. Interim analysis from an RCT of Smith and Nephew's Regeneten showed a very significant reduction in retear rates in medium to large full-thickness tears repaired with REGENETEN vs using a TOE repair alone. At 12 months follow up the REGENETEN group has retear rates of 3.5% vs the control group with retear rates of 25% - consistent with published data. If that is not astonishing clinical efficacy, I don't know what is. While this is clearly fantastic news for Smith and Nephew, its also bound to impact the entire industry. This is compelling evidence that biologic augmentation works and these data are bound to have a "rising tide lifts all boats" impact.
The questions that remain on everyone's mind are undoubtedly how these products get paid for. To date, not a single one of these products have their own code. They are all currently paid for as part of the procedure – a procedure whose reimbursement never intended to cover a biologic product. This means facilities are by and large getting paid less than they used to if they are using these products, but ideally with better outcomes. In global/bundled payment contracts (and not percent of charges), it will be interesting to see if providers can negotiate higher prices as biologic augmentation becomes more standard.
Cartilage Repair and OA Treatment – New Products, New Understandings, and New Failures
There is likewise a lot of reason for excitement in the world of cartilage restoration and OA treatment. Fresh off the completion of the CartiHeal acquisition, which occurred immediately after the FDA approval, Bioventus was promoting its exciting, first-of-its-kind off-the-shelf implant for cartilage repair. What makes Agili-C unique from some other treatments for focal articular cartilage lesions, is that it also includes in its label patients with moderate OA (KL score up to 3). Several symposia presentations showed successful articular cartilage regrowth after use of Agili-C, including a heartwarming story and video of its use in a doggie.
It is exciting to see the options of complementary treatments grow in this space as Vericel continues to see success with its MACI treatment and prepares for expansion with arthroscopic instruments and potential indication expansions.
Autologous treatments were a big focus of many of the clinical presentations throughout the conference – where is appropriate to use BMAC or PRP or adipose derived stem cells? What concentrations of PRP are therapeutically active? What fractions of the biologic should we use for what application? What has been challenging to date in the regulatory environment, is that none of these autologous treatments can be marketed as treatment for the conditions they are being used to treat. In an exciting move for the industry, Lipogems, the company the developed a technology for in-office for adipose tissue preparation, was granted IDE approval by the FDA begin a pivotal clinical trial examining the efficacy of Lipogems in knee OA vs corticosteroid for 12 months. We are eager to monitor the outcomes of this study to see if they can overcome the challenges some of the allogeneic therapies have faced.
We would be remiss not to mention the recent failures in the OA injectable therapy space. At least two assets saw failures of their pivotal Phase III trials with outcomes no better than placebo – a challenge arising often in this indication. Both Ampio and Endo and its partner Taiwan Liposome Company reported failure to meet primary endpoints of pain and function in pivotal trials during 2022.
As the pipeline thins, we continue to wonder who will make it? An interesting clinical session by Dr. Jason Dragoo posited a theory as to why we haven't yet achieved success. Dr. Dragoo posits that the reason we have a graveyard of assets is that we are treating OA as a monolith, but likely there are a multitude of pathways involved in the pathophysiology of OA. Once we have the diagnostic precision to understand in each patient which pathway or pathways are activated, we can develop biologic solutions to target those pathways – think "precision medicine for MSK". It seems a highly plausible hypothesis.
While we wait for the basic science to evolve – we do have several other device based modalities all targeting OA pain and function that were on display at OSET. Two energy based modalities – laser therapy from the rapidly growing physician owned franchise OrthoLazer. In fact, laser therapy was recently endorsed by the AAOS as a potential treatment for OA. The other product on display was the SAM system (sustained acoustic medicine) by ZertrOZ. The premise of this technology is a low intensity, long duration ultrasound that improved blood flow to damaged areas and improve healing.
There was even a metal implant all over the cartilage regeneration category – why you might ask. The MISHA from Moximed is an internally implanted unloader – at OSET, Moximed read out study data showing improved outcomes in OA patients using the MISHA vs high tibeal osteotomy. The hypothesis likely goes that by offloading the part of the knee that is overly stressed in an OA patient, it will reduce bone edema, and may ultimately allow for cartilage healing.
STAY TUNED FOR INSIGHTS ON POST-OP PAIN MANAGEMENT, DIGITAL TOOLS, AND MORE IN PART II OF THE SERIES…
###
Masha Dumanis is a Vice President at Health Advances with over 11 years of experience in healthcare consulting supporting clients developing commercial strategies with expertise in market assessment, competitive landscape, due diligence, and product and corporate strategy. Masha is the co-leader of the Health Advances MSK Practice and a member of the Digital Health and Health IT, and MedTech Practice leadership teams.