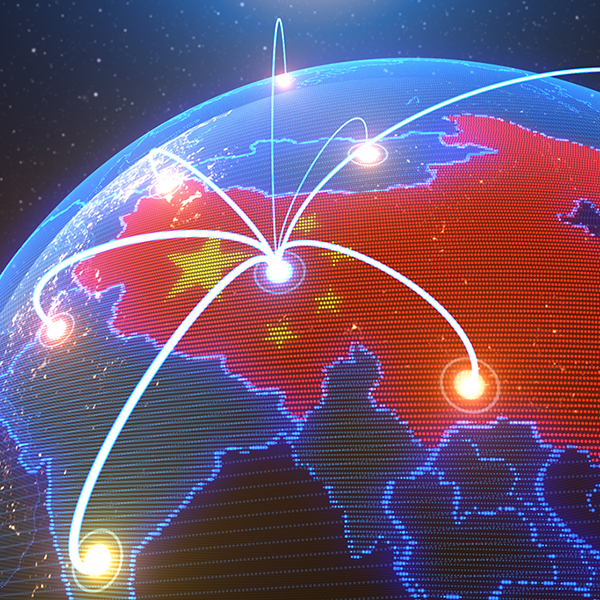 Blog | 9/7/2022
Part Two: The Emergence of Chinese MedTech on the Global Stage
By Andrew Li, Vikki Leung, and Gary Cheng
In our first publication on the Rise of Innovative Medtech in APAC, we explored factors driving Chinese MedTech's shift from being low-end components manufacturers to developers of high-end innovative products. We highlighted these key insights:
MedTech startups have benefited from government grants to incentivize R&D activities and development of locally designed products
Access to international capital through venture financing and IPO activities have fueled significant growth in MedTech innovations, like transcatheter heart valves and surgical robotics
Domestic startups are able to leverage resources from foreign multinational corporations' regional incubators to accelerate their novel product development

In part two of our series, we explore how Chinese MedTechs are expanding their presence and brand beyond local borders.
Introduction
Chinese MedTech companies have historically focused on domestic sales and success was defined as being a leader in the local market. In recent years, as these domestic companies continue to innovate and build capabilities, they have their sights set on expanding into overseas markets and becoming global MedTech players. This sentiment is echoed in the 14th Medical Equipment 5-Year Plan (2021-2025), where the Chinese government is looking to provide subsidies and tax deductions toward the aspiration of having 6 to 8 enterprises ranked among the top 50 global medical device companies. In this blog, we highlight various internationalization strategies and success stories of Chinese MedTech entry on the global stage as well as potential roadblocks and challenges faced when planning and executing global expansions.

Internationalization Strategy
When companies expand their presence and brand beyond their home market, they evaluate and weigh various factors, such as feasibility and commercial opportunity (see Figure 1). Internationalization strategies can generally be categorized into (i) forming a strategic partnership, (ii) acquisition, or (iii) building an international R&D/commercialization organization.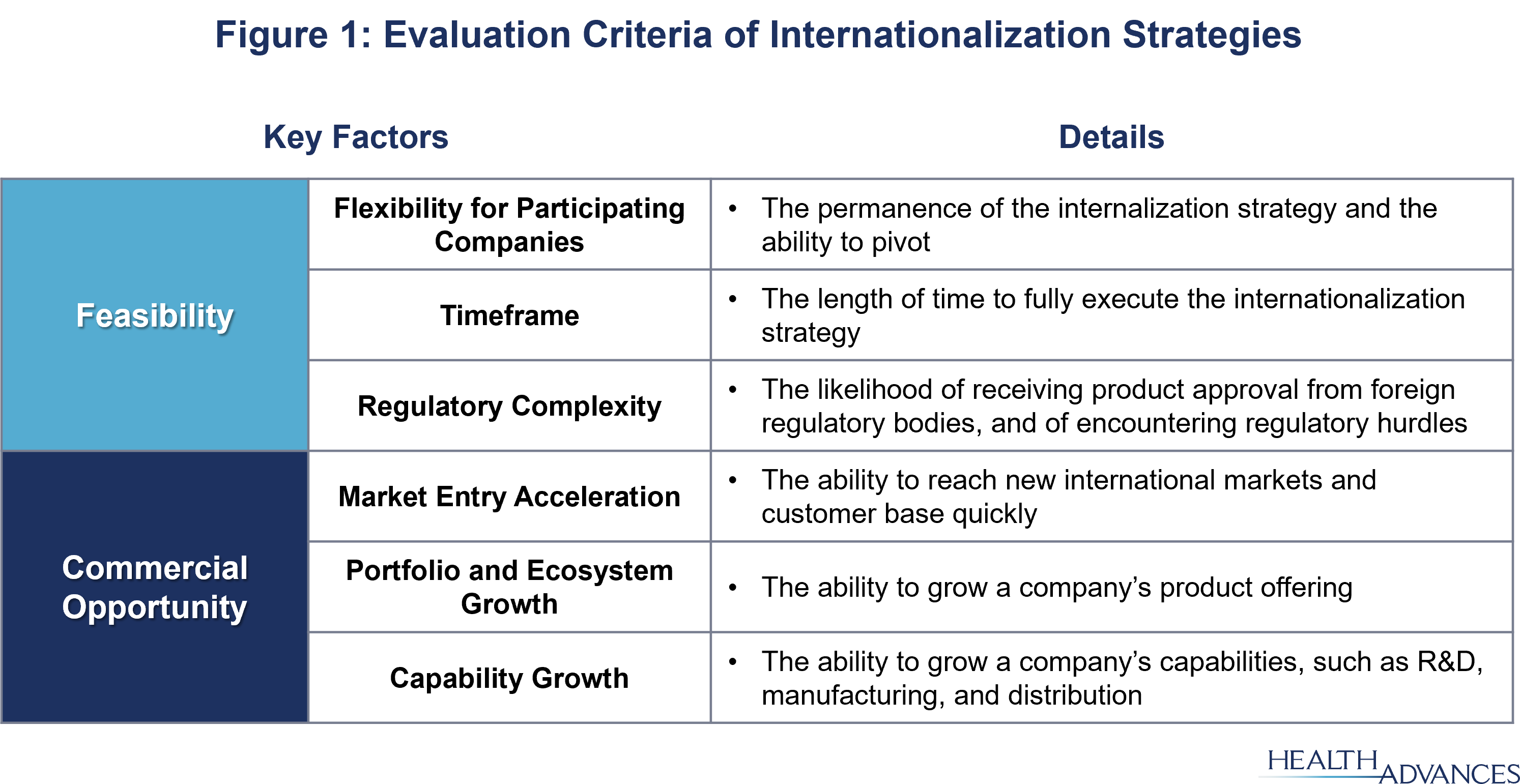 Strategic Partnership
A strategic partnership typically involves a company leveraging its partner's capabilities (e.g., technology, sales force, distribution channels, and local regulatory expertise) and market presence to co-develop, manufacture, and/or commercialize its portfolio products. Such strategy provides flexibility, as it allows participating companies to utilize the capabilities of their partners without permanently changing their business operations. The contracted nature of such strategy also means that the participants do not need to invest in internal capability or capacity growth, which is an ideal option for companies that do not want to, or cannot, sustain these new capabilities in the long term. However, with strategic partnerships, companies will face tradeoff on revenue upside, and lack of control over time and resources the partner dedicates to their products. Examples of strategic partnerships from Chinese MedTech companies include:
Peijia Medical, a domestic manufacturer of interventional products for structural heart diseases, partnered with inQB8, a US-based MedTech incubator, to co-develop a transcatheter tricuspid replacement (TTVR) product
United Imaging Healthcare, a domestic provider of advanced medical imaging and radiotherapy equipment, partnered with Isotopen Technologien Munchen, a German radiopharmaceutical company, to jointly innovate and optimize the precision oncology imaging process, and drive growth in the global cancer imaging market.

Acquisition
Acquisition is perhaps the most common way to gain access to international markets. It allows the acquirer to access the target's full capabilities and portfolios quickly while maintaining control, making it an ideal option for companies who seek a rapid entry to the market. While both acquisitions and strategic partnerships help companies reach new markets, acquisitions are inflexible, costly, and time consuming. Despite the downside, acquisitions are still more efficient from an investment perspective compared to building capacity and capabilities from within. Examples of acquisitions from Chinese MedTech companies include:
Shandong Weigao Group, a manufacturer of single-use consumables, orthopedic and blood purification products, acquired US-based Argon Medical to expand its product portfolio and diversify its revenue stream
AK Medical, a leader in China's orthopedic implant industry, acquired UK-based JRI Orthopedics to expand product portfolio, enhance R&D capabilities and access international markets

Build R&D/Commercialization Organization
Building out the company's own R&D and/or commercial capabilities in individual markets or regions has become increasingly common in recent years. While this approach requires significant investment in time and capital, it allows for the alignment of domestic and international R&D standards, hence facilitating future approval, and reduces integration hurdles. Examples of Chinese MedTech successfully building capabilities from within include:
LifeTech Scientific, a manufacturer of cardiovascular and peripheral vascular products, developed a left atrial appendage (LAA) closure system that received CE Mark approval and built commercial organizations to compete in the European markets
MicroTech Medical, a manufacturer of diabetes treatment and monitoring devices, has developed R&D centers both in China and Silicon Valley, state-of-art manufacturing facilities in multiple locations, and set up both a network of distributors and internal commercial teams to cover both China and overseas markets

Each internationalization strategy above has trade-offs that companies will need to evaluate against their expansion goal. Based on the feasibility and commercial opportunity criteria, the attractiveness of each of these strategies is below (see Figure 2).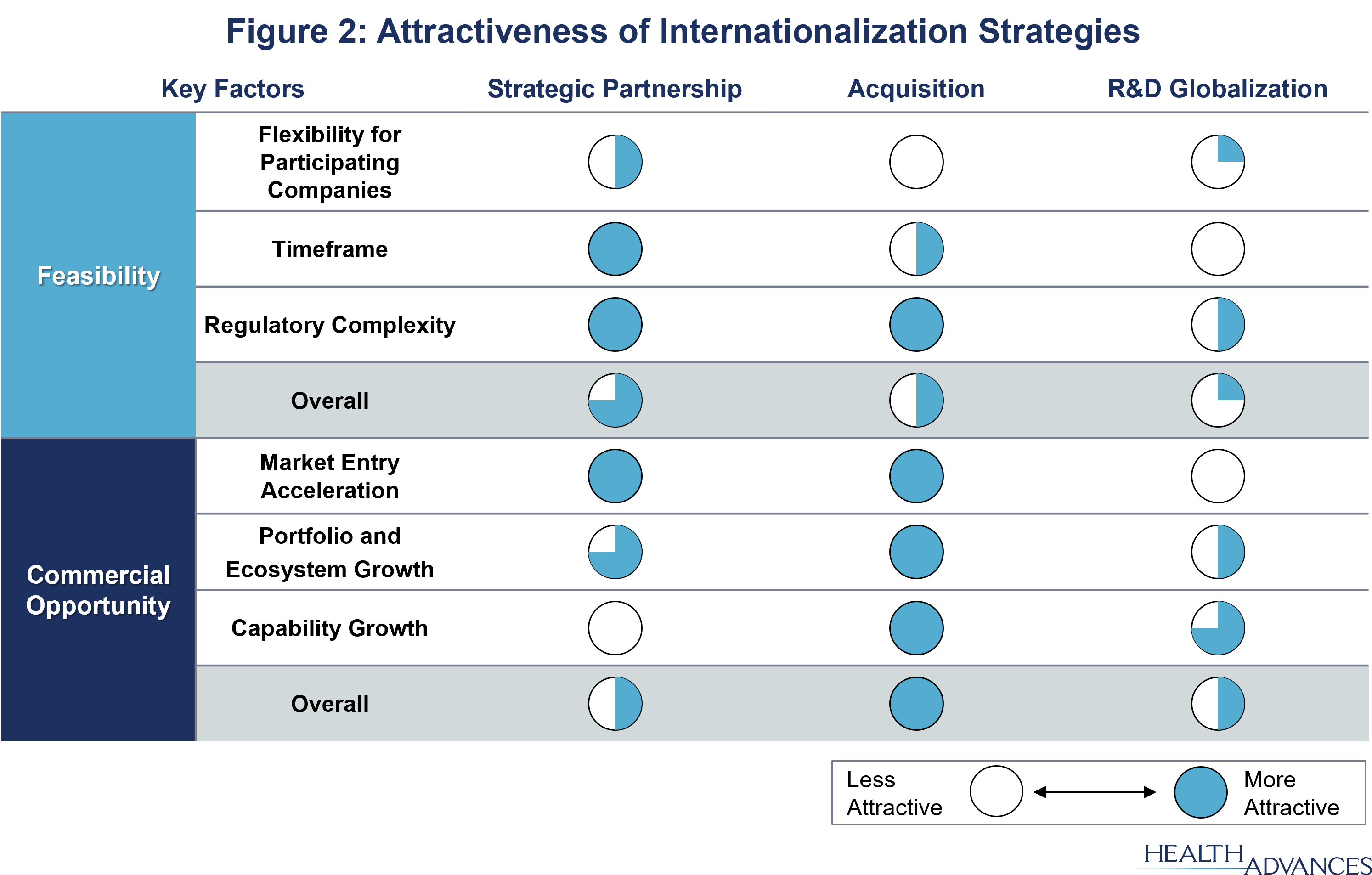 Internationalization Success Stories
A combination of internationalization strategies is often used by the more successful domestic players, such as MicroPort Scientific and Venus Medtech:
Founded in 1998, MicroPort Scientific's early success came from selling high-quality and low-priced coronary stents in the domestic market. In the early 2010s, the now leader in China's cardiovascular market rapidly expanded globally with goals of entering overseas market and diversifying its business portfolio through strategic international acquisitions. An opportunistic buy in 2014 saw MicroPort acquire the OrthoRecon business from Wright Medical Group, creating a brand new business in orthopedics for MicroPort, and gaining significant presence and revenue contribution from overseas market (see Figure 3). Furthermore, the acquisition allowed the new MicroPort Orthopedics business unit to become the largest division under the MicroPort Scientific brand and the first to set up a global headquarters outside China. Four years later, a $190MM acquisition of LivaNova's CRM business saw MicroPort expand into the cardiac rhythm management segment and gain a manufacturing facilities and a state-of-art training center in France. These acquisitions abroad gave MicroPort the resources and capabilities, intellectual property, and guidance on foreign market regulatory process, to position the company for the next stage of globalization by building capabilities from within. Most recently, MicroPort announced plans to build a new Americas headquarters in California that will house an innovation center and manufacturing facility, which are all part of the company's long-term strategy for international growth.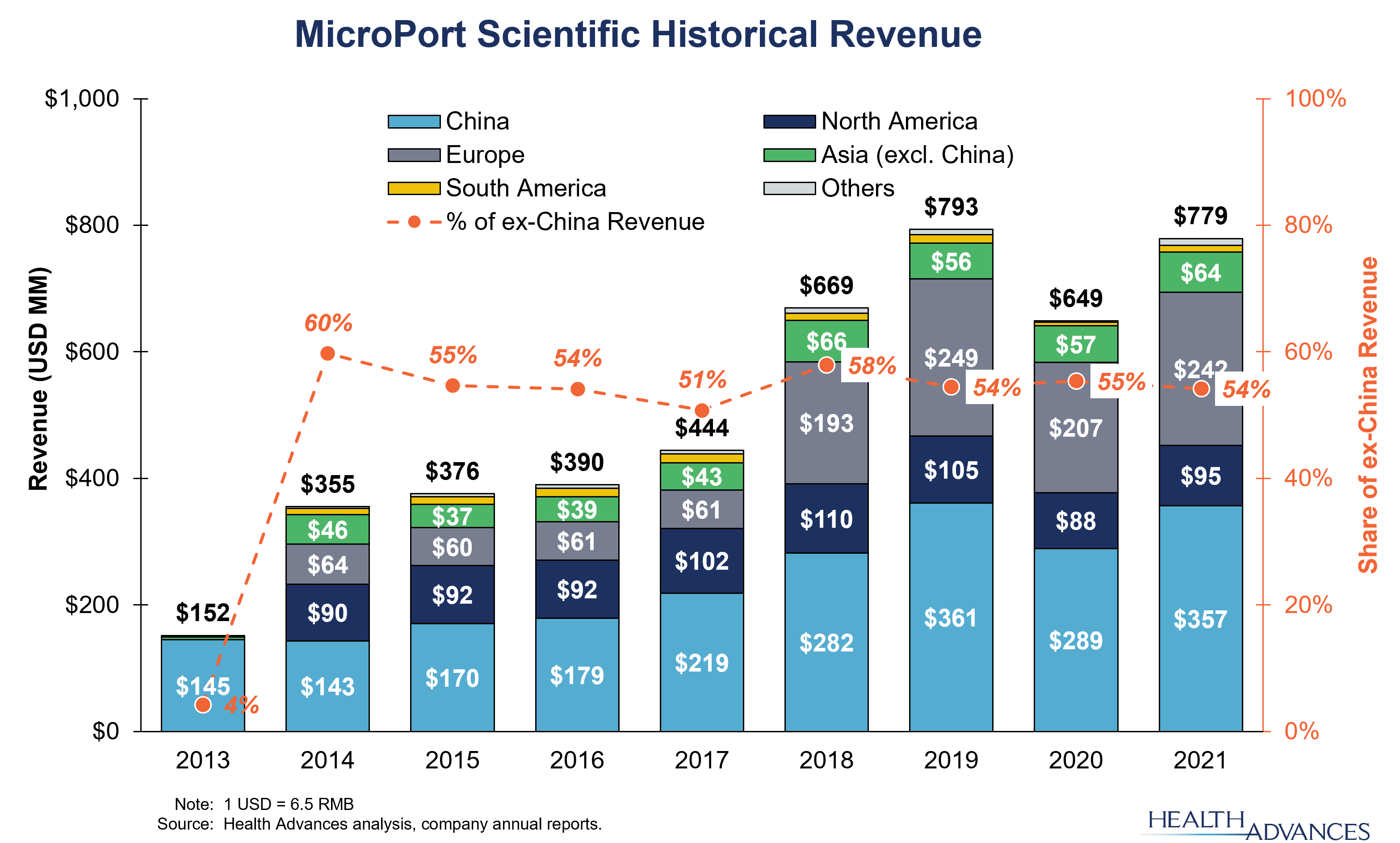 In contrast to MicroPort's global expansion approach to grow and diversify into new therapeutic areas, Venus Medtech, a leading domestic transcatheter heart valve player, made overseas acquisitions to expand the product portfolio in their core cardiology business. The acquisition of two Israel-based companies, Keystone Heart in 2018 and Cardiovalve in 2021, helped strengthen Venus Medtech's product offering in transcatheter aortic and mitral valve procedures, and build the company's presence in Europe and the US. Furthermore, these acquisitions provided the company with commercialization capabilities to introduce their broader product portfolio and continue clinical trial programs. Earlier this year, Venus MedTech's in-house developed transcatheter pulmonic valve replacement (TPVR) system, VenusP-Valve, became not only the first Chinese-made artificial heart valve approved in Europe, but also the first Class III implantable cardiovascular device approved under the new Medical Device Regulation (MDR). Following the successful entry into the European market, Venus Medtech reached another milestone when the VenusP-Valve became the first-ever implantation of a Chinese-developed heart valve product in the US. Although with several TPVR products available in the US market from well-established MedTech players like Medtronic and Edwards Lifesciences, it was Venus Medtech that received FDA approval for compassionate use in selected cases. This validates the clinical value of VenusP-valve and sets a new milestone in the global presence of innovative medical device from China. In the past, no Chinese MedTech company had been successful in developing an innovative product that made it onto the global stage, but Venus Medtech showed that times are changing, and others will look to follow.

Challenges and Roadblocks
While the aforementioned strategies have been proven effective, domestic MedTechs should take precautions against the following regulatory hurdles associated with internationalization efforts:
Patent Infringement: Medical device patent litigations frequently grab headlines as companies fight to protect their technology. Even global medical device leader, Medtronic, could not avoid a lawsuit when it paid more than $1 billion to settle a transcatheter heart valve patent battle with Edwards Lifesciences. Last year, Chinese orthopedic manufacturer, Double Medical Technology, was forced to settle a patent lawsuit with Swiss medical device maker, Synthes, for infringement of a device treating femoral fractures. Previously, respiratory and sleep leader, ResMed, sued Chinese medical device manufacturer, BMC Medical and its US distributor, for patent infringement in the US. With a "copycat" reputation, Chinese MedTech companies will certainly face headwinds when entering the global markets with their products. This challenge is particularly relevant for companies building R&D and commercialization capabilities from within, but less so with acquisitions or strategic partnerships.
Market Authorization: For Chinese MedTech, the domestic National Medical Product Administration (NMPA) approval is the quickest route for market authorization. Upon successful commercialization in the home market, many will begin their overseas expansion with selected Southeast Asia countries that will accept the NMPA approval. The ultimate goal is to obtain CE mark for authorization in Europe or FDA clearance/approval in the US, however those approvals are multiple-step processes requiring additional clinical trials and large investment. For entry into the European markets, Chinese MedTech will need to comply with the new EU MDR with stricter standards in technical review and clinical evaluation, which adds to the higher bar of market entry. Acquisitions allow companies to leverage the foreign target's understanding of the local regulatory and commercial landscape, enabling them to generate revenue quickly, and thus additional capacity for investment in these expansions.
Commercialization: Upon securing overseas market approval, successful commercialization for Chinese MedTech will come with its next set of challenges. Gaining favorable reimbursement and establishing commercial footprints in overseas market takes market access and local sales expertise that Chinese MedTech might lack. Building local commercial teams to drive market adoption, build brand awareness, and compete against incumbent players will require time and significant investment. To scale up overseas revenue, continue clinical trial programs, and expand commercialization endeavors in global markets might be easier said than done. Strategic partnerships and acquisitions certainly help to overcome these challenges, while building capabilities from within is more difficult and requires a sales force deployment strategy.

Conclusion
Chinese MedTech has traditionally be considered a "follower" in the global market. However, in recent years, the global ambition of Chinese players, supported by government initiatives, has helped bring products and companies beyond the domestic market. Strategic partnerships with international players, acquisitions of foreign companies, and building of direct presence in local markets have proven effective strategies. It is important to also acknowledge the associated regulatory and commercial risks, and tailor the internationalization strategy to the Company's goals and to ensure a fruitful global expansion. Health Advances believes that Chinese Medtech companies will continue building capabilities and innovations to position themselves as a contender in the global MedTech arena and is expert at evaluating strategic options for global expansion.
###
Andrew Li is an Analyst based in the Hong Kong office with experience in market assessment and due diligence projects across the biopharma, MedTech, and diagnostics sectors.
Vikki Leung is a Consultant based in the Hong Kong office, and works with clients and investors in the medical devices, biopharma, and diagnostics industries; Vikki supports the office in China business development.
Gary Cheng is a Vice President based in the Hong Kong office and leads Health Advances' APAC practice.