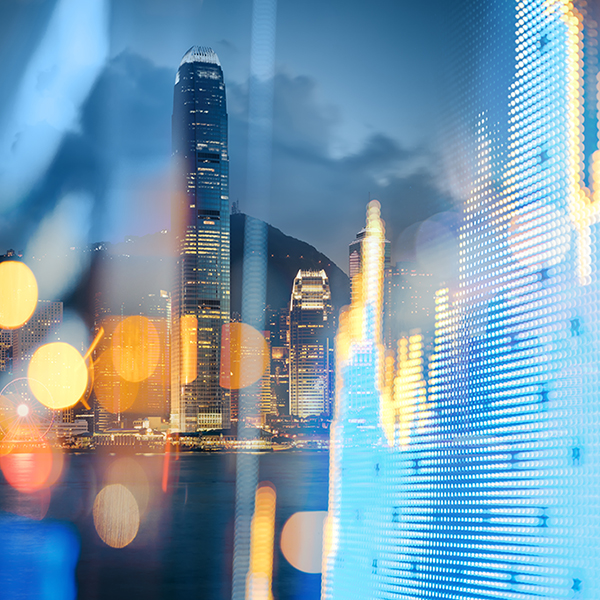 Blog | 1/13/2023
Reflections on BIOHK2022: Asia Biotech Market and the 2023 Outlook
By Susie Jin, Andrew Li, and Gary Cheng
In December, BIOHK2022, the hallmark event of the year for biotech industries in the Greater Bay Area, attracted more than 10,000 industry leaders and practitioners to meet in person and discuss the future of healthcare. Among the spectrum of hot topics discussed, a few key takeaways emerged from the keynote speeches and plenary sessions.
The Greater Bay Area is well-positioned to cultivate a thriving ecosystem for Asia-based biotechs. Multiple initiatives from the public and private sectors are underway to strengthen cross-border collaboration.
To grow more sustainably and build a global presence, Chinese biotechs are better off investing R&D resources in innovative pathways and indications that generate high clinical value. Me-too and me-better drugs will no longer be the driver of success going forward.
Despite a disappointing year for stock market, IPOs will continue to be a major avenue for Chinese biotechs to raise funds. US, Hong Kong, and Shanghai are popular IPO destinations with pros and cons unique to each market.
Concurring with the points above, Health Advances was pleased to speak at the conference and share our reflections on the 2022 Asia biotech market and the outlook for 2023.

Biotech faced strong headwinds in 2022 in US and China markets
Weak capital markets
2022 was a challenging year for healthcare. Major healthcare indices decreased 30-60% from the peak across NASDAQ, Hong Kong stock exchange, and Shanghai stock exchange. Healthcare stocks tumbled together with the whole market as geo-political uncertainties and US fed rate hikes applied downward pressure on stock prices across the board. In addition, healthcare-specific drivers – the policy announcement by China's Center for Drug Evaluation (CDE), for instance, resulted in a reduction in me-too drugs and cooled the China market further as investors re-evaluated companies' abilities to deliver future earnings.

A tough year for biotech IPOs
After two record-setting years, global biotech IPOs saw a significant deceleration. Due to the weak equity markets and macroeconomic uncertainties, there was a sizeable reduction both in terms of the number of IPOs and the amount of capital raised. Taking NASDAQ as an example, there were only 18 biotech IPOs in 2022 with $1.6 billion raised in total, a sharp contrast to the booming market in 2021 where $14.1 billion was raised from a total of 108 IPOs. Hong Kong stock exchange, a popular destination for Chinese pre-revenue biotech, dropped drastically from the peak of 13 IPOs in 2020 to a mere 3 listings in 2022. (To read more about Hong Kong stock exchange, please refer to our previous blog Hong Kong Exchange: Nurturing China's Biotech Valley) Similar trends can be found in Shanghai STAR market as well.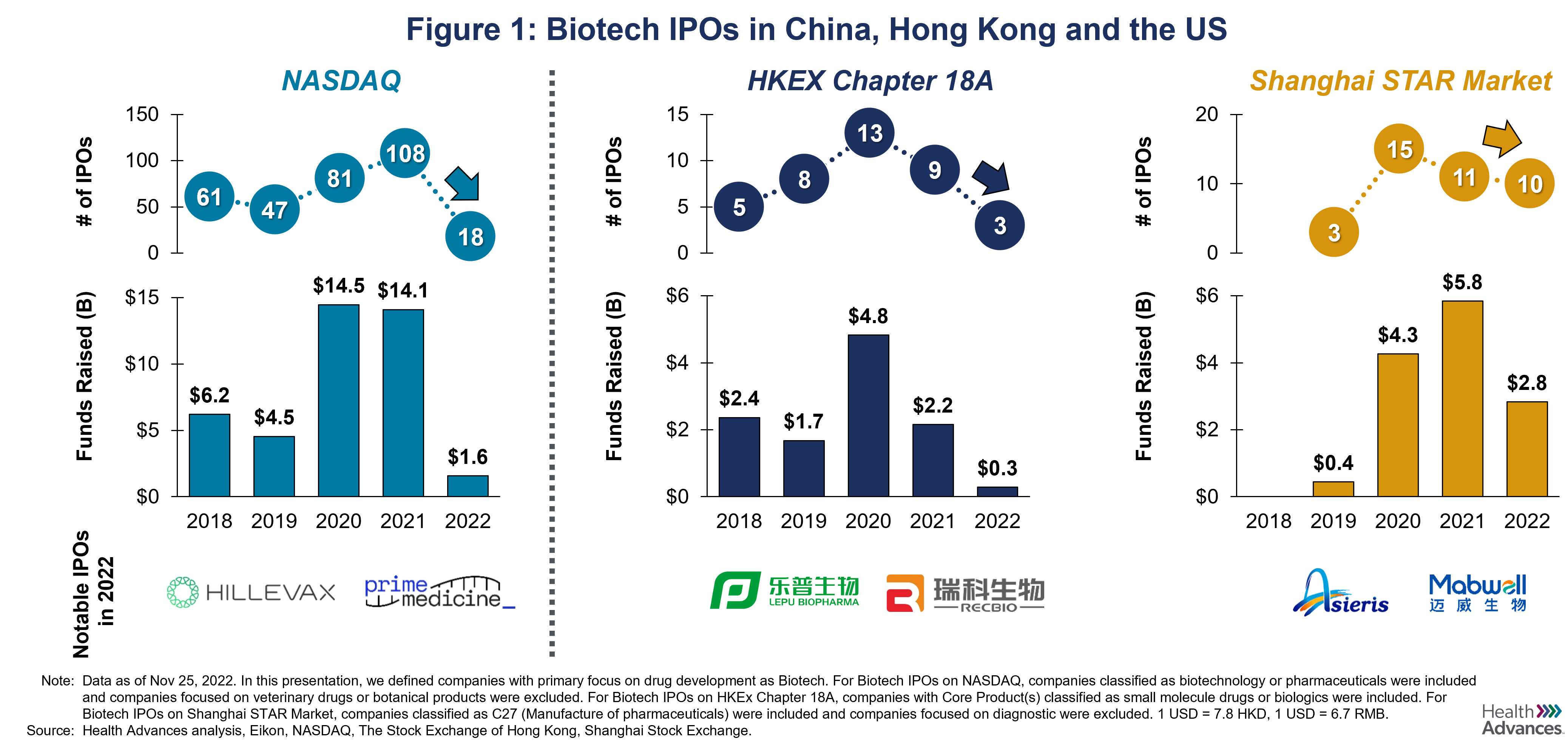 Strategic shifts at Chinese biotech
Facing strong headwinds, Chinese biotechs adopted several strategies to navigate the rough waters.

Shift from fast expansion to strategic hiring
In the last couple of years, Chinese biotechs experienced fast growth in headcount both on the R&D side and the commercialization side. As the economic slowdown put constraints on cash, cutting down expenses and human capital expenditure emerged as a top priority for most companies. Health Advances reviewed the employee data of 30+ HK-listed biotech companies in the past 3 years and found that headcount growth for pre-revenue biotech decreased from 56% to 3% in the past year, reflecting increased pressure on management to preserve cash. Larger biotechs and biopharmas, seen by many as more resilient, also saw a deceleration of headcount expansion from 41% in 2021 to 7% in 2022.

Pipeline adjustment towards true innovation and high clinical value
As budgets tightened, companies had to make tough decisions on pipeline priorities: the safer but lower-return option of me-too drugs, or the riskier but potentially higher-return option of innovative drugs? At a crossroads, most Chinese biotechs chose the latter – increasing the innovation coming from Chinese portfolios.
In the past, we have seen Chinese biotechs chasing the same group of targets, PD(L)-1, CD19, BCMA, just to name a few. The market quickly became extremely crowded and competition shifted from clinical value creation to commercialization tactics. In 2021, CDE released a new set of guidelines that called for a clinical value-oriented approach in cancer drug R&D. Since then, the valuation of biotechs that mainly focused on me-too drugs decreased sharply, and this is one of the contributing factors to a quiet IPO year in 2021.
For long-term and more sustainable success, companies need to rethink their way forward. Some of the fast movers have started shifting their resources away from me-too candidates of low market attractiveness to assets of best-in-class and first-in-class potential. As early as March 2021, Bio-Thera terminated the clinical development of its TROP2 ADC, PD-1 mAb, and HER2 ADC candidates. These are all highly competitive targets among Chinese biotechs. More recently in November 2022, HUTCHMED made an announcement to deprioritize select early-stage assets, focus on late-stage assets, and seek commercialization partners to accelerate the path to profitability.
Health Advances believes that the shifts will help shape a healthier biotech industry geared towards true innovation and high clinical value. Companies that are more agile and strategic in navigating the shifts will ultimately come out stronger on the other side.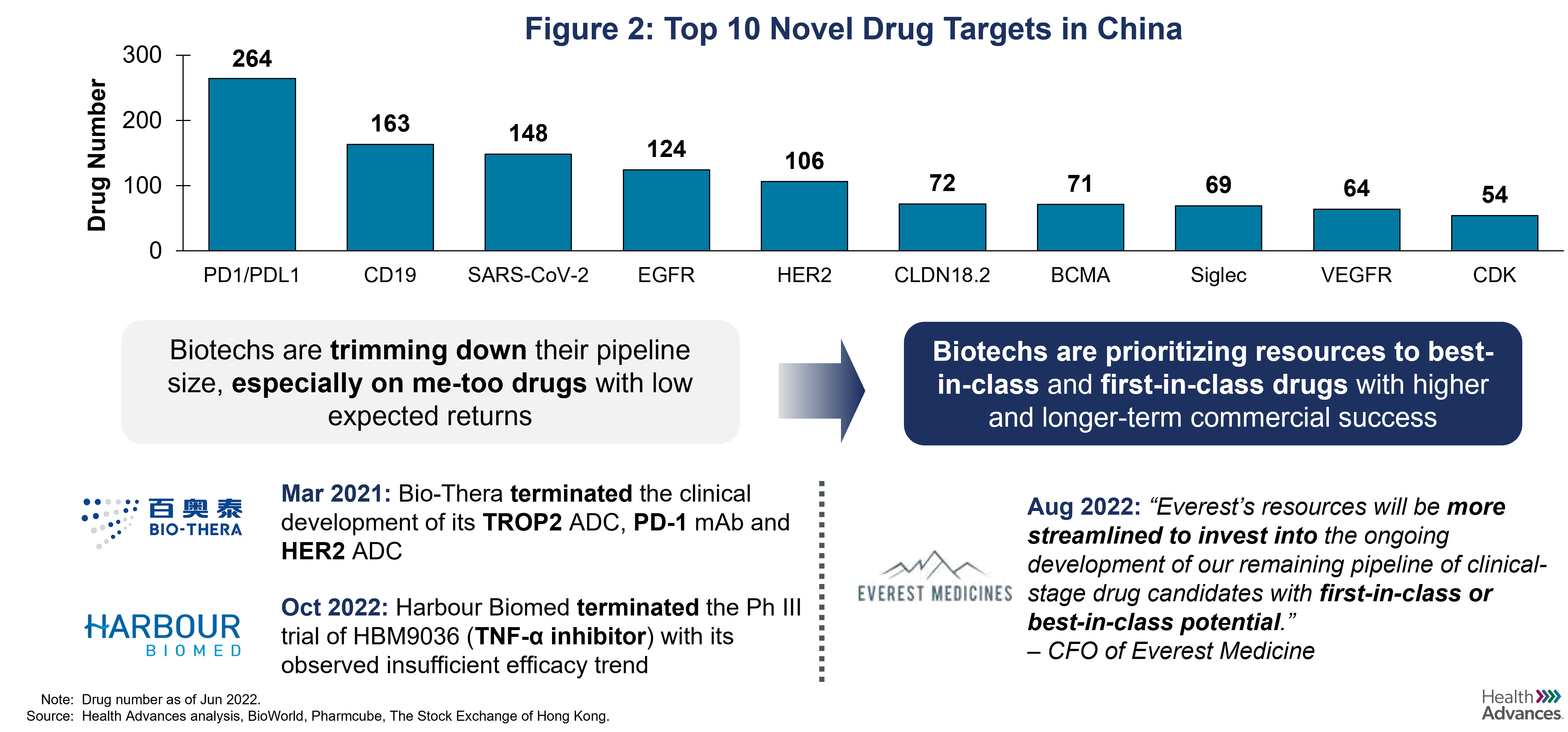 Out-licensing of earlier assets for better liquidity
HUTCHMED is not alone in strategizing out-licensing as a way to generate early cash inflow. In 2022, Chinese biotechs became more active in out-licensing deals. A total of 15 transactions were closed this year, representing growth in out-licensing for the third consecutive year. Taking a closer look at the assets involved, we noticed a clear shift to earlier-stage assets. Out of the 15 deals, 9 assets were pre-clinical, a sharp increase from 4 assets in 2021. The remaining 6 assets were all in various stages of clinical trials – a shift from prior years where launched drugs always took a decent share in the out-licensing deals. The reasons behind the shift could be two-fold. First, by out-licensing earlier-stage assets, companies could focus their own resources on later-stage assets that carry higher certainty of success. Second, companies could use the cash received to fund other business activities of higher priority.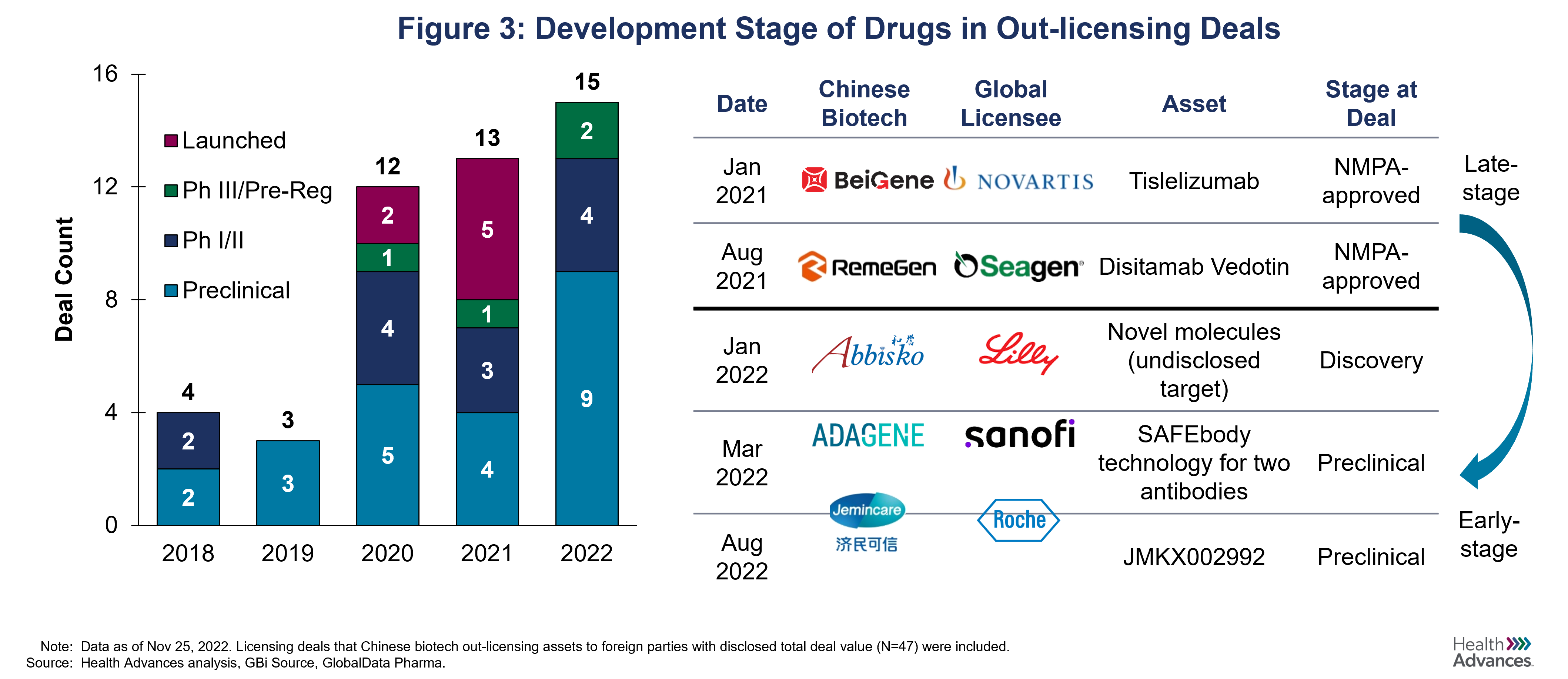 With this shift in mind, it is not surprising to see a decrease in the amount of upfront payments received. In 2022, out-licensing deals generated a median upfront payment of $24 million, representing a 50% decrease from $50 million in 2021. In times of market adversity, companies must make tough trade-offs between value and timing. Management needs to weigh various factors carefully to protect both the short-term liquidity and the long-term health of the business.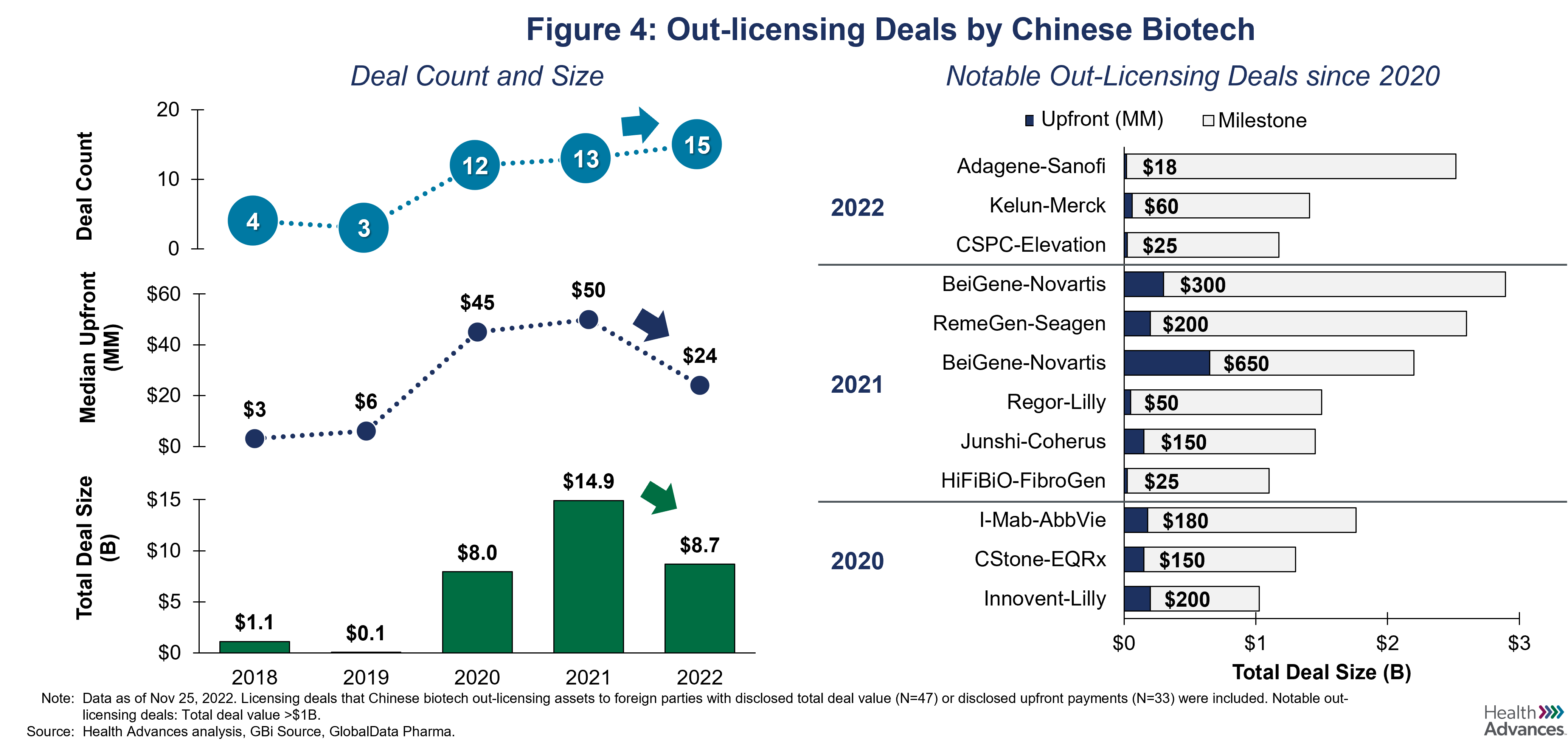 In terms of therapeutic areas, oncology has always been the hottest R&D space among Chinese biotechs. It remains the mainstay of focus in 2022 but, within oncology, emerging modalities such as antibody-drug conjugates (ADC) and cell therapy became more involved in the out-licensing deals. This is also a signal that Chinese biotechs are diversifying their portfolios in an effort to build more sustainable businesses.

The 2023 outlook
Looking ahead, Health Advances believes that 2023 will continue to present a number of challenges for the biotech industry in China. With the lessons learned in 2022, Chinese biotech and biopharma will be more ready to tackle issues and shift gears to prepare for the next phase of growth.
The uncertainties in recession and geo-political instability remain in 2023. Investors may still be cautious and hesitant to bet on investments of higher risk. The recent easing of zero-COVID policy in China is a positive for capital markets but the effect on fundraising for biotechs remains unclear. On the brighter side, we have seen the healthcare indices recovering lately as investors regain confidence in the stock markets.
We will continue to see an evolution of Chinese biotechs from me-toos and me-betters to R&D of more innovative and differentiated products.
Chinese biotech and biopharma with the ambition to globalize are expected to become more proactive in hiring global talents. We are likely to see more foreign nationals or Chinese returnees with highly sought-after R&D and commercial expertise joining Chinese companies.
We predict that the rising trend of out-licensing will continue into the near future. Apart from the reasons mentioned previously, out-licensing deals involving global Big Pharma also serve to validate innovations coming from Chinese biotechs. A recent case in point – Merck and Kelun-Biotech entered into an exclusive license and collaboration agreement in December 2022 to develop seven investigational antibody-drug conjugates for the treatment of cancer. Under the agreement, Merck is granted exclusive global licenses while Kelun-Biotech retains the rights in mainland China, Hong Kong and Macau.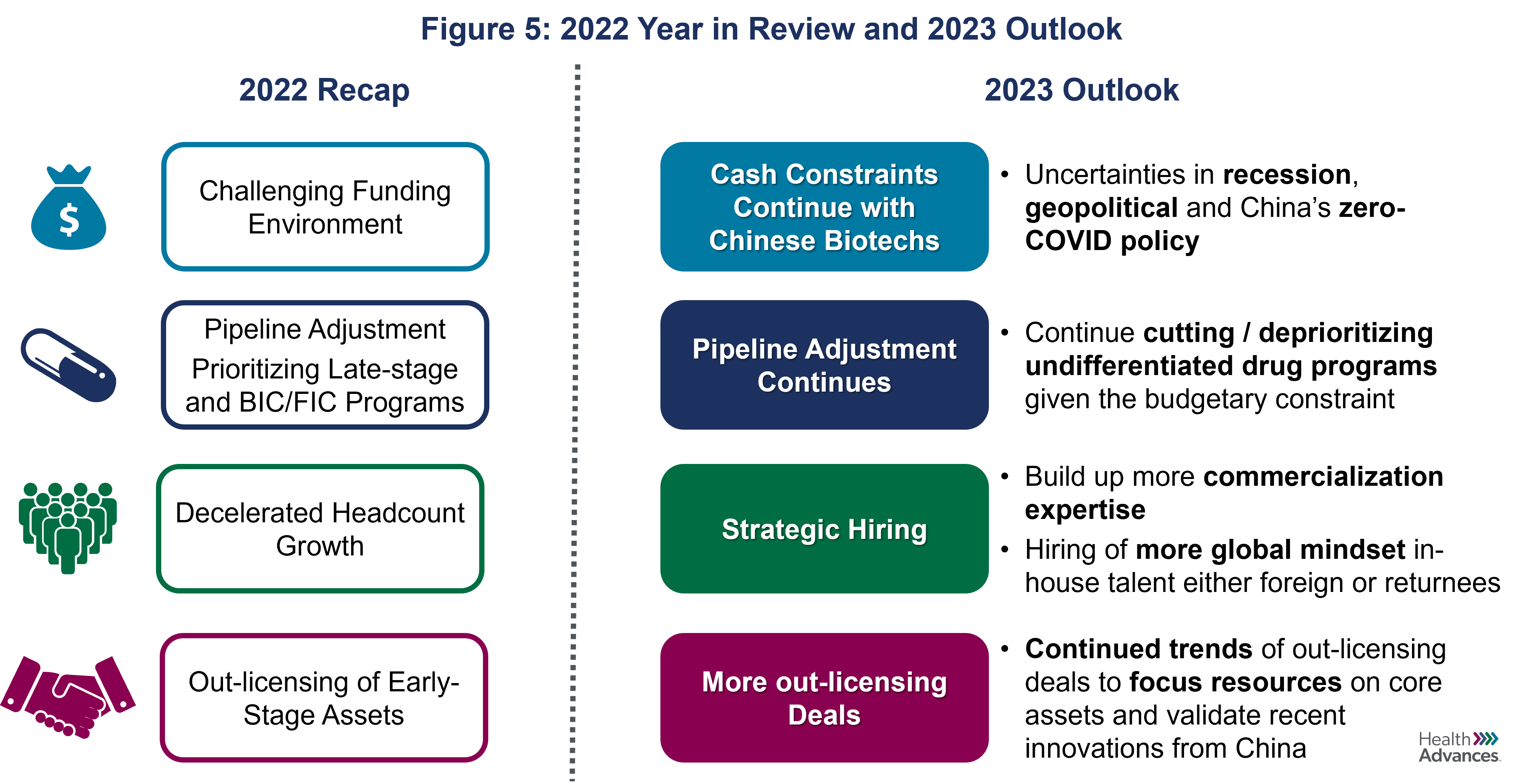 ###
Susie Jin is a Consultant based in the Hong Kong office, and works with clients in the medical devices and biopharma industries; Susie supports the office in China business development.
Andrew Li is an Analyst based in the Hong Kong office with experience in market assessment and due diligence projects across the biopharma, MedTech, and diagnostics sectors.
Gary Cheng is a Vice President based in the Hong Kong office and leads Health Advances' APAC practice.