Blog | 11/13/2017
Who's Really First in FDA Cleared Digital Therapeutics?
By Nick Haluck, Director at Health Advances It has been an exciting couple of months for digital therapeutics.
In September, Pear Therapeutics created enormous buzz when the FDA cleared its reSET program for the treatment of patients with substance use disorder. Pear proclaimed that this was the first ever FDA clearance for a digital therapeutic for disease treatment. reSET combines patient-facing mobile assessments and interventions with clinician-facing analytics and dashboards. The 12-week program is used in conjunction with standard outpatient treatment related to stimulants, cannabis, cocaine, and alcohol. The company also just received Expedited Access Pathway designation from the FDA for a version of the program to treat opioid use disorder.
More recently on November 13, the FDA approved Otsuka's Abilify MyCite, which incorporates Proteus' ingestion sensor into a drug for treating schizophrenia, bipolar disorder, and depression. Proteus and Otsuka jointly publicized Abilify MyCite as the first FDA approval of a digital medicine system[i].
These landmarks are undoubtedly transformational in the field of digital health, but with so many announcements of FDA approvals and clearances over the past few years, some are raising questions about what's really first. For example, some wondered whether Pear was really the first FDA-approved digital therapeutic when it was cleared in September[ii].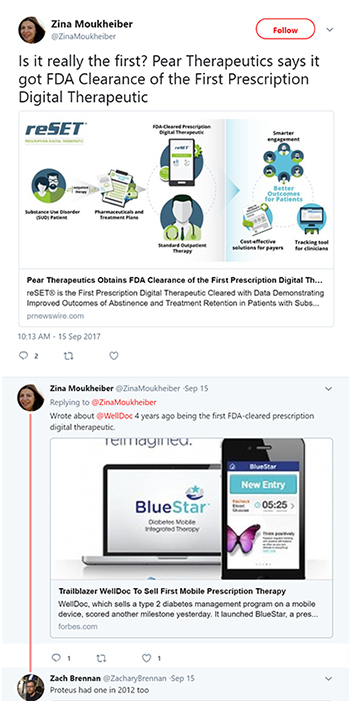 WellDoc received FDA clearance of a non-prescription version of its BlueStar diabetes management system in January 2017[iii], with FDA clearances for earlier prescription-only versions of the platform dating back as far as 2010[iv]. Similarly, Proteus has received a string of FDA clearances for its ingestible sensor starting in 2012[v].
So, who was first? The answer, as often is the case, comes down to definitions.
To understand, it helps to take a closer look at the regulatory pathways, submitted evidence, and indication claims of these three examples (table below)[vi]. While WellDoc and Proteus claim to aid in medication adherence and self-management in their respective indications for use, they stop short of claiming therapeutic benefit. In fact, Otsuka's labeling for Abilify MyCite makes it clear that the system's ability to improve patient compliance or modify aripiprazole dosage has not been established[vii].
Pear Therapeutics clearly stands out with claims around therapeutic benefit in substance use disorder, all supported by the clinical trial results included as part of its FDA submission package. This is not to say that WellDoc and Proteus haven't made significant investments in clinical validation of their platforms, but by including the clinical data as part of FDA review, Pear has more leeway to include the therapeutic claims in its FDA-cleared indication for use and associated marketing.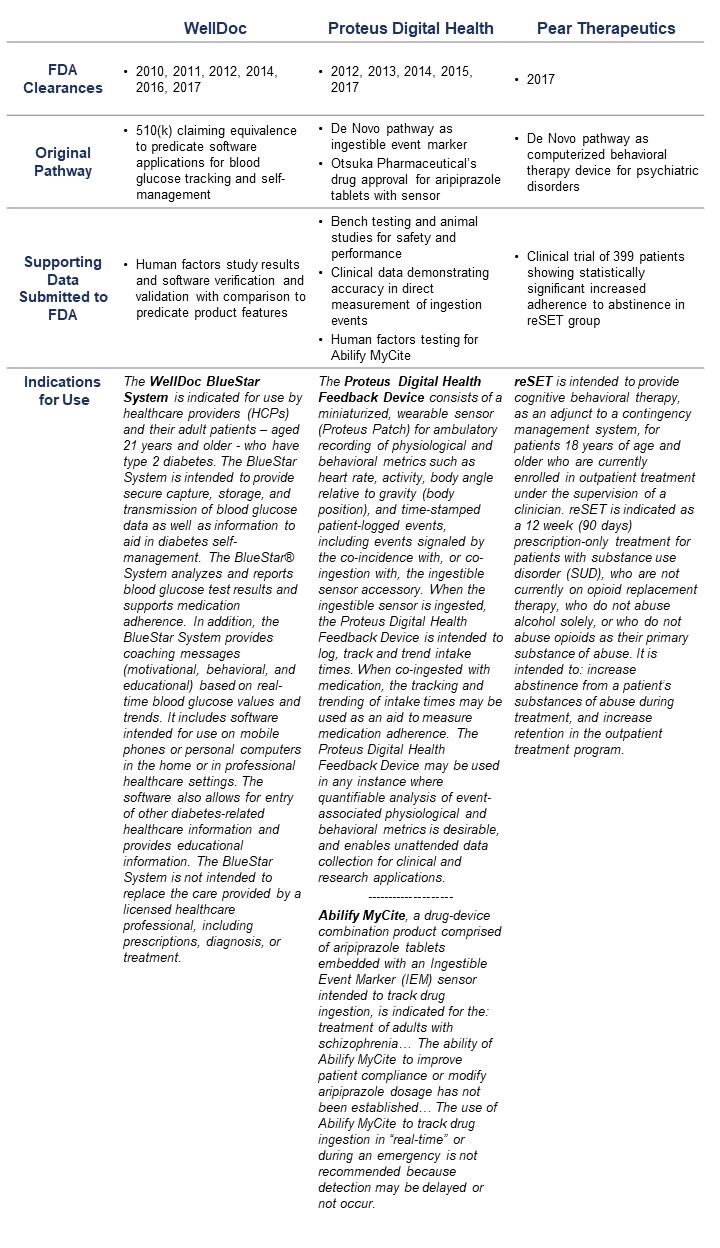 The verdict: being first depends on how one defines the category. In terms of prescribed software applications with FDA clearance for indications claiming specific therapeutic benefits supported by clinical trial results, Pear Therapeutics can proudly claim to be first. Likewise, in terms of FDA approval for prescribed medicines that embed a digital component to track ingestion over time, Proteus and Otsuka take the prize. Whether or not therapeutic claims are making it into FDA-cleared indications for use, digital therapeutics are increasingly demonstrating benefits to patients and healthcare systems, as evidence from Propeller Health, WellDoc, Pear Therapeutics, Omada Health, and others continues to mount.
Looking to the future, we are excited and encouraged by the creation of the Digital Therapeutics Alliance by several industry-leading digital therapeutics companies to promote clinical evidence generation and pilots, create standards and frameworks, and develop shared data repositories[viii].
About Health Advances' Digital Health Practice:
Health Advances is a leading strategy consulting firm focused exclusively on commercial and product development strategy for healthcare technology. Our Digital Health Practice is an industry leader in working with digital health and life sciences companies on critical strategic questions related to business model, adoption strategy, evidence generation strategy, market access and reimbursement, business development and partnerships, product features and roadmaps, and other areas.
For more information, please contact Nick Haluck, Director (nhaluck@healthadvances.com) or Andrew Matzkin, Partner (amatzkin@healthadvances.com).
---
References [i] https://www.prnewswire.com/news-releases/otsuka-and-proteus-announce-the-first-us-fda-approval-of-a-digital-medicine-system-abilify-mycite-aripiprazole-tablets-with-sensor-300555280.html [ii] https://twitter.com/ZinaMoukheiber/status/908740485732110336 [iii] https://www.welldoc.com/images/uploads/WellDoc_510K_Clearance_1.19.17.pdf [iv] http://www.businesswire.com/news/home/20100802005216/en/FDA-Clears-WellDoc%C2%AE-DiabetesManager%C2%AE-System#.VVZSVZNViko [v] http://www.proteus.com/press-releases/proteus-digital-health-announces-fda-clearance-of-ingestible-sensor-2/ [vi] https://www.accessdata.fda.gov/scripts/cdrh/cfdocs/cfPMN/pmn.cfm, https://www.accessdata.fda.gov/scripts/cdrh/cfdocs/cfPMN/denovo.cfm [vii] https://www.accessdata.fda.gov/drugsatfda_docs/label/2017/207202lbl.pdf [viii] http://www.mobihealthnews.com/content/digital-therapeutics-startups-band-together-form-new-industry-group