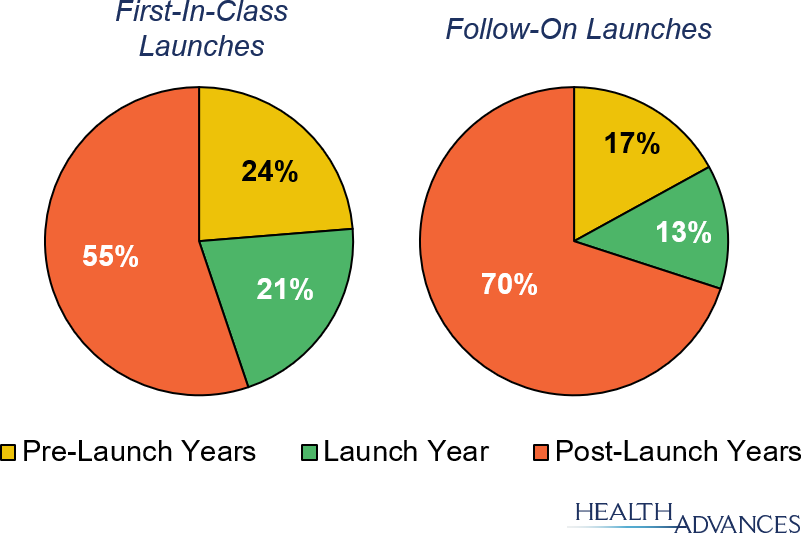 Blog | 5/12/2020
Launch Costs—Spend Wisely: Analysis by Order of Entry
By Dean Giovanniello, Vice President
Whether first-in-class or follow-on, launching a drug is a high-stakes and high-cost endeavor, costing between $475MM and $830MM in the years immediately preceding and following launch. Despite the scale of that investment, companies inevitably find that they must make difficult choices in where, when, and how they invest.
In our most recent white paper, Launch Costs—Spend Wisely: First-In-Class and Follow-On Launch Cost Analysis we assessed costs pre-launch, in launch year, and immediately following launch for both first-in-class and follow-on drugs. It is our view that good financial plans are determined by the strategic priorities, in which trade-offs must be made. Order of entry is one significant variable that illustrates the importance of strategic investment and financial planning.
Figure 1: Average Distribution of Launch Spend
Source: Health Advances analysis, analog companies' 10-Ks, and materials.
On average, first-in-class drug launches focus heavily on market-building activities prior to and during the launch year, investing 45% of their total launch spending on activities such as disease awareness campaigns, continuing medical education, and ensuring payer acceptance. This is significantly more than the 30% pre-launch and launch year investment that is generally seen in follow-on launches, where the majority of total spending goes to post-launch promotional activities, such as large sales teams to gain a competitive edge against others in the market (see Figure 1).
However, all launches are unique, and there are other variables that will affect launch strategy, such as the intensity of competition and the physician callpoints. Thus, launch planning is a comprehensive exercise that requires careful consideration of the market and competitive environment to support a thoughtful and focused strategy for realistic resource allocation.
###
About the Author
Dean Giovanniello, RPh., is a Vice President based in Health Advances Newton office. He is a co-leader of the Health Advances Biopharma Launch Excellence practice, and he focuses on launch and brand strategy, business development, including partnering, licensing and M&A strategy, commercial due diligence, market assessments, forecasting and financial modeling. For further discussion of these topics, contact him at dgiovanniello@healthadvances.com.
About Health Advances Biopharma Launch Excellence Practice
The Biopharma Launch Excellence Practice at Health Advances has unique capabilities to provide launch strategy and planning services founded on actionable, nuanced market insights and flexible launch planning solutions.
For more information, please visit http://www.healthadvances.com/launch-excellence.
Health Advances Biopharma Thought Leadership
We are active industry participants committed to providing detailed perspectives and insights on key topics of interest within biopharma. Following is a sample of relevant content authored by our team: