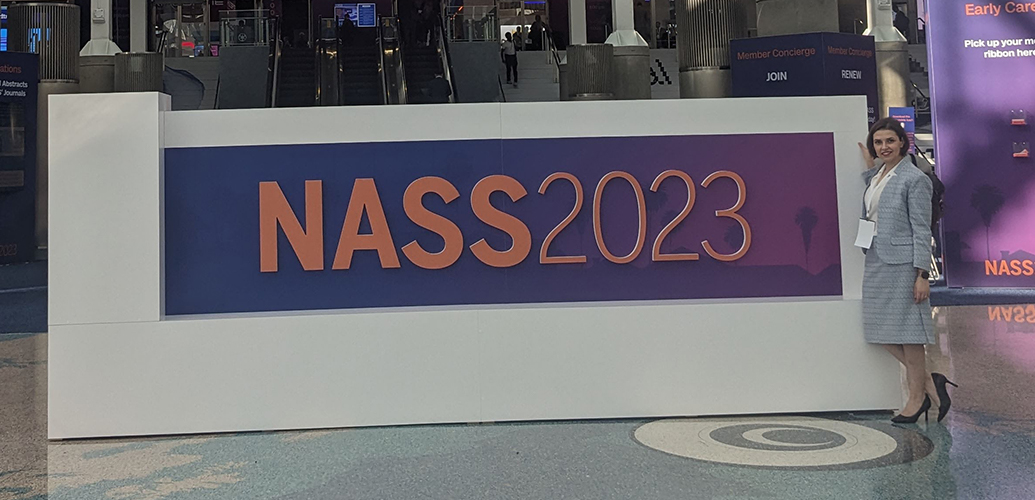 Blog | 11/20/2023
NASS 2023: Innovation Resurgence
You may have heard chatter about NASS this year – maybe you heard that there were fewer surgeons than in pre-COVID years. "Is this the slow death of large society meetings?", some were wondering. That is not what I saw this year though. Despite the challenging COVID years and the industry shake-ups (more about that later), the spine industry brought more innovation to showcase than in several years past. While many of the products on the floor weren't first time exhibitors, per se – the technologies are entering a mainstream moment. And while it may be true that physicians have started to choose smaller, sub-specialized and regional meetings to engage with their closest peers – there is still no better stage to get a 360 degree view of spine technology than NASS.

Motion Preservation's Moment
"Ok – wait a minute Masha," you might be thinking – "motion preservation is not new!" You are right! In fact, during NASS week, I had the pleasure of attending ZimVie's celebration of "10 years of Mobi-C" but the reality is that the first surgery, performed in France, with the prototype disc was done in 2004, which happens to be the same year DePuy launched the ill-fated Charite lumbar disc. So what is new?
After nearly two decades shying away from motion preservation in the lumbar spine, despite growing evidence and adoption in the cervical spine, new approaches and products are finally hitting the market. Many with the validation to support their use. In cervical spine, several manufacturers of cervical total disc replacements (TDR) have now shown superiority to ACDF in select patients, including most recently, Nuvasive (Globus) Simplify Cervical Disc. Now Premia with their TOPS Posterior Arthroplasty device gets to boast a similar claim. As part of their PMA approval, they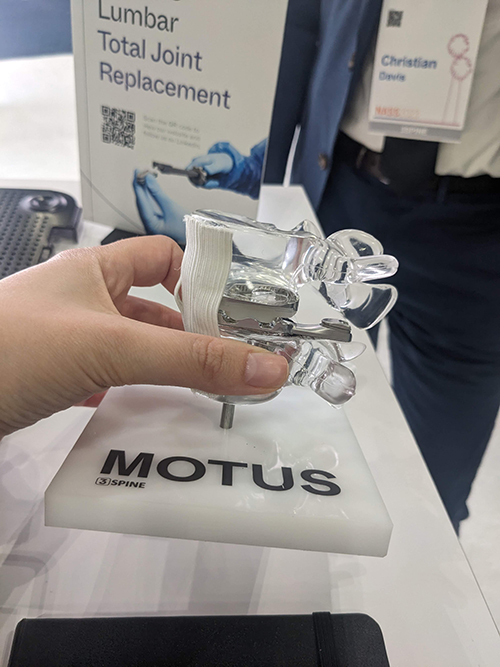 demonstrated that at two-years post-op the TOPS system outperforms fusion – TOPS is the first lumbar device to receive a superiority claim. The path was not quick or easy. Development for TOPS first started in 2003 and Premia was established in 2011. This demonstrated the long road, tenacity, and investment in clinical data necessary to bring innovative technologies to market.
Other players are hoping to capitalize on excitement for lumbar motion preservation, including Empirical Spine's LimiFlex Dynamic Sagittal Tether, which recently demonstrated a shorter stay and earlier return to work vs TLIF. Another company making a big splash despite early stages of clinical development, is 3 Spine, touting "Total Joint Replacement for the Lumbar Spine". The posterior approach (as opposed to traditional anterior for L-TDR) allows for direct decompression to address stenosis. Meanwhile the prosthesis replicates the function of both the disc and facet joints. The company has completed several pilot studies and is now recruiting a pivotal IDE.
While certain candidates for fusion will continue to exist, I am excited to see a near future horizon where a spectrum of options is available to diverse patients suffering from different lower back degenerative issues – a spectrum that will include both biologics, other injectables, motion preservation implants, and finally fusion.

The Growing Interplay Between Interventional Spine and Spine Surgery
Did you say injectables? Isn't NASS a "metals" conference? This was one of the most exciting moments for me personally. If you follow any of my writing, you may have read my article earlier this year in MedTech Strategist about the Growth of Interventional Spine and What it Means for Traditional Spine Surgery. This was the first year that I truly saw the companies who are looking to target interventionalists, also engage the NASS audience – and that's critical! We need to build a bridge between these specialties to ensure that patients are getting the right care at the right point in their care continuum. Newcomers SpinaFx (targeting disc herniation), Lenoss Medical (treating vertebral compression fractures), DiscGenics (cell therapy for DDD), and existing players like Spinal Simplicity (minimally invasive spinal stenosis implants), Relievant (now Boston Scientific, treating vertebrogenic pain with vertebral nerve ablation) mixed and mingled with the spine surgeons who may be users, but also key referrers for these treatments. We earlier made mention of the long road for Premia – we would be remiss not to mention the similarly hard and exceptional work the Relievant team has done to get to their "big moment". By growing the toolbox of solutions, we can also address a larger swath of patients who are not getting adequate care for their back and neck pain today.

Endoscopic Surgery Becoming Mainstream
The appeal for minimally invasive procedures both to delay fusion – as evidenced by increasing innovation for the interventionalist, and as part of fusion, has never been greater. Again – Endoscopic surgery is not new, but its adoption in the US has been very limited until recently. Prior to COVID very few US surgeons had even heard of it, while it was widely adopted overseas, particularly in APAC. Surgery volumes a few years ago, based on prior research, was well below 10,000 procedures annually.
A steep learning curve and longer procedure times, particularly while learning to operate endoscopically, was a major hurdle. Some even posited that it may take a whole generation of surgeon trainees until endoscopy in spine took off. But this year at NASS, and as we follow the industry, its looking as if it might not take that long. Mainstream spine surgeons are recognizing the value to their patients of reduced morbidity and are seeking out training at higher rates than before.
Not only were there more endoscopy player booths – companies like Elliquence, Joimax, RIWOspine, Maxmore. There was more foot traffic at their booths too. Spineology, maker of the OptiMesh implant – a small mesh pouch filled with graft material that can be delivered through a small tube and expands in-situ, is uniquely poised to capitalize on this enthusiasm. Reps at the booth mentioned they saw more physicians eager for their product than ever before. Another sign that endoscopic spine is not just a niche – arthoscopy and sports med giant, Arthrex, made an entrance into the spine space, leveraging their decades of expertise and market leadership in visualization into the spine industry. It remains to be seen whether their orthopedics brand recognition will carry them in spine. Growth in endoscopic spine is a place to watch.

Innovation in Navigation
At a panel I recently attended, someone equated using navigation in spine like using GPS – few people drive regularly without it. Others argue that its unwise from a litigation standpoint to not use it if its available to you. Still, our own research suggests use in posterior/lateral approaches has not even reached a majority of procedures. Fundamentally, navigation helps track the tools that a surgeon uses relative to anatomic structures on imaging, and ideally in real-time. But some innovating in the world of navigation argue that traditional navigation is actually like using a map, or maybe it's more like the nav system built into my 2013 Toyota Camry (don't make fun of me, I love my car) – it is not real-time and it does not take into consideration what is around you.
Well, some new entrants are angling to be the "Waze" of surgical navigation. This is different than the innovation of the last 3-5 years that has seen navigation integrate into either robotics (e.g. Excelsius3D from Globus, or eCentinal) or the use of heads-up displays incorporating navigation into an AR user interface (like Novarad or Medacta's NextAR). (For a primer on Navigation and AR see my colleague Brandon's MedTech Strategist article here).
VUZE medical, coincidentally from the birthplace of Waze, is one of these companies. VUZE uses its software algorithm (and regular computer monitor) to overlay 2D images from an intra-op C-arm onto a standard pre-op CT, allowing the surgeon to navigate the case in real time without cameras, markers, reference points or tool modification. The navigated images can be compared to the plan on a 3D scan but without registration. The simplicity of the required equipment is one of the system's draws.
Another novel player in this space, also hailing from "startup nation", is Pathkeeper Surgical. Similar to 7D Surgical, which was acquired by SeaSpine in 2021 for >$100MM), Pathkeeper's technology takes a unique approach, requiring no radiation or intraoperative scans, relying on a light array. The system can instantly provide 3D optical updates on instrument tracking and registration of patient anatomy within seconds. Spine surgeons have some of the highest rates of malignancy among all clinicians, which makes this system all the more attractive. Just this week, PathKeeper announced their first surgery in the US.
My OSET blog last month made mention of another newcomer in this space looking to offer a "simple" alternative in the navigation world – Bolt Navigation. Bolt is a handheld nav system that requires fewer steps for registration and less capital equipment.
Whether the surgeon and OR's priority is to reduce space in the OR, reduce time in the OR, or reduce radiation, there are options to address all of these needs. With new navigation technologies, in addition to the rising availability of mixed reality and robotics, we are eager to see how the penetration of computer assisted surgery changes. Stay tuned for an update on navigation penetration from my colleagues Brandon Wade and Ally Ostrow on this very topic in the coming weeks.

Additive Manufacturing
Additive manufacturing has become table stakes and an essential part of the spine ecosystem for the last roughly five years. Most surgeons can universally agree the bone ingrowth into highly porous additively manufactured titanium surfaces is better than into traditional PEEK or solid Ti, and additive allows for the creation of structures that we could not create before – namely lattices. None of this is news.
But additive manufacturing is pushing beyond off-the-shelf titanium cages to even more applications across spine. Many have followed, with excitement, the move to personalization in spine – with Carlsmed – demonstrating their 3D printed interbody cages for deformity, and now degenerative spine, correction. After gaining Breakthrough Device Designation, CMS recognized the value of the aprevo devices by granting it the highest NTAP (new technology add on payment) ever. Carlsmed is also working on amassing a body of evidence to show improved outcomes through its COMPaSS registry study. Some booths are touting additive capabilities for instrument manufacturing and furthermore, innovation lies in materials too.
Curiteva is a startup firm which was recently granted its first clearance for a 3D printed porous PEEK interbody device. In a world that has rapidly converted away from PEEK to 3DP Ti, what could be exciting about porous PEEK? What if you could combine the outstanding bone ingrowth properties of 3DP (Ti), with the modulus of PEEK…and therefore, bone…and be radiolucent? Isn't that the holy grail of IBD constructs, kind of like bone itself? That is what Curiteva purports to be. As they say, the proof is in the pudding, but the pudding is worth looking at…

What is Everyone Talking About?
There have been more shakeups in spine that we can count this year – so I think the only thing we can count on is that we can't count on anything. I haven't yet made mention of the industry changing M&A that has happened in the last year – namely the combination of major spine players Globus and Nuvasive, and also the merger of mid-size spine/ortho players Seaspine and Orthofix.
Additionally, in a shocking bankruptcy, Surgalign (formerly RTI surgical) sold its assets for pennies on the dollar to Xtant Medical (with its AR Holosurgical product going to Augmedics). Xtant is now also in the motion preservation game with the well-studied Coflex product, which Surgalign/RTI formerly acquired from Paradigm Spine. Meanwhile, the leadership shakeup at Orthofix-Seaspine has negatively impacted the company's stock performance and competitor, Alphatec, leveraged all the industry movement to bolster its board leadership. Alphatec added former Globus CEO Dave Demski to its board, and former Orthofix-Seaspine CEO Keith Valentine as a special advisor to the board. Among the larger spine players, Alphatec continues to have one of the most innovative portfolios in spine – specifically with the PTP approach and all the products that support and enable it.
Across MSK (and MedTech more broadly) – clients are asking, what is going to be the impact of GLP-1s in orthopedics and spine? The hip and knee leaders Stryker and Zimmer have come out in the last quarter of investor calls to definitively say that they believe GLP-1s will positively, and not negatively, impact the business. This too is my firm belief for both ortho and spine. While obesity is a contributing factor to degenerative conditions like DDD and OA, losing weight will not stop the degenerative cascade happening in patient's bodies. Additionally, most surgeons set strict cut offs for performing surgery such as fusion, typically a BMI above 40, and sometimes even 35. If we are able to migrate patients into a lower BMI with the aid of GLP-1s, we will unlock a patient population previously ineligible for surgery.
I am optimistic that through a combination of new techniques, new pharmaceuticals, and new device technologies, we are better equipped than ever to address the behemoth healthcare problem of back pain.
>>>>>>>>>>
Masha Dumanis is a Vice President at Health Advances with over 12 years of experience in healthcare consulting supporting clients developing commercial strategies with expertise in market assessment, competitive landscape, due diligence, and product and corporate strategy. Masha is the co-leader of the Health Advances MSK Practice and a member of the Digital Health and Health IT, and MedTech Practice leadership teams. Masha also serves as Senior Advisor to the Journal of Orthopaedic Experience and Innovation.
​​