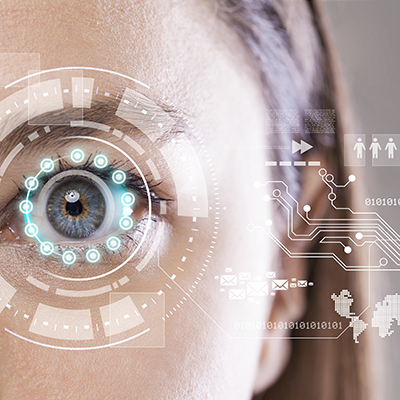 Blog | 4/11/2019
The Opportunity for Real-World Data and Evidence in Ophthalmology
By Patrick Symmonds, Engagement Manager
Attendees at this year's American Glaucoma Society meeting seemed to have one question on their minds: "Which is the best MIGS device to use in each of my patients?" With a growing number of micro-stent devices available, glaucoma specialists feel pressure to determine which product is most appropriate for particular patients.
This important question is difficult to answer due to the lack of quality comparative effectiveness studies across MIGS devices. The pivotal clinical trials that led to approval of these devices only offer limited evidence of the efficacy and safety of each device, as illustrated by last summer's recall of the CyPass Micro-Stent. This recall was prompted by safety signals in the COMPASS-XT study, which showed a statistically significant increase in endothelial cell loss.
The inherent limitations in RCTs and the paucity of comparative effectiveness studies are two of the main reasons for rising interest in real-world data and evidence (RWD/RWE) in ophthalmology and other disease areas. Real-world data (RWD) and, when aggregated and analyzed, real-world evidence (RWE) have the potential to provide a much richer clinical picture from which all ophthalmology stakeholders including patients, clinicians, payers, regulators, and industry can benefit, including for decisions about which devices to choose for a given patient plus countless other important questions related to treatment decision-making, regulation, and market access.
RWD and RWE have garnered enormous interest and activity in recent years due to the convergence of several macro trends transforming healthcare. These include an increase in the amount of digitized healthcare data, pressure on the industry to increase productivity and value, improved computing and analytics capabilities, rising costs, and a push toward value-based care. Though these trends are not necessarily specific to ophthalmology, this field is primed to harness the benefits of these trends.
Note: NGS = next-generation sequencing, AI = artificial intelligence. Source: Health Advances interviews and analysis.
As the industry moves forward with utilizing RWD, regulators have reacted to this trend by becoming increasingly open to using RWE and providing guidance on how RWE can support various regulatory applications. The 21st Century Cures Act in 2016 directed the FDA to develop guidelines on how RWE can be used to support regulatory decisions. Following on this directive, the agency issued Guidance on the Use of RWE to Support Regulatory Decisions-Making for Medical Devices in 2017 and a Framework for the RWE Program in 2018. A marquee event in the progression of the FDA's acceptance of RWE was the approval of a label expansion for blinatumomab in adult relapsed/refractory acute lymphoblastic leukemia based on a single-arm Phase II trial compared with an RWE control population. While this example is in oncology, there are similar situations in ophthalmology with refractory or rare disease patient populations that might be able to leverage a similar RWE approach making clinical trials more efficient or even possible in the first place.
RWD/RWE sources in ophthalmology are quickly becoming higher quality and more widely available. These sources span two categories: traditional and emerging.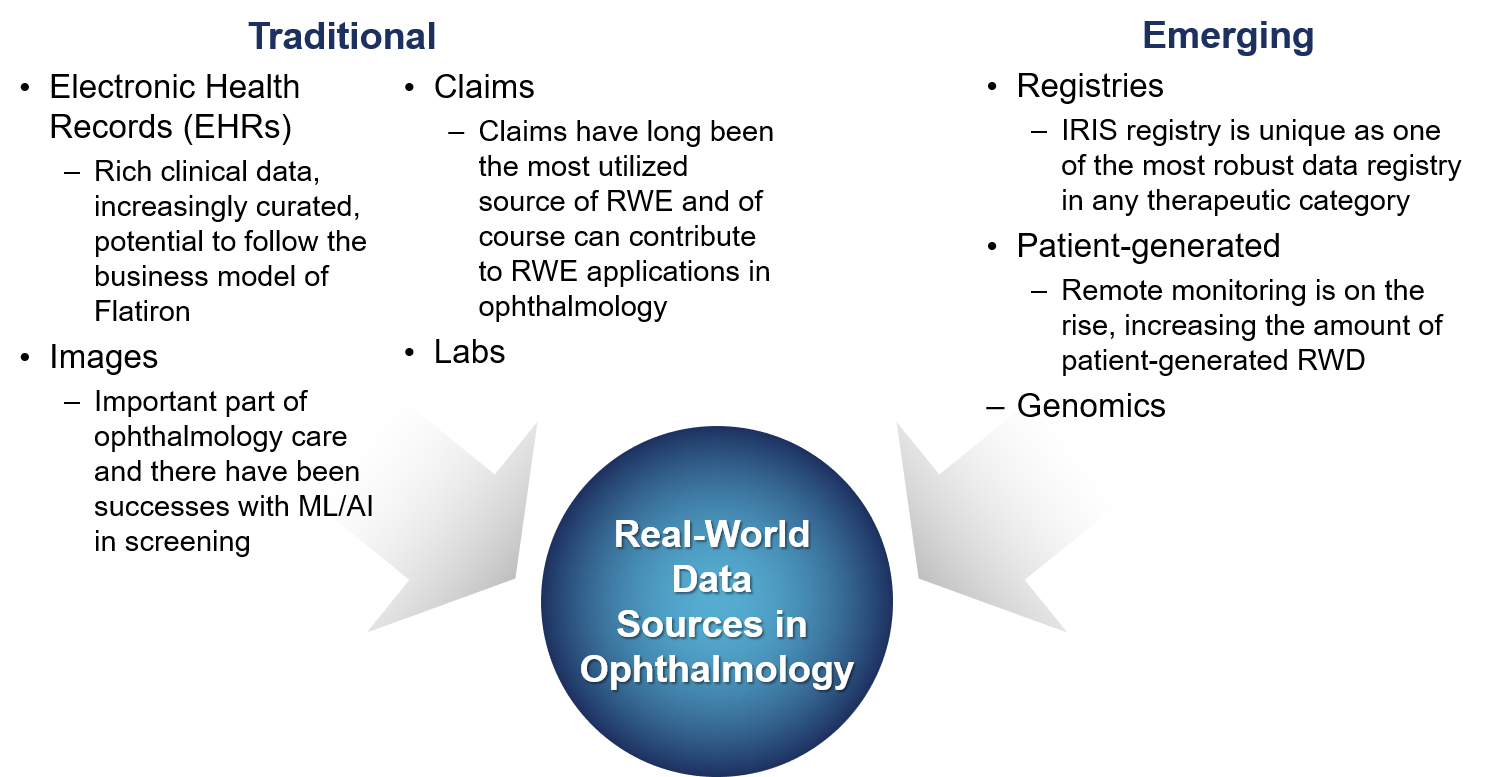 Source: Health Advances interviews and analysis.
Traditional sources of RWD capture data across therapeutic areas and have a number of applications in ophthalmology. Key examples of these types of data sources include electronic health records (EHRs), claims, medical images, and labs.
There are already examples within these traditional categories where RWD/E has been utilized in for ophthalmic purposes. In a headline-making publication from 2016, a team affiliated with Google developed a deep-learning algorithm for diabetic retinopathy screening that was able to screen retinal fundus photographs as well as trained ophthalmologists. There have since been a number of studies validating the potential of deep learning in retinal diseases as well as an FDA approval and commercialization of IDx-DR, an autonomous, AI-based diagnostic system for the detection of diabetic retinopathy. Advanced analytic techniques applied to large, real-world datasets have the potential to create new tools for patient care that can improve outcomes and reduce costs to the healthcare system.
Emerging data types are adding valuable new insights and rapidly expanding what is possible with RWD and RWE in ophthalmology. At this point, most ophthalmologists are familiar with the American Academy of Ophthalmology IRIS® (Intelligent Research in Sight) Registry. The IRIS Registry is the largest single-specialty registry with ~15,000 ophthalmology and optometry clinicians participating, 53MM unique patients, and 232MM encounters as of 2019. Investors understand the value of these large-scale databases and GV (the venture capital arm of Alphabet, the parent company of Google) lead a $30MM investment round into Verana Health (formerly DigiSight), which has a license for commercial applications of the IRIS registry.
Another important emerging data type is patient-generated data, driven by the increasing availability of remote monitoring tools. Within Glaucoma alone, "smart" contact lenses for the continuous monitoring of IOP and home tonometer devices have been approved by the FDA for use in the US. Remote monitoring solutions such as these have the potential to monitor disease progression that can change the course of a patient's condition potentially improving outcomes. Further, the marketers of these diagnostic tools can create a two-sided market to monetize aggregated data that can be highly valuable to other stakeholders in the industry.
Genomics is yet another important emerging data category, especially in oncology but also potentially in ophthalmology. Regeneron, a leading name in ophthalmology therapeutics, has developed the Regeneron Genetic Center (RGC), which is working with partners to create a real-world clinico-genomic database of de-identified health records linked to genomic data with the intent of supporting R&D efforts at Regeneron. Regeneron established the RGC with Geisinger, an integrated delivery network with more than 3MM members, as the anchor partner through the MyCode Community Health Initiative, a program aimed at improving patient care through genetics research. Regeneron has expanded the RGC to other partners, and the company has indicated that this real-world database has become critical to its drug development strategy, with applications across all therapeutic areas. They have identified 40-50 large genetic signals from the studies and a number of new drug targets through this RWD/E initiative.
Between traditional and emerging data sources, there is a wealth of RWD that can be leveraged for a number of applications in ophthalmology. In just looking across the life science company value chain, RWD/E has applications in product development, regulatory approval and post-marketing commitments, commercial efforts, and market access, a number of which, such as the Regeneron Genetic Center, have already been mentioned in this post.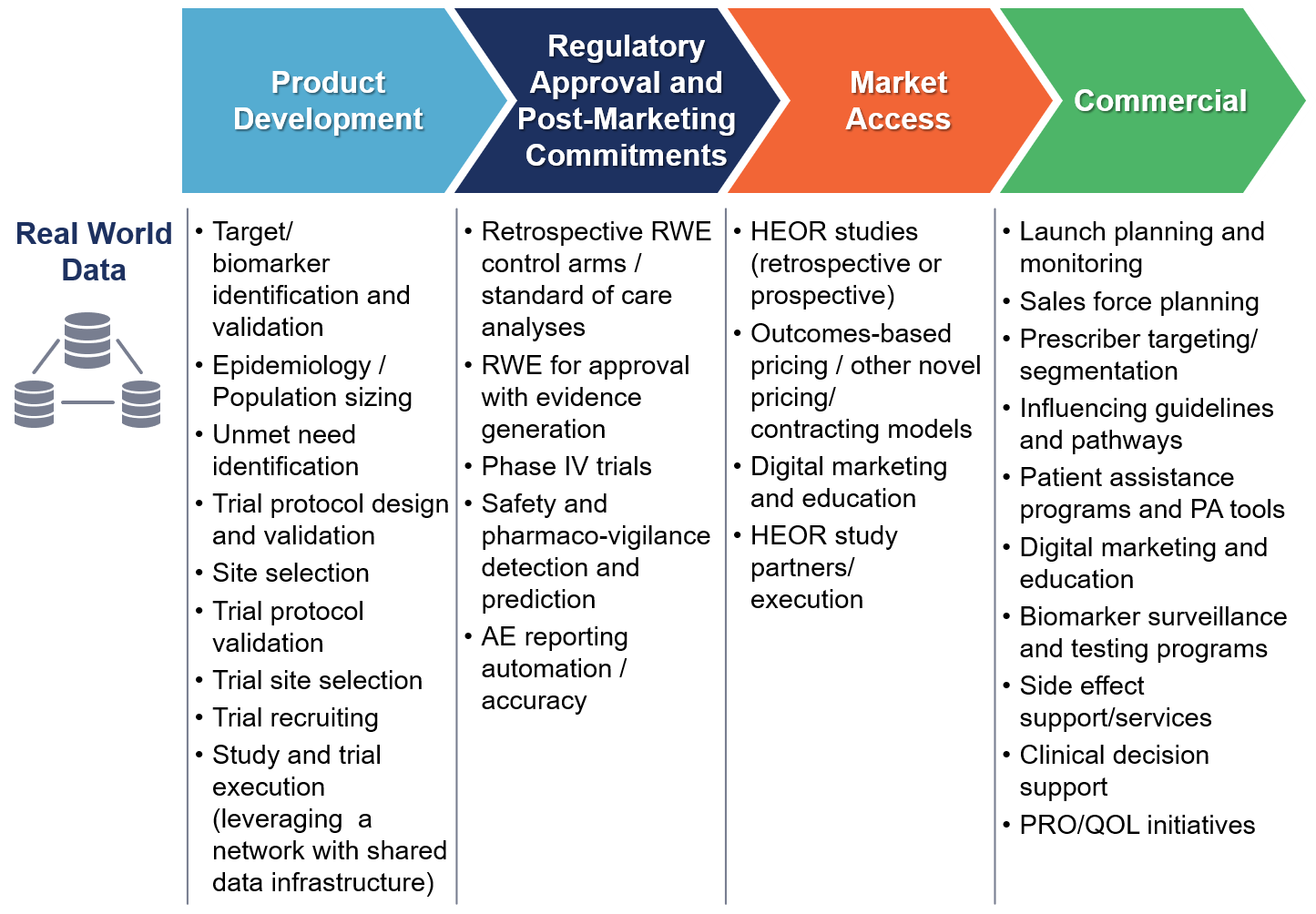 Source: Health Advances interviews and analysis.
A near-term example of RWD applications relevant to ophthalmology is in the administration of value-based contracts. Luxturna was the first FDA-approved gene therapy; it happens to be for a rare, inherited ophthalmic condition; and it also comes with an $850,000 price tag if a patient is treated in both eyes. Many have written on the need for novel payment models, including those based on patient outcomes to support coverage of these transformative therapies. Administration of many of these new payment models will rely on RWD including patient outcomes to assess the impact of the intervention in near real time. Value-based care approaches are starting with the most expensive therapies, but they are likely to work their way into more common treatments in ophthalmology. Regularly-injected treatments for nAMD and DME including those in the pipeline are logical candidates for value-based care approaches especially considering that Eylea and Lucentis were among the top 10 drugs in terms of Medicare Part B spending in 2017.
While data sources in ophthalmology continue to improve, meaningful business opportunities exist for those with the ability to close some of the gaps in data that exist today. Current sources of data offer actionable insights, however much of a patient's clinical story is told in unstructured notes fields in the EHR. Flatiron has made a successful business that achieved a $2.1B exit by curating clinical data from oncology practice EHR records and licensing data to life sciences players. Other areas where data is lacking is in patient-reported outcomes, data from practice management systems, and limited visibility to patient-level or clinician-level details, and further, there is a lack of linked datasets (e.g., EHR + genomics or EHR + outcomes), which may be the most valuable. Successfully providing access to these types of data in ophthalmology would be a viable business.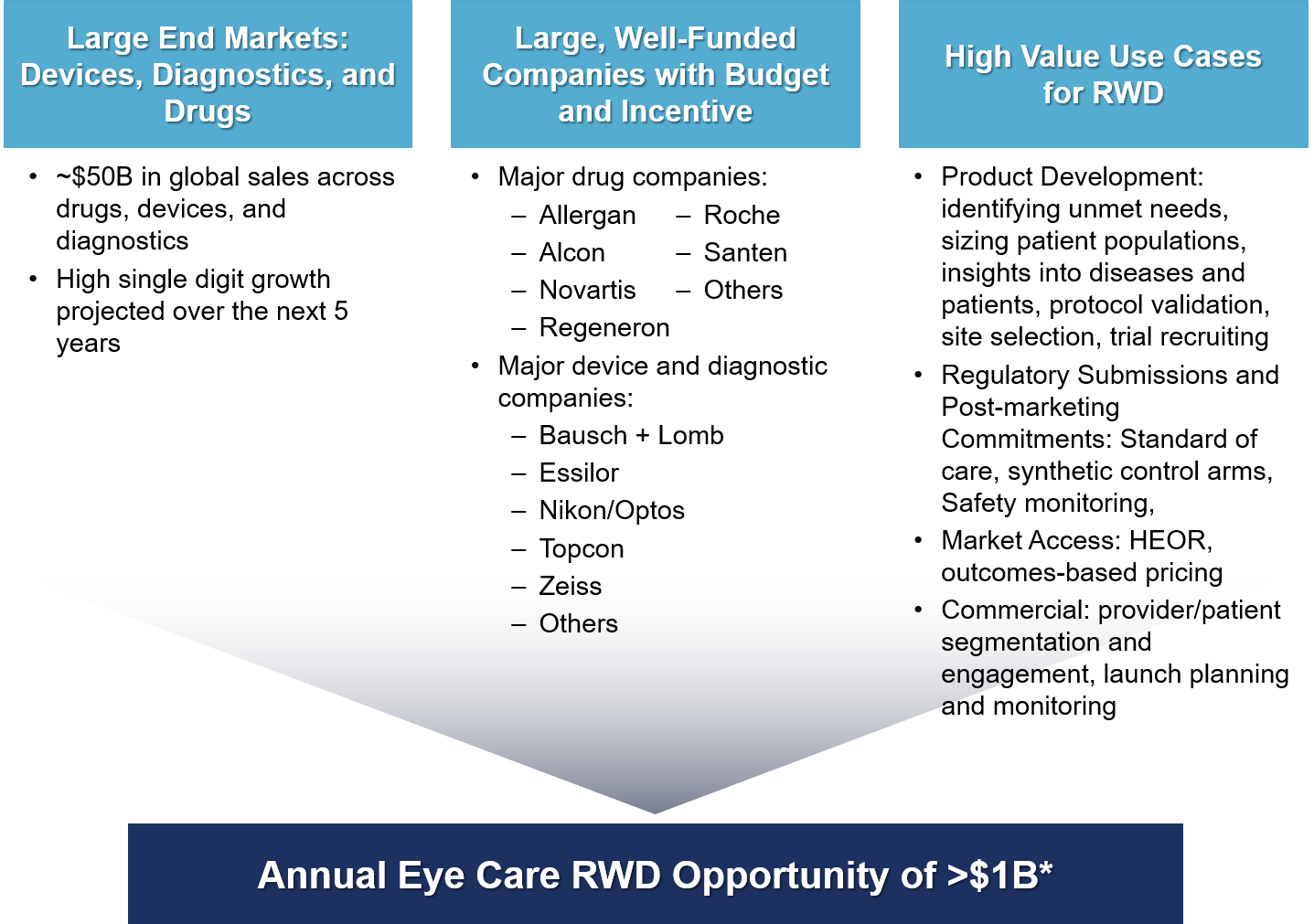 Source: Health Advances interviews and analysis, EvaluatePharma, EvalMedTech, PharmaProjects, clinicaltrials.gov, Datamonintor, company websites.
* Rough estimate based on pipeline activity (# trials, spend per trial), marketed brands with sales >$50MM, and estimated RWD study/contract values by use case.
RWD/E is on the rise, and all stakeholders in ophthalmology, including patients, individual clinicians, industry, regulators, provider organizations, and payers are likely to be impacted in the coming years. This form of data has the promise of improving patient care, increasing business efficiency, and generating new sources of revenue through data monetization; but it also has the potential to disrupt established paradigms. Stakeholders should have an active and dynamic strategy that includes both initiatives to use RWD/E for their organization and also to react to changes in the market driven by the increasing adoption of RWD/E.
###
About the Author
Patrick Symmonds is an Engagement Manager at Health Advances and a member of the firm's Eye Care Specialty Practice. He regularly tracks the glaucoma, retinal diseases, and ophthalmology rare disease markets. He also has expertise working with stakeholders across industry verticals to develop RWE strategies to support their business initiatives.
Health Advances Capabilities in Ophthalmology
Health Advances provides growth strategy consulting services to all types of organizations working across a broad range of clinical areas, including organizations participating in the eye care sector, and investors in those companies. Our Eye Care Specialty Practice members stay abreast of the emerging data and expert perspectives on novel technologies and the market dynamics to support developing the most forward-looking insights and implications for our clients. If you are interested in learning more about Health Advances capabilities in this space, please contact practice leaders: Paula Ness Speers, Partner and Managing Director at pnspeers@healthadvances.com Tracy Walters, Partner at twalters@healthadvances.com
Health Advances Capabilities in Real-World Evidence
Health Advances' Digital Health and Health IT practice regularly works with digital health companies, tech companies, life sciences companies, and investors on strategy in digital health, real-world data, advanced analytics, and precision medicine. The firm has deep involvement with RWD/RWE strategies for various stakeholders across industry verticals. If you are interested in learning more about Health Advances capabilities in this space, please contact practice co-leader: Andrew Matzkin, Partner at amatzkin@healthadvances.com