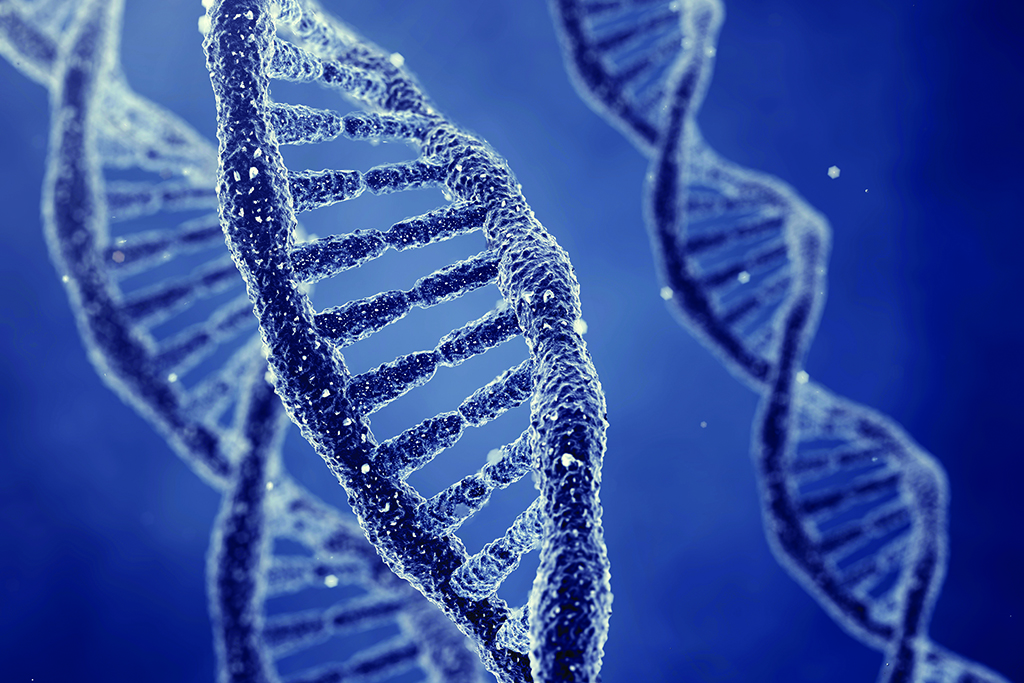 Blog | 4/13/2023
CNS Year in Review: Novel Modalities
By Michael Davitian, Viren Makhijani PhD, and Drew Attar
This is the third installment of our ongoing 2022 CNS year in review. Please find our first blog here and our second blog here.
CNS diseases have been a fertile landscape for the development of novel therapeutic modalities like gene therapies and nucleic acid therapies, and in 2022 CNS drug developers continued this trend. Among the milestones: Amvuttra – Alynlam's siRNA treatment for polyneuropathy of hereditary transthyretin-mediated amyloidosis – was approved by FDA in June. In fact, CNS diseases are second only to oncology in development activity for novel modalities, including gene and nucleic acid therapies. Additionally, some of the most commercially successful of these therapies are for CNS diseases, including Zolgensma (gene therapy), Spinraza (antisense oligonucleotide), and Exondys 51 (antisense oligonucleotide).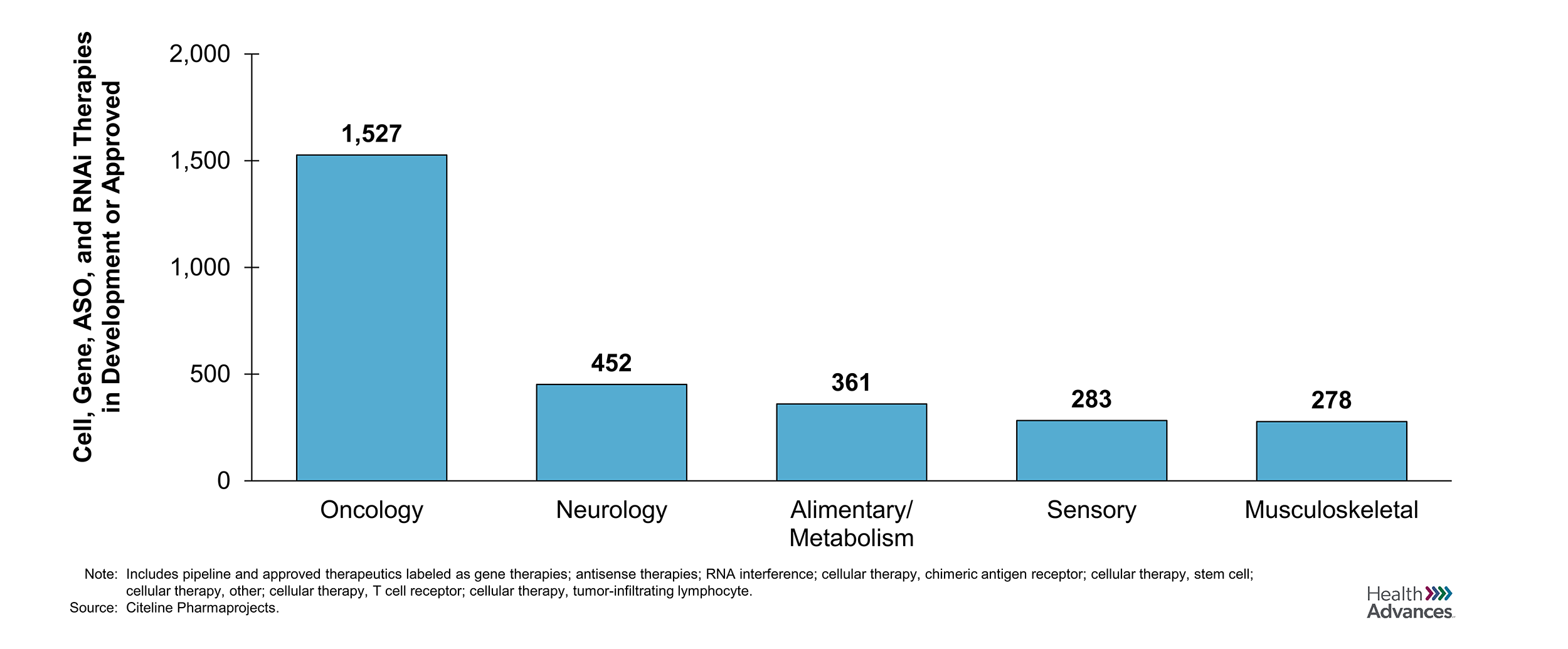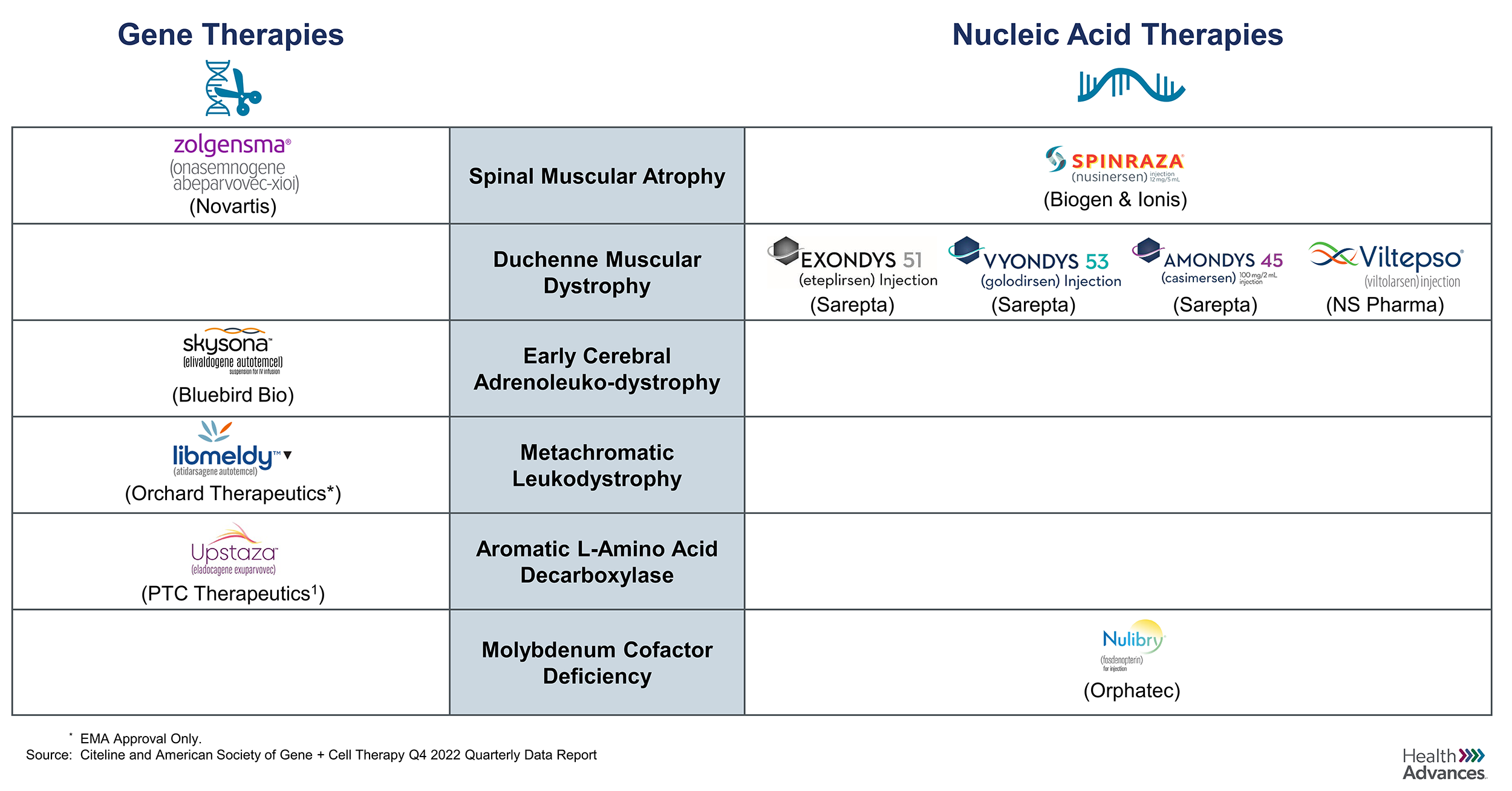 Gene therapies are particularly attractive for CNS diseases because their long-lived or permanent therapeutic effect is ideal for organ systems like the CNS which are hard to access. In order to target many CNS symptoms this means that therapeutics must disrupt the blood brain barrier (BBB) through intra-CNS delivery, which can make chronic administration challenging if not prohibitive. Furthermore, AAV gene therapies for the CNS are somewhat spared from inflammatory adversity that affects other gene therapies; the CNS is immune privileged in that it can tolerate the introduction of antigens without eliciting an inflammatory immune response that sometimes prevents gene therapies from reaching their intended target.[1]
Unsurprisingly, these treatments are primarily for patients with rare, genetic, and severely debilitating diseases. Unfortunately, there are many such CNS diseases. Several companies have built their businesses to focus exclusively or nearly exclusively on the development of gene and/or nucleic acid therapies for CNS diseases.
Sarepta has developed a portfolio of treatments targeting (primarily) muscular dystrophies. Its initial foray into this space leveraged its exon-skipping antisense oligonucleotide (ASO) technology. It has three marketed ASOs and more in development. In recent years, the company in-licensed and began developing gene therapies for muscular dystrophies to augment its portfolio. Its most advanced gene therapy, SRP-9001 for Duchenne Muscular Dystrophy (DMD), has an FDA PDUFA date of May 29.
Voyager's TRACER capsid discovery platform facilitates the selection of capsids that have blood-brain barrier crossing and cell-specific transduction properties. The company developed a series of novel AAV capsids that achieve exceptional expression in the brain and spinal cord vs. AAV9, the current natural AAV serotype with the best ability to cross the BBB. This platform creates obvious differentiated capabilities for Voyager in CNS diseases, which it exploited to create a portfolio of treatments for diseases including Huntington's, ALS, and SMA, among others.
These companies underscore that CNS diseases are an attractive development target for companies with gene and nucleic acid therapy platforms. An important consequence of the development activity in gene and nucleic acid therapies for CNS is that there is a flourishing ecosystem of partners and stakeholders who can support research, development, and commercialization:

Corporate partners with development and commercial expertise, including biopharmas (e.g., Novartis and Biogen) and outsourced service providers (e.g., CDMOs, CROs).
Ionis has several strategic collaborations with Biogen to combine Ionis' antisense expertise with Biogen's developmental and commercial experience in neurology. The two companies are collaborating on treatments for ALS, SMA, Angelman Syndrome, Alzheimer's, and Parkinson's. Through December 2022, Ionis generated $3.5B in payments from this collaboration.

Academic centers and KOLs with discovery, translational, and clinical expertise.
Sarepta entered into several agreements with Nationwide Children's Hospital since 2015. The company licensed gene therapy technology developed by Nationwide and sponsored pre-IND and clinical research conducted by Nationwide with some of those technologies.
Researchers at MIT, Harvard, and the Broad Institute are developing novel viral vectors that are capable of crossing the blood brain barrier.[2]

CNS-focused regulators at FDA who have accumulated experience evaluating the growing number of gene and nucleic acid therapies for CNS diseases.

Considerations For Developers of Gene and/or Nucleic Therapies
For developers of gene and/or nucleic therapies, these trends are very promising. As we have shown, CNS diseases are an especially promising area in which to develop these modalities and the track record of success stories is growing. As a result, we expect to see more transformative nucleic acid and gene therapies for a growing number of CNS diseases in coming years.
This is not to suggest that development and commercialization of these therapies won't be challenging. In particular, we suggest that developers of gene and/or nucleic therapies carefully consider market access as they develop their drug and assess how various evidence packages and pivotal clinical trial designs will affect access. In orphan diseases where therapies come with exceptional prices, we have seen payers take steps to limit access according to the enrollment criteria of the pivotal clinical trial, regardless of the drug label. Companies should also have strong access capabilities at launch backed by a robust strategy that considers various payer utilization management tactics and alternative reimbursement models, such as value-based care.
Additionally, commercial strategies for gene and/or nucleic therapies should carefully consider the existing and future competitive landscape, such as the role of traditional biologics and small molecule therapies. Depending on the patient segments and circumstances, these treatments may be complementary (e.g., used in combination) or directly competitive. These therapies may also be strongly entrenched and hard to displace if physicians and patients are comfortable with them and if market access is widely available. A strong commercial strategy will identify potential barriers to adoption from patients and providers and identify effective messages, support services (e.g., training and support for drug administration), and/or evidence required to overcome these barriers.

Considerations For Developers of Other Biologic or Small Molecule Treatments
Clearly, nucleic acid and gene therapies create significant risk of disruption for developers of traditional biologics (e.g., monoclonal antibodies) and small molecules. For these companies, gene and nucleic acid therapies can and do complicate commercial planning and development decisions. In most cases, the disruptive potential of gene therapy is likely to be greater than that of nucleic acid therapies because gene therapies are long-term or permanent one-time treatments that carry enormous cost implications for payers. With that being said, nucleic acid treatments have also proven to be transformative treatments in many indications where they have been introduced (e.g., Spinraza) and so we consider them together.
Drug makers who are developing traditional biologic or small molecule treatments in indications amenable to gene and/or nucleic acid therapies should carefully evaluate the pipeline and consider the competitive threat posed by these novel modalities. It is important to understand how many patients may ultimately be treated with nucleic acid and gene therapies. In some cases, most patients may be treated, while in other cases only a fraction of patients will be eligible. For example, several therapies are in development for ALS patients with SOD1 mutations, but these mutations are present in <5% of ALS patients, leaving significant opportunity for drug makers. Additionally – as discussed above - payers may impose restrictions based on trial criteria that strictly limits eligibility based on the enrollment criteria used in pivotal trials, regardless of what the drug label says. Thus, depending on the circumstances, a substantial number of patients may be ineligible or unable to access novel nucleic acid and/or gene therapies. Furthermore, while these therapies may reshape unmet needs, they are unlikely to obviate the need for other treatments even when they work very well. So, patients who receive these treatments may benefit from additional disease modifying therapies. For example, in SMA, the gene therapy Zolgensma – while enormously effective – does not provide a complete cure for most patients and many continue to receive additional symptomatic treatments.
With a better understanding of which patients will be affected by gene and nucleic acid therapies and the extent of their impact, drug makers can better plan their potential approval. Patient segments that are unlikely to receive a novel gene and nucleic acid therapies are attractive and drug makers should take care to position themselves effectively for use among these patients. Drug makers should understand who these patients are and ensure clinical development plans provide strong evidence to drive physician adoption and broad payer access in these segments in the event that a disruptive gene or nucleic acid therapy is approved. Where combination use with the novel gene or nucleic acid therapy is feasible, it will obviously blunt the competitive impact of these novel therapies. Here, drug makers should understand what evidence (e.g., randomized controlled trials, real-world evidence, investigator sponsored studies) providers expect to feel comfortable prescribing and payers expect to provide market access. Finally, drug makers should plan for circumstances in which the gene and/or nucleic acid therapies is not hugely disruptive and where a strong evidence package, commercial planning, and infrastructure can enable them to compete effectively for share across all patient segments, including those patients eligible for the novel nucleic acid or gene therapy.
###
Michael Davitian is a Vice President in our biopharma practice, where he focuses on building the firm's expertise within neurology and ophthalmology.
Viren Makhijani PhD, is an Engagement Manager in our biopharma practice where he focuses on neurology, psychiatry, and the intersection of biopharma and digital health.
Drew Attar is a Senior Analyst and a member of Health Advances' neurology and ophthalmology committee.