Product Development & Portfolio Strategy
Successful commercialization hinges on thoughtful prioritization and sharp strategy to translate innovation into value.
How We Help
Too often in development, innovators focus on regulatory approval, but fail to plan sufficiently to address key stakeholder needs, differentiate in the market, and achieve commercial success, leading to delays or sub-optimal commercial performance.
At Health Advances, we address critical commercial issues early to ensure a clear path to value inflection and revenue generation. We combine our unique breadth of experience across sectors to help you make successful business decisions and stay ahead on the high-stakes path of development and commercialization.
Our work addresses critical commercial challenges. We provide our clients with unique insights and winning strategies supported by rigorous data and analysis.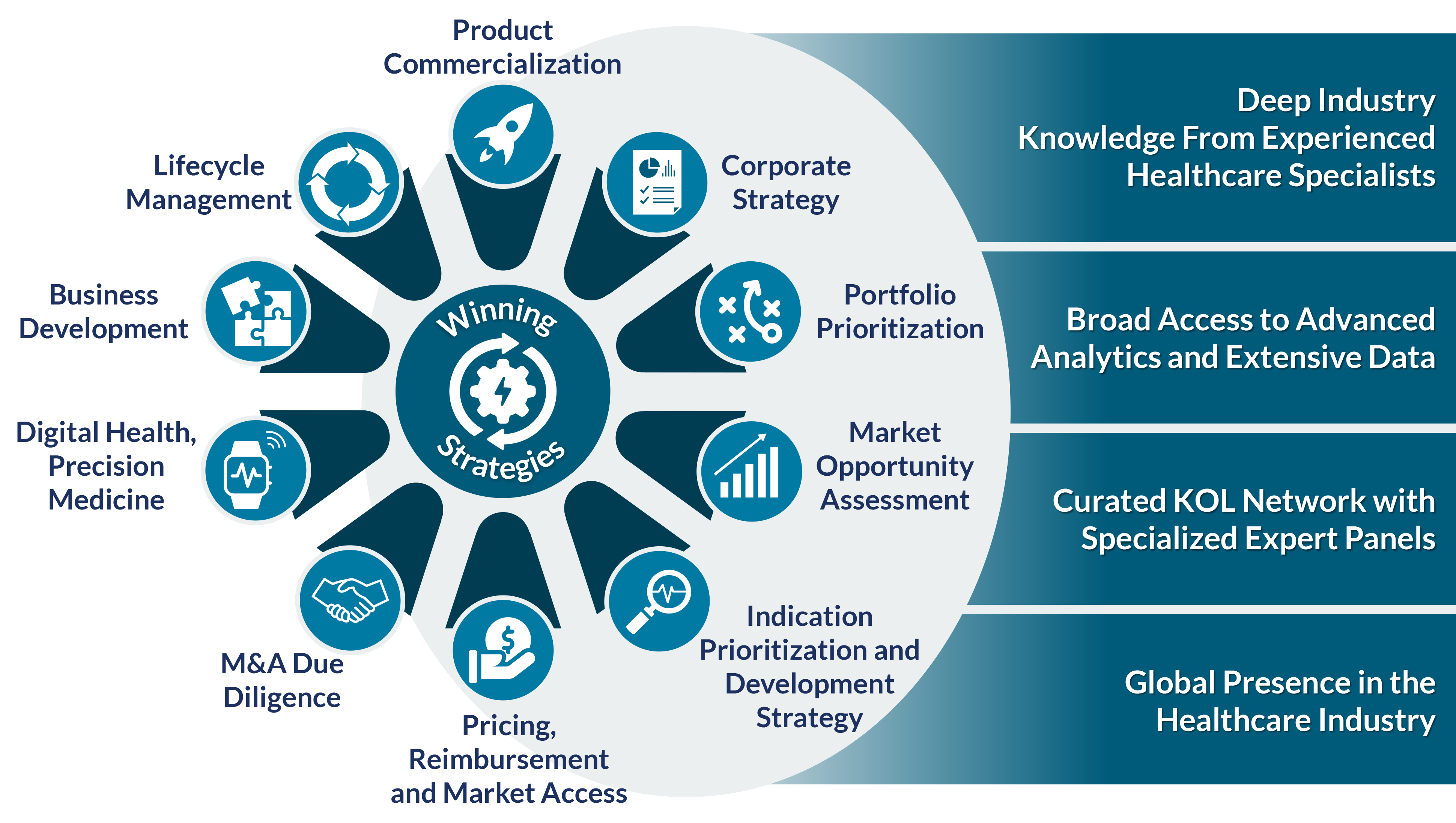 Portfolio and Franchise Strategy
Apply portfolio optimization and prioritization approaches that assess the interplay of various opportunities and ensure prudent trade-offs in risk and reward
Chart the most salient industry trends to stay ahead of the curve, define winning positions, and outline critical investments and initiatives to unlock sales growth
Develop buy-and-build strategies leveraging internal capabilities and external business development
Product Strategy
For individual programs we offer a comprehensive range of solutions:
Define an opportunity including key stakeholder needs, market size and growth potential, and competitive position in the current and future market landscape
Map early clinical development paths that create meaningful proof of concepts and drive early value inflections
Align on target product profiles that guide critical decisions across development and commercialization, with views on inflection points around key features, evidence, and targets
Build global financial forecasts and P&Ls to build confidence in a sound investment strategy and convince external partners of the value of your innovation
Create pricing and access strategies that take a holistic view of an asset's value proposition and ensure access for patients
Develop Go-to-market and lifecycle plans that optimize an asset's sales trajectory and maximize its returns
Our Advantage
Highly-skilled teams of PhDs, MBAs, and industry experts marry scientific rigor and business strategy
Our relationship with Parexel, renowned CRO, brings clinical development insights and global footprint
Robust strategy and valuation capabilities guide investment priorities and translate innovation into commercial value
Impact
Holistic approach to maximize both clinical and commercial success
Strong positioning vs competition
Confidence to focus on the opportunities most likely to succeed in the market
A playbook to communicate the value of the opportunities to internal and external stakeholders along the path to value inflection
Health Advances worked closely with the oncology division of a mid-sized biotech to devise and execute a portfolio strategy and make critical investment decisions. Our work mapped the optimal path for strategic investments, milestones, and overall oncology portfolio expansion. The client leveraged our insights to execute 7 oncology deals totaling over $6B, pursue development of 3 priority assets which eventually gained approval, and drive revenue growth of 25% YoY.
A biopharma client engaged Health Advances to help maximize the value of a development stage asset with potential across several autoimmune indications. We developed a framework to assess the commercial attractiveness of the indications, as well as determine optimal product positioning and launch sequence. In addition, we devised a strategy to optimize pricing across six indications in six geographies. The client leveraged our insights to justify internal R&D investment priorities and negotiate a lucrative business development transaction.
An early-stage biotech developing a novel gene editing technology engaged Health Advances for an opportunity assessment and detailed clinical development strategy in an orphan disease. Health Advances leveraged insights from clinical and translational KOLs, payers, and regulatory experts across the US, Europe, and Japan to understand the evolving treatment landscape and the potential positioning, value proposition, and regulatory requirements for the one-time gene editing technology. The team synthesized this information into a detailed clinical development strategy, outlining timelines, geographies, patient populations, and benchmarks for success, supported by a robust forecast to support the business case.
A global leader in diagnostics needed to develop a forward-looking, portfolio-wide strategy for molecular diagnostics given the multitude of trends impacting the market such as COVID-19, technology evolution, and consumerization of healthcare. Our team took a holistic approach to develop a comprehensive vision of how the molecular diagnostics market will evolve over the next 5-10 years and identified the next areas for growth. A deep voice of customer and stakeholder study across US and European geographies informed how detection technologies will evolve, what the lab of the future will look like, and what new assay opportunities will exist. Growth opportunities were profiled and prioritized, and an overall strategic roadmap was developed to address where the client should focus their development efforts. The client utilized our findings to define their long-term 5–10-year strategic plan for their molecular diagnostics business unit.
A leading global pharma company with a growing portfolio of immunology drugs engaged Health Advances to assess opportunities for digital biomarkers that could add value in trials or in the clinic in six disease states: Atopic Dermatitis, Psoriasis, IBD, Crohn's Disease, Lupus, and Psoriatic Arthritis. Through interviews with KOLs and industry experts and a deep review of clinical literature, the team identified potential technologies that could be used to develop digital biomarkers that address shortcomings in screening, diagnosis, treatment selection, and long-term management of these conditions today. The resulting deliverable was a prioritized list of digital biomarker opportunities to consider in the near-term, including tactical considerations for successful execution and attractive partners to approach to access the required technologies for success.
An international biotech company approached Health Advances with the goal to understand the current biomarker testing paradigm and the related laboratory infrastructure in the US, UK, France, Germany, and Japan to inform the technology choice for a CDx for its novel immunotherapy for advanced endometrial cancer. Through a large primary research program with oncologists and lab directors supported by a quantitative survey, the team detailed the endometrial cancer patient journey and potential barriers to adoption for each test technology under consideration. The team's research was supplemented with insights from CDx industry experts and synthesized into a set of strategic and tactical recommendations for the client to optimize the development and commercialization of their novel immunotherapy in the 5 key markets.
An established life science tools company required a better understanding of the public health surveillance testing landscape amidst changes driven by the COVID-19 pandemic. Through rigorous primary research with KOLs and lab stakeholders across seven geographies (US, UK, DE, CN, SK, JP, IN), our team distilled the outlook for the surveillance market and understood the evolving role of various test technologies. Priority infectious disease applications were prioritized based on testing demand and total addressable market size. The client used the roadmap to refine a lab test menu and optimize platform features in order to best serve public health lab needs across a number of developed and emerging markets.
An early-stage life science research company needed to determine the optimal feature set for launch of its next-generation immunofluorescence protein colocalization platform. Our team conducted qualitative interviews and a quantitative survey and conjoint to rigorously assess current workflows, unmet needs, and desired product features among researchers at academic institutions, biopharma companies, and CROs in the US and Europe. In tandem with a thorough review of the competitive landscape, we used these findings to quantify baseline adoption interest and the upside adoption that our client could achieve with feature improvements. The resulting minimum viable product recommendation and instrument development roadmap enabled our client to finalize its product development plans, investment needs, and launch timeline.
Health Advances conducted a landscape assessment of smart drug delivery devices, adherence solutions, and patient monitoring solutions across key therapeutic areas to help a leading biopharma focus and accelerate connected device efforts. The team evaluated the activities, investments, and evidence creation of 15 analog companies in connected drug delivery devices and related digital solutions. Final output included perspectives on the future landscapes for smart drug delivery devices, adherence solutions, and patient monitoring solutions, detailed profiles of competitors' initiatives within those solution categories, as well as recommendations for areas of investment and prioritization reflecting both the company's portfolio and technology priorities.
Health Advances was engaged by a global MedTech company to assess the overall market for infusion pumps in the US and identify current unmet needs and desired features for a novel infusion pump. Through extensive secondary research, qualitative interviews, and a quantitative survey with nurses and physicians, our team validated market attractiveness and determined the required and nice-to-have features for a novel infusion pump to effectively compete and experience market success. Our client used this analysis to inform the development of the novel pump and prepare an initial commercialization plan.
A leading global biopharma company asked Health Advances to help develop its strategy and business case for its connected autoinjector and companion digital tools and services. Our team leveraged extensive past work conducted on behalf of the client to understand the patient and provider unmet needs addressable by digital and connected solutions in key therapeutic areas, and contextualized the client's plan within the broader competitive and industry context. We then performed an independent evaluation of the client's strategy, including connected device feature prioritization, revenue impact assessment, and external and internal risk evaluation. We delivered our independent evaluation and strategic recommendations to the client and were invited to defend our analysis before the client's global senior management team.
An established oncology-focused Top 5 biopharma company wanted to investigate the opportunity for introducing novel digital health solutions in the patient monitoring paradigm. Through rigorous primary research with patients, oncology nurses, and oncologists in the US, Germany, and Brazil, Health Advances highlighted the key pain points in today's journey and the impact that a novel digital solution may have. Grounded on stakeholder willingness to adopt the solution, viable commercial models were explored for the client to roll out the product concept. Commercial models were prioritized based on evidence requirements and client capabilities to optimize the reach of a new digital tool across these key geographies and markets.