What We Do
Health Advances is one of the preeminent strategic advisors to healthcare-focused investment firms and strategics throughout the investment life cycle. Our 30+ years of healthcare industry experience positions our team well in executing rapid due diligence and investment strategy projects.

Whether you are buying a company, trying to sell one, or seeking to optimize and grow the value of your investment, you need answers to critical business questions. Health Advances can help you quickly answer the critical business questions needed to make a more informed investment decision by leveraging insightful thinking and deep healthcare sector specific clinical, technical, and business knowledge.
---
How We Help
Clients rely on Health Advances' forecasts and valuations for critical insights and external validation. In addition to commercial due diligence work, our teams support investor portfolio companies with a broad range of strategy projects to help reach the next value inflection point.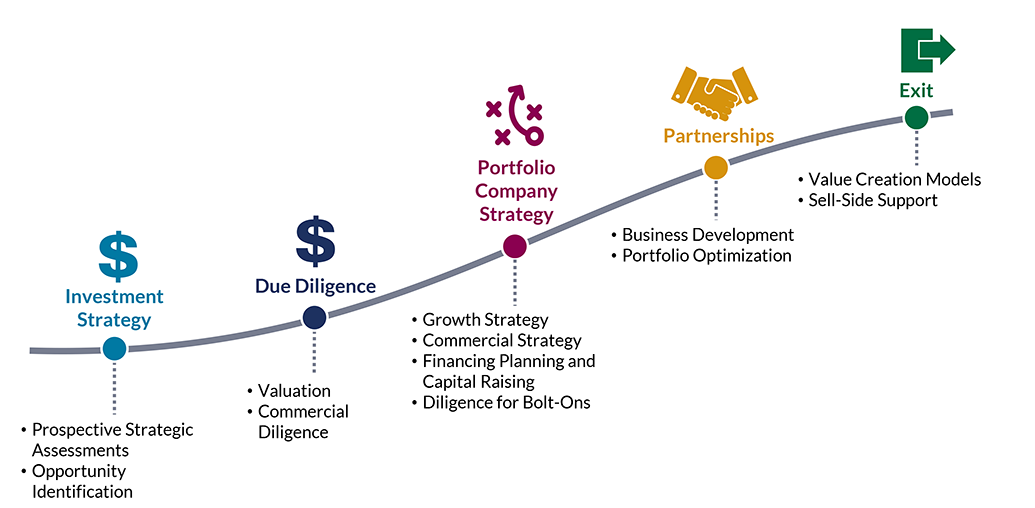 Investor Support Project Examples
A pharmaceutical CDMO and their PE backers asked Health Advances to evaluate the opportunity for expansion into sterile injectable drug product manufacturing and identity attractive M&A options. The team conducted robust primary and secondary research on the sterile drug manufacturing industry including in depth market sizing, analysis of trends in addressable drug products, evaluation of various growth strategies and a competitive analysis of the industry to determine potential M&A targets. The team analyzed various market entry strategies (e.g., buy vs build) and conducted robust prioritization of potential acquisition targets to explore further in diligence. The client used our recommendations to inform their expansion strategy and re-engaged Health Advances for M&A activity on an identified target.
Our team was engaged by the healthcare arm of an investment bank and worked in partnership with a rare disease biopharmaceutical company to assist in providing an objective and robust forecast for an ultra-orphan drug to support M&A. The team conducted in-depth primary and secondary research to elucidate trends in the current treatment paradigm, epidemiology, therapeutic pipeline, pricing considerations, and overall market opportunity for the product. Thorough disease analysis and patient-based forecasts were developed as part of the final deliverable.
As part of a rapid due diligence, Health Advances supported a global technology company in assessing the market potential of SARS-CoV-2 testing and technology of a mid-throughput molecular diagnostic platform with innovative nucleic acid amplification technology (NAAT). Our team conducted an in-depth technology and competitive assessment and evaluate market trends for the molecular SARS-CoV-2 testing markets in the United States and in Germany. Our team provided strong support for investment in the target platform and technologies.

A private equity firm retained Health Advances to conduct due diligence on a supplier of components for medical equipment and in particular components for mass spectrometers manufactured and distributed by one particular company. The team conducted comprehensive research to assess the mass spectrometry landscape and in particular the positioning and growth potential of each of the mass spectrometry competitors in the clinical, research, and biopharma markets. Our resulting deliverable helped support the client's investment valuation.
For an international investment company, Health Advances evaluated the opportunity and risks for the medical isotopes business unit of a potential acquisition target. The team determined the market size and forecasted volume growth for SPECT imaging procedures to assess the opportunity for radioisotopes used in these procedures. Both primary and secondary research supported analysis into the trends impacting these procedures, in particular the competitive diagnostics technologies and shortages of isotope supply. The team focused research into the use of SPECT in cardiology applications, primarily coronary arterial disease, as well as in neurology and oncology.
A private equity client asked Health Advances to assess the senior living software market as they considered an acquisition and merger of two best-of-breed vendors. Our team investigated purchasing decisions and probed on anecdotes of competitor failures and successes. We pursued expert interviews and a quantitative survey with executives in care, IT, and marketing at senior living systems. Our analyses verified our client's hypothesis and supported their thesis to the investment committee.
A private equity investor asked Health Advances to conduct an assessment of the opportunity and risks associated with a target company offering a online pharmacy and telehealth services for a niche drug market. From in-depth secondary research and interviews with industry executives and investors with detailed knowledge of the market, the team provided the client insight into key product market and macro healthcare trends in the US that will impact the target's services and products over the next five years. Deep dive analyses on existing pharmacy and telehealth competitors as well as larger companies with healthcare ambitions like Amazon and CVS informed the team's near- and long-term outlooks for the target, strategic growth options, and investment recommendations.
Investors in an established medical device manufacturer engaged Health Advances to evaluate a potential acquisition Target by assessing the outlook for the Target's key markets and its positioning in those markets. The Health Advances team conducted in-depth interviews with clinicians and purchasing administrators, a quantitative survey of clinicians, and detailed triangulation of secondary sources to inform the outlook for the markets and the Target. Key considerations for the market included procedure growth trends and drivers, site of care and reimbursement dynamics, the impact of new technologies, and the state of KOL opinion and clinical literature. Additionally, the team characterized the competitive landscape and the Target's positioning within it, including purchasing dynamics, pipeline products, and pricing trends. The work ultimately informed the client's decision to move forward with the diligence process.
A client engaged Health Advances to evaluate the outlook for two device companies in the coronary and peripheral intervention device market. Health Advances conducted extensive secondary research and interviews with physicians, purchasing administrators, distribution experts, and industry experts in the US and China to inform the competitive positioning and assess the revenue forecasts for both manufacturers. The team also conducted an analysis to evaluate potential commercial synergies for combining the two manufacturers. The research ultimately allowed our client to determine whether to move forward with investments in the market.
Our client asked Health Advances to evaluate the potential of a single-use product used during robotic and laparoscopic surgeries and the ability to support its commercially with an inside sales and marketing strategy. Our team gained insights to understand the perceived value of the product by speaking with both users and non-users of the product and conducting surveys with surgeons and OR administrators. This allowed the team to both understand the need for the product and the level of sales support required in order to introduce the product to physicians and facilitate adoption. These insights empowered the client to decide on a potential acquisition and validated the degree of sales and marketing effort required to support the product.