The evolving digital therapeutics landscape unlocks new growth opportunities (and continued challenges)
Digital therapeutics – set apart from other digital health technologies by their high bar of clinical evidence and regulatory evaluation – have been deemed the "new age medicine." Working alongside traditional treatments or operating independently, digital therapeutics fundamentally change the way patients receive treatment, with drastic implications for the quality and the amount of data-driven insight given to pharma and medical device companies, payers, and providers, too.
Despite the explosion of new, promising DTx solutions and increasing clarity around the reimbursement landscape, it's likely that the new age medicine will be experiencing a new age itself in the years to come. The Health Advances team is here to help navigate these complex challenges and provide actionable recommendations for your business.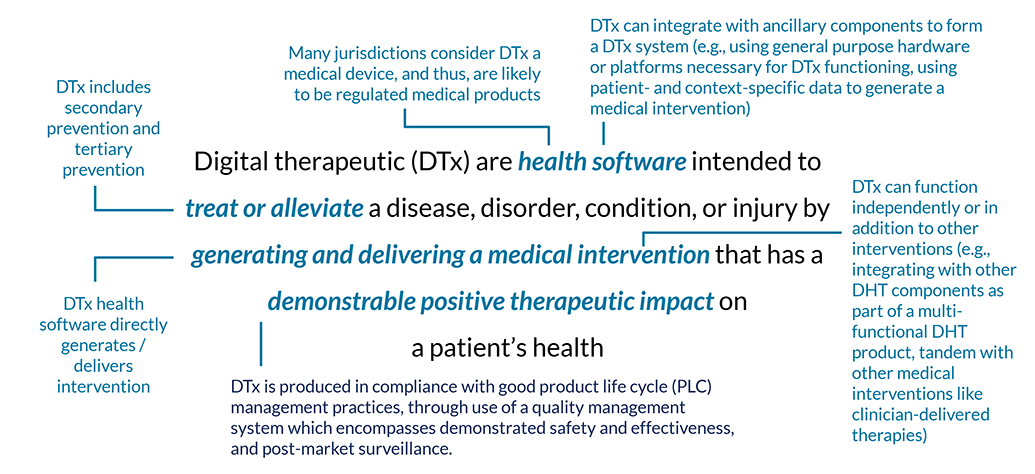 Who We Serve
Health Advances works with established pharma and medical device companies looking to create new digital therapeutics or expand existing solutions, as well as advises new entrants in the space.
We also have a long track record of working directly with Digital Health players pioneering DTx solutions in the space.
What We Do
Health advances has completed >50 digital therapeutics projects with experience advising companies on:
Go-to-market strategy in the US and abroad
Customer journey and buying processes
Evidence generation strategy and analogs
Pricing studies
Digital therapeutics landscape assessment across indications
Cross pipeline digital health selection and prioritization
Digital therapeutics regulatory policy assessment
Digital Therapeutics Case Studies
Health Advances worked with the Digital Therapeutics Alliance (DTA), the leading industry association for digital therapeutics (DTx), to develop a perspective on the long-term future of the industry and to highlight key barriers that the industry would need to overcome to reach maturity. The materials formed the basis of a DTA member discussion about alliance strategy and helped shape the alliance's priorities for the coming years.
An early-stage digital behavioral health company enlisted Health Advances to help categorize/stratify the payer landscape to identify which payer types are most likely to purchase their product and what operational configurations and evidence these payer segments would require. Our team examined commercial payer coverage and budget pathways as well as requirements for coverage decisions within each pathway. Interviews with executives at commercial payer organizations and other digital health companies elucidated reimbursement challenges and requirements. Armed with strong market insights we constructed a roadmap outlining the steps towards payer coverage over time.
A biopharma client engaged Health Advances to support a buy-side due diligence on a digital therapeutic to complement the client's drug offering, Specifically, the client was interested in the optimal go to market strategy for a DTx in Germany given regulatory changes. The team conducted a deep dive into the DiGA pathway to quantify the pricing potential, benchmark cost for customer acquisition and retention, and specify the adoption potential through targeted secondary-research-based analog research. We synthesized our findings in a comprehensive report detailing investment requirements to successfully launch a DTx in Germany.
Digital Therapeutics Leadership
Biotech & Pharmaceuticals
Diagnostics, Research Tools, & Precision Medicine
MedTech
Digital Health & Enterprise HIT
Investors
Jeffrey Abraham
Partner
---
Digital Therapeutics, Drug Delivery Devices, Employer Health, Real-World Data & Analytics, Remote Patient Monitoring & Connected Devices, Tech-Enabled Services, Virtual Care, Women's Health