We Are Living Through the Age of Precision Medicine
And despite countless opportunities to be realized, there are many challenges to overcome for innovators in this space. At Health Advances, our Precision Medicine practice sits at the nexus of our core sector expertise – Diagnostics, Therapeutics, Med Tech, and Digital Health – to provide inter-disciplinary insights and impactful strategic recommendations to clients at the leading edge of medicine.
---
How We Help
Health Advances has been advising clients on their precision medicine strategies for over a decade. We pair our leadership's deep cross-sector and industry experience with the technical expertise of PhDs and MDs to help companies navigate the complex precision medicine landscape.
Health Advances partners with companies to support efforts across key strategic imperatives:
Building a more effective internal organization to deliver on the potential of precision medicine
Identifying optimal use cases for novel diagnostic technologies across the patient journey
Developing a robust CDx strategy from drug inception to commercialization
Optimizing go-to-market strategies for novel, complex-diagnostics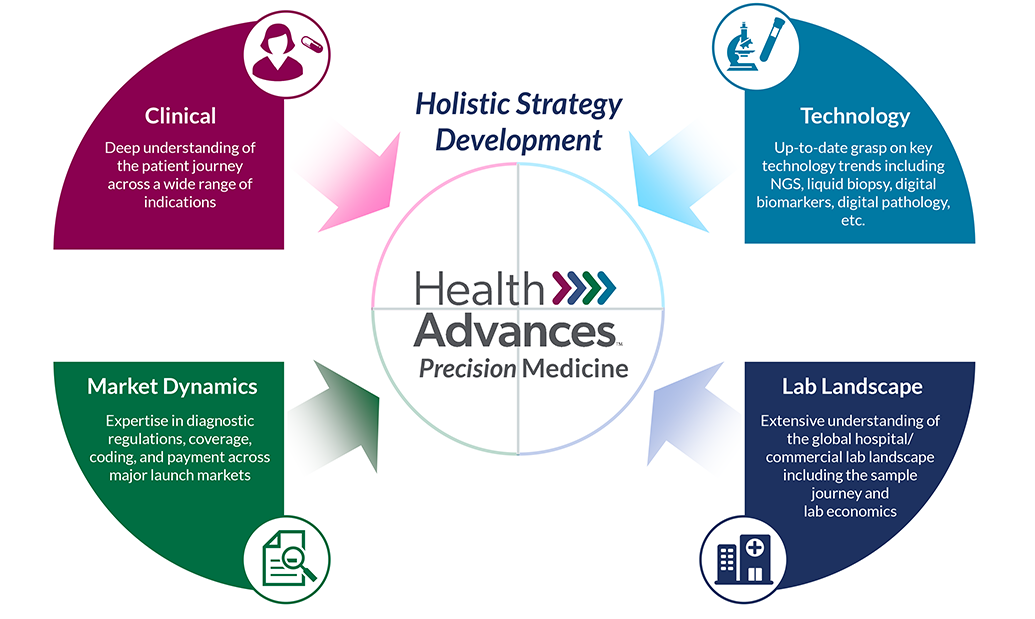 Precision Medicine Practice Areas
Companion/Complementary Diagnostics
Foundational technologies f
or connecting patients with personalized therapies, yet presenting technical, clinical, regulatory, and commercial complexities
Specialty Labs and High-Value Diagnostics
Increasingly in-de
mand expertise and technology, facing pressure from regulators and payers
Transformative
potential to accelerate clinical development, modernize patient assessments, and improve patient outcomes
Precision Medicine Case Studies
Our team was engaged by the Precision Medicine Coalition (PMC) to develop a tool by which to assess the level of precision medicine adoption among hospitals and health systems in the United States. The team considered a number of factors including types of testing offered, establishment of protocols and pathways, data collection and sharing practices, and funding for precision medicine initiatives in order to develop a robust scoring framework to evaluate organizations today and in the future. A survey of 153 lab directors and CMIOs was used to gather the required inputs and "score" each organization on their level of precision medicine adoption, and the output was published in a peer-reviewed journal.
Our team developed a global strategy to ensure that all relevant patients were appropriately tested with a companion diagnostic for a key oncology therapeutic for a large pharmaceutical company. Through a large interview with oncologists, laboratory directors, industry experts and reimbursement experts in eight geographies, the team identified the expected clinical and logistical hurdles to using the companion diagnostic given these dynamics. The findings were used to inform the development of solutions and tactics to address the major hurdles to testing in each geography, and determine where our client should prioritize their commercialization efforts in order to effectively and efficiently ensure that patients were appropriately receiving testing.
Our team was engaged to understand the opportunity for a self-pay genomic test that could detect recurrence in hormone-positive breast cancer patients earlier than standard of care. Through qualitative interviews and large surveys, the team gathered feedback from clinicians and patients on the value proposition of such a test and evaluated price elasticity among potential consumers. Our team was able to provide our client with a robust revenue forecast to assist in their decision to continue pursuing this opportunity and determine the optimal price to maximize the self-pay market at launch.
Health Advances conducted a detailed evaluation of the US market opportunity for a major NIPT laboratory for a private equity client. Our team assessed the payer coverage policies, reimbursement rates, and pricing trends for NIPT across risk segments and evaluated the increasingly complex competitive landscape in order to forecast the overall US NIPT market over 5 years, as well as the specific offerings of the Target. Based on this assessment, our team made recommendations to our private equity client on whether or not to pursue this investment, as well as outlined a strategic approach that would best position the Target for success.
A leading global pharma company with growing portfolio of immunology drugs engaged Health Advances to assess opportunities for digital biomarkers that could add value in trials or in the clinic in six disease states: Atopic Dermatitis, Psoriasis, IBD, Crohn's Disease, Lupus and Psoriatic Arthritis. Through interviews with KOLs and industry experts and a deep review of clinical literature, the team identified potential technologies that could be used to develop digital biomarkers that address shortcomings in screening, diagnosis, treatment selection and long-term management of these conditions today. The resulting deliverable was a prioritized list of digital biomarker opportunities to consider in the near-term, including tactical considerations for successful execution and attractive partners to approach to access the required technologies for success.
Precision Medicine Leadership
Biotech & Pharmaceuticals
Diagnostics, Research Tools, & Precision Medicine
MedTech
Digital Health & Enterprise HIT
Investors