The Equipment and Tools Needed to Provide Meaningful Patient Care
As the workhorses across inpatient, outpatient, ASC, and office settings, capital equipment provides the tools needed for clinicians to deliver meaningful patient care. However, the longer lifespan and the high cost to purchase come with a set of considerations and trends unique within the healthcare industry.
At Health Advances, our Medtech practice leaders partner with you to better understand not only the unique aspects of capital equipment, but also the impact that underlying industry trends will have on this product category, with our ultimate goal being to improve patient care and drive value to your business.
---
Your Market, Your Customer
There is nothing more powerful than understanding your market and your customer.
We are experts in gaining nuanced insights on your market within capital equipment, including:
Purchasing and selection process
Key stakeholders and decision-makers, including the Value Analysis Committee and CFO
Key features in product selection
Facility budgeting and return on investment
Requirements for connectivity within the facility
Role of sales reps and company support
Pricing models
Reimbursement and coding
Utilization trends
New product innovations
Understand the customer so you can design and deliver a winning consumable product, instrument, or supply.
Salient Industry Trends
Healthcare providers are facing an ever-changing set of imperatives, incentives and trends that impact capital equipment. To name just a few:
Care has continually shifted to the outpatient setting, and ever further outside the hospital to ASC and office settings where patient volumes may impact capital purchasing and pricing models
Consolidation of hospital facilities could lead to a potential decrease in capital equipment in that setting
Advances in robots have continued and certain therapeutic areas are now seeing significant development
Cost pressures remain at the forefront of facility budgeting in a post-pandemic world, often increasing scrutiny on large capital purchases
See the macro trends impacting capital equipment so you can stay ahead of them.
New Opportunities
Capital equipment is never just about the product. We put the product in context of the greater medtech continuum of care.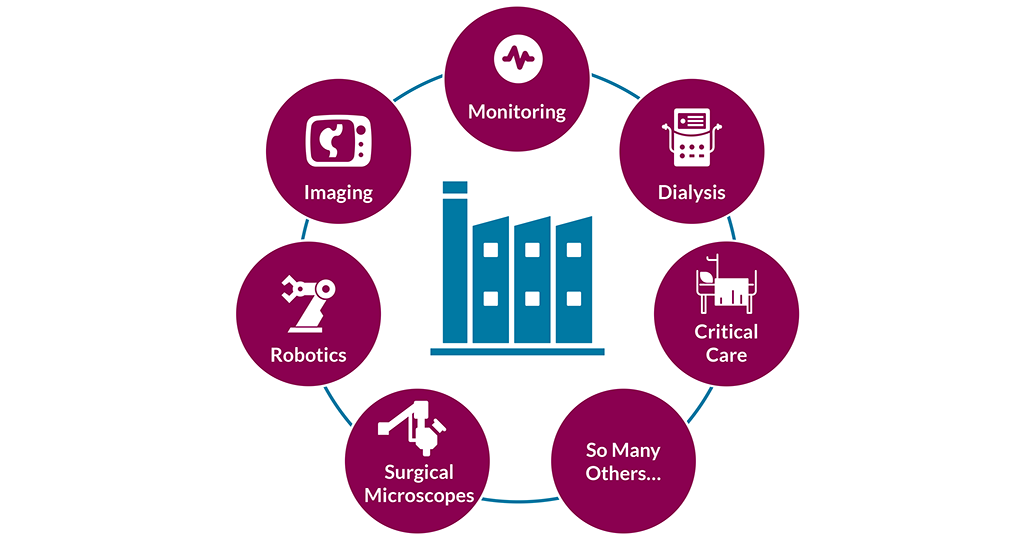 Identify opportunities to unlock additional value and create sticky customer relationships.
Capital Equipment Case Studies
A global manufacturer engaged Health Advances to conduct a comprehensive market, competitive, and growth strategy in the surgical navigation space in the US, Germany, France, and Australia. The Health Advances team conducted robust primary and secondary to assess the surgical navigation, augmented reality (AR), virtual reality (VR), and robotics markets, historic utilization and growth, competitive dynamics, and future outlook. Armed with key insights, Health Advances identified and recommended specific market entry strategies including a list of specific acquisition targets. The client used recommendations to inform their investment decisions.
A medical device manufacturer asked Health Advances to investigate the European market for urinary stone treatment devices and to evaluate the opportunity for a specific product to inform capital and disposable sales forecasts and the marketing strategy. Our team conducted in-depth interviews with urologists and hospital administrators in EU5 countries, completed a survey of urologists, and performed detailed secondary research. The primary and secondary research informed a detailed EU kidney stone market model and sales forecast. The resulting forecast and strategic insights enabled our client to make informed business decisions for the product in Europe.
Capital Equipment Leadership
Biotech & Pharmaceuticals
Diagnostics, Research Tools, & Precision Medicine
MedTech
Digital Health & Enterprise HIT
Investors
Tracy Walters
Partner and Managing Director
---
Capital Equipment, Consumables, Instruments & Supplies, Contract MedTech Services, Contract Pharma Services, DME & Consumer Devices, Implantables & Injectables