Implantables & Injectables
Directly Impacting and Interacting with Patients Daily
Whether they are novel and innovative (e.g., heart valves, neurostimulators) or lower complexity (e.g., hernia mesh, orthopedic screws), implantables and injectables represent the products that will have the most interaction with patients over the course of their lives. The high clinical and regulatory burden as well as often high levels of physician preference create unique considerations for this medical device category.
At Health Advances, our medtech practice leaders partner with you to better understand not only your product's patient dynamics, treatment and referral trends, clinical data, and reimbursement considerations, but also the underlying medtech industry trends in order to improve patient care, enable product commercialization, and drive value to your business.
---
Diverse Therapeutic Areas
With over 30 years in the medtech space, Health Advances has expertise in a broad array of product and therapeutic areas, including but not limited to: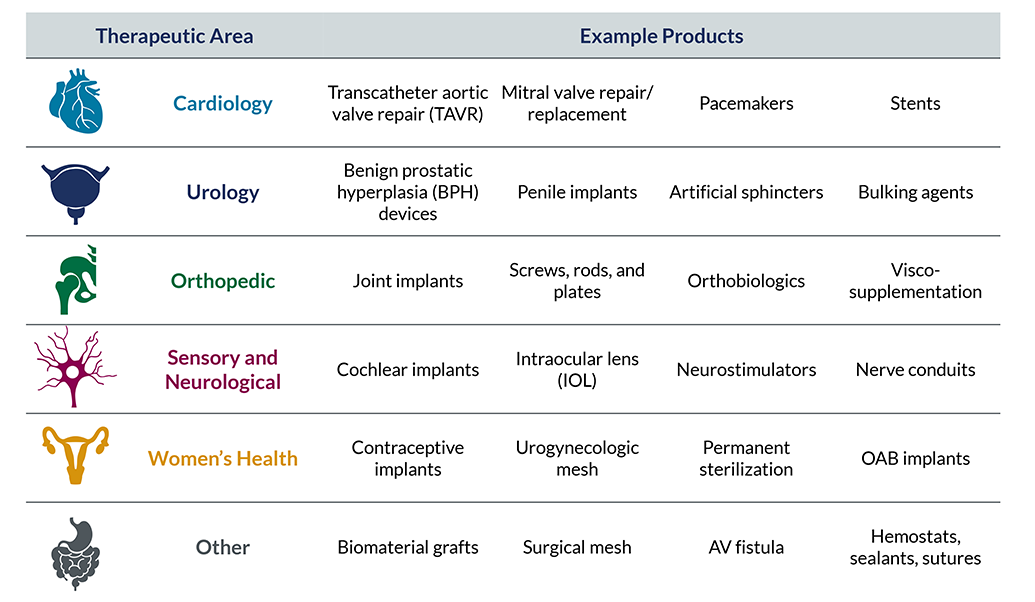 Your Market, Your Customer
There is nothing more powerful than understanding your market and your customer.
We are experts in gaining nuanced insights on your market within implantables and injectables, including:
Purchasing and selection process
Level of physician preference
Key features in product selection
Level of clinical data required (including duration)
Role of sales reps and company support
Coding and reimbursement
Utilization trends
New product innovations
We help you understand the customer so you can design and deliver a winning product.
Salient Market Trends
Healthcare providers are facing an ever-changing set of imperatives, incentives and trends that impact implantables and injectables. To name just a few:
Medical device regulations have become more stringent requiring more clinical data and earlier planning for clearance and commercialization
Increasing financial pressures on hospitals leads to additional scrutiny on both the cost and the clinical data required for implantables and injectables, especially in an inpatient setting
Sites of care have continued to shift to the outpatient and ASC settings requiring novel and innovative implantables and injectables that can be delivered in those settings
New Opportunities
Implantables and injectables are never just about the product. We put the product in context of the greater medtech continuum of care.
We help you identify opportunities to unlock additional value and create sticky customer relationships.
Implantables & Injectables Practice Areas
Cardiology
Transcatheter aortic valve repair (TAVR) and aortic valve replacement
Mitral valve repair/replacement
Pacemakers
Stents
Men's Health
Benign prostatic hyperplasia (BPH) minimally invasive devices
Penile implants
Orthopedic
Joint implants
Screws, rods, and plates
Sensory and Neurological
Cochlear implants
Intraocular lens (IOL)
Neurostimulators
Women's Health
Contraception
Urogynecological mesh
Permanent sterilization
Other
Artificial sphincters
Surgical mesh (hernia repair)
Implantables & Injectables Case Studies
A medical device manufacturer wanted to evaluate and optimize a novel commercial model for a first of its kind joint replacement implant. The team developed a quantitative survey of 100+ surgeons which evaluated willingness to offer the product to patients, help define the customer segments, and understand drivers and barriers to adoption. The survey also informed a pricing analysis leading to a revenue-optimizing price to support product launch and commercial strategy. The final deliverable included a total addressable market calculation.
Our client engaged Health Advances to perform a rigorous assessment of the US lumbar fusion interbody market and a revenue forecast for the client's novel expandable interbody device to both guide its ongoing investments and development roadmap, as well as to share with potential future partners. The team interviewed spine surgeons and spine sales representatives to understand market trends and to gather feedback on the novel device. In addition to physician interviews, the assessment encompassed analyses of procedure volumes, procedure reimbursement, and a detailed competitive landscape of marketed interbody devices. The work also included a survey of 100 spine surgeons to ensure a more robust forecast of future adoption of the novel device within key patient segments. Ultimately, the research culminated in a revenue forecast model for the novel interbody, which included segmentation by surgical approach and scenarios based on potential features of the device.
A neurostimulation company was preparing to launch their device as a 2nd entrant in the US where the incumbent has an 8-year first-mover advantage and substantial commercial investment and footprint. Our client sought a fact-based commercialization strategy and launch plan that considered investments and resources needed to effectively compete with the incumbent and gain share quickly. Health Advances developed a fact base regarding commercialization of the incumbent, conducted interviews with over two dozen physician users, pressure-tested the product's market access readiness and analyzed other second-to-market neurostimulation analogs. These research activities were used to inform a 7-year revenue forecast and prioritize areas of investment for the client. Ultimately, the team developed a launch plan including size and timing of investments in a salesforce and patient demand generation needed to efficiently realize the revenue opportunity.
A client engaged Health Advances to evaluate the outlook for two device companies in the coronary and peripheral intervention device market. Health Advances conducted extensive secondary research and 30 interviews with physicians, purchasing experts, and industry experts in the US and China to inform the competitive positioning and assess the revenue forecasts for both manufacturers. The team also conducted an analysis to evaluate potential commercial synergies for combining the two manufacturers. The research ultimately allowed our client to determine whether to move forward with investments in the market.
Implantables & Injectables Leadership
Biotech & Pharmaceuticals
Diagnostics, Research Tools, & Precision Medicine
MedTech
Digital Health & Enterprise HIT
Investors