CNS diseases are some of the most prevalent and devastating conditions. Drug development has historically been challenging due to limited understanding of disease mechanisms and suboptimal endpoints to evaluate efficacy in the clinic. That said, recent innovations are unlocking opportunities for CNS-focused biopharma companies. Neuroscience is unravelling patient heterogeneity with improved diagnostics and data science, digital technologies are providing new means of measuring disease activity, and novel therapeutic modalities offer improved means of targeting diseases.
---
At Health Advances, we have deep experience navigating the complex development and commercial challenges facing CNS therapeutics companies. We pair this experience with cross-sector perspectives from across our firm, advising companies on how they can capitalize on innovations in digital health, diagnostics, and data science.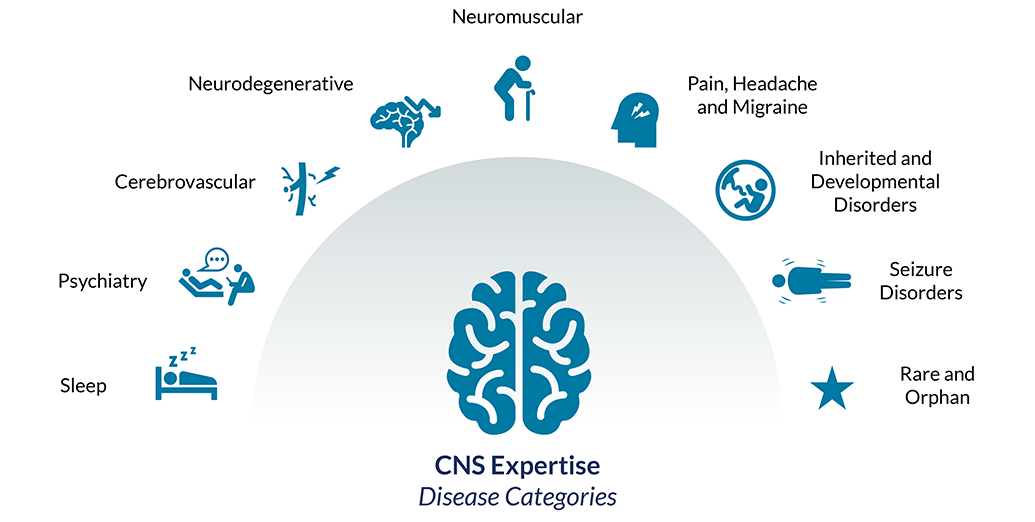 +
External CNS Experts in Our Networks
Proprietary CNS Disease Prioritization Tool
And other dedicated CNS staff and resources
CNS Diseases Case Studies
Health Advances formed an 8-year long strategic partnership with a mid-sized biotech to devise and execute a consistent portfolio strategy in CNS, oncology and other therapeutic areas. Our work mapped the path to revenue for several product launches and developed the business case for key investments and acquisitions. The cohesive portfolio strategy drove 15% growth in annual revenue YoY.
A clinical-stage biotech asked Health Advances to perform a broad assessment of CNS and ophthalmology disorders for the client's proprietary drug discovery platform. The team evaluated and prioritized indications across technical, developmental, commercial, and strategic criteria to produce a prioritized list for deeper research. We incorporated top indications into near- and long-term strategic roadmaps to guide the client's portfolio expansion strategy.
Health Advances was engaged by a venture-backed, clinical-stage biopharma with a data-science platform in the CNS space to develop a corporate strategy. We worked closely with the management team to perform a situation analysis, identify key market and competitive trends, and develop a decision tree to inform portfolio priorities in different scenarios. Our work provided a vision for how the company could create value and underpinned the strategic guidance that management provided to investors, leading to a successful financing.
Health Advances worked with a biotech developing novel measurement tools for multiple sclerosis to define a product strategy. We evaluated the MS drug landscape, understood biopharma needs, explored the competitive landscape and identified the most promising opportunities for the client to unlock value. The team's work enabled our client to prioritize product development investments and partnership activities.
A global biopharma company needed a go-to-market strategy for a digital therapeutic in development for a psychiatric disorder. The team performed an in-depth evaluation of the competitive, reimbursement, health policy, and market landscape and distilled strategic insights from the launch experience of competitive and adjacent DTx products. We collaborated with the client to weigh trade-offs across go-to-market approaches and developed an actionable strategy that fit the client's needs and capabilities.
CNS Diseases Leadership
Biotech & Pharmaceuticals
Diagnostics, Research Tools, & Precision Medicine
MedTech
Digital Health & Enterprise HIT
Investors