Health Advances has expertise across all outsourced pharma-services categories along the continuum from early development to commercial stage. We support investors and biopharma service providers with better understanding customers and competitive positioning so that companies can make confident strategic and investment decisions.

Because of our firm's deep understanding of the entire healthcare ecosystem, we can protect you from being blindsided by disruptive changes in technology and business approaches as well as assist you in anticipating your customers' future pain points which may present new service opportunities.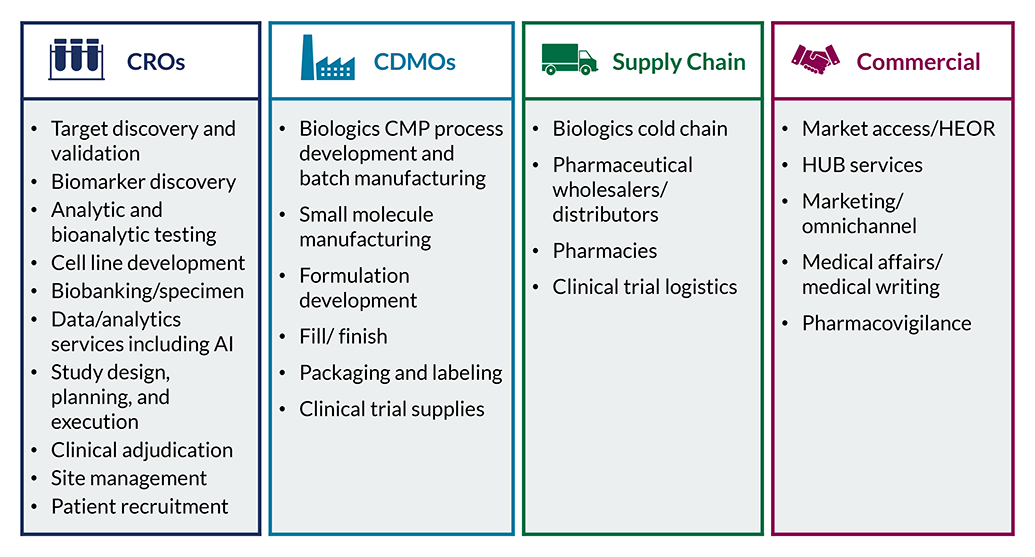 Our team helps service organizations and investors maximize growth by understanding where to focus and how to win given evolving market dynamics.

Example Pharma/Biopharma Services Projects Include:
Global corporate strategy
Service portfolio and geographic expansion strategy
Investment strategy/M&A road-mapping
Customer segmentation and targeting strategy
Partnership strategies
Financial forecasting
Commercial due diligence
..and many more
A private equity client asked Health Advances to analyze the bioanalytical CRO market as it is considering acquiring a player in the space. Our team performed primary and secondary research to understand the key categories of bioanalytical testing services, current outsourcing practices, and trends. We analyzed the CRO selection criteria by biopharma size and geography. We performed pipeline analysis and additional investment trends analysis to assess market growth trajectory and specific target growth rate ranges. Our deliverable, 5- year market growth forecast and 5- year target growth forecast, anchored our clients' investment valuation.
On behalf of a private equity firm, Health Advances evaluated a specialized provider of in vitro antibody discovery services. The team conducted primary research with over 20 industry experts, KOLs, and customers. We also performed thorough secondary research including a review of the technical literature around antibody discovery methods and other sources including company websites, market research reports, and the pipeline for antibody drugs. Our final recommendations informed the client's investment decision by providing a thorough explanation of the relevant technologies, analyzing the market size and trends, detailing the target's competitive position, and identifying promising opportunities for growth.
A major private equity investor sought out Health Advances to support the commercial diligence of a specialty virology CRO and recommend a decision on acquisition. The client was interesting in understanding the market outlook for virology services, the competitive landscape, outsourcing decision-making criteria for customers, the targets positioning in the market, and any potential synergies that might exist with portfolio companies of the client. To answer these questions, Health Advances conducted a broad primary research program with customers and non-customers across the US and Europe and of a variety of customer types as well as detailed secondary research into the drug development pipeline and market trends. Through the engagement, the client gained a clear perspective on the virology CRO market outlook, the target's position in the competitive landscape, and a clear vision on how the target could be aligned with a related portfolio business.
A leading provider of analytics services for large biomolecule analysis engaged Health Advances to develop expansion strategy into process bioanalytic services for protein, cell, and gene therapy CDMO and biopharma therapeutic manufacturers. Through a combination of in-depth secondary and primary research, our team outlined the overall market for bioanalytic services for biologic manufacturers as well as identified and assessed potential M&A targets that will help the client to accelerate growth in protein, cell, and gene testing services for bioprocessing and pre-IND preclinical R&D. The final deliverable included tactical recommendations on service lines and capabilities to focus on as well as a prioritized list of M&A targets for inorganic growth.
Health Advances was engaged by a global investment group that was considering acquiring a boutique CRO offering a range of clinical trial services. Health Advances conducted a comprehensive interview program with stakeholders at biopharma companies as well as experts at other CROs to assess trends in the market, key services, and the Target's relative positioning. Our team profiled what experts perceived as the Target's greatest strengths, and reviewed financial statements to assess which therapeutic areas, modalities, and development phases were the greatest drivers of its revenue. We mapped these considerations to the competitive landscape of other CROs, as well as the potential for growth within Target's areas of focus and determined the Target's right to win in the clinical trial CRO market. From these findings, we provided a go/no-go acquisition recommendation.
CDMO Case Studies
A large bioprocessing contract development and manufacturing organization engaged Health Advances to evaluate the current performance of its growing protein therapy process development and manufacturing business. In partnership with the client, the team developed a detailed interview guide to probe on service provider awareness, selection process, perceptions of the client against its key competitors, and opportunities for the client. The team then recruited and interviewed over 50 hand-selected bioprocessing industry experts across a range of established and emerging biopharma companies and geographies (US, Europe, Asia) with vendor decision-making responsibility. The resulting final report gave the client a customer-centric assessment of its current business performance and clear strategies to grow its protein CDMO business moving forward.
A leading bioprocessing global contract development and manufacturing organization (CDMO) for biotherapeutics, offering a full spectrum of capabilities for process development, drug substance manufacturing, drug product manufacturing, and fill and finish engaged Health Advances to assist in providing a market backed view of the COVID-19 vaccine and cell and gene therapy manufacturing opportunities. Our team performed in-depth assessment of the biologics manufacturing market and forecasted global demand under several different scenarios of vaccine adoption by modality type. The final deliverable included recommendations on go/no-go decision on entering the vaccine market, modality focus, and capacity type to build in order to successfully continue to grow the business and maintain leadership.
A major provider of drug discovery CRO services was considering an acquisition of a plasmid DNA (pDNA) manufacturing CDMO to expand its service offerings and asked Health Advances to support its diligence efforts by providing quick high-level forecasts for the approved and pipeline products in which the target's pDNA is used. Health Advances leveraged its experience to provide forecasts based on secondary research for 15 gene therapy and mRNA vaccine products in three weeks. Health Advances also highlighted key risk factors that could impact its forecasts so that our client could investigate potential downsides. The client ultimately used our research to validate their decision to purchase the target.
Health Advances was engaged by a private equity firm as part of a buy-side diligence to evaluate the revenue outlook for key products in a CDMO's biopharma portfolio. Through extensive primary and secondary research, the team analyzed historic sales and future revenue projections, evaluated the pipeline and competition to identify disruptor products, and assessed the threat posed by generics or biosimilars. This research enabled us to stratify the analyzed product portfolio by level of risk and to pressure test the CDMO's internal revenue forecasts. These findings drove key inputs for the client's enterprise financial model and resulting bid for the CDMO.
Contract Pharma Services Leadership
Biotech & Pharmaceuticals
Diagnostics, Research Tools, & Precision Medicine
MedTech
Digital Health & Enterprise HIT
Investors
---